Located in the Vale of Evesham, The Wood Norton is a beautifully crafted luxury Worcestershire hotel built in 1897 by the Duc D'Orleans – a member of the exiled French royalty. It boasts original 19th-century French decorative interiors and the very best that the modern world has to offer. All regular readers will know how much we love The Wood Norton. We had to pop back to show how much fun it can be for the next generation of readers. The Wood Norton is adaptable for nearly every occasion, whether you are on a business trip and want a home away from home or you are looking to have a romantic getaway in a beautiful and idyllic location.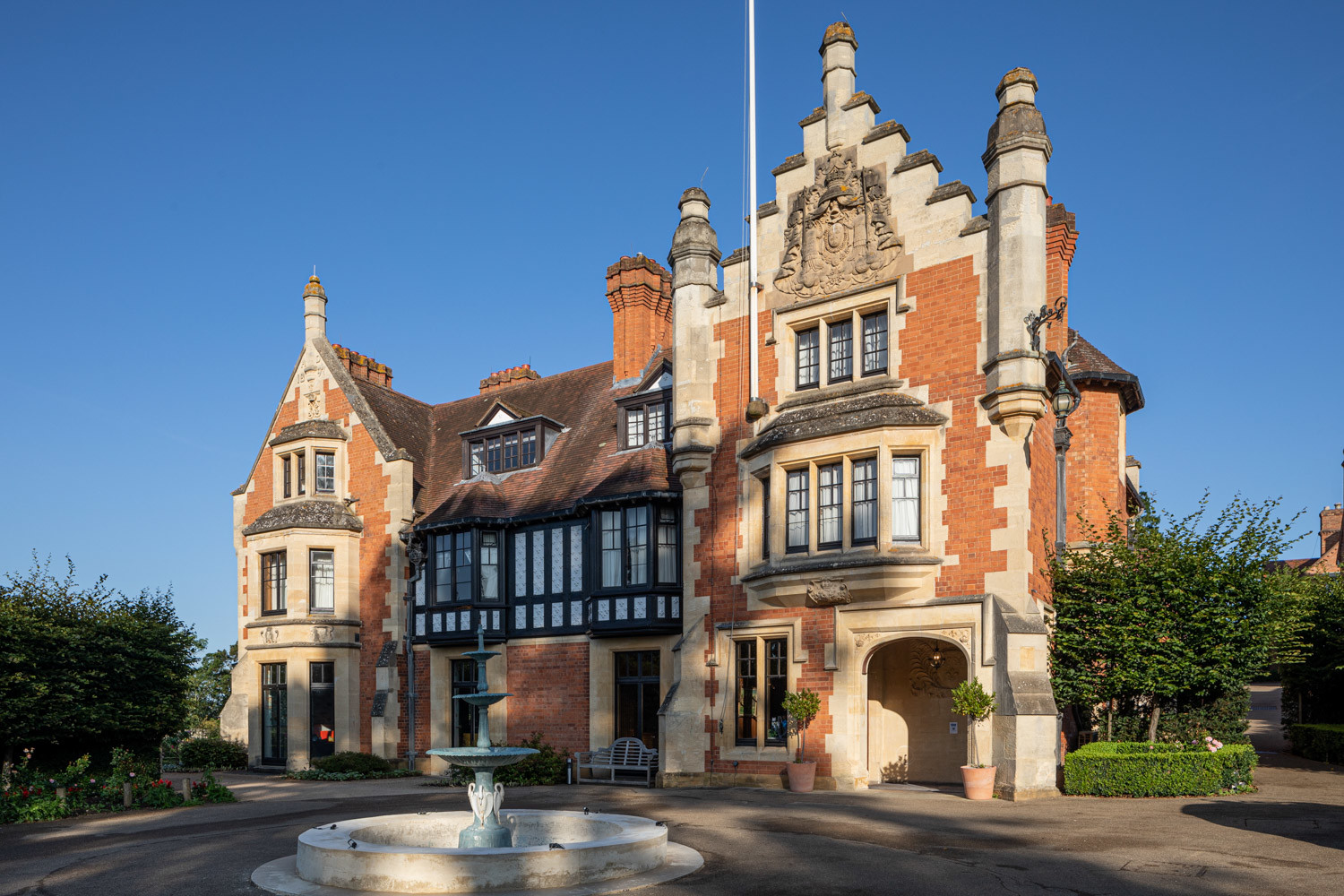 The Grade II listed Victorian manor house hotel offers fifty rooms including five spectacular suites, a restaurant using the finest local produce, a contemporary bar and alfresco dining terrace, sumptuous private dining, state-of-the-art boardroom and meeting facilities, extensive grounds and formal gardens, and a beautiful wedding venue. Although you do not need to book the venue for exclusive hire for the wedding, we very much think this venue lends itself to just that be it for events or weddings. Just look at the interior of one of the suites. Pure heaven!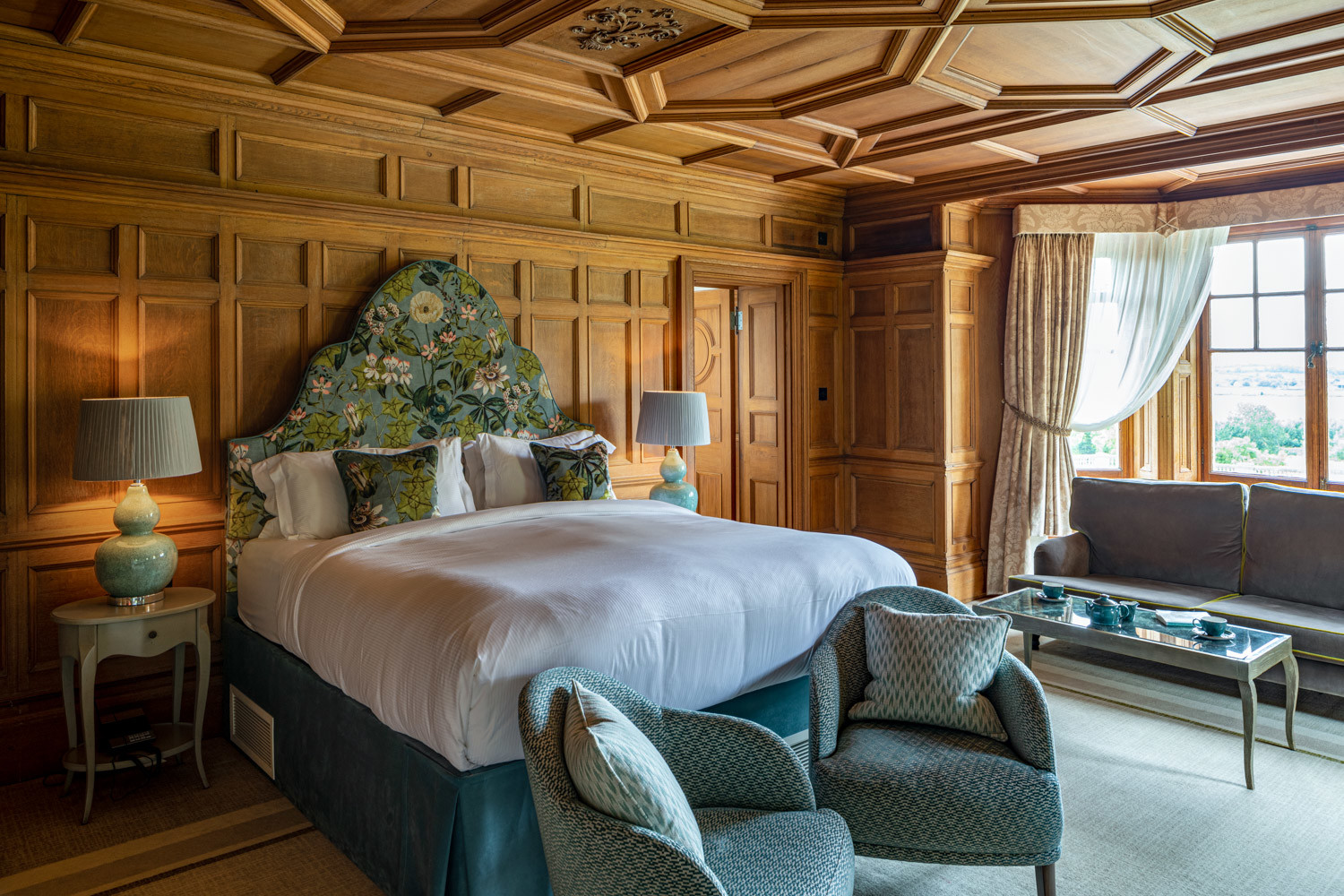 Equidistant from Worcester, Stratford-Upon-Avon and Cheltenham, The Wood Norton is the perfect location for exploring the Cotswolds, Worcestershire and the Malvern Hills, recognised as some of the most beautiful parts of the UK. The Wood Norton is popular with both visitors to the region and local residents alike, who are wowed by its 19th Century French decorative interiors, luxurious bedroom suites and extensive grounds and formal gardens. After a busy day exploring, what better to do than to relax in a beautiful bath fit for a princess (or a prince!) like the original royal owners before.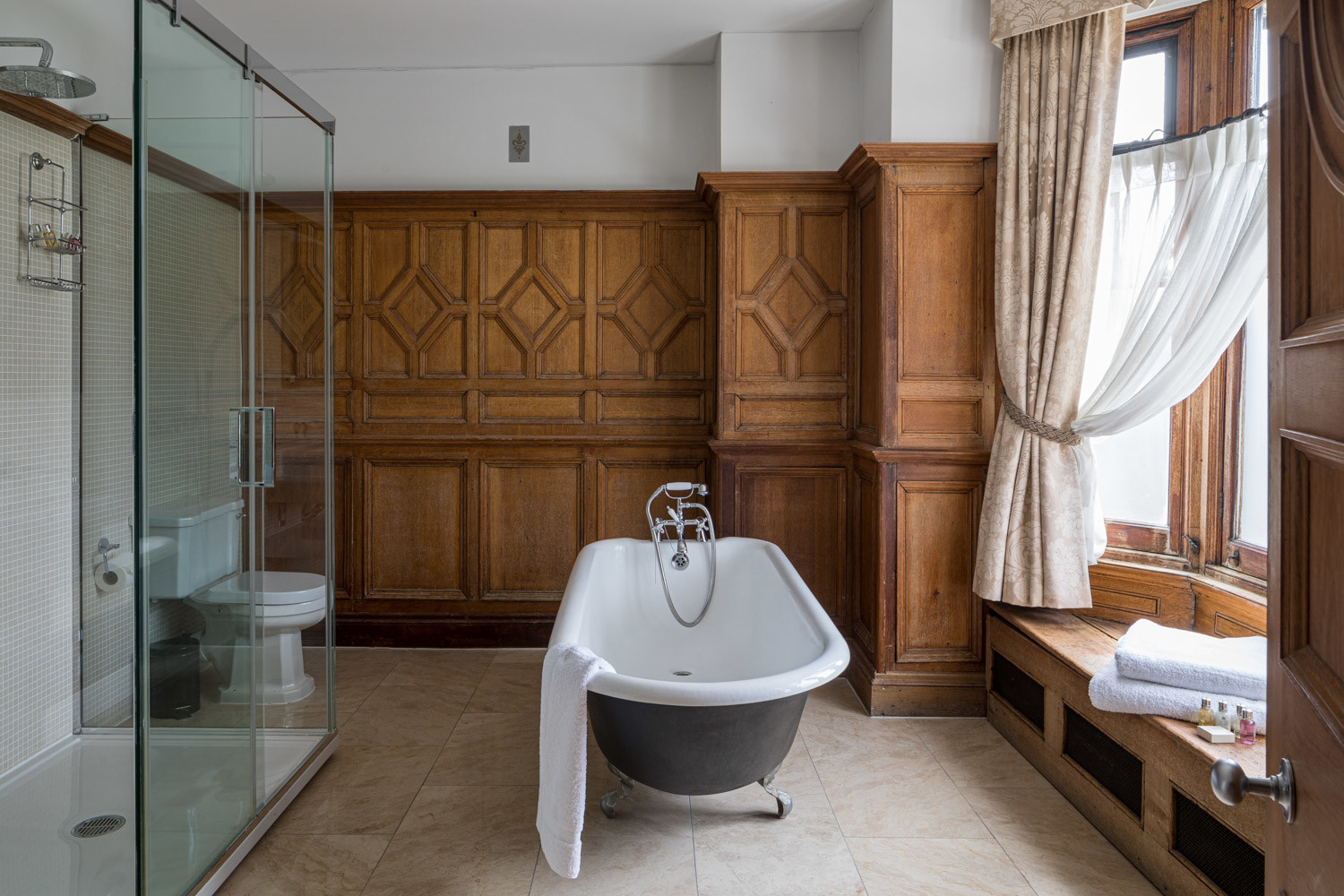 Talking of princes, our very own Minipreneur has arrived. After a wonderful welcome from General Manager Steve Sweeny and his team, he ventured up the grand stairs into his room.  The suites are a very generous size and immediately he decided that the room is so large it is the perfect place to play hide and seek. But, are the regal-looking green chairs high enough to hide him?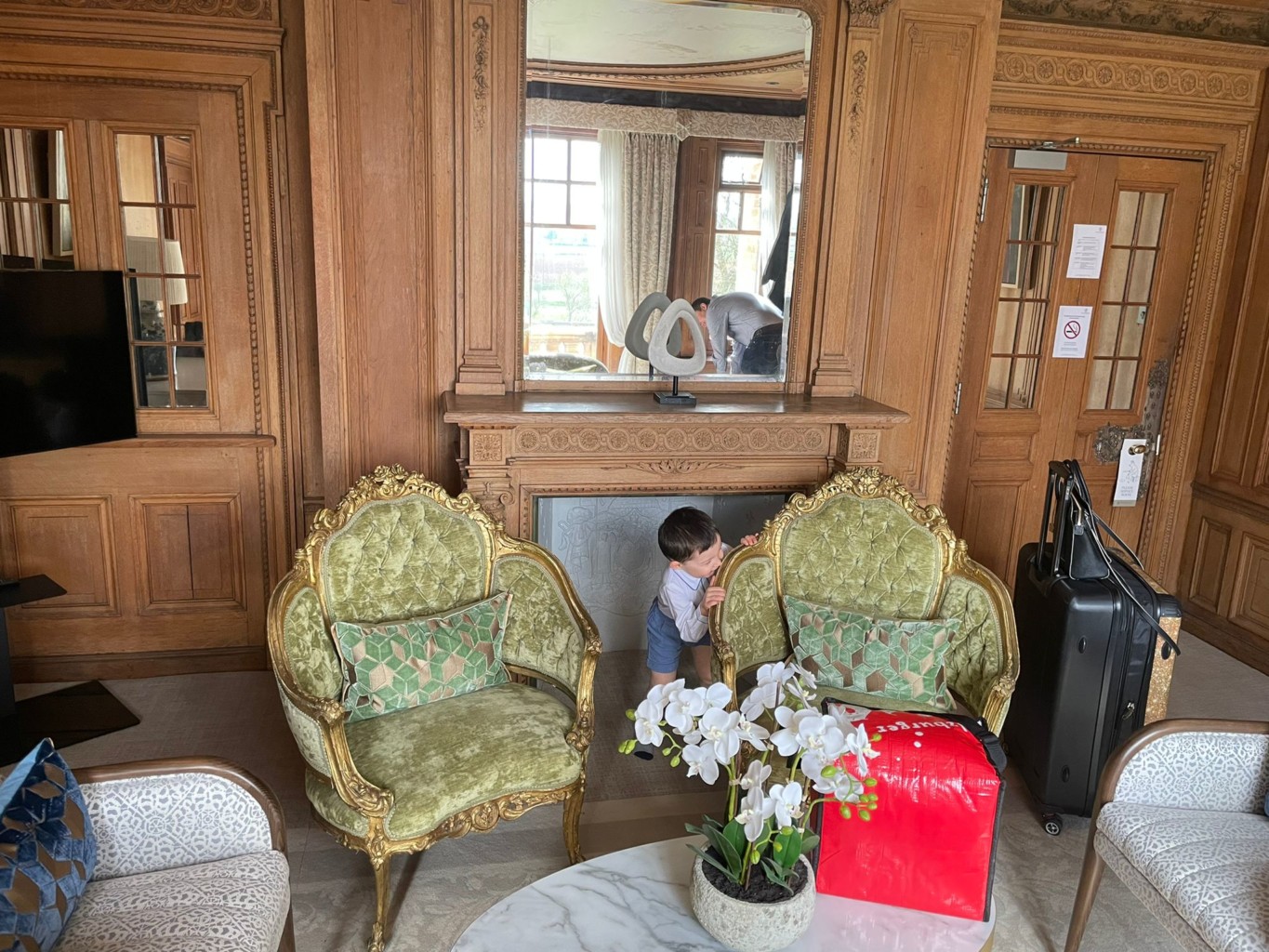 He thinks not. Perhaps the ornate fireplace would be better?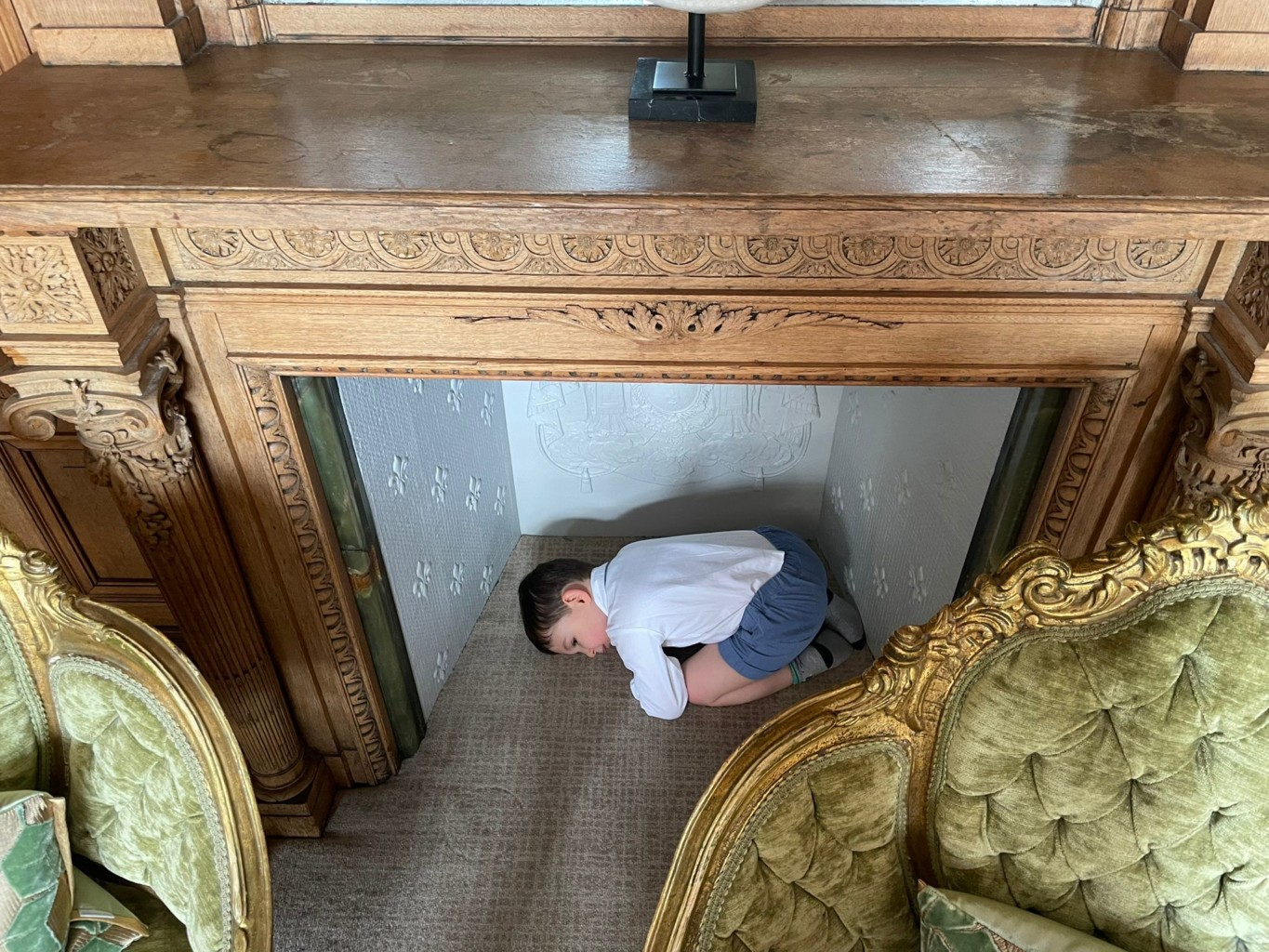 Oops! No such luck. He was found pretty quickly and went off to try out his bed.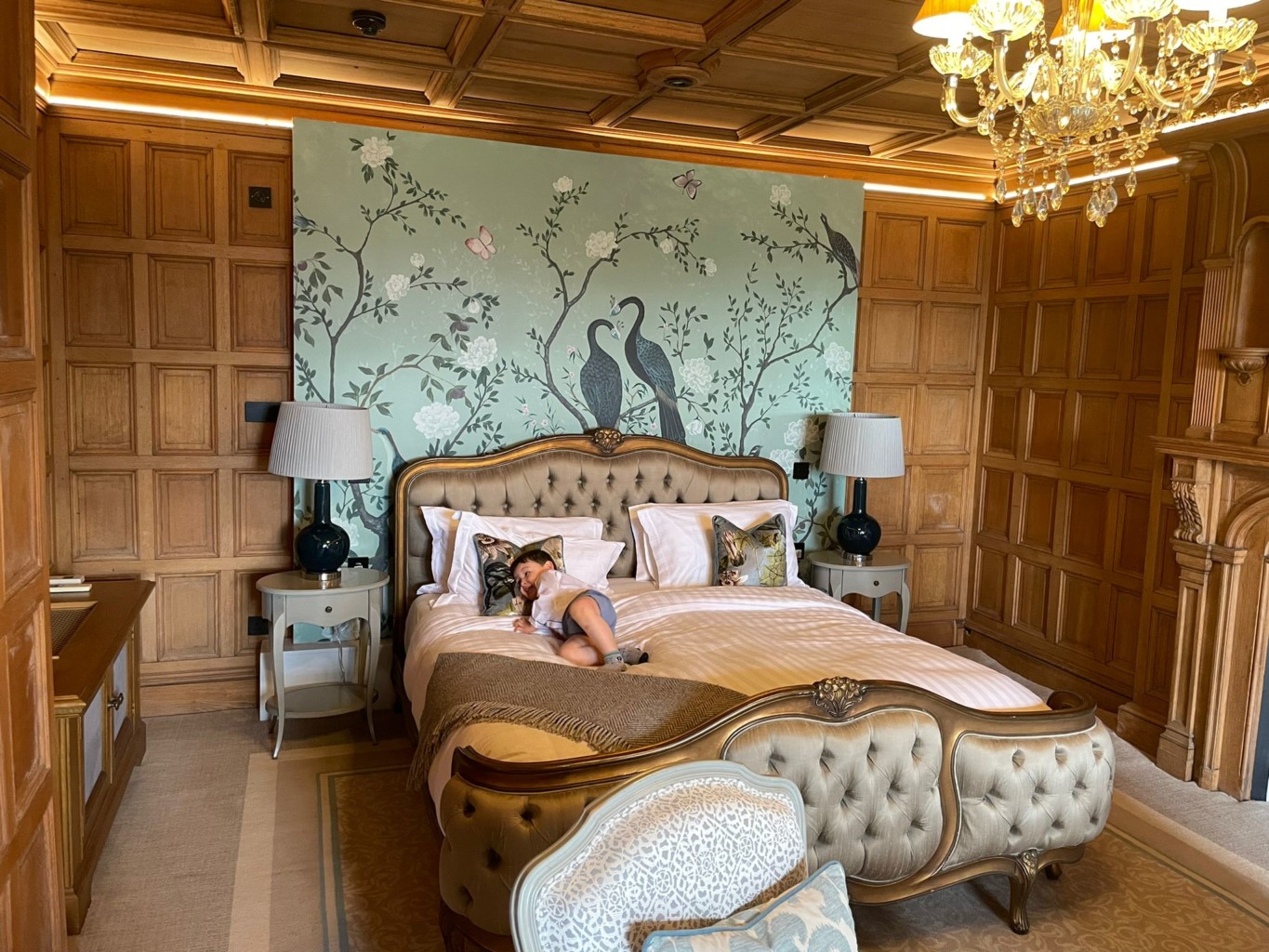 A super comfy verdict. A very lovely-sized bed perfect to roly-poly from one side to the other or to have an amazingly refreshing sleep. The brilliance about The Wood Norton is that it really is multi-generational. There is space to do what you want and so many opportunities within the grounds and further afield to entertain yourself for far more than a long weekend. Talking of grounds, Minipreneur has spied a perfect lawn to test out his latest toy.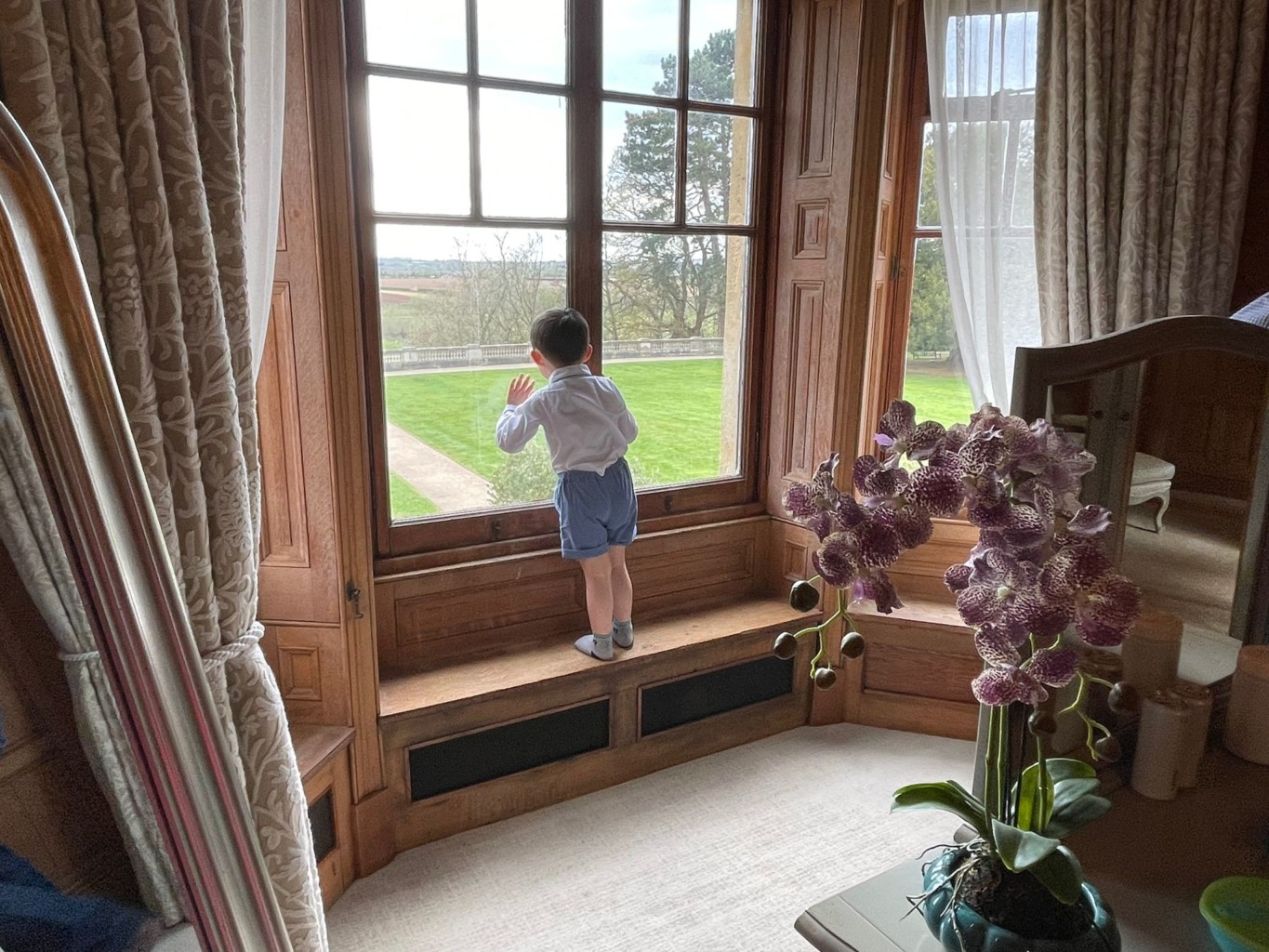 But first, a quick snack to build up his energy while he plans his latest adventure.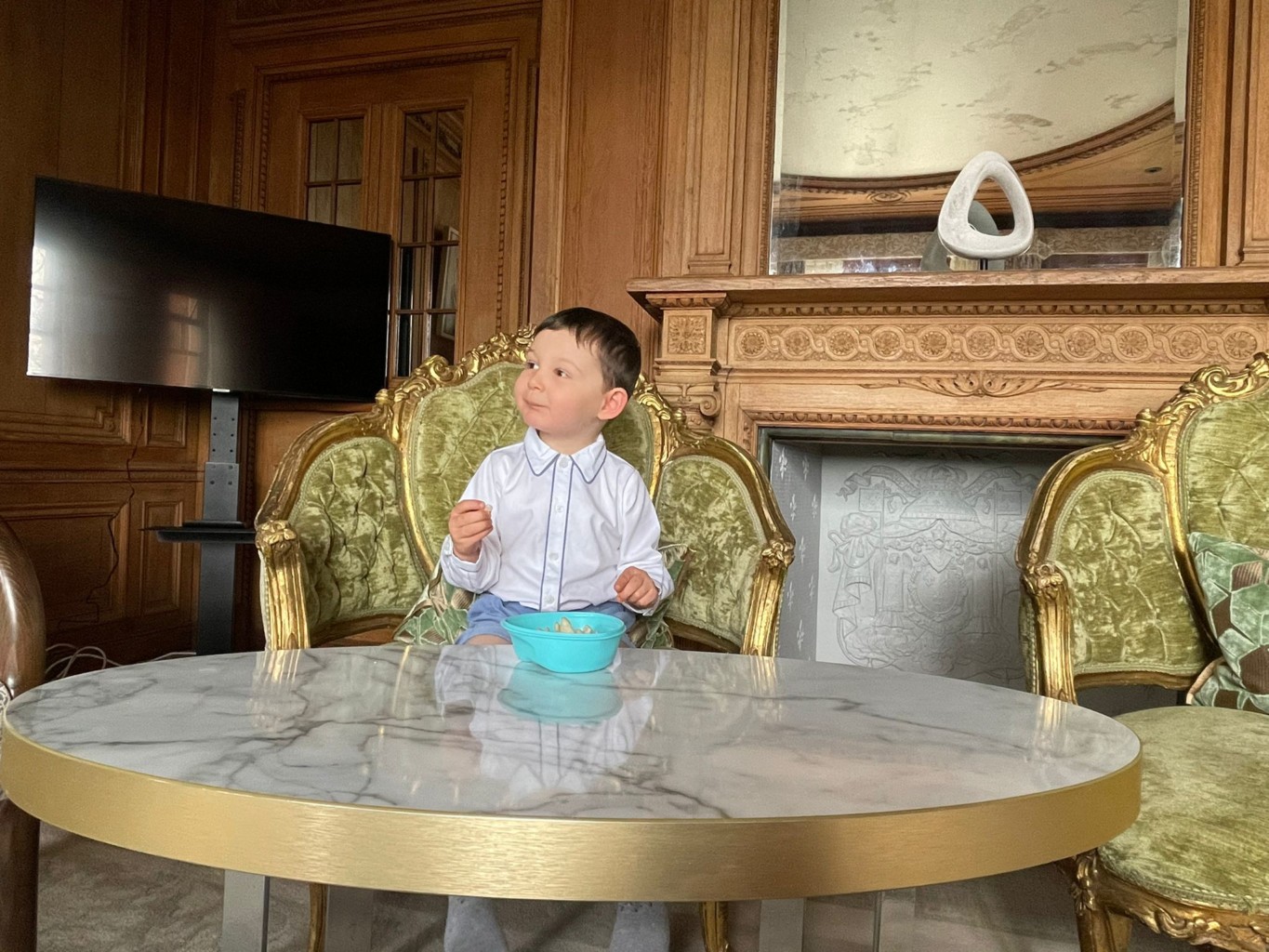 Crisps in a chair fit for a king!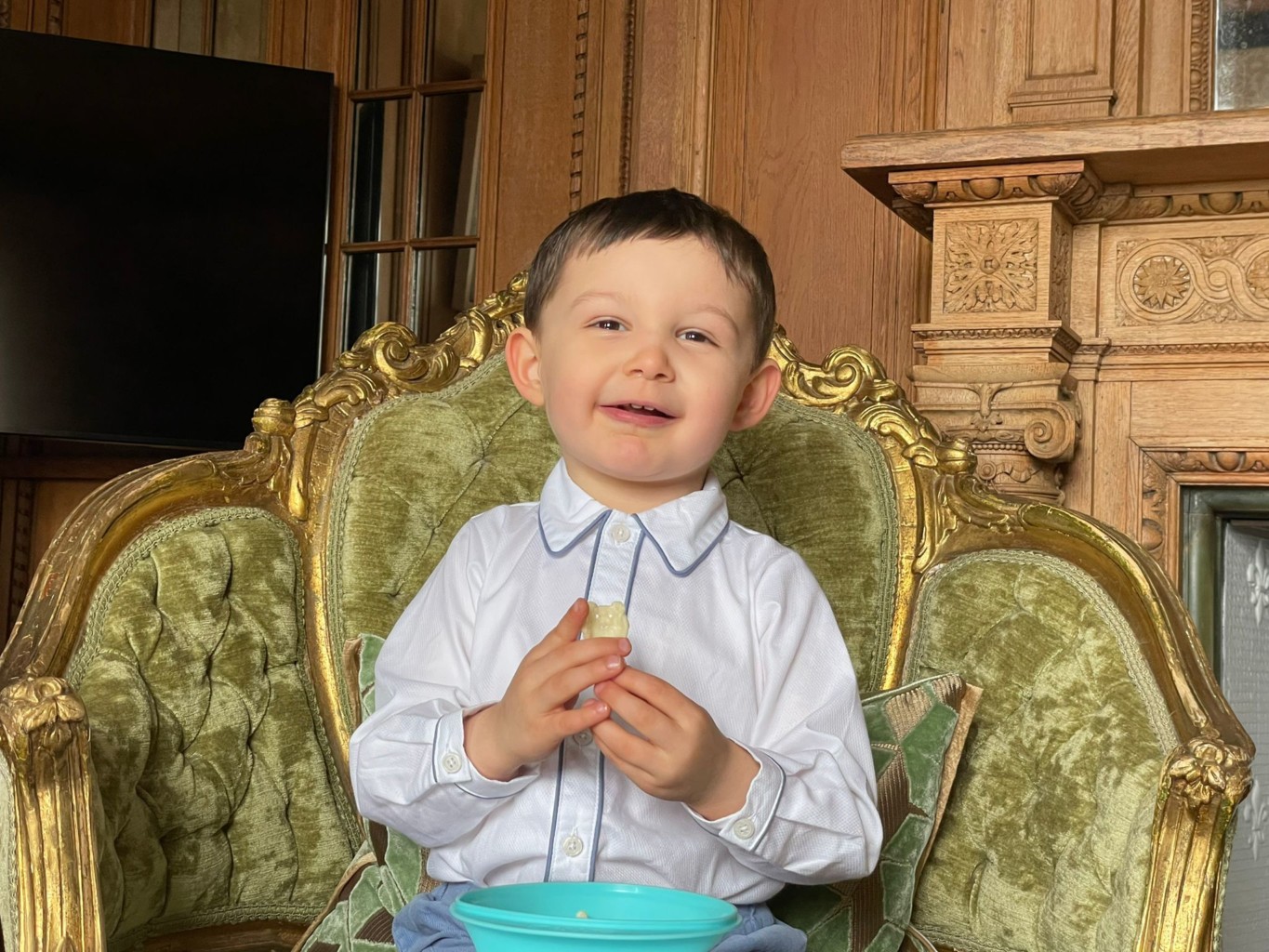 It's time to get Daddy involved in the fun and games, and take to the garden in front of the terrace which is a perfect place to spend an afternoon, listen to live jazz in the evening for special event nights that The Wood Norton holds or rent out to have your own party for a special occasion. But Minipreneur also thinks it's the perfect place to launch a rocket! Let's hope the rain stays away.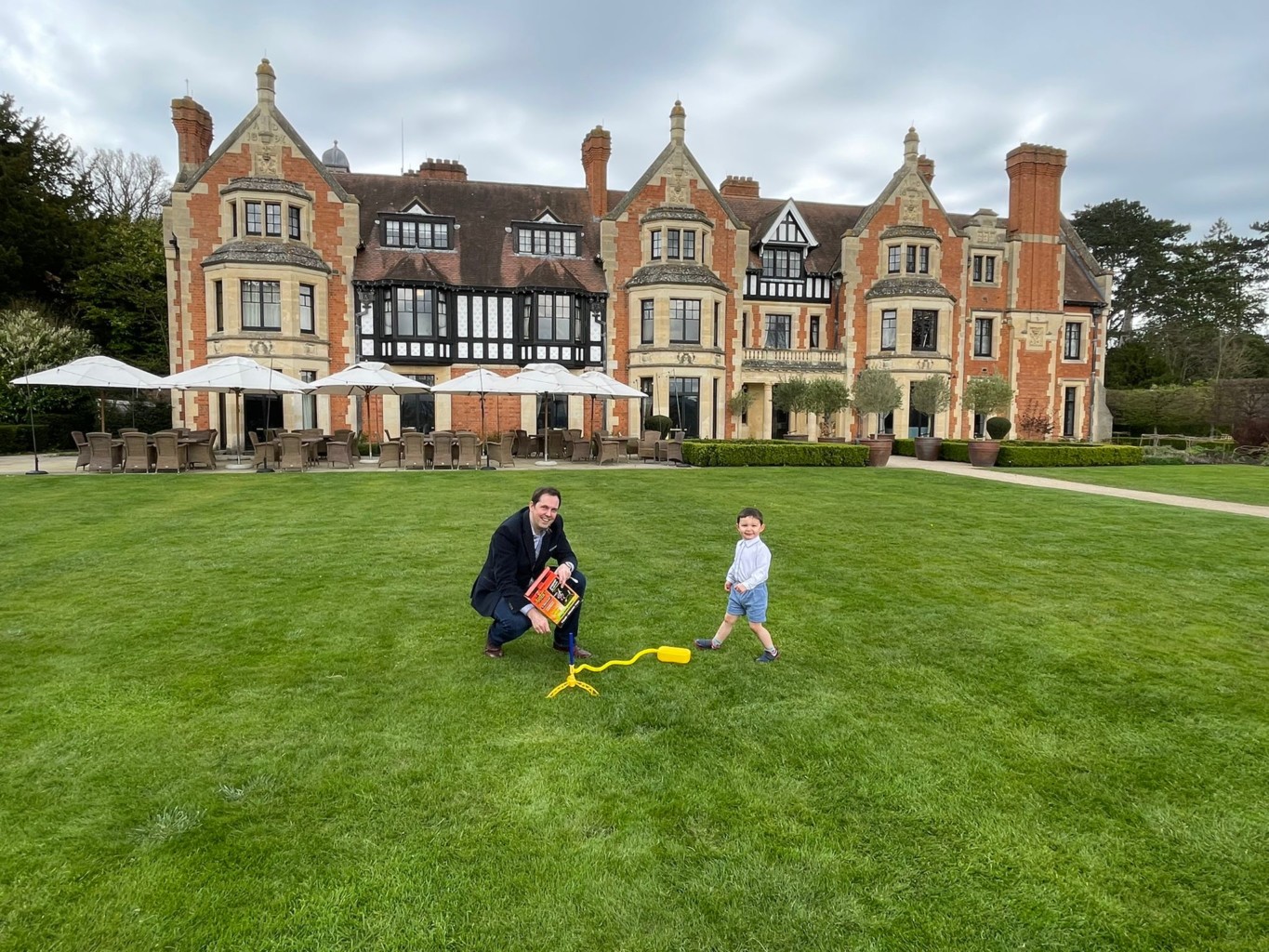 Ready. Steady. STOMP!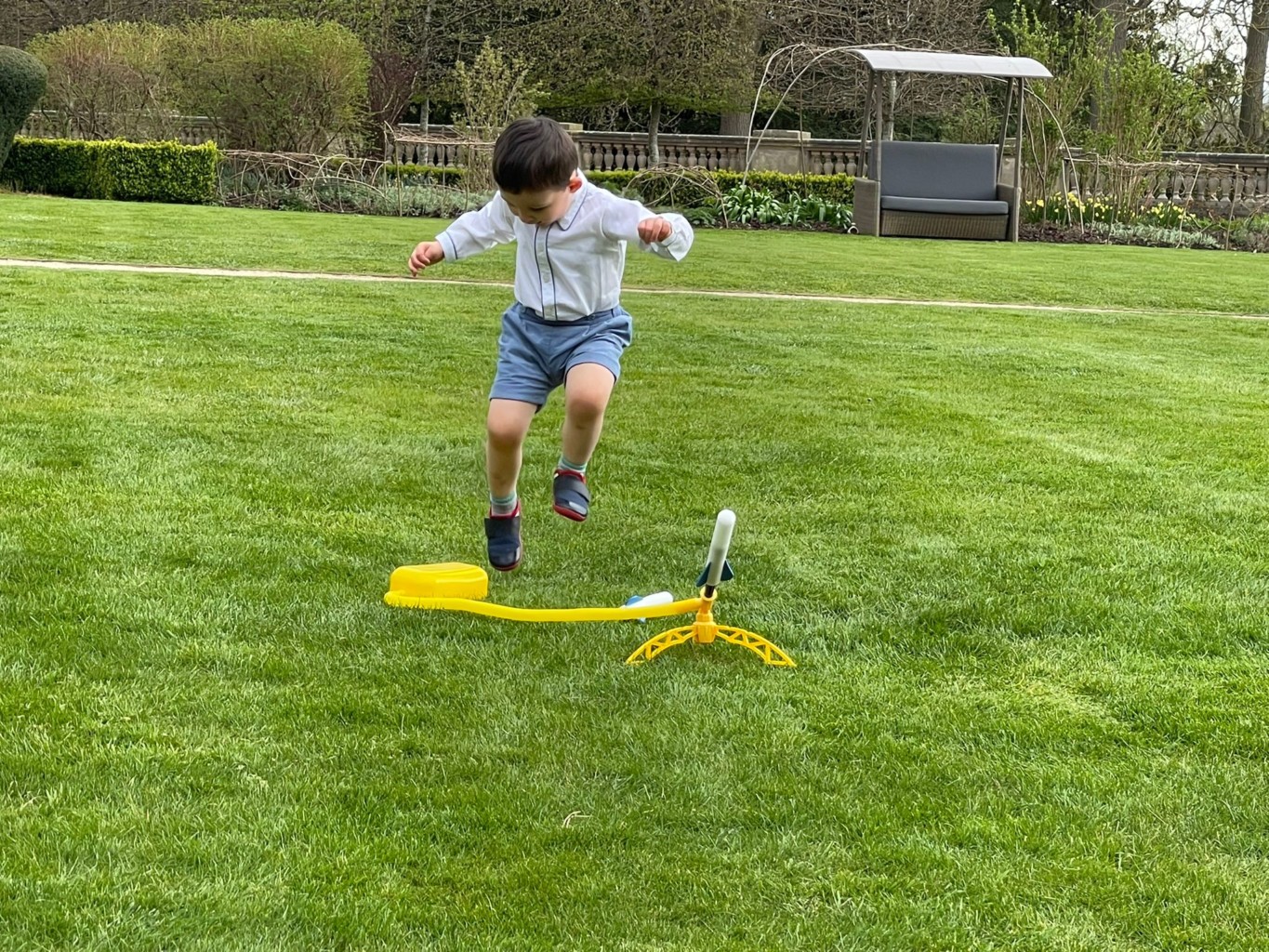 Couldn't ask for a better backdrop for the rocket launch. The gardens at The Wood Norton are spectacular and the building is stunning inside and out.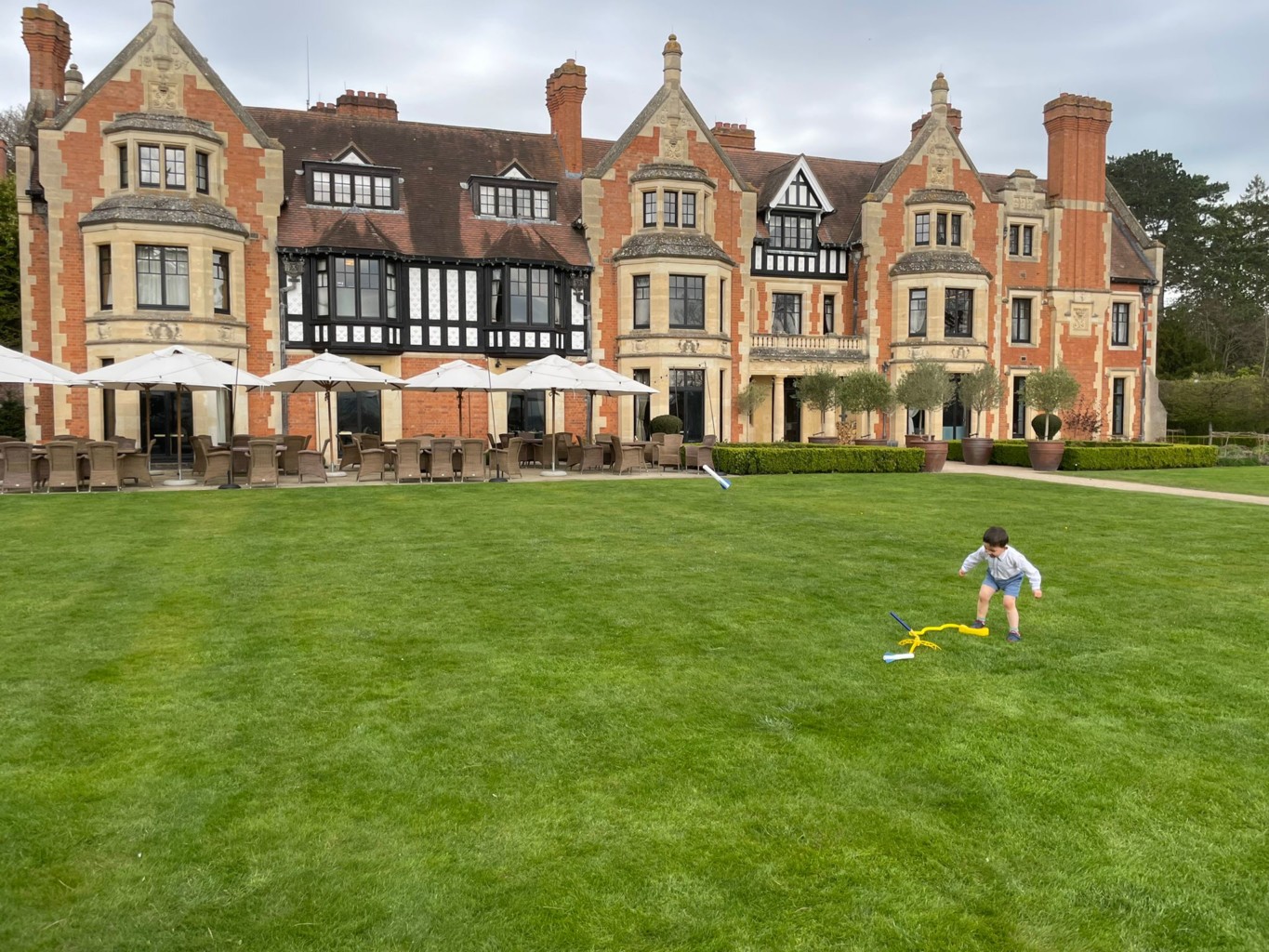 Uh oh! The rain came in but Minipreneur was prepared. He was also in keeping with the polar bear theme which is an interesting story about the hotel's previous owners who kept polar bears in their swimming pool back in the day. Do ask about the polar bears when you visit.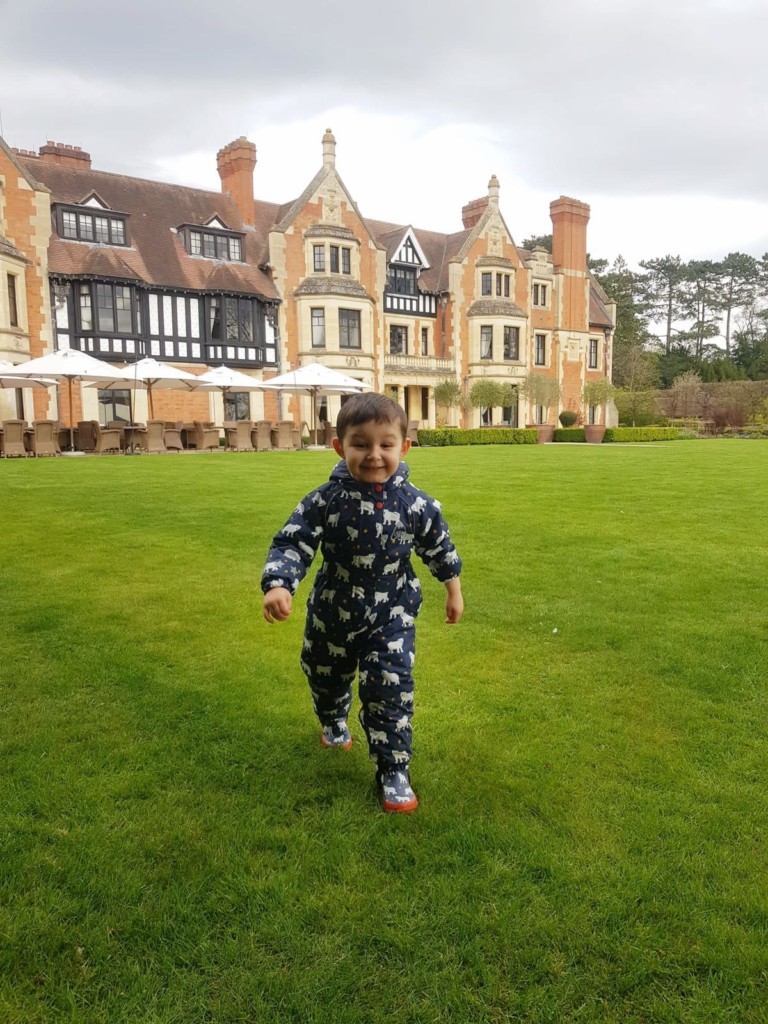 Come rain or shine, there are so many places to take a rest and enjoy the scenery. And the sun came back, so a perfect time to lounge about!
Committed to 'going greener', The Wood Norton has unveiled a new sustainability pledge to proactively reduce its impact on the environment. The Wood Norton has already made a series of positive steps in achieving its new 'Green Pledge', having removed all plastic straws, stirrers and plastic bottles from the bar, restaurant, and rooms, while replacing all gas kitchen appliances with electric or induction units.
Most recently, The Wood Norton has teamed up with Wood Norton Richmond Villages and SPE Ltd to install a new state of the art sewage treatment plant, which was approved by Wychavon Council and the Environmental Agency, and will significantly improve wastewater quality prior to discharging it into the environment. It also has some amazing plans for taking itself into the future of electric cars and much more.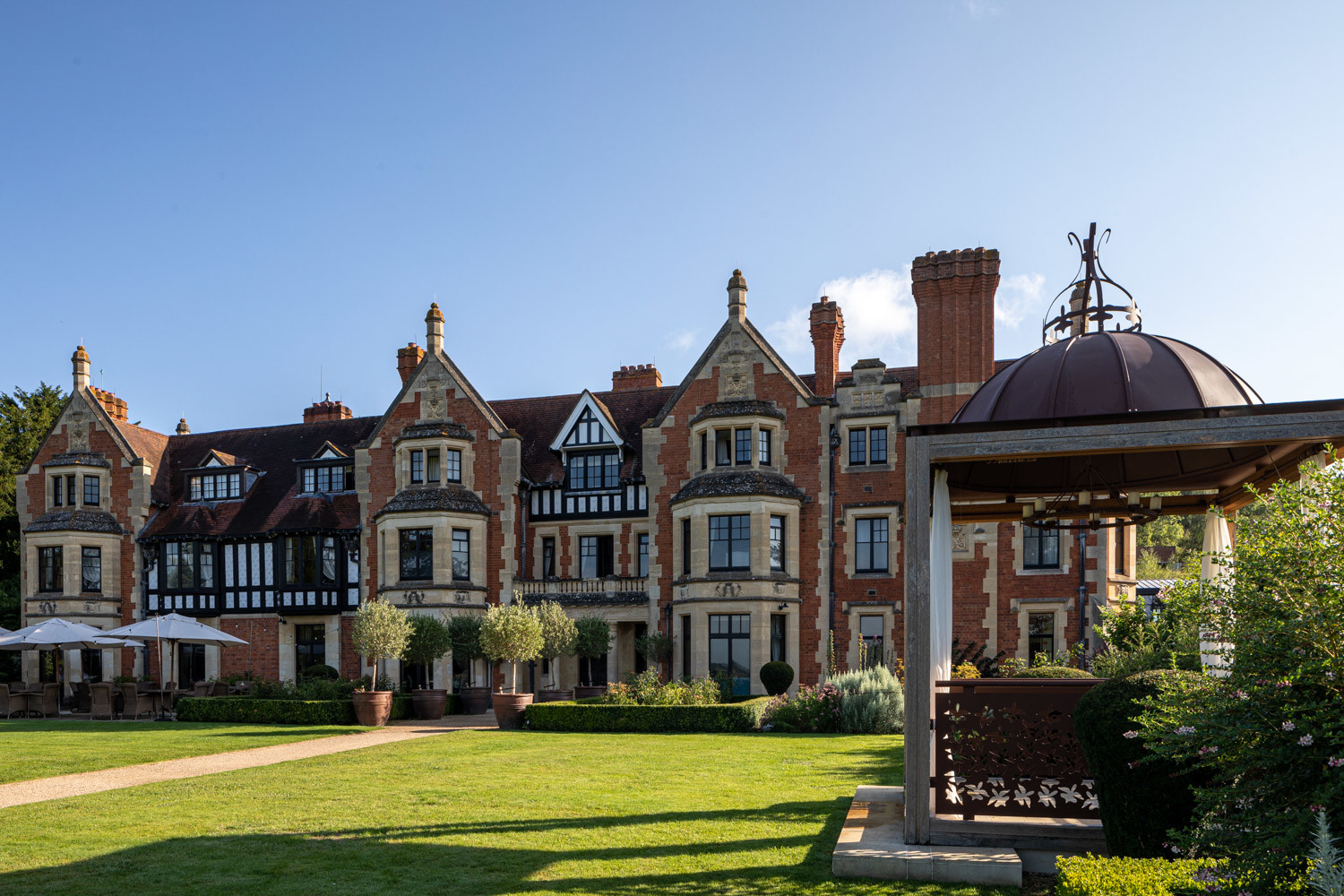 Steve Sweeny, General Manager of The Wood Norton said: "We have other, larger-scale plans in the pipeline to make our hotel greener, including the installation of solar panels so we can generate our own renewable energy, plus much more. As a hotel, we are continuing to look at our internal practices to ensure we are as sustainable and environmentally friendly as possible and are asking our guests to support us in achieving our Green Pledge objective."
Each action made by those who care about the environment is making the future for the next generation a better place. We thank The Wood Norton for doing its part so generations to come can enjoy not only this hotel but the planet.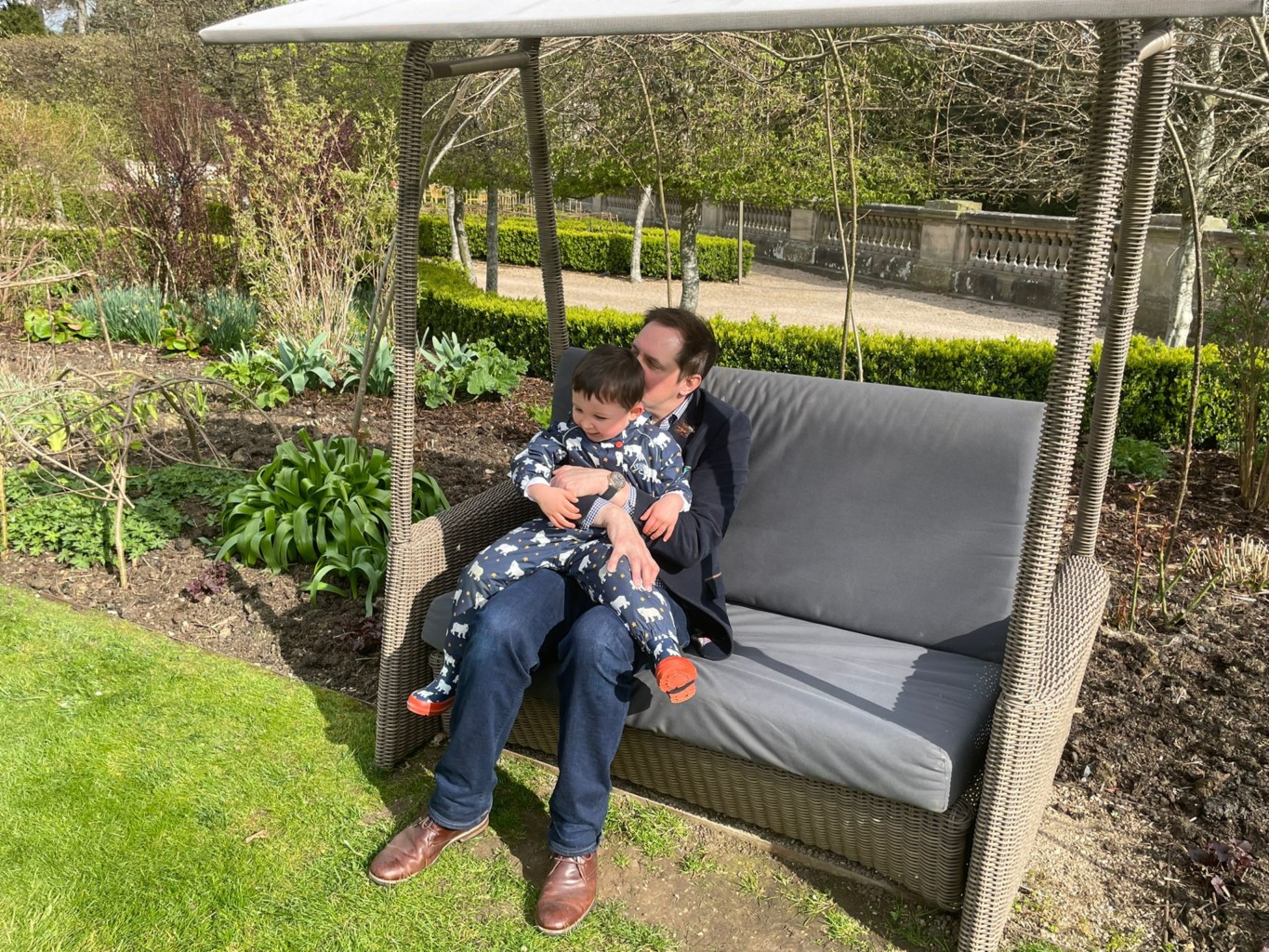 Time to go in and grab a bite. I can hear a mini tummy rumbling!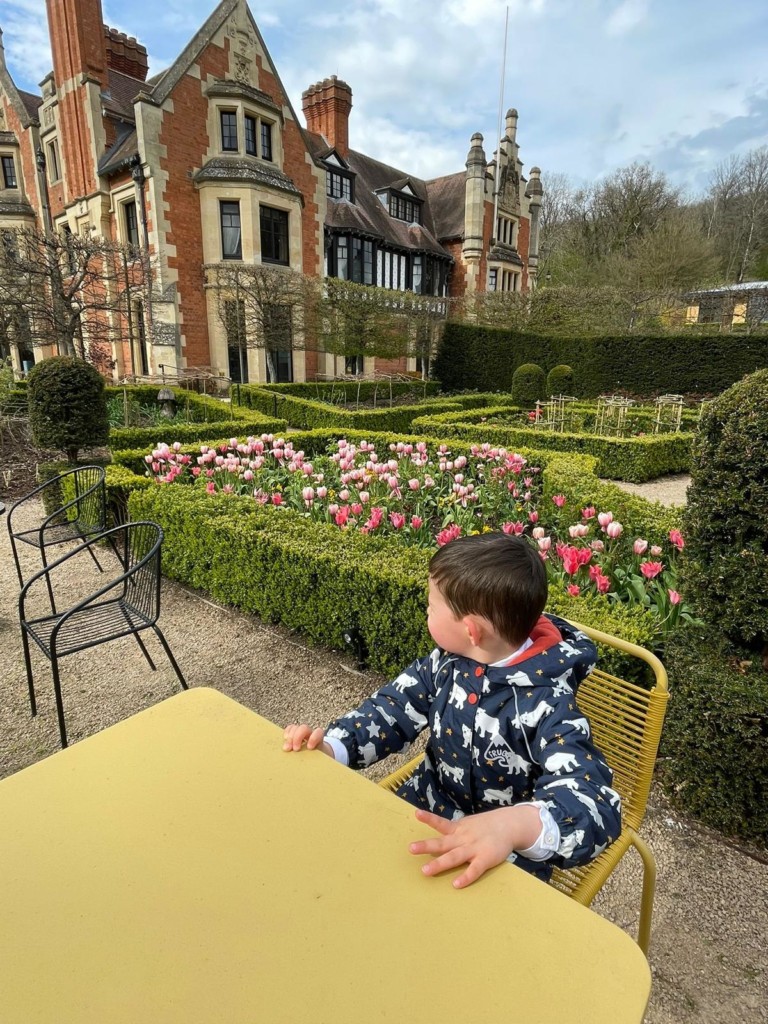 The Wood Norton is a stunning must-visit destination for all those looking for a fabulous country weekend break, an impressive business event or the perfect wedding venue but even if you are not staying the night we highly recommend it for dinner too.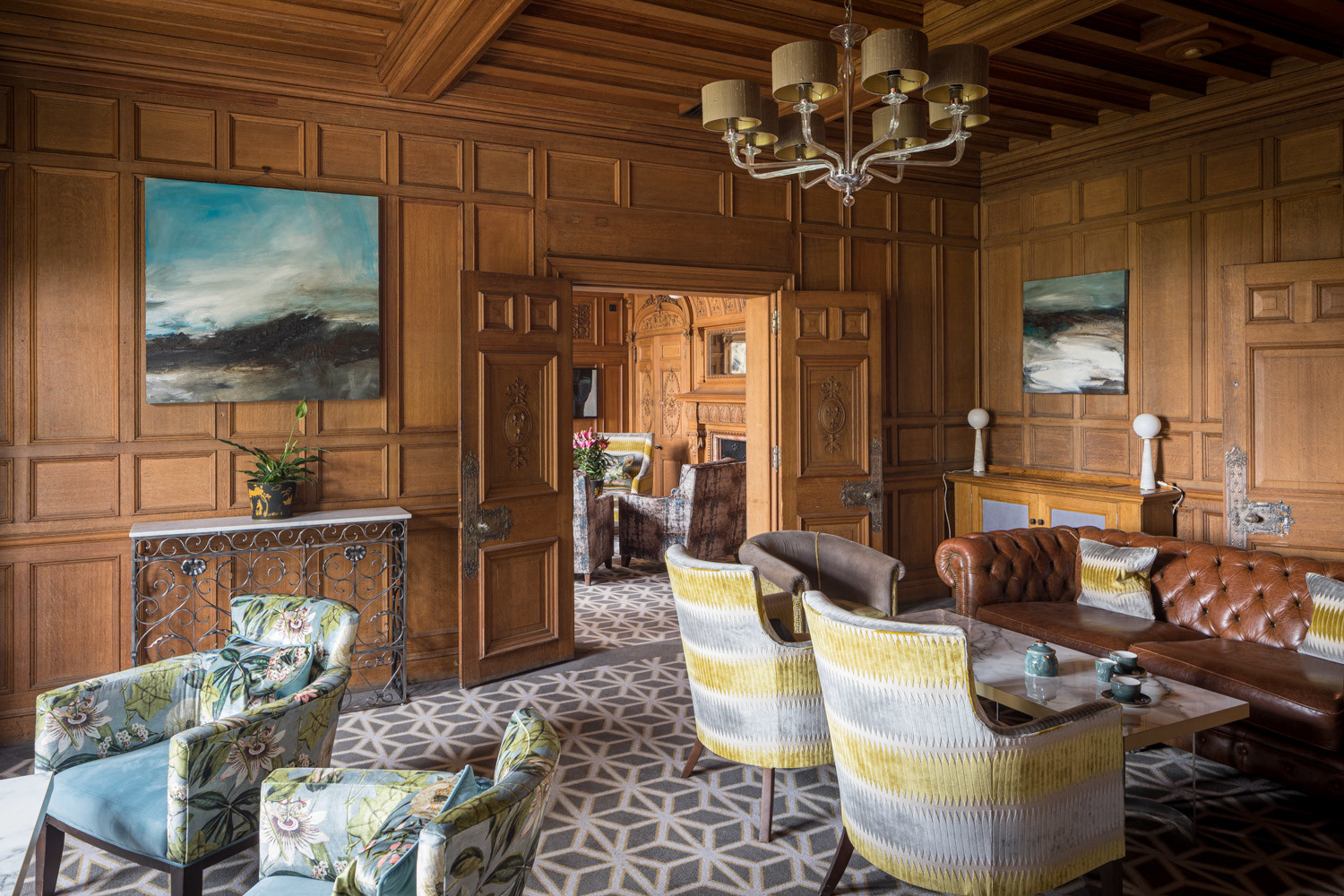 The Bar at The Wood Norton is the hub of the hotel. Overlooking the formal garden, The Bar is an eclectic mix of colour and design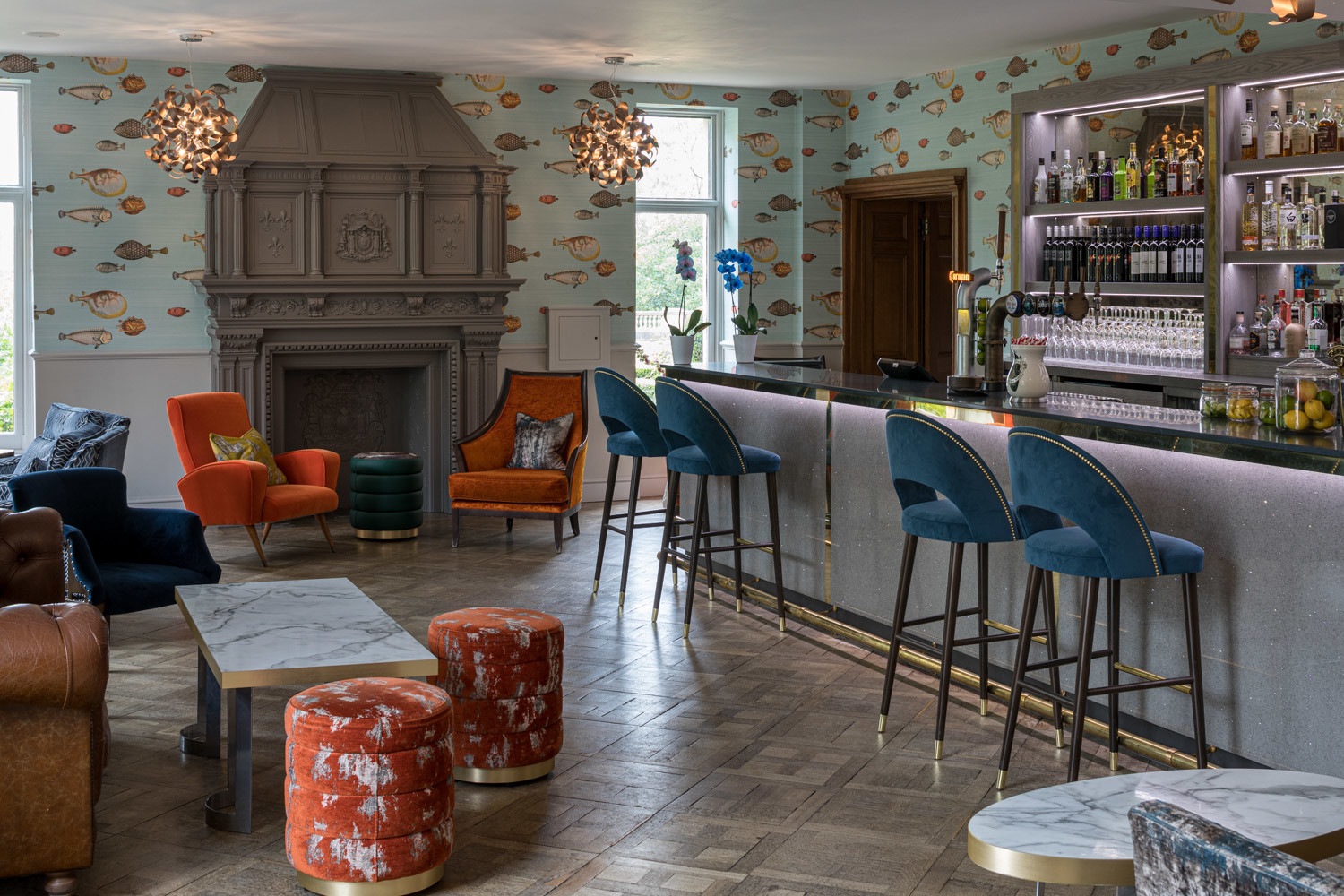 Overlooking the South Terrace, with views stretching to Bredon Hill and way beyond, is the Fleur de Lys Brasserie where we dined in the evening.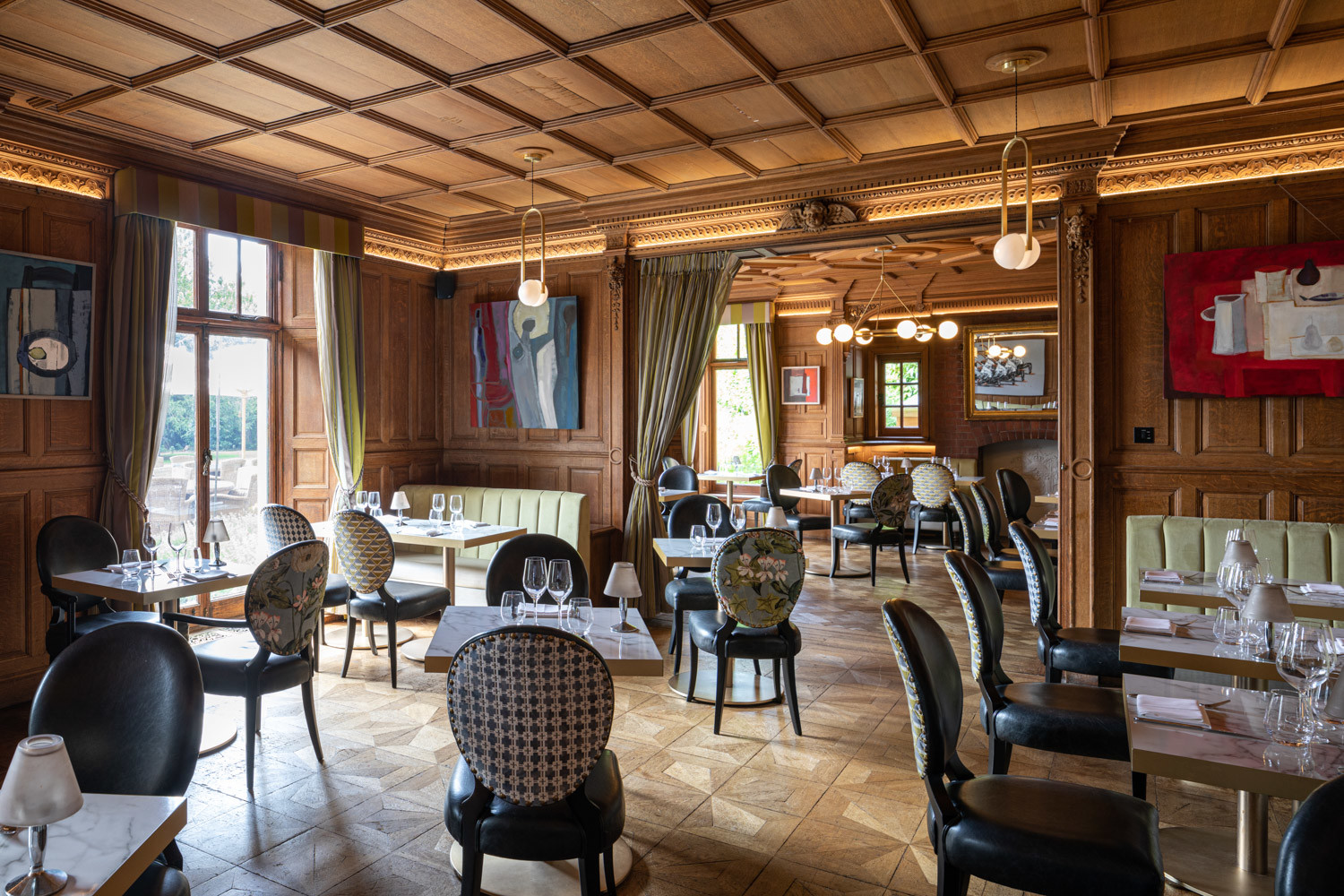 This beautiful salmon appetiser was fresh, flavourful and a fantastic start to any meal.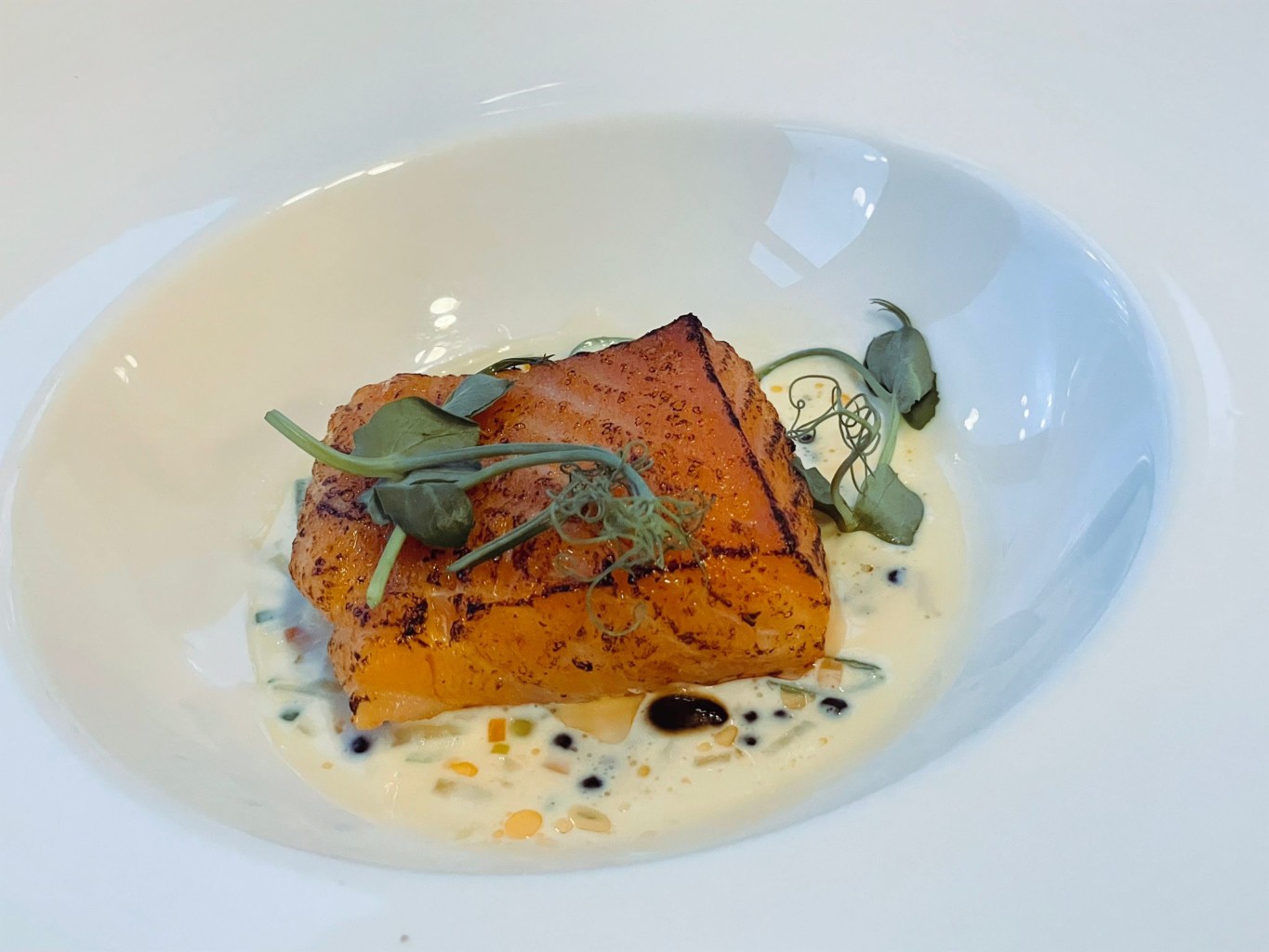 For those who prefer something greener, we loved the asparagus with a yolky surprise.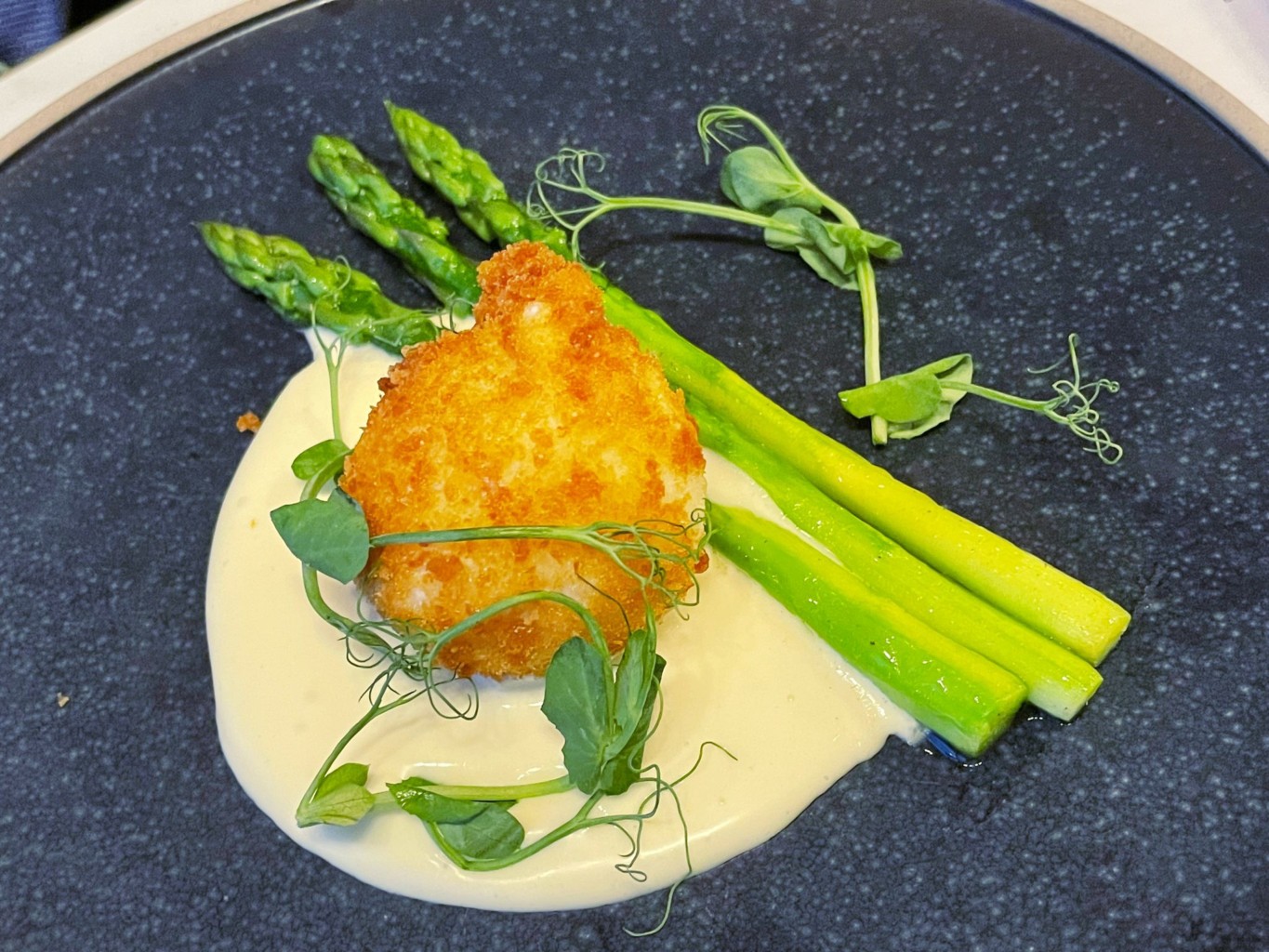 However, the show stopper was the tuna tartare which tasted as good as it looks.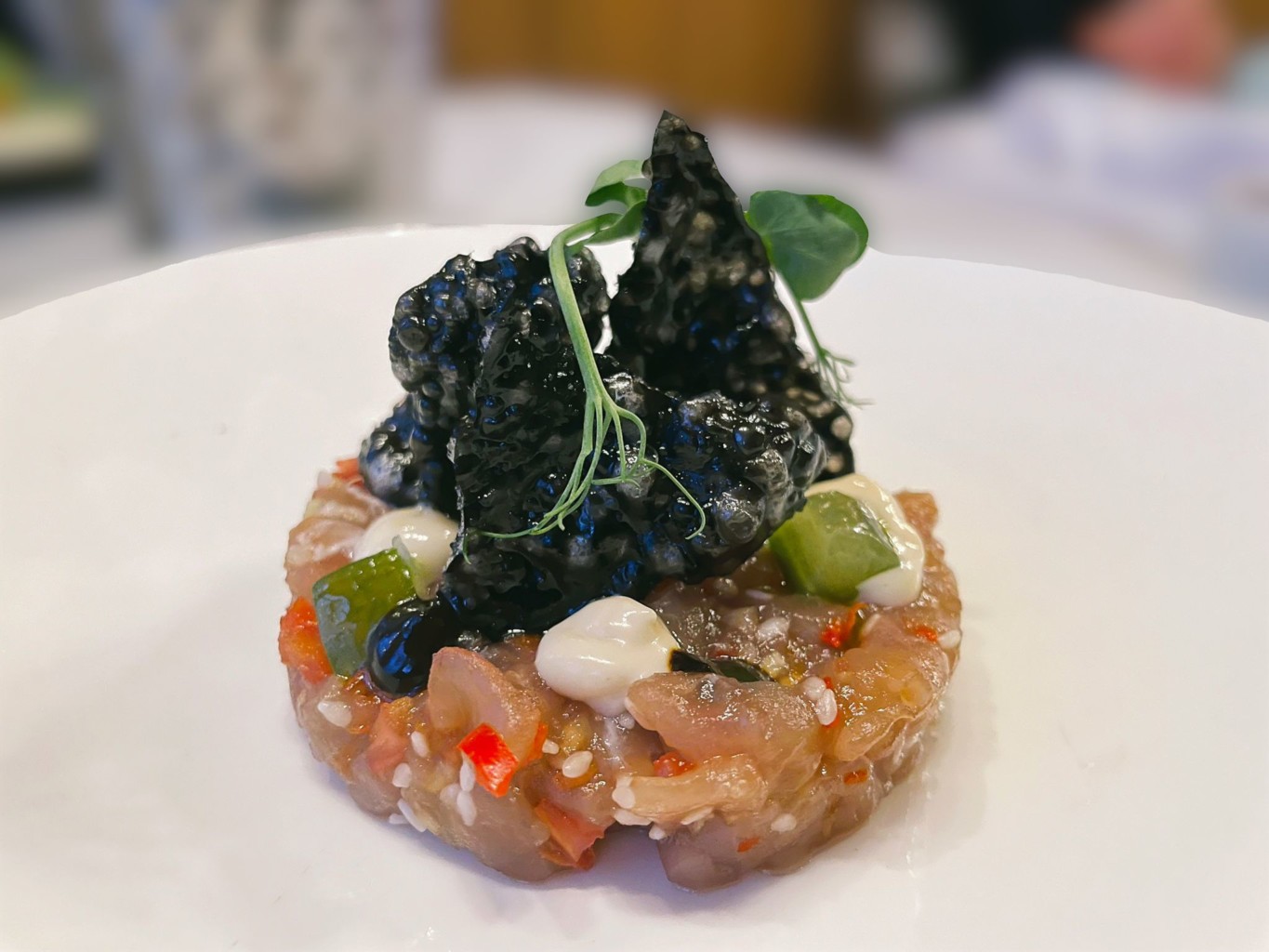 For mains, we chose the quintessentially English dish of fish and chips. We highly recommend this to all oversea visitors who want to try something traditional, complete with mushy peas, tartare sauce and triple cooked chips which were to die for.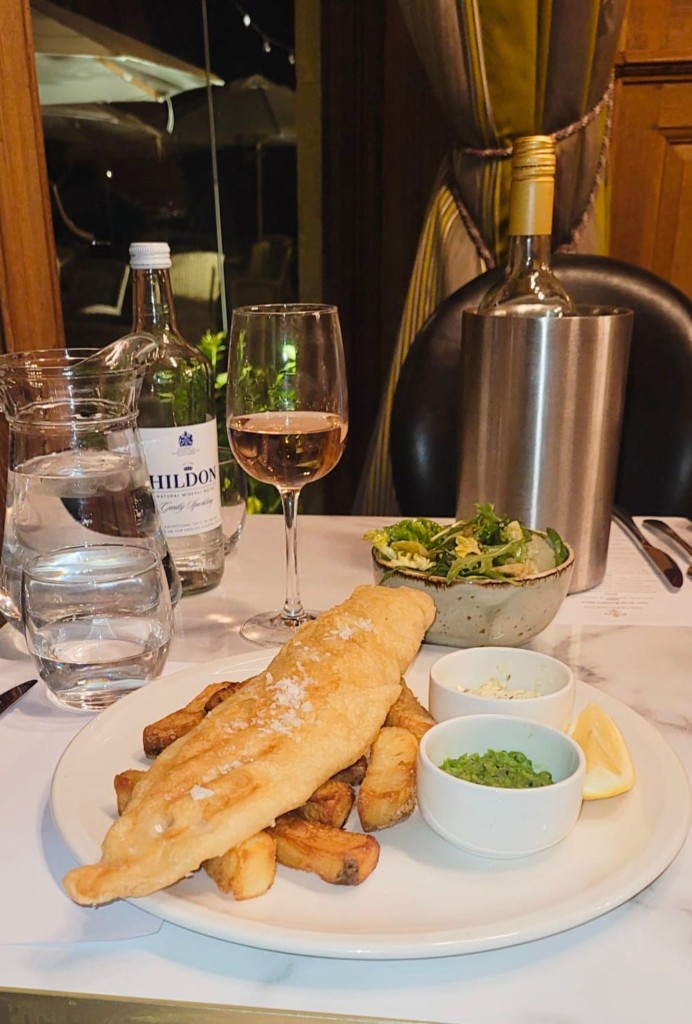 The Wood Norton is in the process of having a Robata grill installed and will be taking its meat to the next level but it already tastes so good they will be hard pushed to make it any better. This steak below with chimichurri sauce was delicious.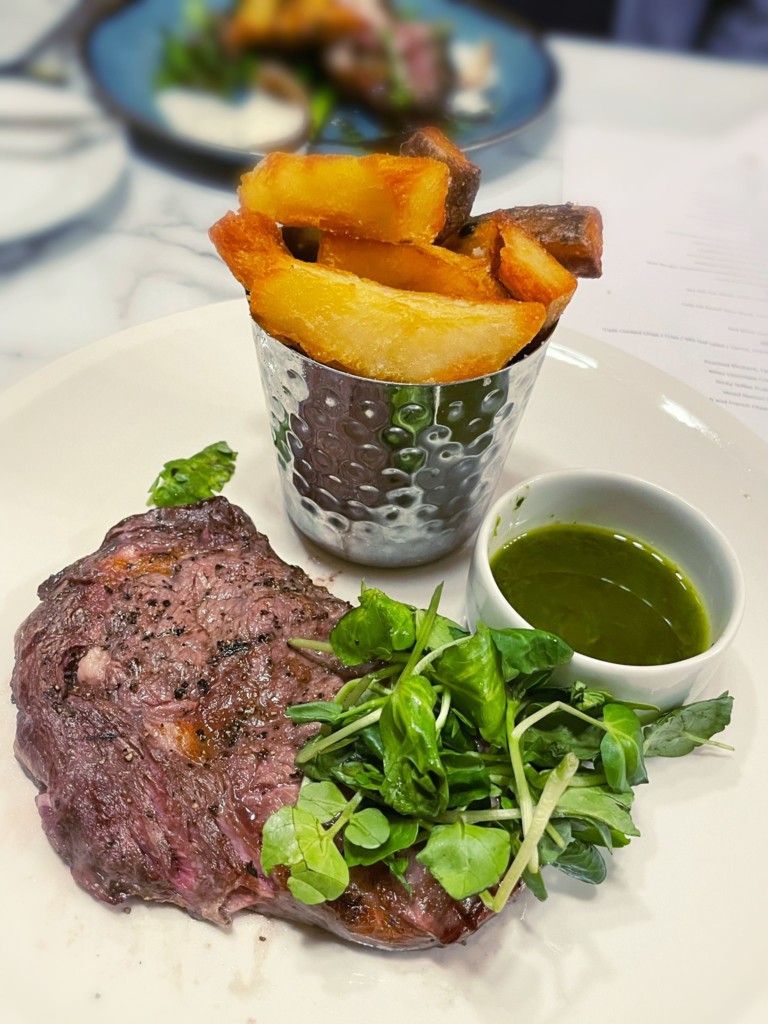 The most interesting dish was the lamb which was served with a samosa and asparagus. The perfect balance of tender medium-rare meat with the crunch and texture of the fried samosa. The flavours were a delight on the palate.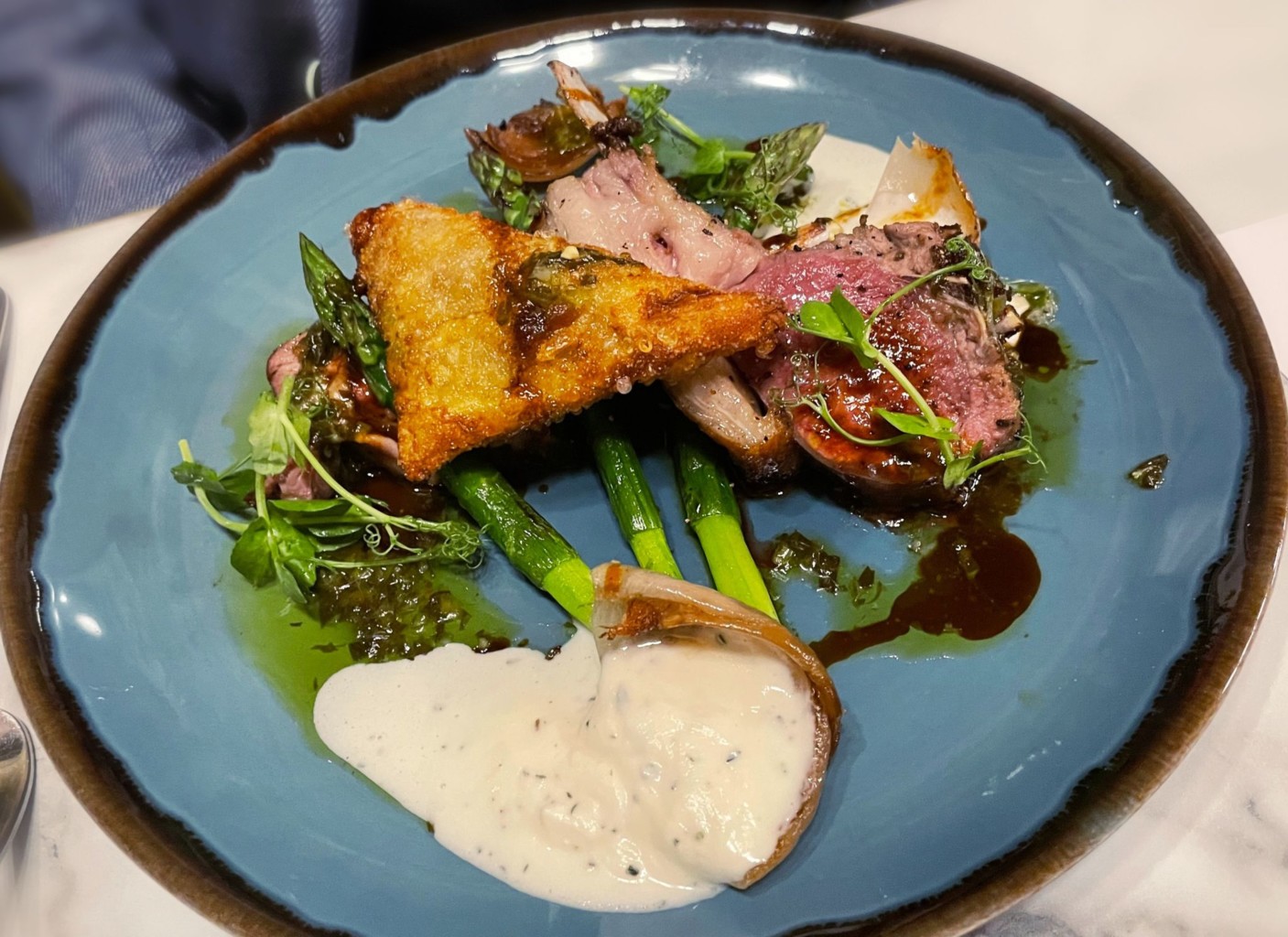 The desserts were also scrumptious but the sticky toffee pudding stole the show.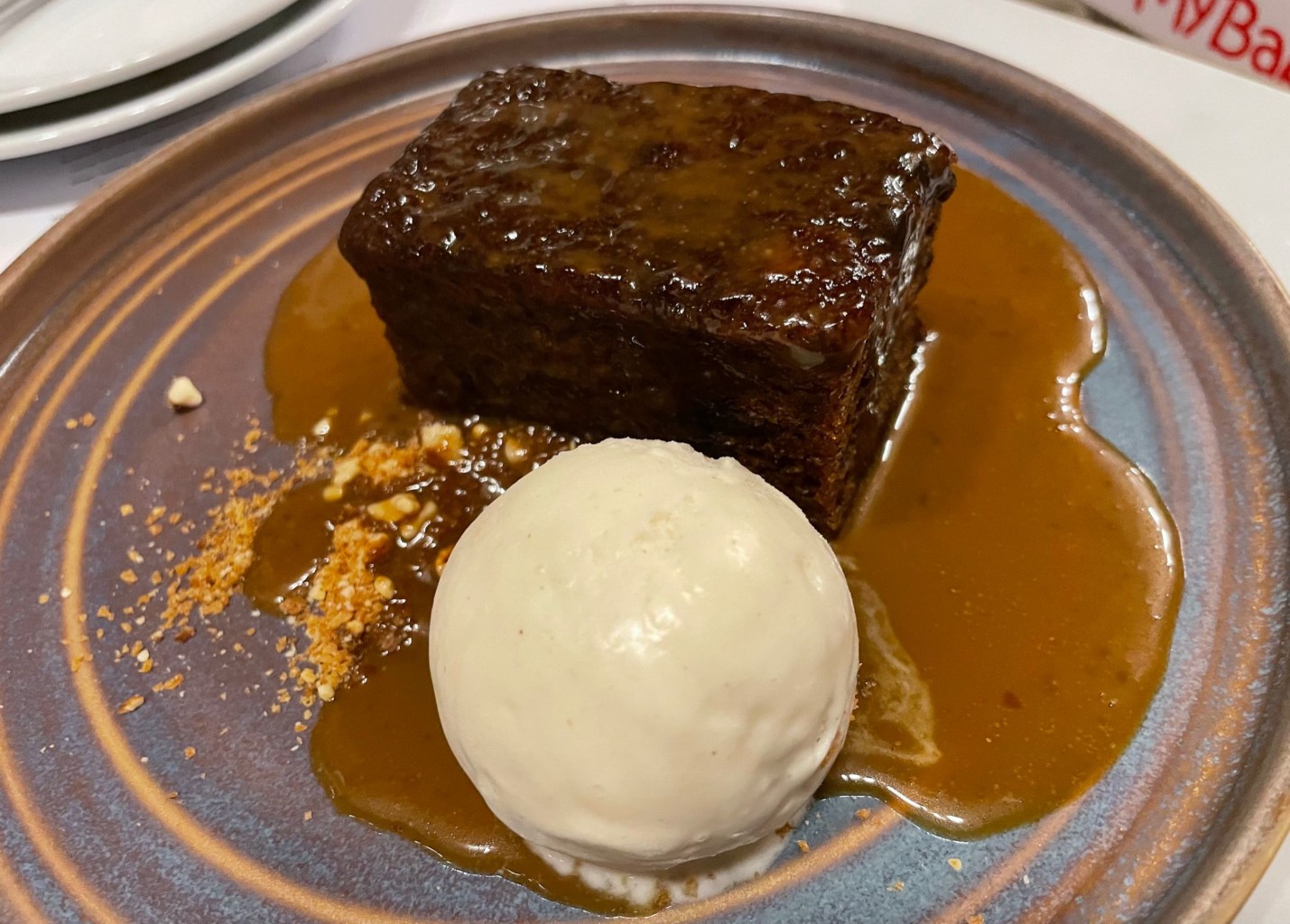 For those with room in the morning, there is a wonderful selection for breakfast. The team are also flexible, so when asked to replace the poached eggs with scrambled they happily were able to accommodate.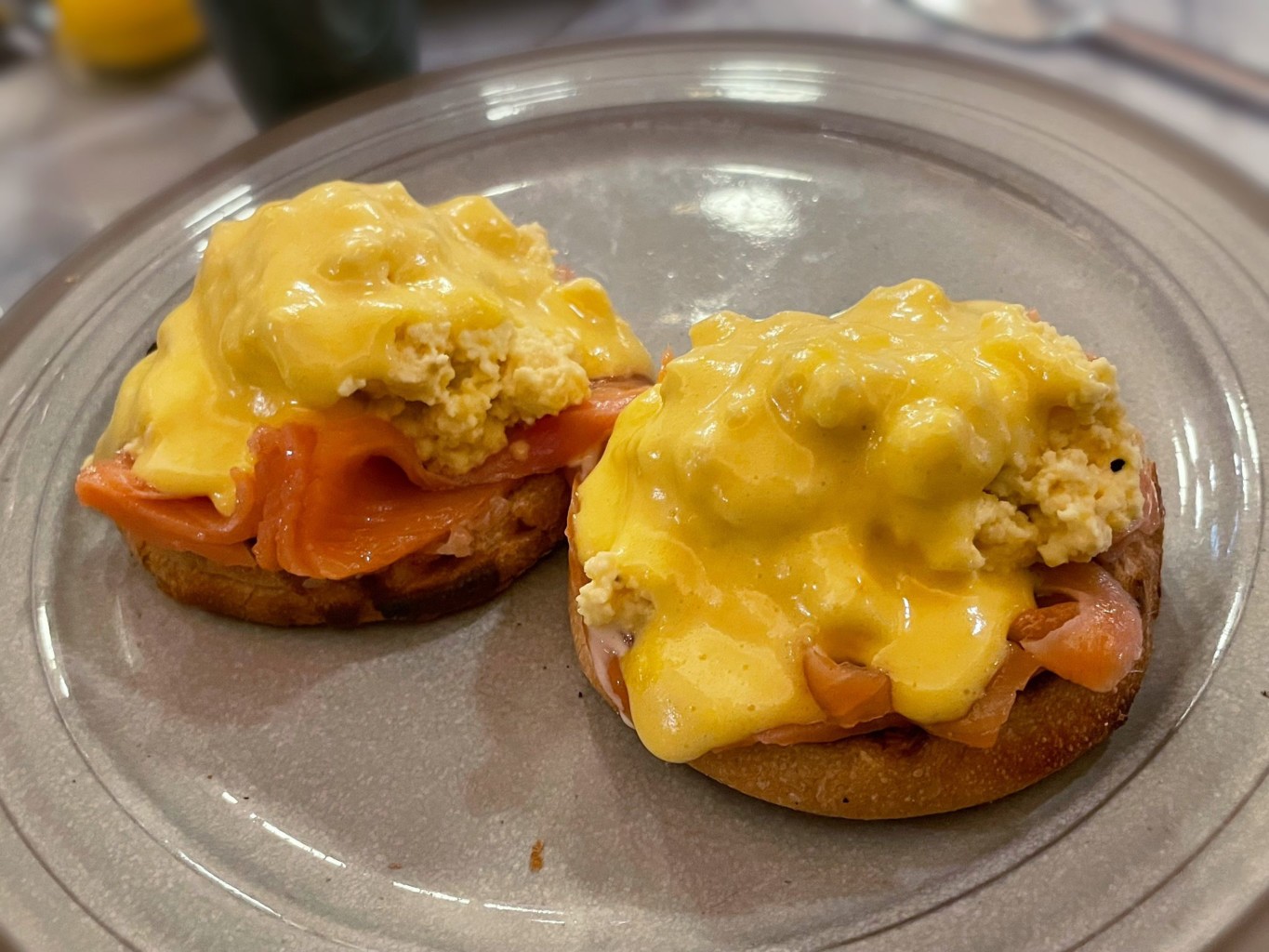 Alternatively, you could opt for a Full English Breakfast complete with black pudding. They also have a buffet with continental pastries for a lighter choice.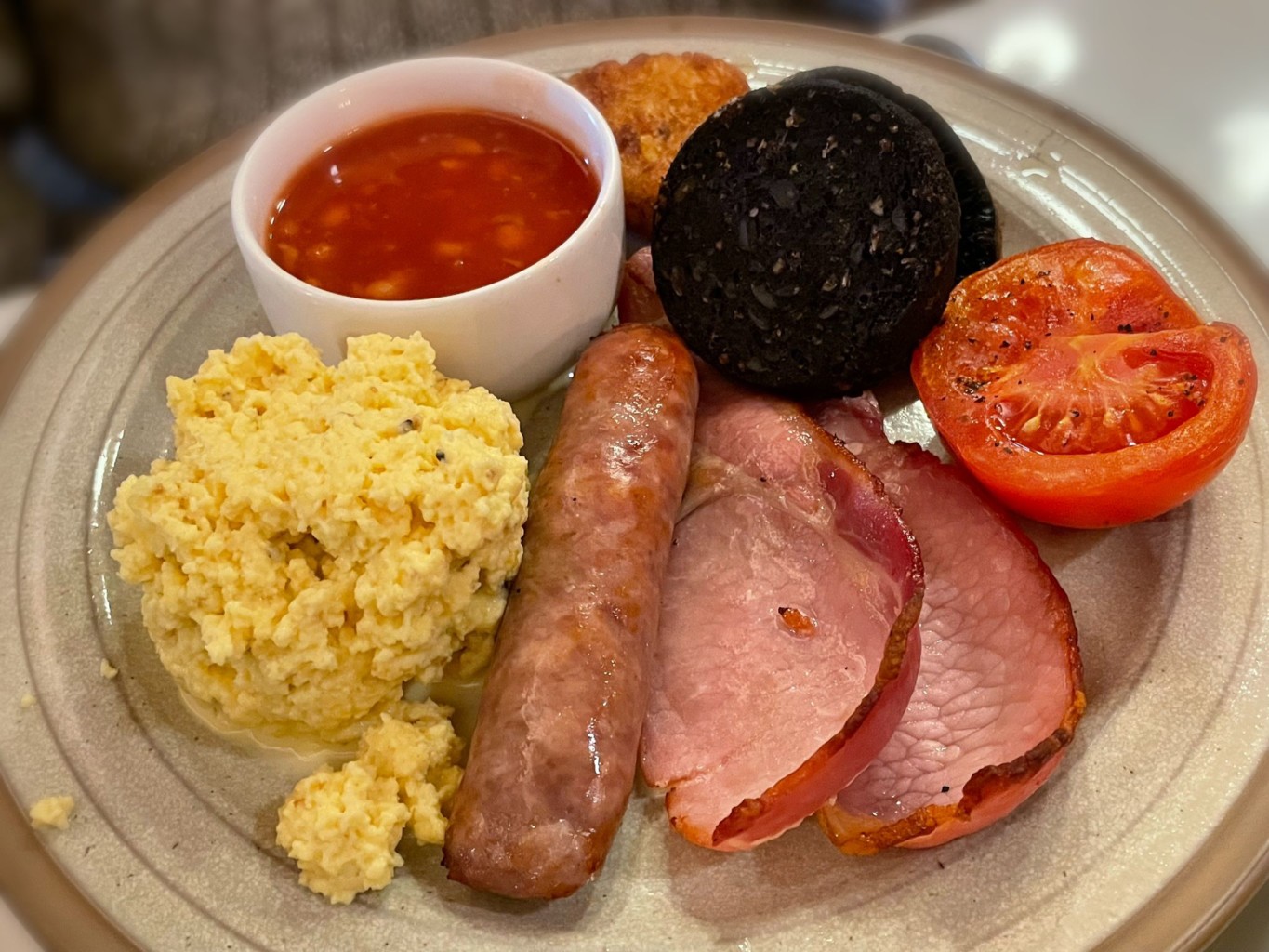 Minipreneur saved himself for later as he had already spied something very delicious the day before on the table of a lovely couple who were staying over as well, but first, he had a mission to find a polar bear. He spied a robot which paired with the Dr Who connection, then found a big black cat that just had to be mentioned, but third time lucky he looked again and saw what he had been looking for – his little frosty friend!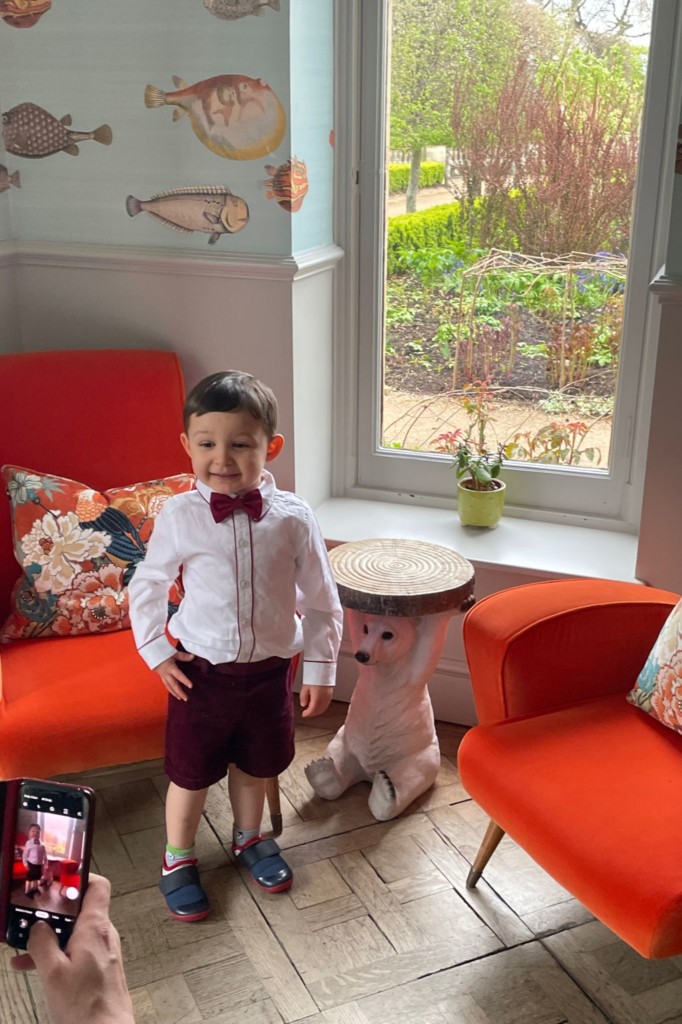 It wasn't long before photos were done, and Minipreneur was seated for some afternoon tea fun.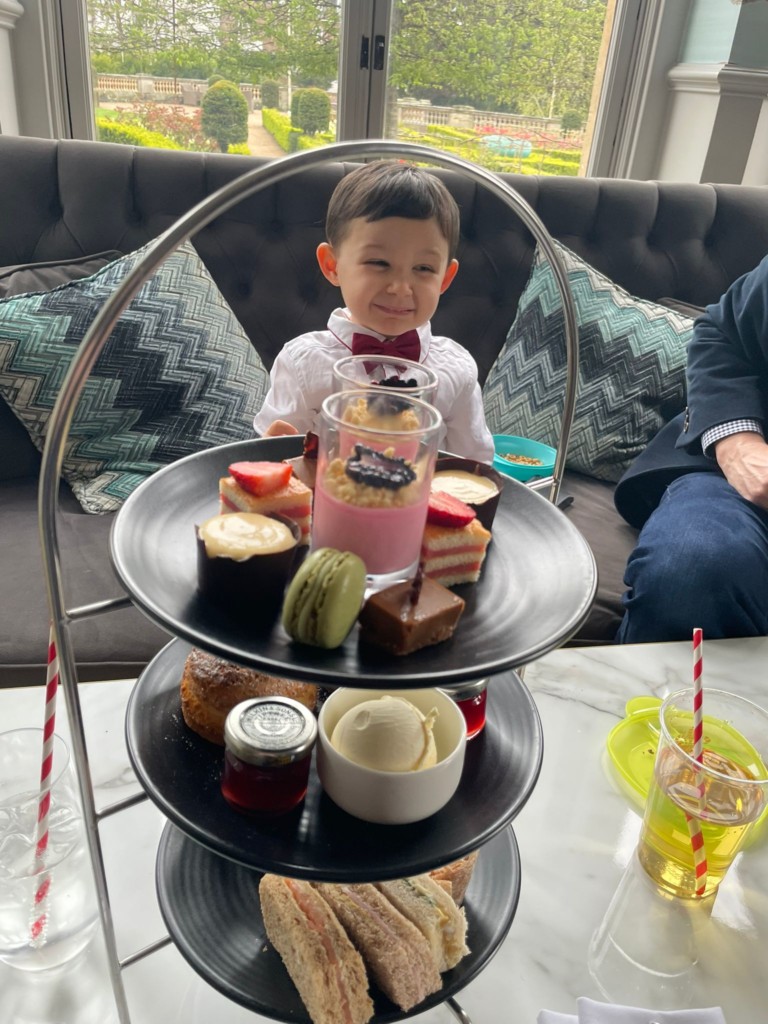 Is this strawberry? Is this raspberry? Does the blackberry give us a clue? The only way to really know is to visit The Wood Norton to order one and try it yourself!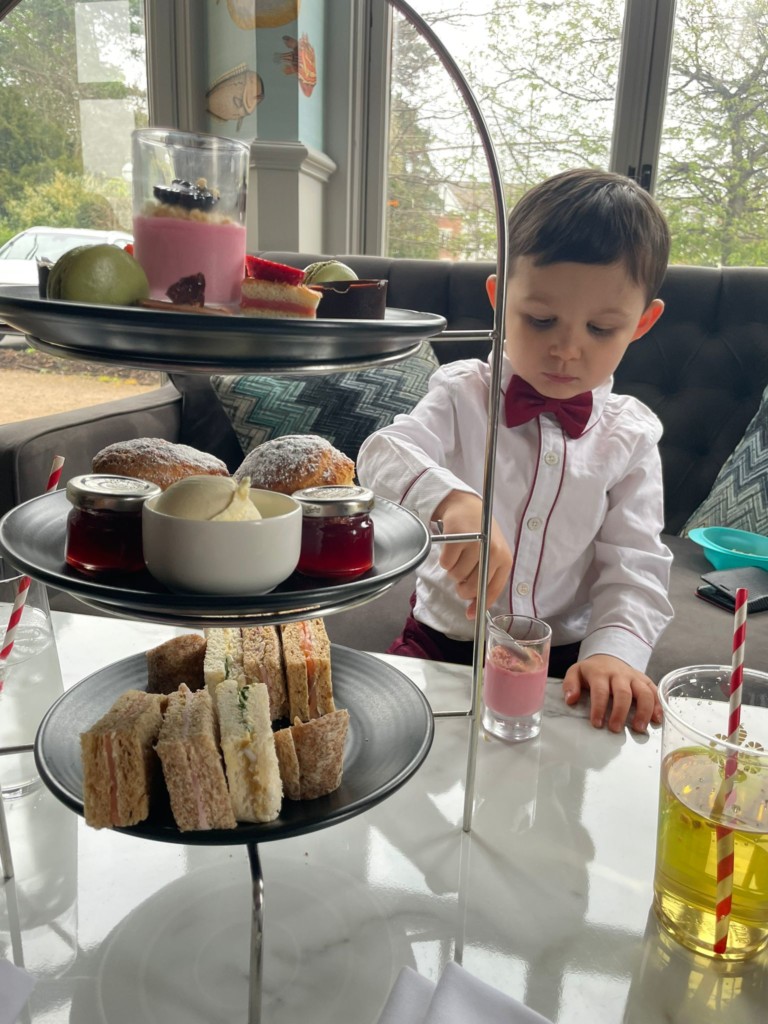 What we can tell you is that it is delicious. However, with so many choices, little eyes are mesmerised.  The berry fool or the pistachio macaron? Why save yourself for one yummy bite when you can try them all!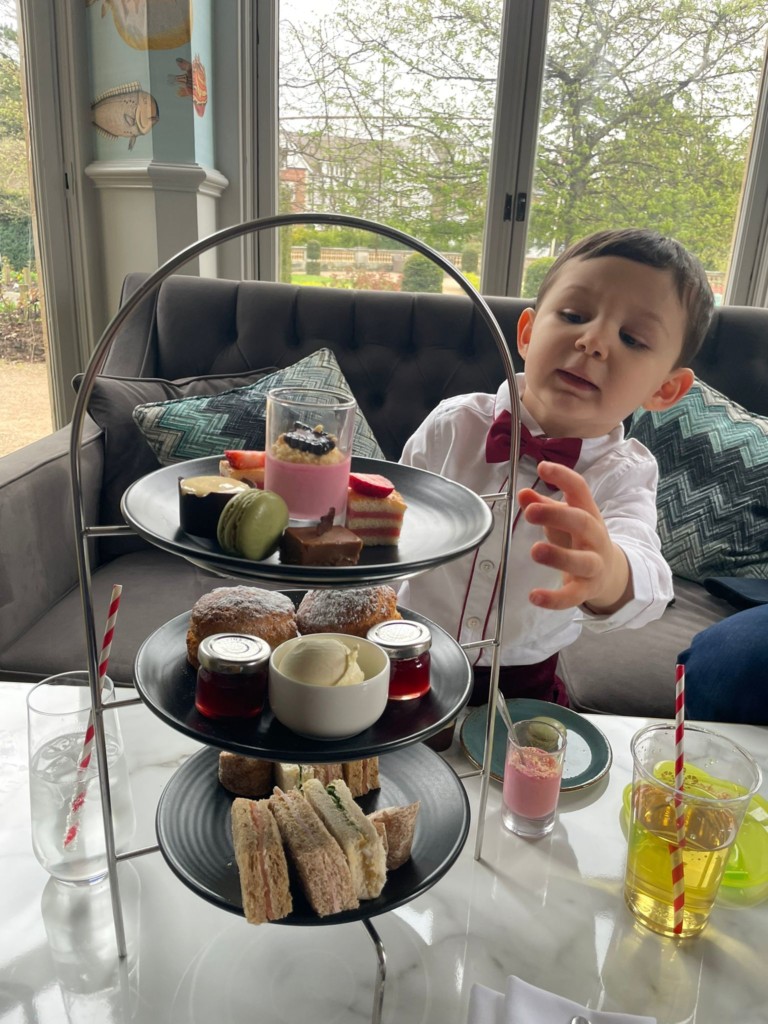 Mummy says desserts are last and that some start with sandwiches and some start with scones, but it's time to grab some more while the adults are busy taking pictures on their phones!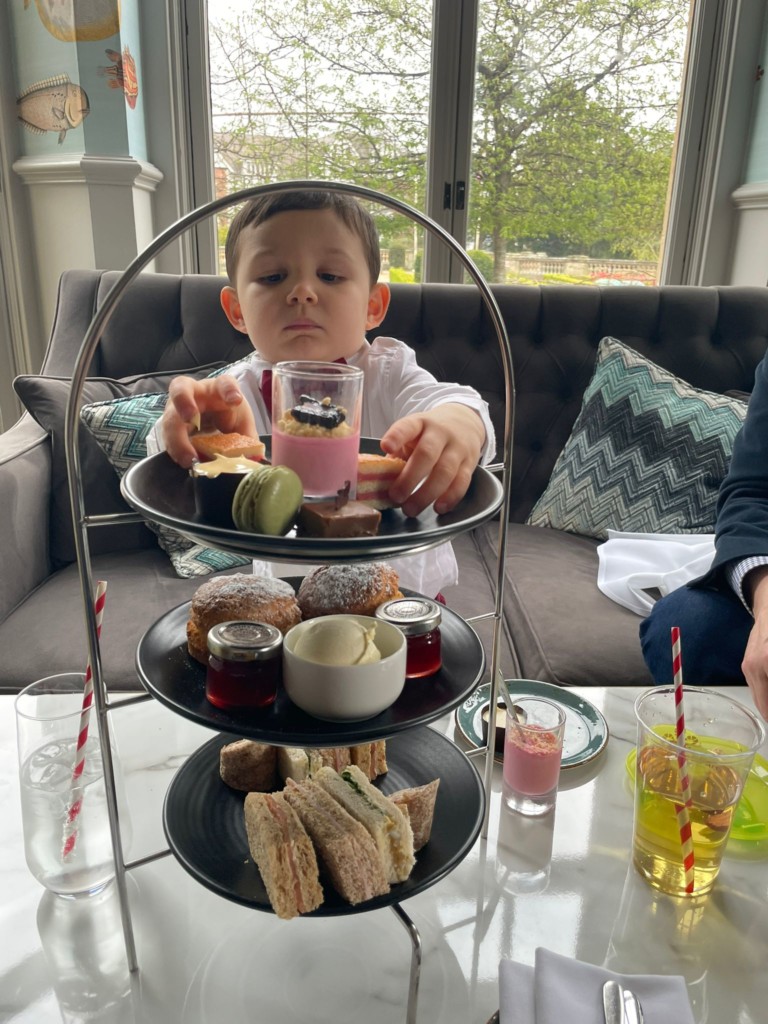 The Wood Norton is the perfect place to stay for any age, from 9 months to 90! This is a special place that is somewhere to share with those you love the most. Time is precious and so is making time for the whole family. Your quality time is well spent at The Wood Norton – a place where the whole family can be their authentic selves.
The Wood Norton
Worcester Road, Evesham, Worcestershire WR11 4YB
+44 (0)1386 765 611
www.thewoodnorton.com