Nestled in the prestigious neighbourhood of South Kensington, 100 Queen's Gate stands as a testament to refined luxury. Steeped in Victorian grandeur, this five-star haven effortlessly blends the charms of yesteryear with the allure of contemporary elegance. Prepare to embark on a journey where history embraces modern marvels, all in the heart of London's cultural epicentre.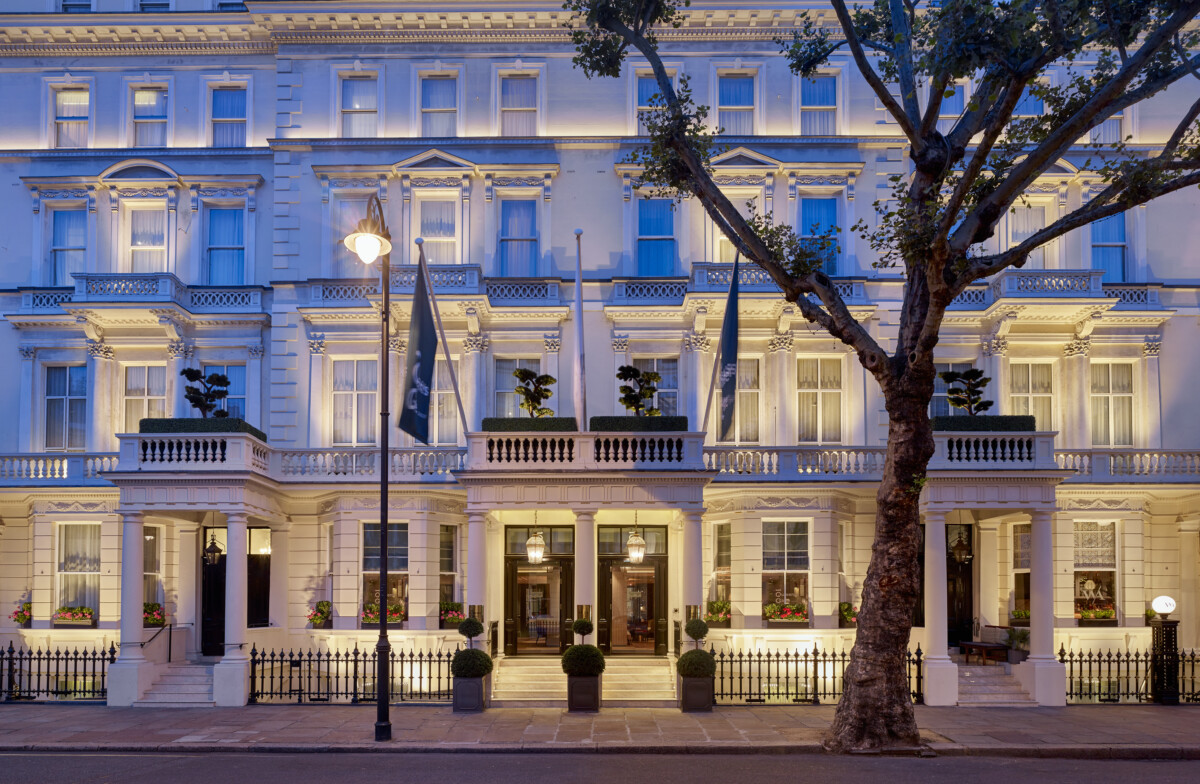 A Tapestry of Elegance: Bedrooms Fit for Royalty
Step into a realm of sophistication as you enter the exquisitely furnished bedrooms of 100 Queen's Gate. Each room boasts a unique design, ensuring that no two stays are alike. Gone are the days of cookie-cutter accommodations! Here, you'll find an exquisite blend of comfort, style, and convenience, creating a haven that beckons weary travellers to relax and rejuvenate.
At 100 Queen's Gate, each of the hotel's suites displays its own Blue Plaque outside the room, building on the rich history of South Kensington and historical figures that lived close by. Named after some of the borough's most famous past residents, including Dame Agatha Christie, Alfred Hitchcock and Lord Robert Baden Powell, the suites are lavish, stylish and generously sized, blending contemporary with classic for a truly unique stay.
Preneur World's charismatic Minipreneur had a delightful experience at the luxurious 100 Queen's Gate Hotel. Set over two levels, Minipreneur's duplex suite boasts a separate living area and king bedroom, decorated in opulent tones.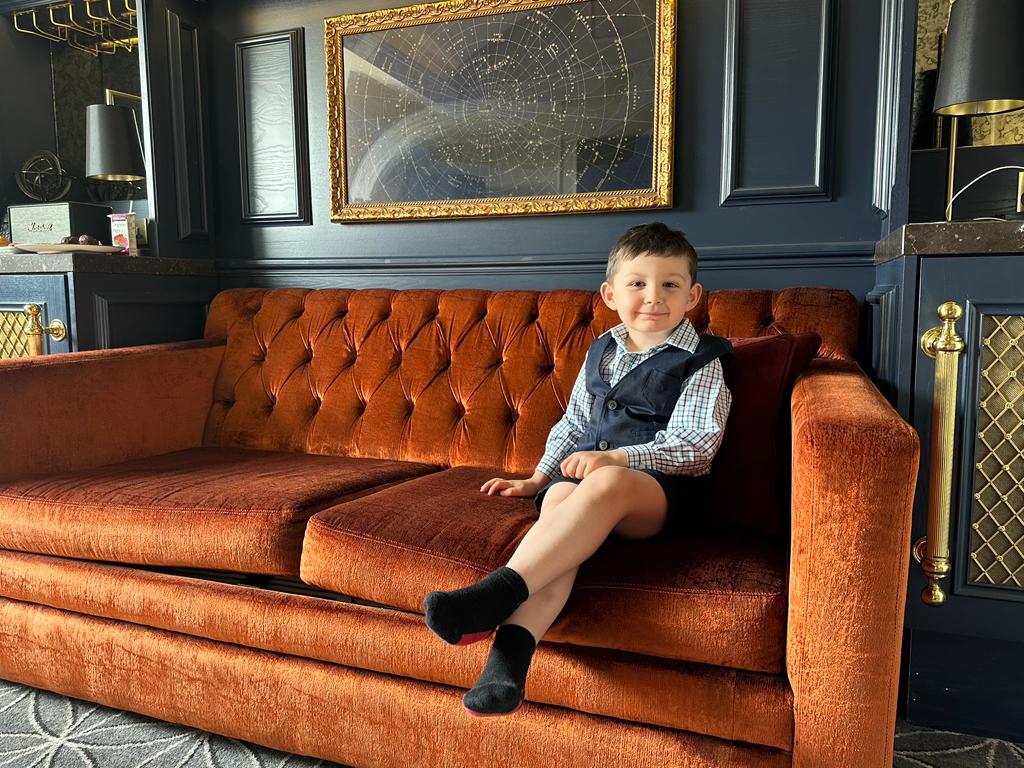 During his stay, Minipreneur indulged in a memorable bath time experience, made even more enjoyable by the hotel's thoughtful provision of a Mini Me bathrobe and fluffy slippers specifically designed for young children. With an infectious smile on his face, Minipreneur revelled in the comfort and softness of the bathrobe, perfectly tailored to his size.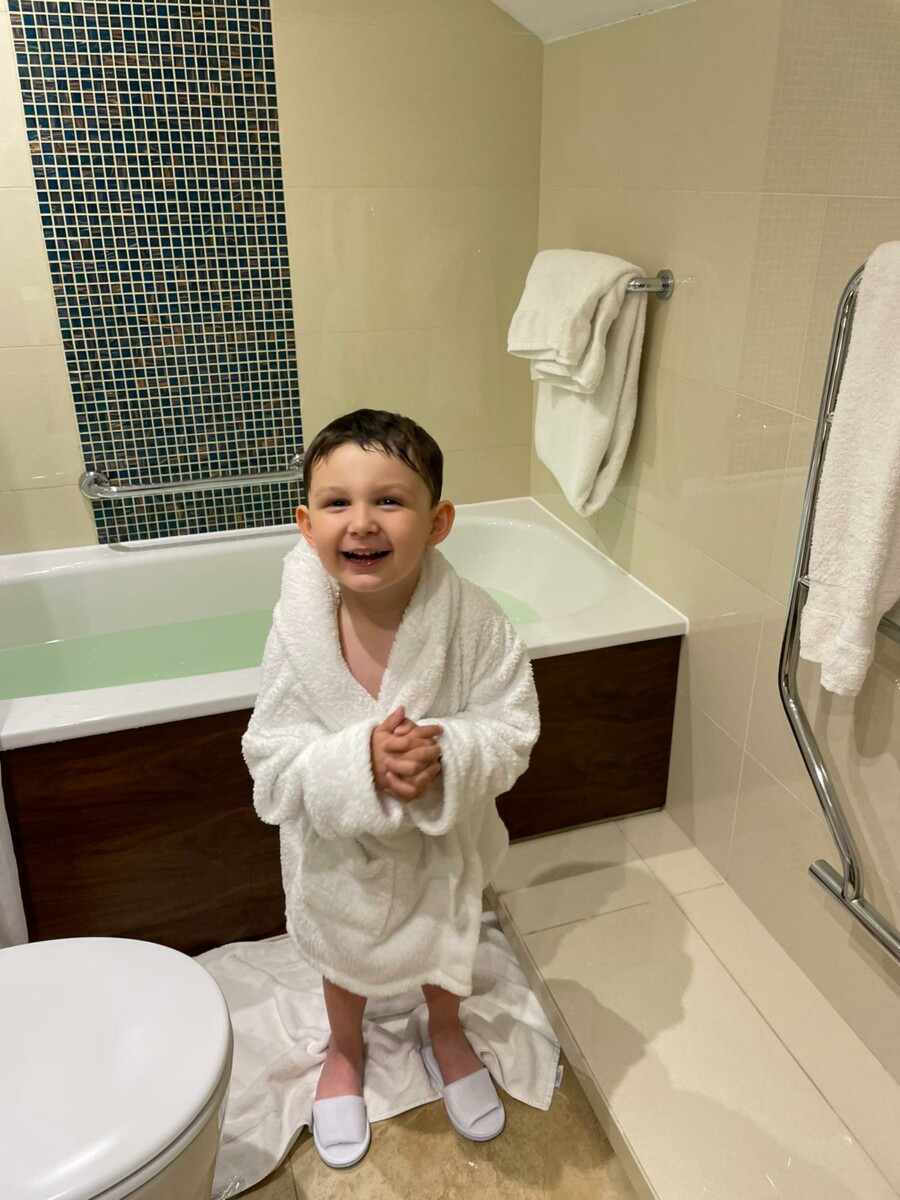 Culture at Your Doorstep: London's Cultural Cornucopia
The strategic location of 100 Queen's Gate makes it the perfect base for exploring London's vibrant cultural scene. With renowned attractions such as the Natural History Museum, the Science Museum, Royal Albert Hall, the V&A, and Hyde Park just a stone's throw away, you'll find yourself immersed in a tapestry of artistic wonders and scientific marvels. Prepare to lose yourself in the rich heritage of this remarkable city.
Minipreneur, known for being an enthusiastic young explorer, embarked on a thrilling visit to The Natural History Museum. With a deep fascination for dinosaurs, he eagerly explored the prehistoric exhibits, marvelling at their immense size and ancient mysteries. His knowledge extended beyond dinosaurs as he recognized the ossicones on the giraffe exhibit, showcasing his impressive understanding of nature's wonders for one so young.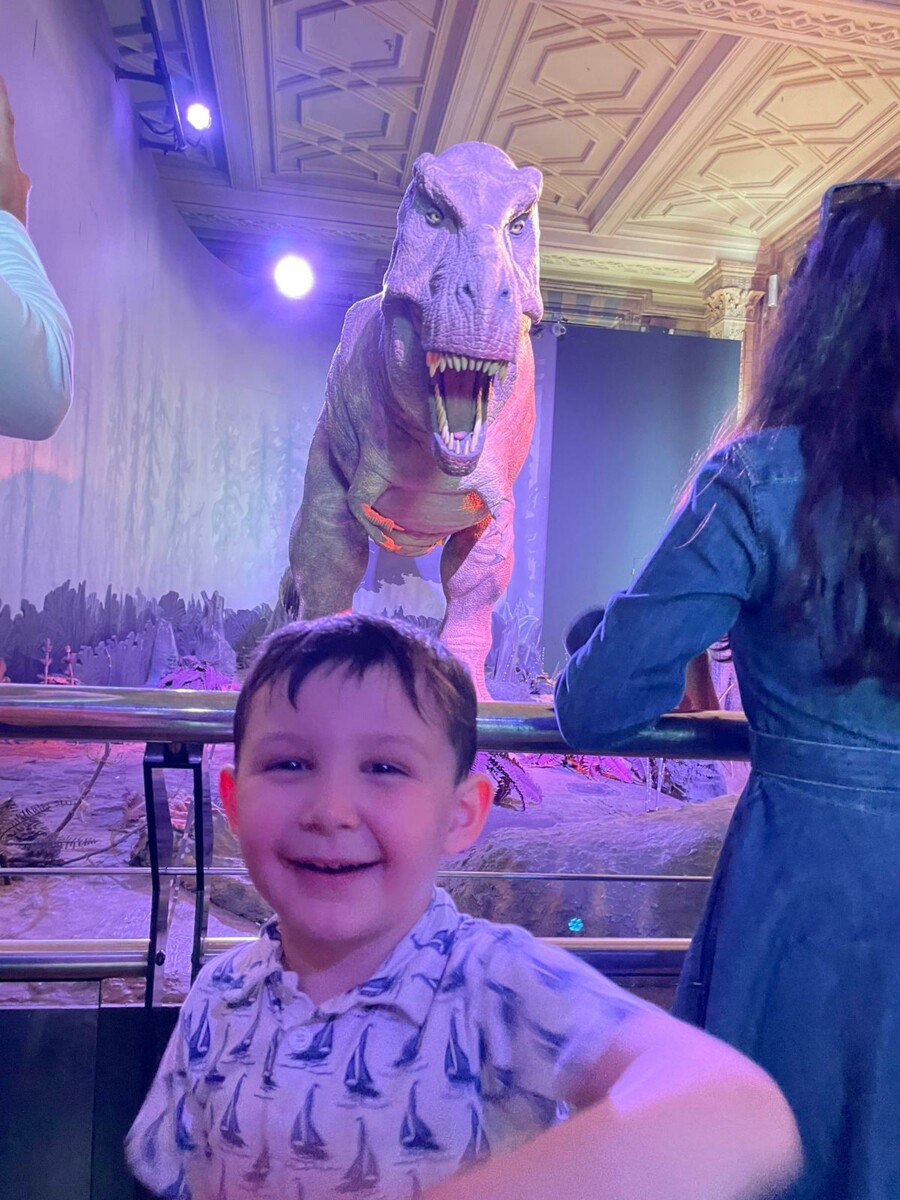 After visiting the dinosaurs at the Natural History Museum, it was time for Minipreneur to head back to his hotel suite to explore the magical realms of children's literature by delving into the enchanting world of The Bowerbird, the captivating new children's book by the highly acclaimed author Julia Donaldson, best known for her beloved children's book, The Gruffalo – one of Minipreneur's favourite children's books.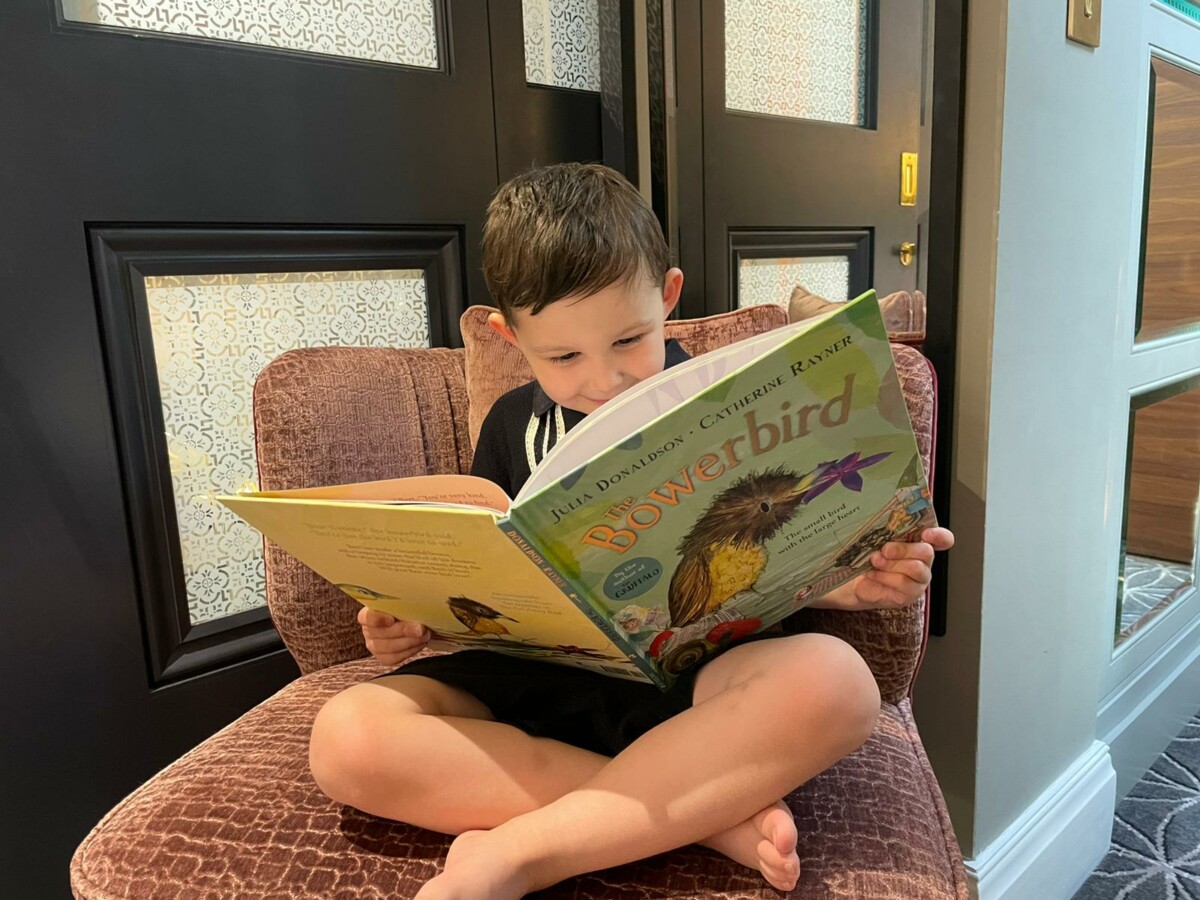 The Queen's Gate Suite: A Royal Retreat Fit for Kings and Queens
For those seeking the pinnacle of opulence, the Queen's Gate Suite awaits. Indulge in the lap of luxury as you enter through a private street-level entrance, complete with video phone entry. This lavishly spacious suite offers a separate living area and the flexibility to add up to three additional bedrooms. Privacy and exclusivity become your faithful companions, ensuring a regal experience like no other.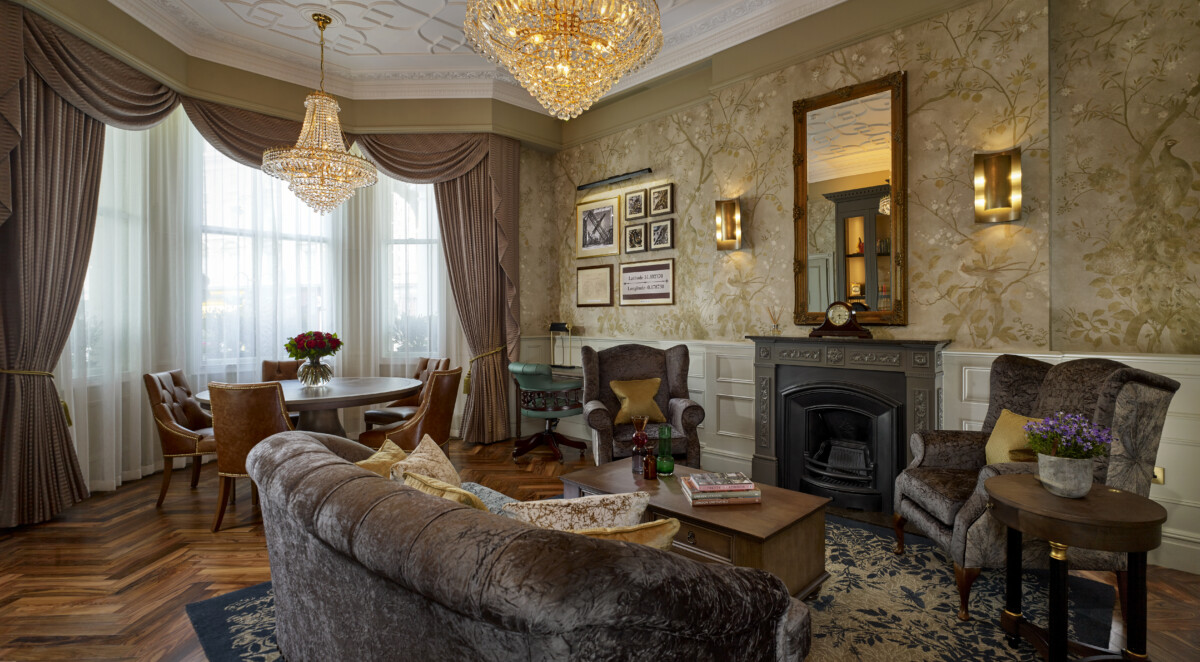 Cento: A Culinary Sojourn to Italy
Get ready for a feast of flavours at Cento, the hotel's signature restaurant. Transport your taste buds to the sun-kissed landscapes of Italy as you embark on a gastronomic journey through the country's diverse regional cuisine. Helmed by a team of passionate Italian chefs, Cento invites you to revel in the warmth of its ambiance while savouring mouth-watering dishes. Whether it's a power lunch, a family gathering, or a delightful rendezvous with friends, Cento is the perfect setting for unforgettable culinary moments.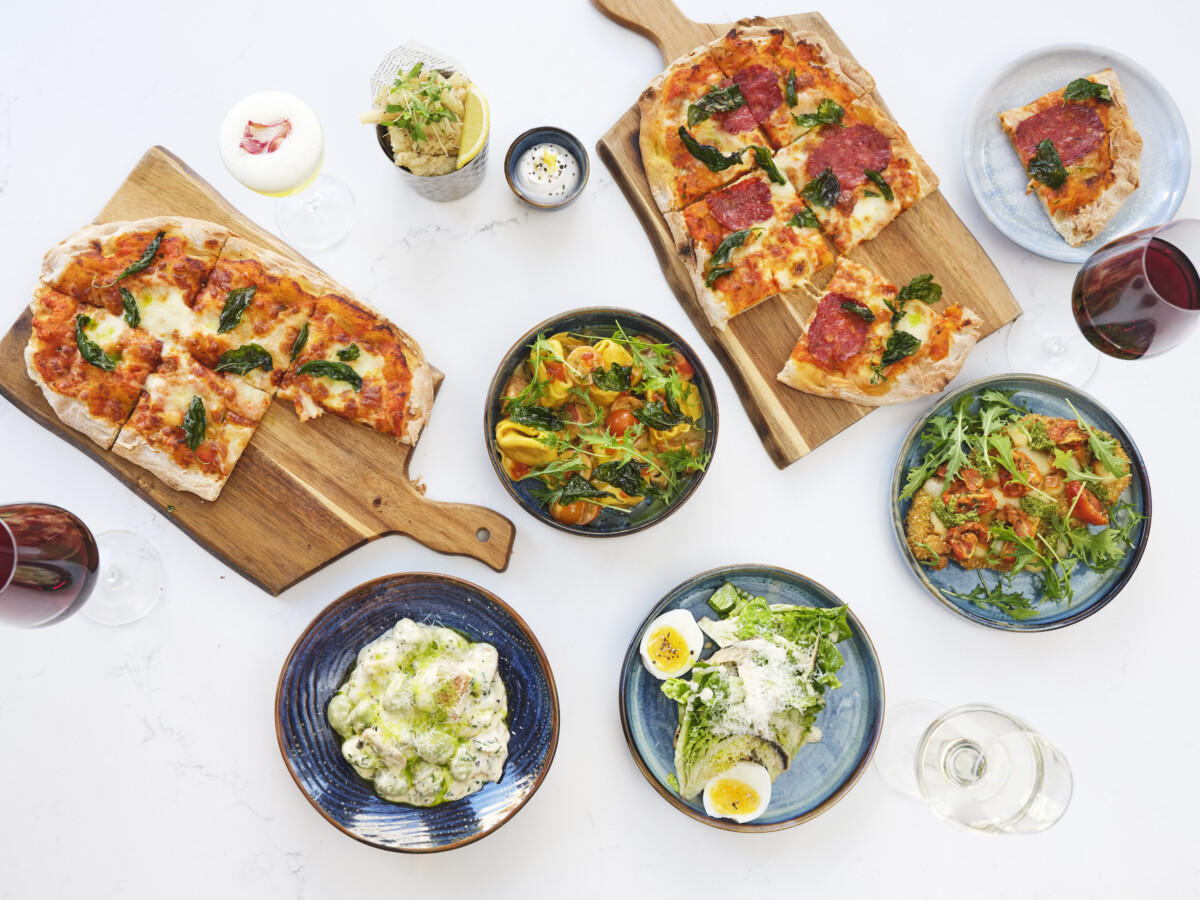 Botanica: A Serene Oasis for Afternoon Indulgence
Escape the hustle and bustle of the city in Botanica, an enchanting glass and mirrored atrium. Immerse yourself in the tranquil beauty of this idyllic space as you partake in a quintessential British afternoon tea experience. Sip on an extensive selection of Newby teas and indulge in a delectable assortment of sweet and savoury treats, embracing the quintessence of British refinement.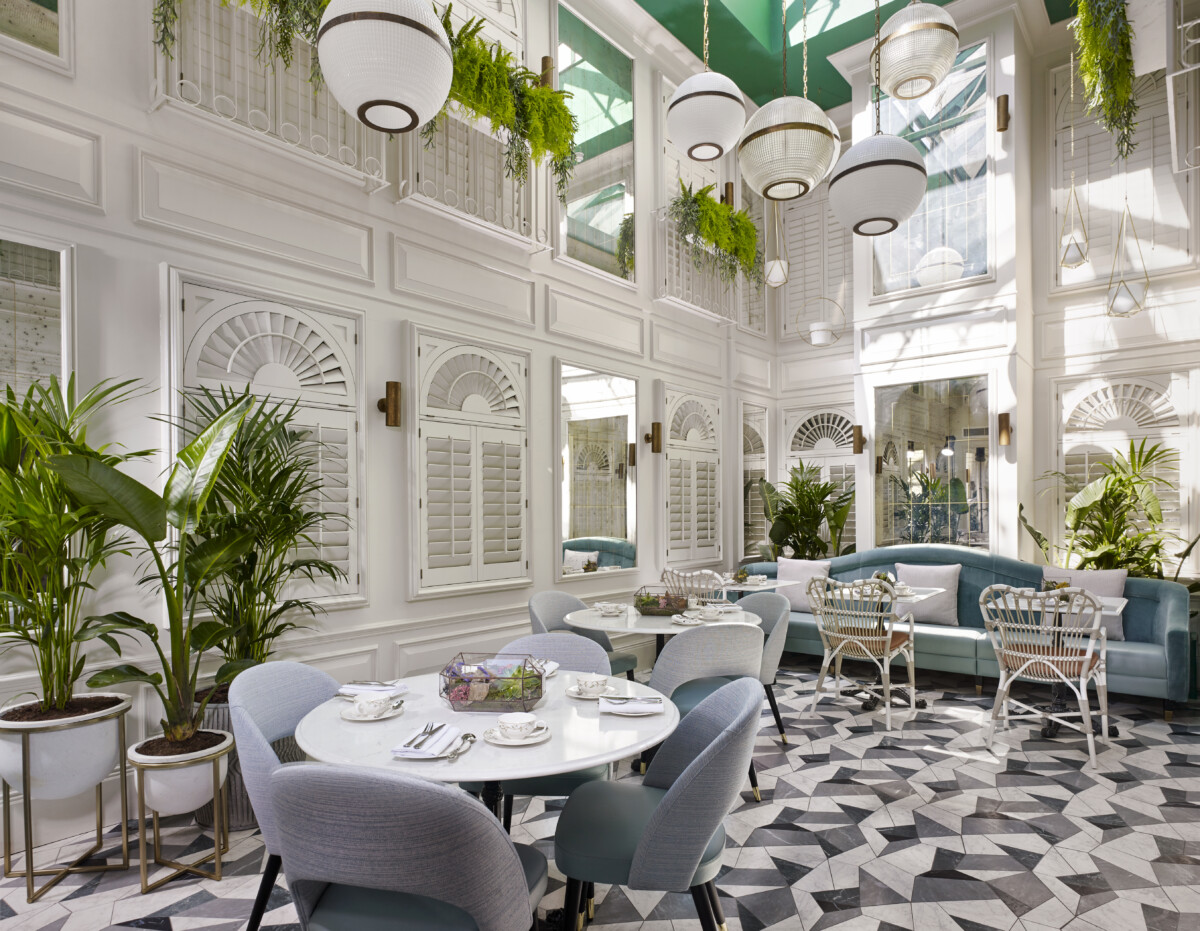 ESQ: The Subterranean Hideaway of Liquid Artistry
Prepare to be whisked away to a world of elegance and indulgence at ESQ, the hotel's sophisticated subterranean bar. Let expert mixologists craft unique and tantalizing cocktails, drawing inspiration from the hotel's rich history and heritage. Accompanied by a delectable menu of exquisite bites, this intimate oasis promises an evening of refined pleasures and delightful libations.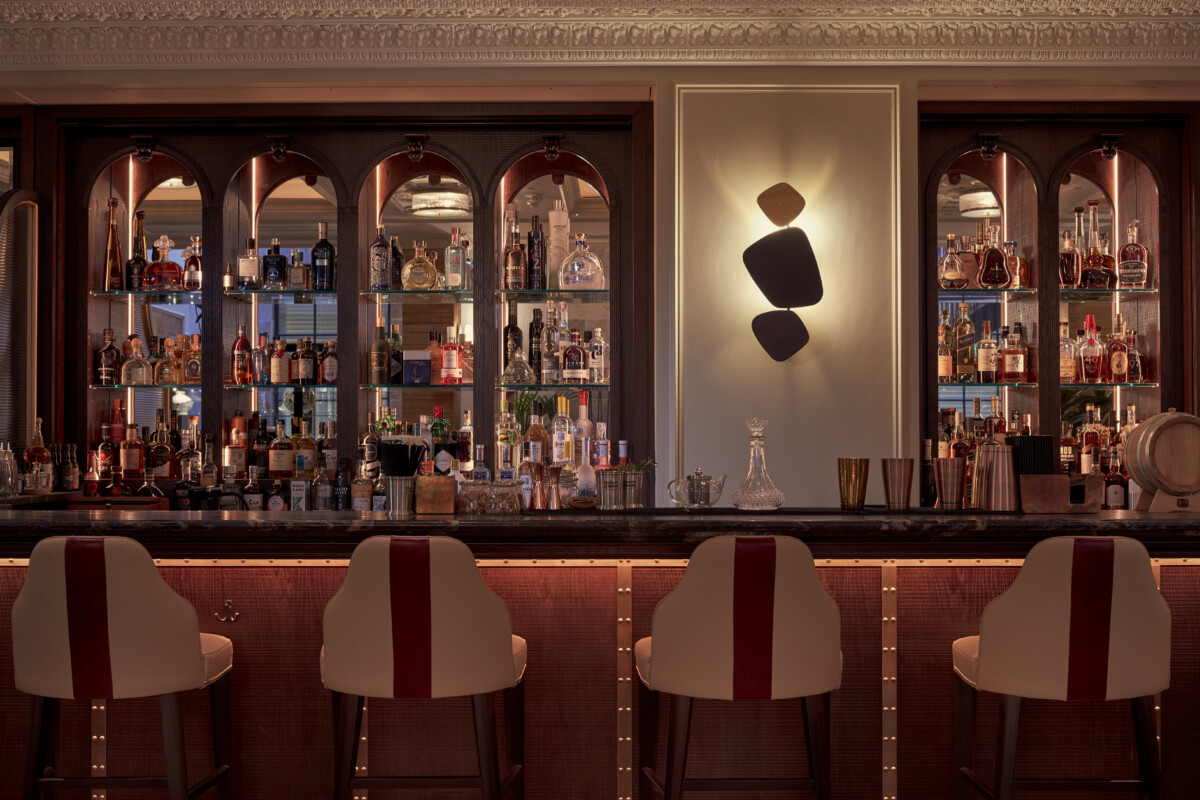 During their stay at 100 Queen's Gate, Minipreneur and his parents had an interesting dining experience at ESQ, the sophisticated subterranean bar nestled within the elegant confines of 100 Queen's Gate Hotel. They were treated to a culinary journey of delectable dishes from the bar's all day dining menu. Minipreneur, being the confident little man he is, sat at his own table for some of the meal and even ordered his own soft drink all by himself from the bar menu!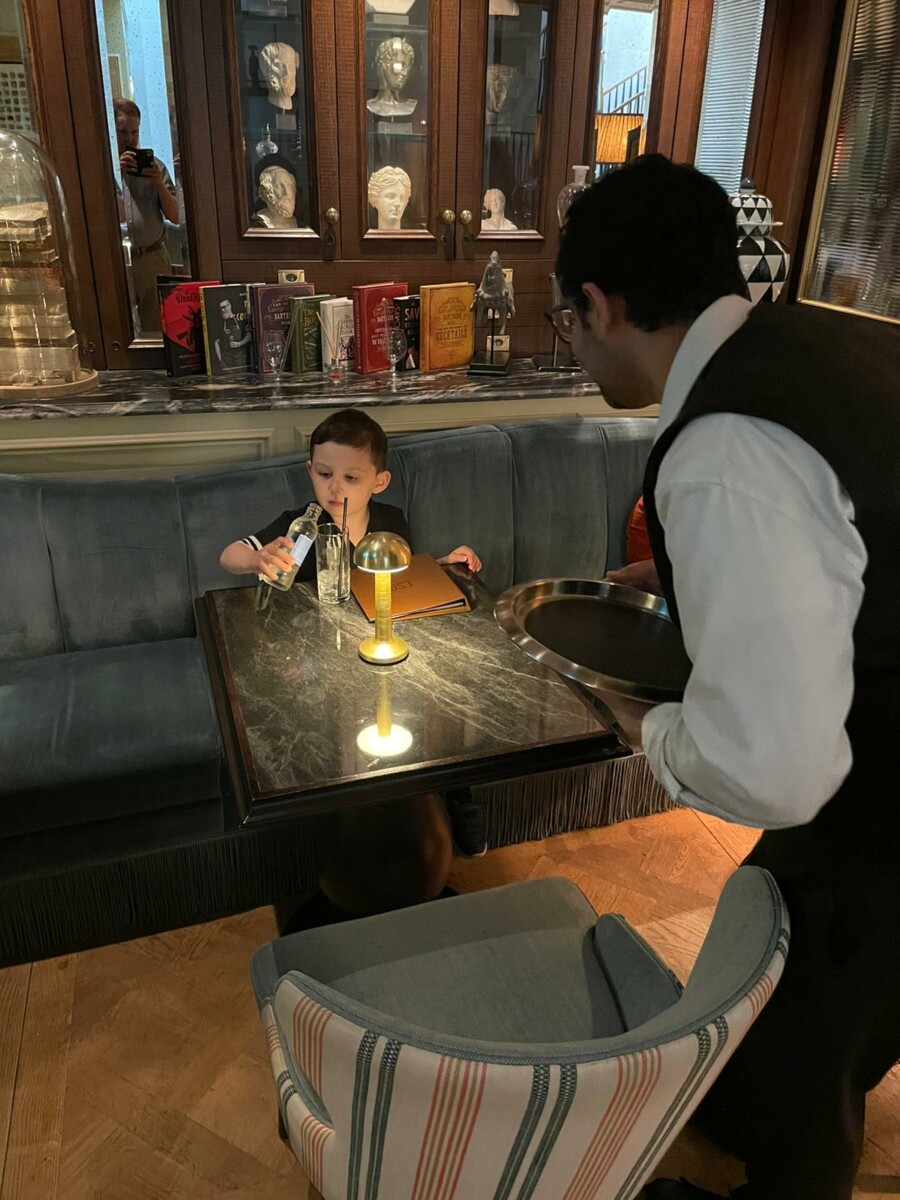 After his pre-dinner drink, Minipreneur joined his parents for a light supper of chicken burgers with sweet potato fries. Minipreneur savoured each bite, revelling in the mouth-watering flavours created by the talented chefs. It was a memorable dining experience that left a lasting impression on their palates.
100 Queen's Gate Hotel, Curio Collection by Hilton
100 Queen's Gate, South Kensington, London SW7 5AG
+44 (0)20 7373 7878
100queensgate.com