From collections of poetry for children and reimagined classics for young readers to heart-warming picture books and an encyclopedia for football fans, here are some of Minipreneur's favourite children's books this autumn.
Who Let The Words Out: Poems by Joshua Seigal
Written especially for children aged 7+, Who Let The Words Out is a brand-new collection of poems by Joshua Seigal, two-time winner of the prestigious Laugh Out Loud Awards, which promises hours of fun for young readers. In these hilarious poems, words take on a life of their own, leading to a world of wordplay that's silly, clever, and downright funny. From cuddling tigers to pesky pet fleas and the absurdity of teachers turning into chickens, this book is a must-have for imaginative children who are starting their journey towards a love of poetry.
Joshua Seigal's previous works, including I Bet I Can Make You Laugh and I Don't Like Poetry, have received acclaim from Michael Rosen, The Times, and BookTrust. Who Let The Words Out is perfectly suited for children who enjoy funny books. With Joshua's trademark humour and imaginative wordplay, this collection is sure to tickle the funny bone of young readers and leave them clamouring for more.
£7.99 published by Bloomsbury Education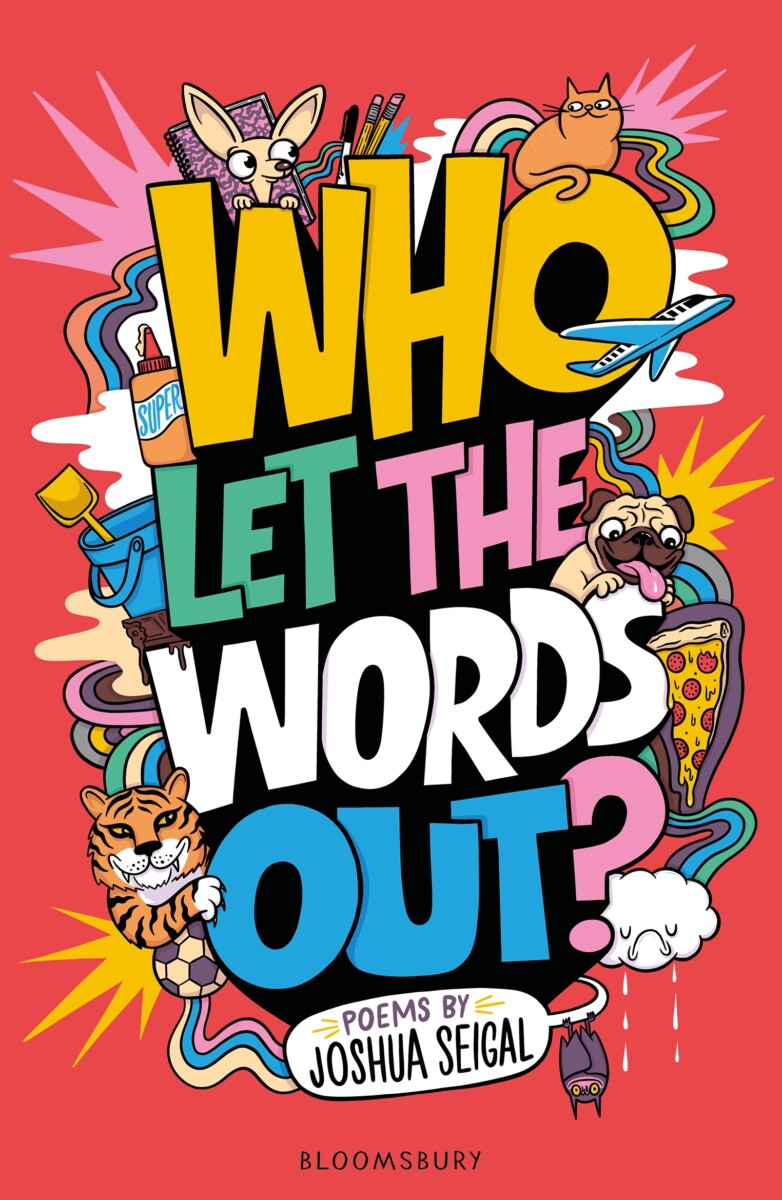 How To Spaghettify Your Dog by Hiba Noor Khan & Harry Woodgate
Children will love delving into the wondrous world of science with How To Spaghettify Your Dog by Hiba Noor Khan, brought to life with captivating illustrations by Harry Woodgate. This hilarious and informative book takes young readers on a mind-blowing journey through the secrets of the universe. From the mind-boggling butterfly effect to the quirks of quantum physics, this book answers the most curious questions about our cosmos. Ever wondered how to slow down time or what would occur if the Earth stopped spinning? Khan, a former physics teacher and UKLA longlisted author, unravels the mysteries of our universe in an engaging and accessible manner.
This book makes physics fun, breaking down complex topics into digestible chunks, complemented by easy-to-follow experiments and eye-catching illustrations. How To Spaghettify Your Dog is a hands-on guide that demystifies physics, bringing science to life and leaving young readers with a newfound appreciation for the wonders of our world. It's an absolute must-read for inquisitive children and their grown-ups.
£8.99 published by Bloomsbury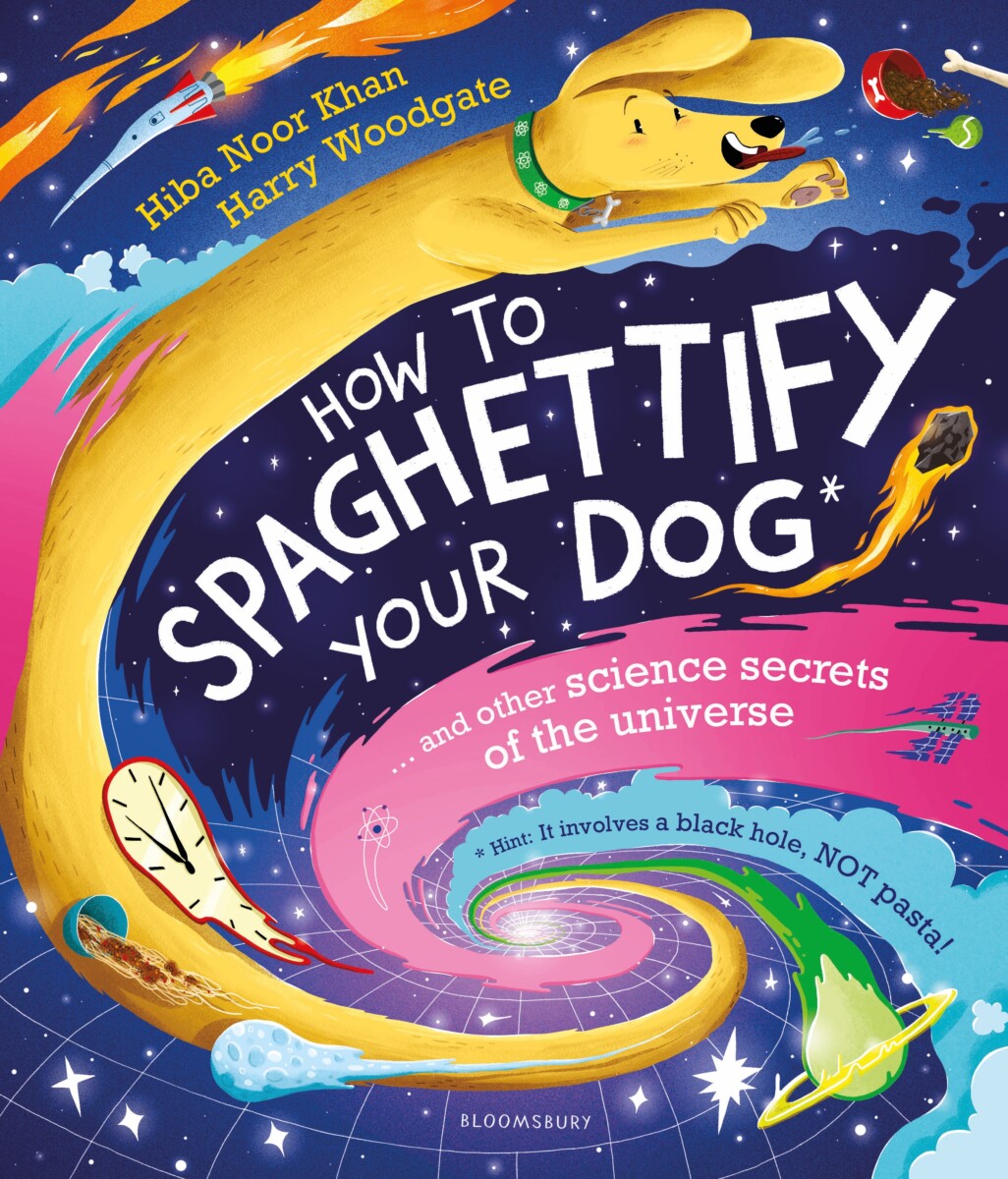 Eyewitness Encyclopedia of Everything
Eyewitness Encyclopedia of Everything: The Ultimate Guide to the World Around You is a stunning compendium that invites curious young minds to embark on a thrilling journey through the world's most fascinating nature, science, and history images and stories. From deadly creatures to breathtaking natural wonders, from heroes and villains of history to ground-breaking scientific discoveries and inventions, this book offers an action-packed exploration of knowledge that will captivate children aged 9 and above as well as their grown-ups.
With over 1,500 captivating images, graphics, and facts, Eyewitness Encyclopedia of Everything strikes a perfect balance between engaging text and visual appeal. It spans the core subjects of nature, science, technology, history, and culture, presenting each topic in an exciting and attention-grabbing way, providing the museum experience right at your fingertips. This encyclopedia draws from the expertise of over thirty experts across various fields, ensuring accuracy and depth in its coverage. It features knowledge that piques the curiosity of children, with information and picture quizzes scattered throughout the book.
With its fascinating exploration of the wonders of our world, Eyewitness Encyclopedia of Everything is an utterly captivating and unputdownable book that will leave its inquisitive readers enthralled for hours on end.
£25 published by DK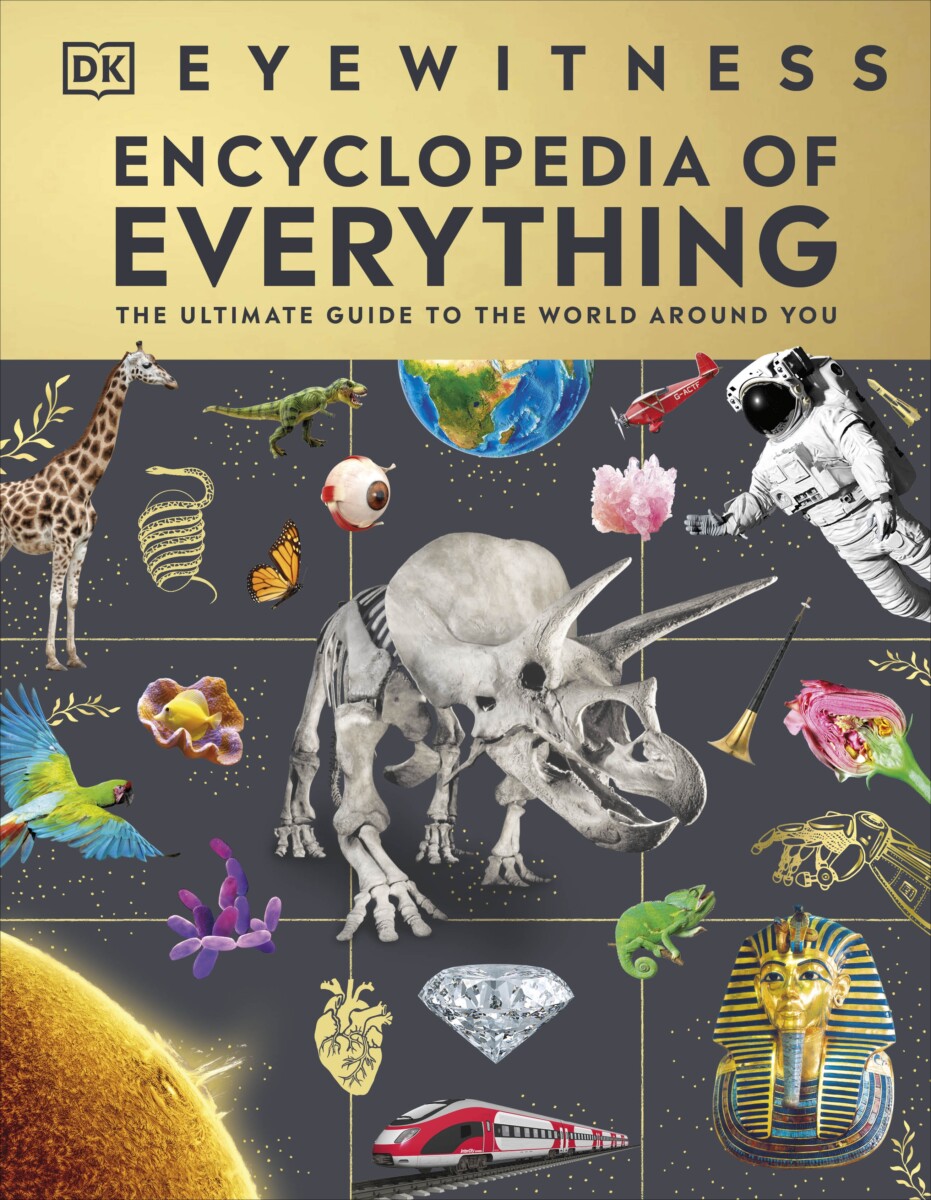 Pick A Story – A Superhero Mermaid Dragon Adventure by Sarah Coyle & Adam Walker-Parker
Get ready for an epic adventure with Pick A Story – A Superhero Mermaid Dragon Adventure by Sarah Coyle, featuring vibrant illustrations by Adam Walker-Parker. This exciting book offers not one but three enchanting worlds to explore, ensuring every storytime is an unforgettable experience with countless possible story arcs. With its twists and turns, dynamic characters, and decisions to be made on every page, this book takes young readers on a thrilling whirlwind journey through the realms of superheroes, mermaids, and dragons. Each decision leads to a new and exciting adventure, making this a fantastic value for parents and a sure-fire way to keep kids engaged. Adam Walker-Parker's lively illustrations help bring the stories to life, making them even more immersive and enjoyable. Pick A Story – A Superhero Mermaid Dragon Adventure promises hours of fun and endless entertainment, making it the perfect addition to any young reader's collection.
£7.99 published by Farshore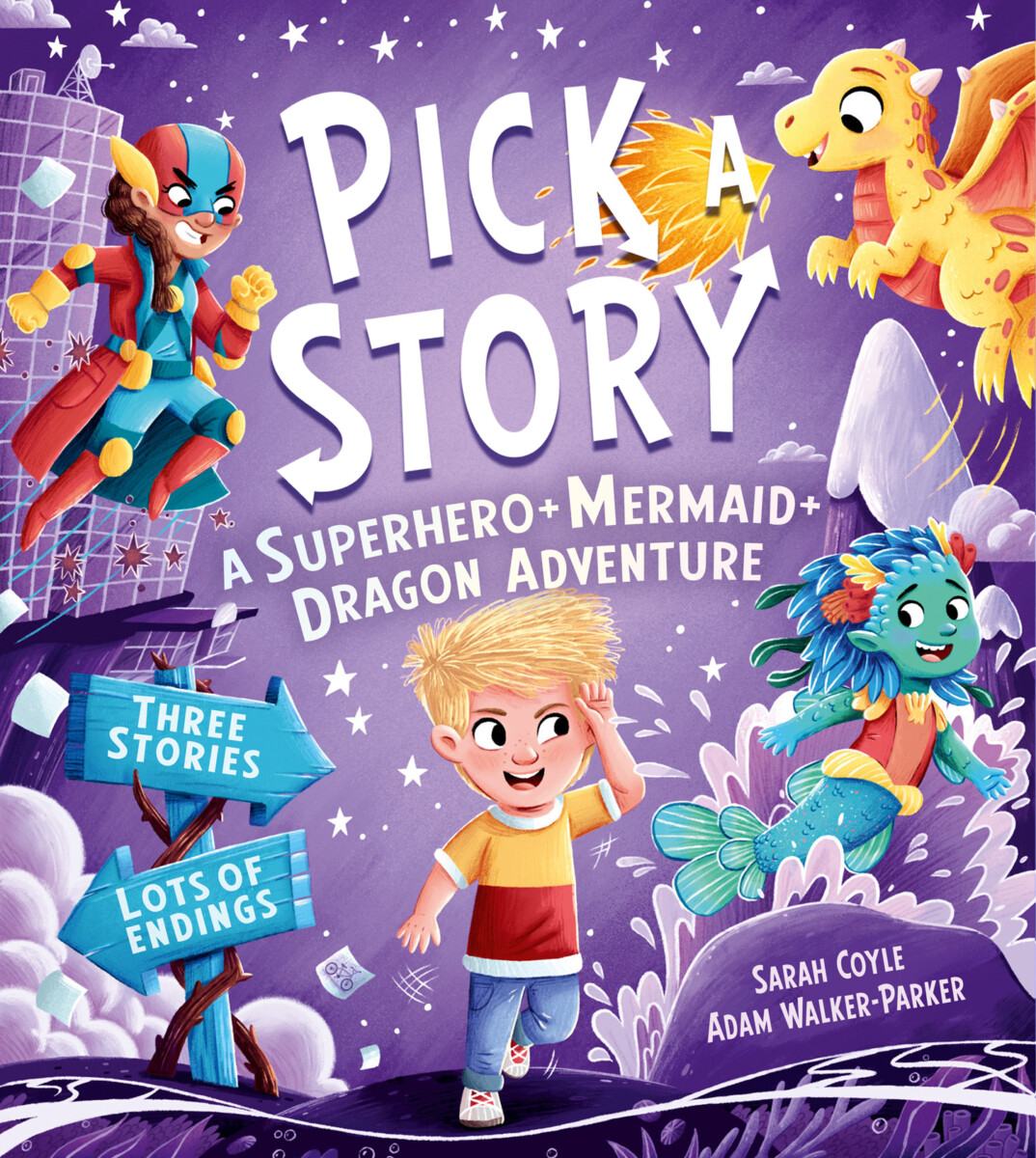 Winnie-the-Pooh at the Palace by Jeanne Willis & Mark Burgess
Winnie-the-Pooh at the Palace written by internationally acclaimed children's author Jeanne Willis with pictures by talented illustrator Mark Burgess is a heartwarming addition to the timeless world of Winnie-the-Pooh. Based on A.A. Milne's classic poem, Buckingham Palace, from his book When We Were Very Young, this beautiful book offers a comforting tale of friendship and adventure. Follow Winnie-the-Pooh and his faithful friend Christopher Robin as they embark on an enchanting journey to Buckingham Palace. Amidst the wintry wonderland of the palace grounds, they frolic in the snow, enjoy an exhilarating sled ride with Piglet, and even stumble upon a delightful surprise when Pooh gets stuck in a snowdrift. Their escapades lead them to a royal invitation for tea by the King himself!
With a foiled jacket and Mark Burgess's charming illustrations reminiscent of E.H. Shepard's iconic style, this hardback is a true gem. Whether as a Christmas present or a year-round gift, "Winnie-the-Pooh at the Palace" is a delightful addition to the collection of both dedicated Winnie-the-Pooh fans and newcomers alike, promising enchanting tales and warm moments that capture the essence of this beloved bear and his friends.
£12.99 published by Macmillan Children's Books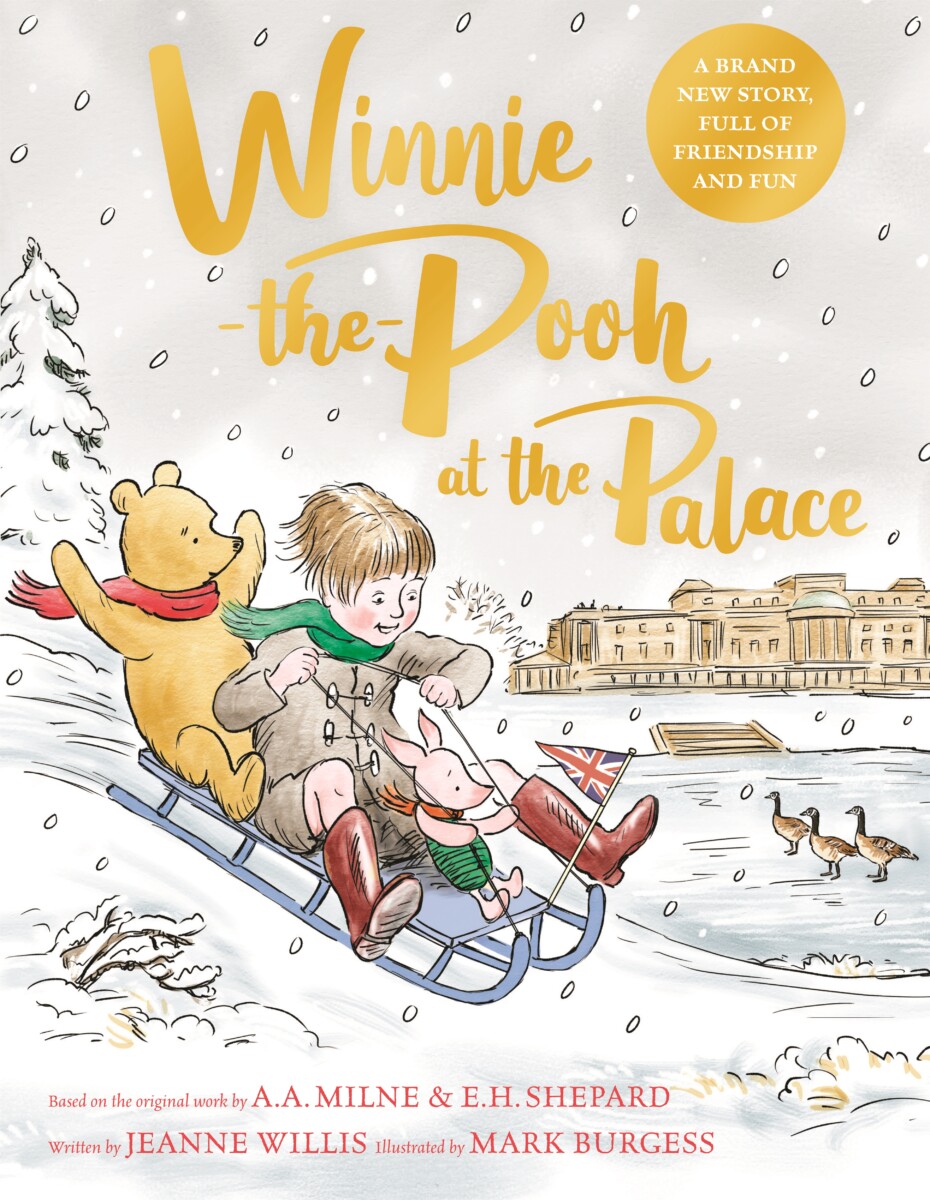 Gods and Monsters – Mythological Poems by Ana Sampson & Chris Riddell
Prepare to be spellbound by Gods and Monsters – Mythological Poems, a captivating anthology curated by the bestselling anthologist Ana Sampson and brought to life by the award-winning former children's laureate, Chris Riddell. This gift book is a treasure trove of 150 mythological poems, both classic and contemporary, spanning a rich tapestry of world mythologies, from Roman and Greek to Ancient Egyptian, Norse, Celtic, Aztec, Japanese, Balinese, Welsh, and Inuit.
Each page of this stunning anthology is adorned with Chris Riddell's exquisite black and white line illustrations, adding depth to the mythical tales. The book is a perfect gift for older children, destined to be cherished forever, and boasts an insightful introduction by the writer and classicist Natalie Haynes. Within these pages, readers will encounter gods, monsters, heroes, and magical beings from across the ages. The anthology includes works by literary luminaries such as Neil Gaiman, W. B. Yeats, Kae Tempest, Sylvia Plath, Shakespeare, Benjamin Zephaniah, and Joseph Coelho. Asides and footnotes provide invaluable insights into the stories, enriching the reader's experience.
Gods and Monsters – Mythological Poems is a masterpiece that will enrapture poetry and mythology enthusiasts alike. With its rich array of verses and Chris Riddell's luminous illustrations, this anthology is destined to earn a cherished spot on every bookshelf, inviting readers to embark on a timeless journey through the myths that have shaped human imagination.
£14.99 published by Macmillan Children's Books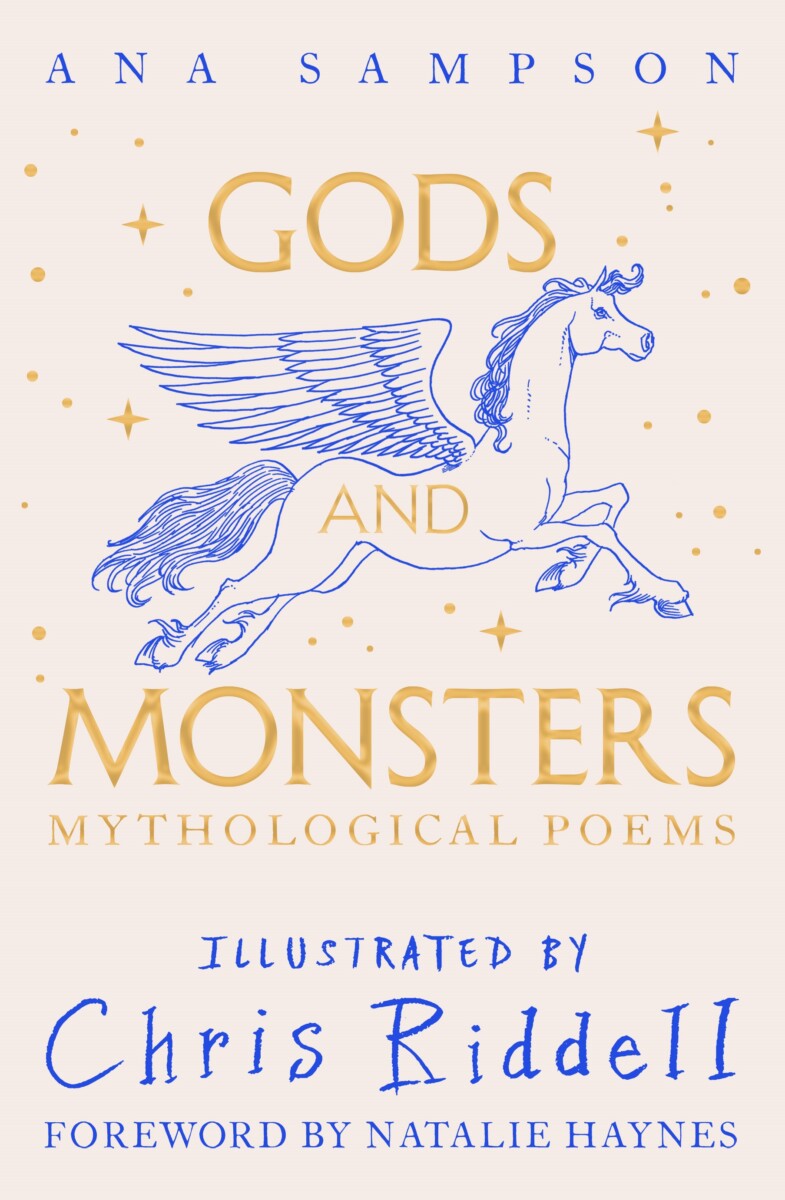 Wheels: The Big Fun Book of Vehicles by Tom Schamp
Wheels: The Big Fun Book of Vehicles written & illustrated by Tom Schamp is a rollicking journey through the history of wheels that promises a wheel-y good time for readers of all ages. Schamp's inventive illustrations bring to life the fascinating evolution of wheeled transportation, from prehistoric carts to futuristic cars. With a playful and informative approach, this book showcases everything that rolls, from the iconic Trojan horse to the sleek Harley Davidson, from stagecoaches to steam trains, and from Vespa scooters to Ferraris. The pages burst with Schamp's colourful and quirky art, making every spread a delightful exploration.
Schamp's witty texts add an extra layer of enjoyment for older readers, while younger ones will be captivated by the playful and crowded pages, discovering the diversity of emergency vehicles, buses, and bikes from around the world. With each reading, new charming details emerge, making this book not only absurdly funny but also educationally rewarding. Prepare to embark on a wheel-tastic adventure that will keep your child coming back for more, sparking their curiosity about the world of wheels and transportation.
£18.99 published by Prestel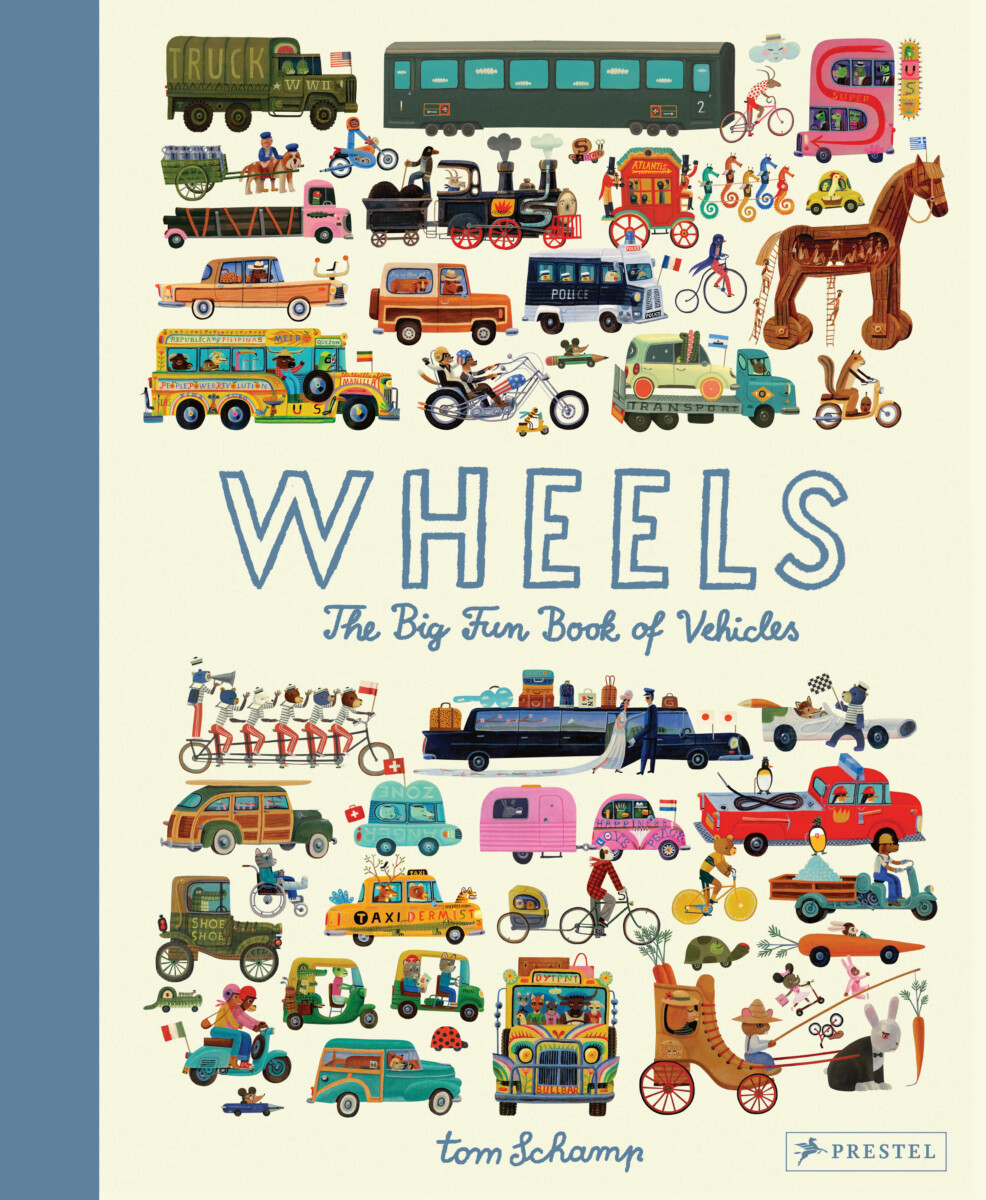 Peace on Earth by Smriti Halls & David Litchfield
Step into a world of enchantment and wisdom with Peace on Earth – a brilliant collaboration between the award-winning team behind Rain Before Rainbows – internationally bestselling children's author Smriti Halls and talented illustrator David Litchfield. This timeless tale of peace and friendship is a guiding light for those who yearn for a more harmonious world. The story introduces us to a joyful group of friends who embark on a journey together, bound by happiness. However, when angry words disrupt their peaceful existence, they must search for a way back to serenity. Peace on Earth explores the intricate tapestry of peace, from the warmth of smiles to the beauty of nature, and delves into the challenges of discord and healing.
With lyrical prose and captivating illustrations, this book is a powerful conversation starter about peace, empathy, kindness, and compassion. It reminds us that while peace may sometimes be elusive, it is the very essence that completes love and friendship. Peace on Earth is a heartwarming masterpiece that will inspire young readers to aspire for a world filled with understanding and harmony.
£12.99 published by Walker Books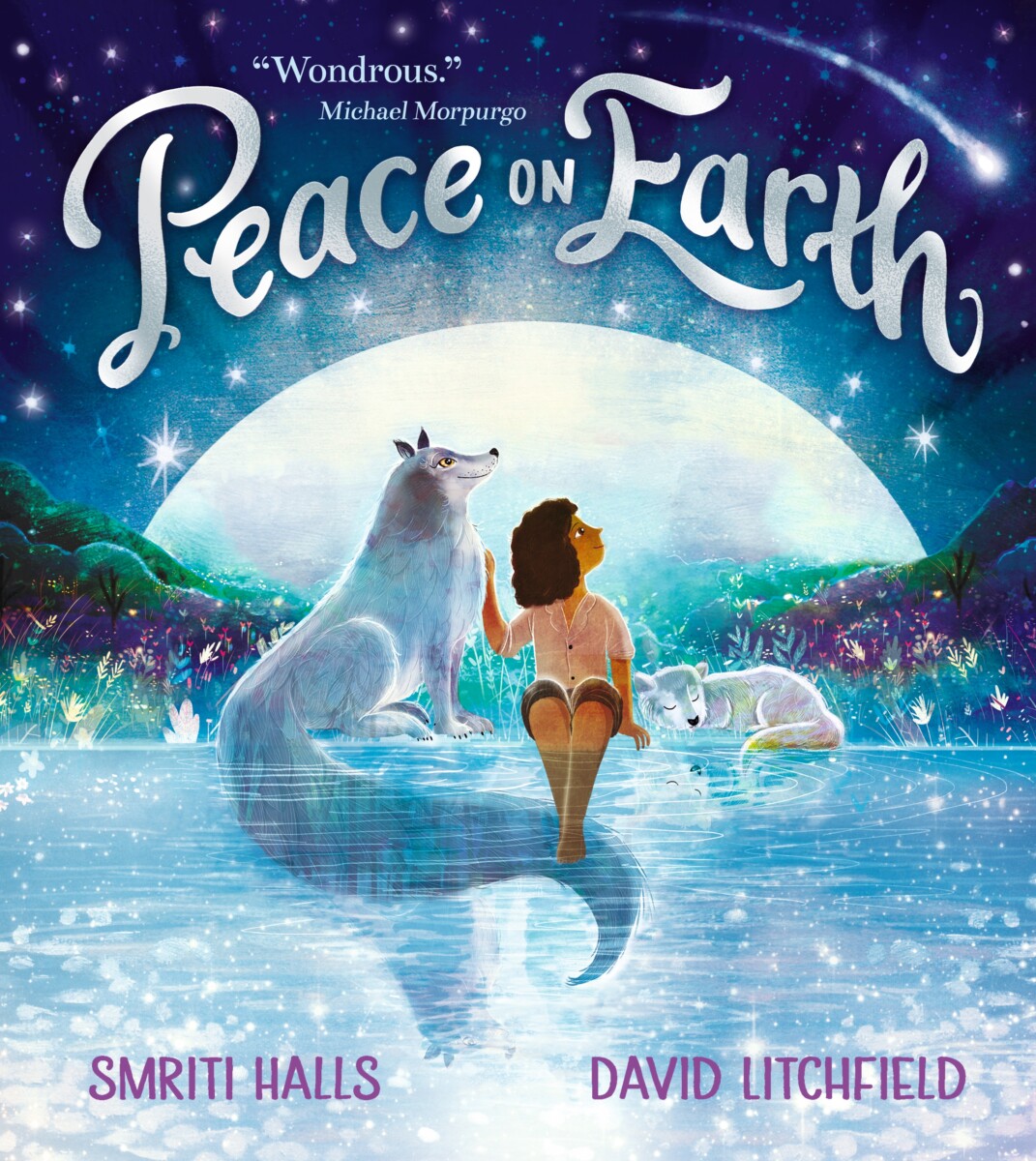 The Book That No One Wanted To Read by Richard Ayoade & Tor Freeman
A delightful tale unfolds in The Book That No One Wanted To Read written by the witty Richard Ayoade and brought to life through Tor Freeman's charming illustrations. This book isn't like the others; it's grumpy, opinionated, and rather particular about its pages. But it holds a unique story waiting to be discovered. Readers are introduced to a reclusive book in the library, a book that's been passed over time and again. However, when a curious reader finally picks it up, the book's destiny takes an unexpected turn. Ayoade and Freeman craft a heartwarming narrative about the magic of reading and the power of storytelling.
This whimsical adventure is filled with clever references to beloved stories and fables, providing readers of all ages with a joyful reading experience. The Book That No One Wanted To Read is an original, quirky, and comical gem that defies genre boundaries, proving that even the most neglected book can find its perfect reader – you! Prepare to be swept along this enchanting journey and help your child discover the magic of storytelling for themselves.
£10.99 published by Walker Books
The Football School Encyclopedia by Alex Bellos, Ben Lyttleton & Spike Gerrell
This comprehensive football encyclopedia for perfect for any young football enthusiast! Alex Bellos and Ben Lyttleton, along with the playful illustrations by Spike Gerrell, have crafted an engaging and informative treasure trove of football knowledge. This big, colourful hardback is proof that football can explain just about anything, even for those who aren't sporty. This book offers a fantastic blend of amazing true stories, terrific trivia, brain-busting quizzes, and eye-popping illustrations. Young readers will find themselves immersed in fascinating facts about famous players and top clubs. The laugh-out-loud cartoons on every page add an extra layer of fun.
The Football School Encyclopedia is a gift from the gods for any budding soccer scholar. Dive into this world of football wonder and celebrate the beautiful game like never before!
£14.99 published by Walker Books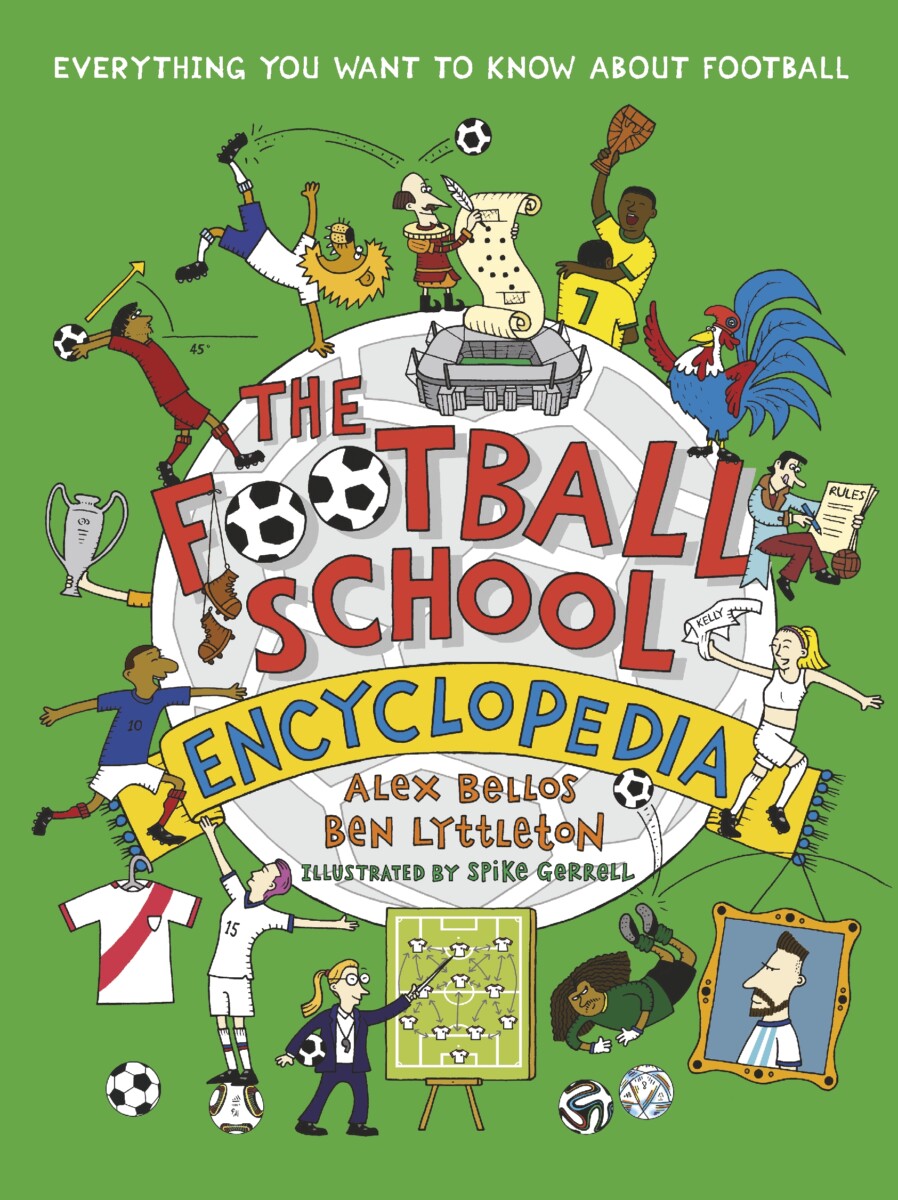 Bear and Bird: The Stars and Other Stories by Jarvis
This latest addition to the heartwarming Bear and Bird series is a delightful new children's book by Jarvis. Bear and Bird's friendship is a beautiful reminder that even when we don't quite understand each other, it's the effort to make each other happy that truly counts. The four charming stories are filled with funny mix-ups and comic misunderstandings that will have kids giggling along. From a surprise cake mishap to Bird's hilarious adventure on a rock with legs, these tales are both humorous and endearing. Jarvis, an award-winning creator, infuses the book with warmth and affection, making it a perfect choice for young readers.
The whimsical illustrations add an extra layer of charm to the tales, making Bear and Bird: The Stars and Other Stories a must-have for any children's bookshelf. This series continues to capture the magic of friendship and the joy of sharing adventures with loved ones.
£9.99 published by Walker Books