As the festive season draws nearer, the excitement is palpable, and one tradition that truly encapsulates the spirit of anticipation is the Advent Calendar. Whether you're a child eagerly counting down the days until Christmas morning or an adult seeking a daily dose of delight, advent calendars have a unique charm that transcends generations. In our quest to make this year's December even more delightful, we've diligently combed through a cornucopia of options to find the finest advent calendars of 2023, all priced under £30. Join us as we explore a delectable assortment of calendars from renowned chocolate, food and toy brands such as Plus-Plus, Joe & Seph's, Monty Bojangles, Tony's Chocolonely, LoveRaw and many more. Get ready to indulge in a daily dose of holiday magic with Preneur World.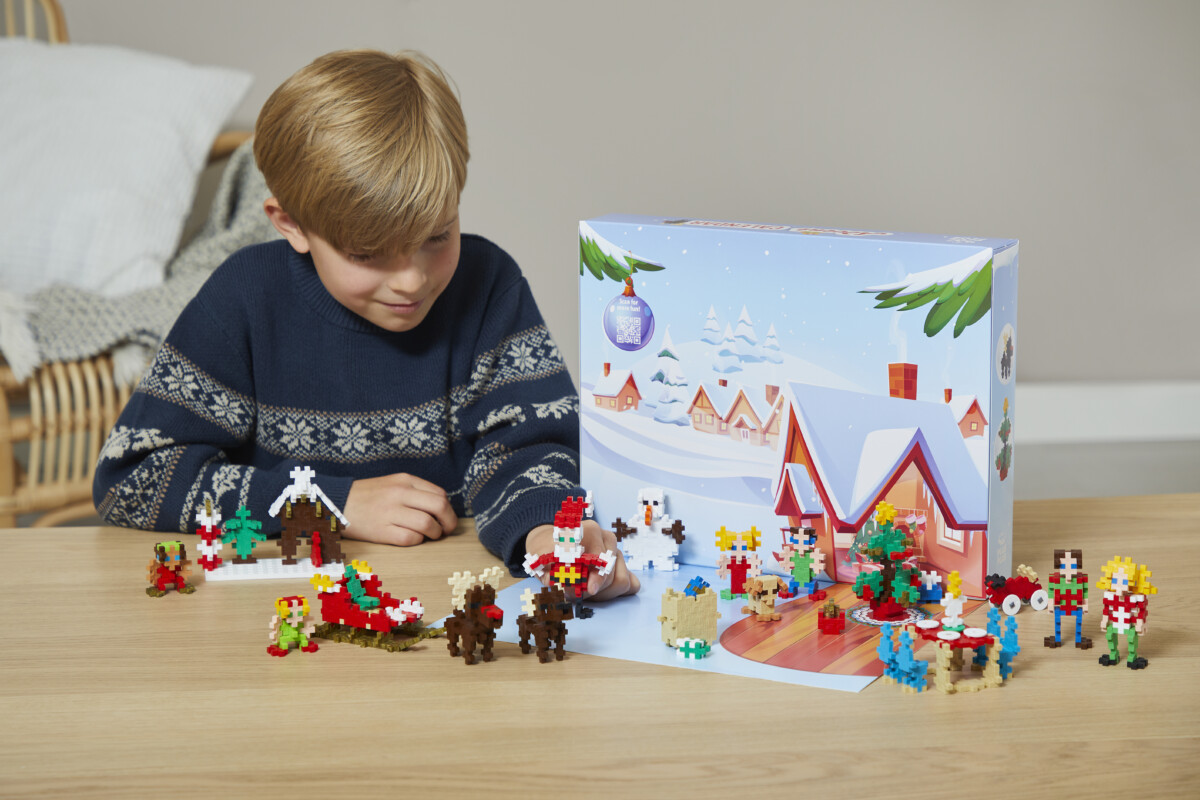 Plus-Plus
With one double-cross shape and endless design possibilities, Plus-Plus is an award-winning STEM educational toy, that stimulates fine motor skills, creativity, focus and patience. Rooted in Danish quality, Plus-Plus is hygienic, fully recyclable and made from eco-friendly plastics.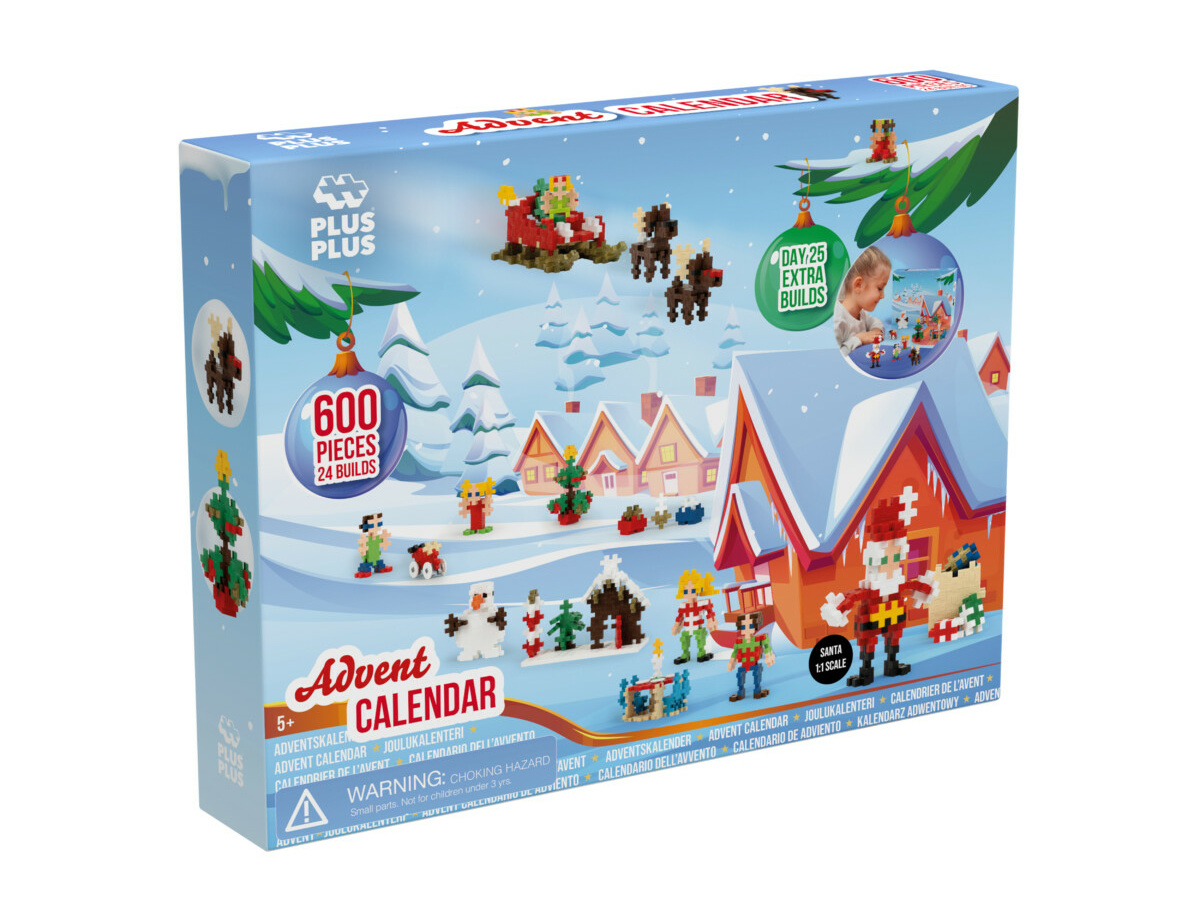 Packed with an exciting creative surprise to discover in each of the 25 windows, the 600-piece Plus-Plus Advent Calendar is a fun way to count down to the big day! Each day your child will receive a new construction project with instructions and complete the entire Christmas scene for display on the snowy backdrop. There's also an added bonus of an extra project on Christmas Day. The Plus-Plus Advent Calendar is the gift that keeps on giving long after the last mince pie has been eaten this Christmas.
Plus-Plus Advent Calendar is £29.99 from toysrus.co.uk and amazon.co.uk
Joe & Seph's
Dive into the holiday spirit with Joe & Seph's Vegan Advent Calendar, a delectable masterpiece filled with gourmet popcorn that opens like a magical Christmas storybook, revealing 24 festive cubby holes. Each day unveils a delightful surprise bag of vegan gourmet popcorn including flavours like the luscious Vegan Strawberry Caramel, the zesty Vegan Chocolate Orange, and the timeless Vegan Salted Caramel.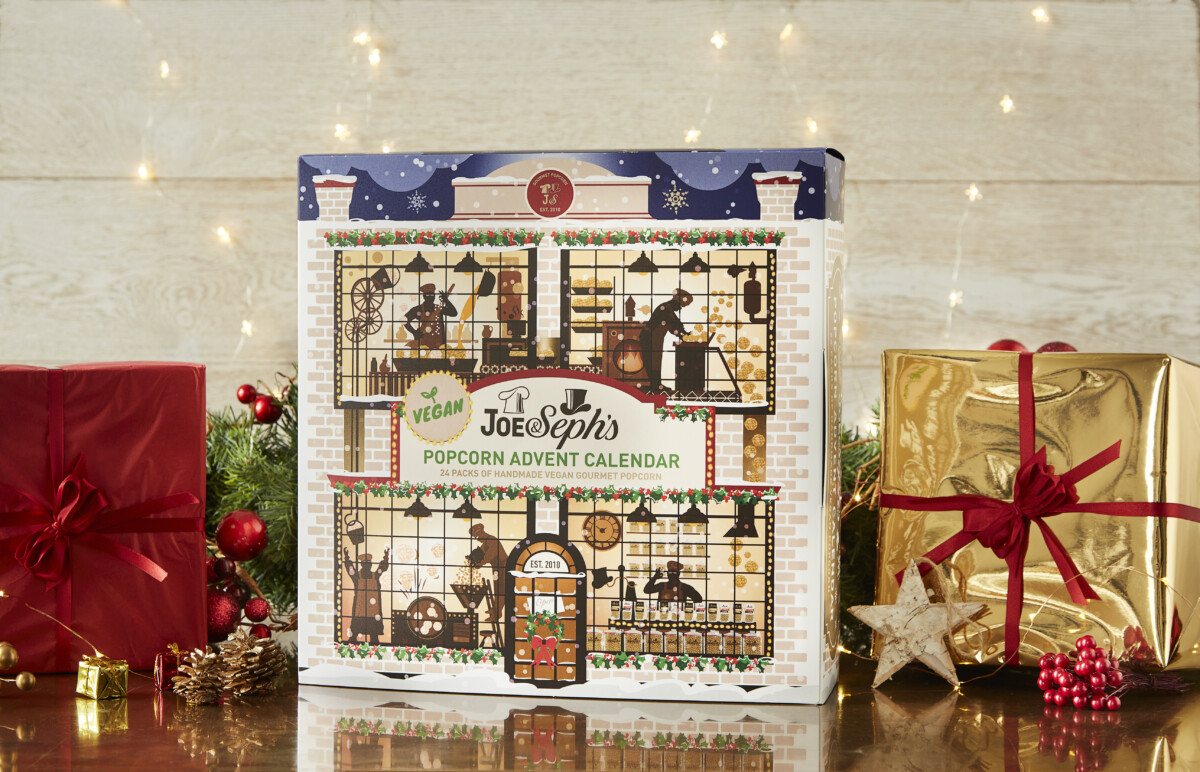 Indulge in a daily treat of mouthwatering, vegan-friendly popcorn, all set against a charming snowy scene of Joe's Popcorn Kitchens at Christmastime. Experience the perfect fusion of luxury and delectable vegan delights this holiday season as you countdown to Christmas.
Joe & Seph's Vegan Popcorn Advent Calendar is £30 from www.joeandsephs.co.uk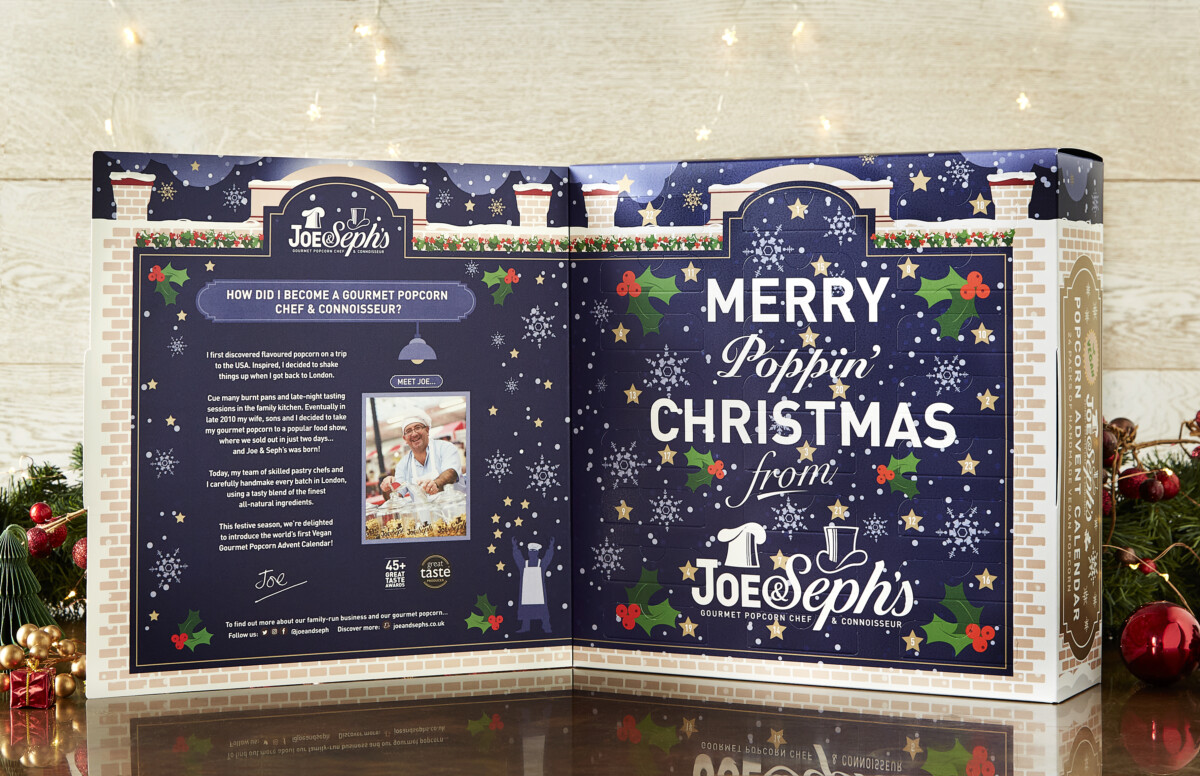 Build Your Own
Introduce an exciting twist to your child's holiday anticipation with the limited edition Build Your Own Pinball Machine Advent Calendar. Behind each of the 24 doors, kids will discover step-by-step kit instructions, transforming their December into a thrilling journey of creativity. As Christmas Eve arrives, the pieces unite to form a fully functional Pinball Machine, guaranteeing family fun beyond the festive season. This planet-friendly, miniature arcade game offers an eco-conscious take on tradition, promising endless hours of entertainment throughout the holidays. Whether played solo or as a challenge to friends and family, this super cool tabletop Pinball Machine offers hours of fun for all. Give your child the joy of a different kind of advent calendar this season!
Build Your Own Pinball Machine Advent Calendar is £24.99 from www.buildyourownkits.com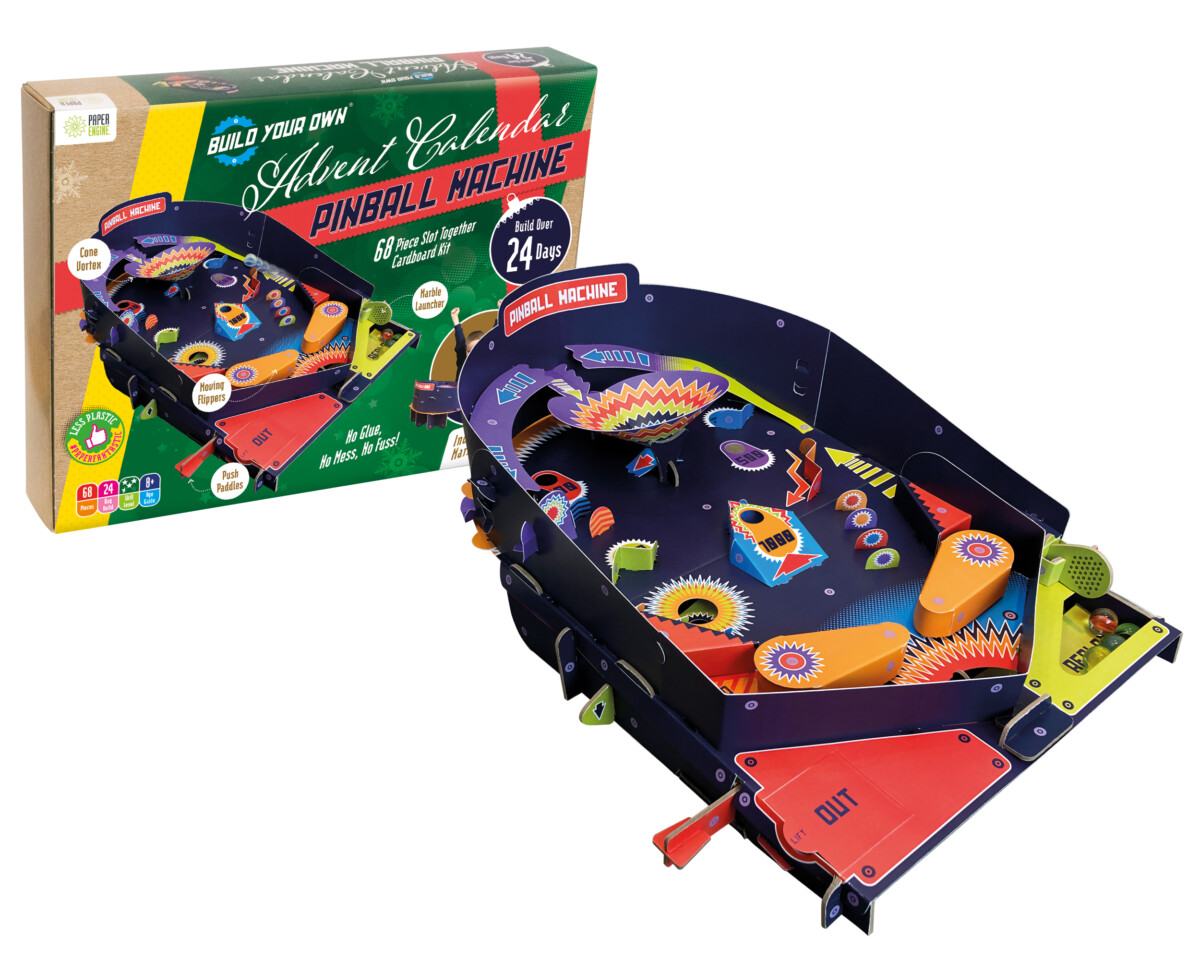 Danilo
Delight in a unique and enchanting holiday experience with Disney's Frozen Musical Advent Calendar by Danilo. This extraordinary calendar offers a refreshing departure from the traditional chocolate-filled options, captivating children with its animated scene throughout December. Elsa, Anna, and Olaf gracefully glide around the base as the official Frozen soundtrack, "Winters Waltz" by composer Christophe Beck, fills the air. Powered by 3 x AAA standard batteries, this delightful calendar – which also features Kristoff, Sven, Marshmallow and the Trolls – becomes a cherished annual tradition, enveloping your home in the timeless magic of Disney's Frozen. It's a game-changing luxurious advent calendar for the holiday season, providing joy for your child year after year.
Disney's Frozen Musical Advent Calendar is £24.99 from danilo.com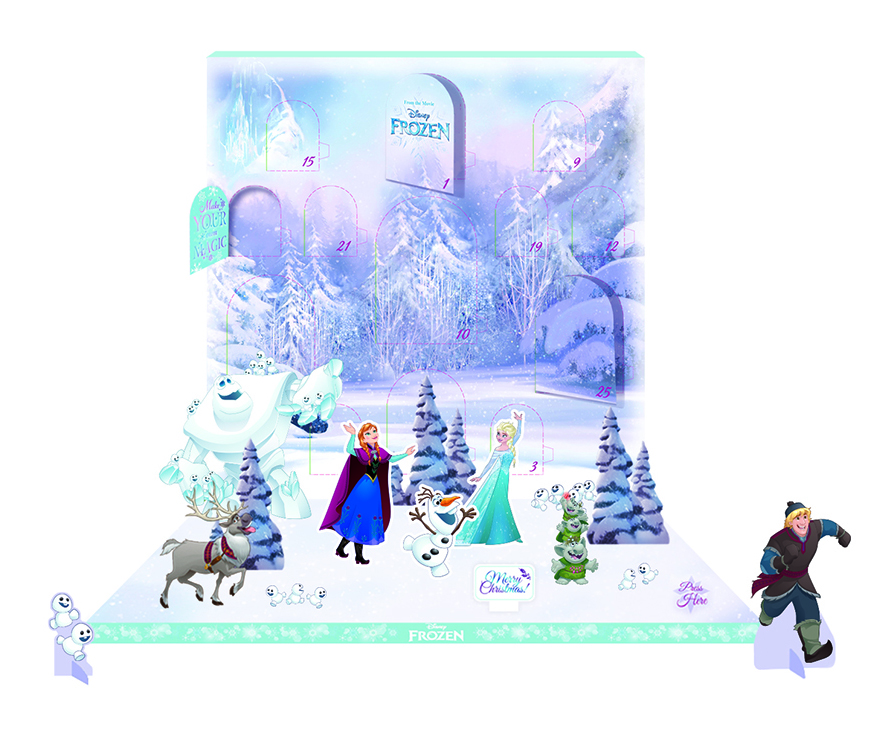 Mr. Men Little Miss
Children can join their favourite Mr. Men and Little Miss this Christmas for some festive fun and fairytales with the fantastic Mr. Men Little Miss Advent Calendar featuring 24 individual stories by Adam Hargreaves. Every day during the Christmas countdown, there is a special storybook to reveal with 24 individual pockets including mini editions of stories such as Little Miss Christmas, 12 Days of Christmas, Little Miss Princess and the Pea, Mr Nosey and the Beanstalk, The Three Little Misses and the Big Bad Wolf, Mr Greedy and the Gingerbread Man and The Night before Christmas.
This special advent calendar is the perfect gift for all Mr Men and Little Miss fans to enjoy during the festive season and beyond.
Mr. Men Little Miss Advent Calendar is £21.99 published by Farshore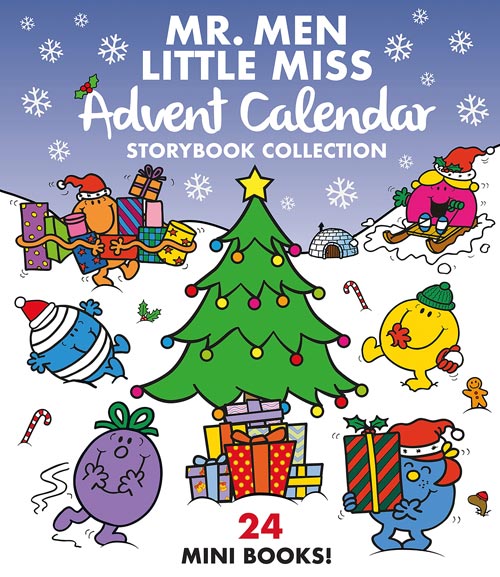 Lindt
Elevate your child's Christmas countdown with the Lindt Gold TEDDY Advent Calendar, a luxurious chocolate indulgence. Behind each of the 24 charming doors, Lindt's Master Chocolatiers have crafted an assortment of delectable Swiss chocolates. From the iconic LINDOR chocolate truffles to the signature Lindt SANTA, these divine treats are hidden within a delightful 3D TEDDY. Experience the magic of the finest ingredients combined with unrivalled chocolate expertise. With every day, unwrap a mouthwatering surprise, including the creamy chocolate Snowdrops. Make this holiday season extra special with the rich and luxurious flavours of Lindt, adding a touch of Swiss sophistication to your child's festive journey.
Lindt Gold TEDDY Advent Calendar (310g) is £20 available in Lindt Chocolate Shops and online at www.lindt.co.uk/shop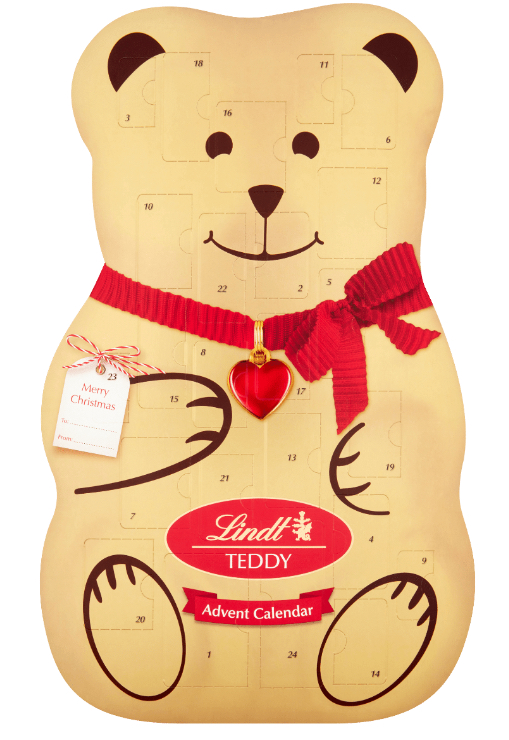 Wickedly Welsh
Grown-ups can experience the true essence of a gourmet Christmas countdown with the Wickedly Welsh Christmas Advent Calendar. As a cherished family-run, independent chocolatier, their artisanal, handmade chocolates redefine festive indulgence. This enchanting calendar presents 24 blissful chocolates, a daily treat to savour. Explore an array of exquisite flavours, from Spiced Milk Praline to Lemon Sherbet in White Chocolate, and the delectable Gingerbread Crunch milk chocolate to the rich Christmas Pudding. Each creation is a masterpiece, handcrafted with devotion by award-winning chocolatiers. Celebrate the holiday season with this exceptional calendar, ensuring that the joy of Christmas is sweetly savoured, one exquisite chocolate at a time.
Wickedly Welsh Christmas Advent Calendar is £19.99 from www.wickedlywelsh.co.uk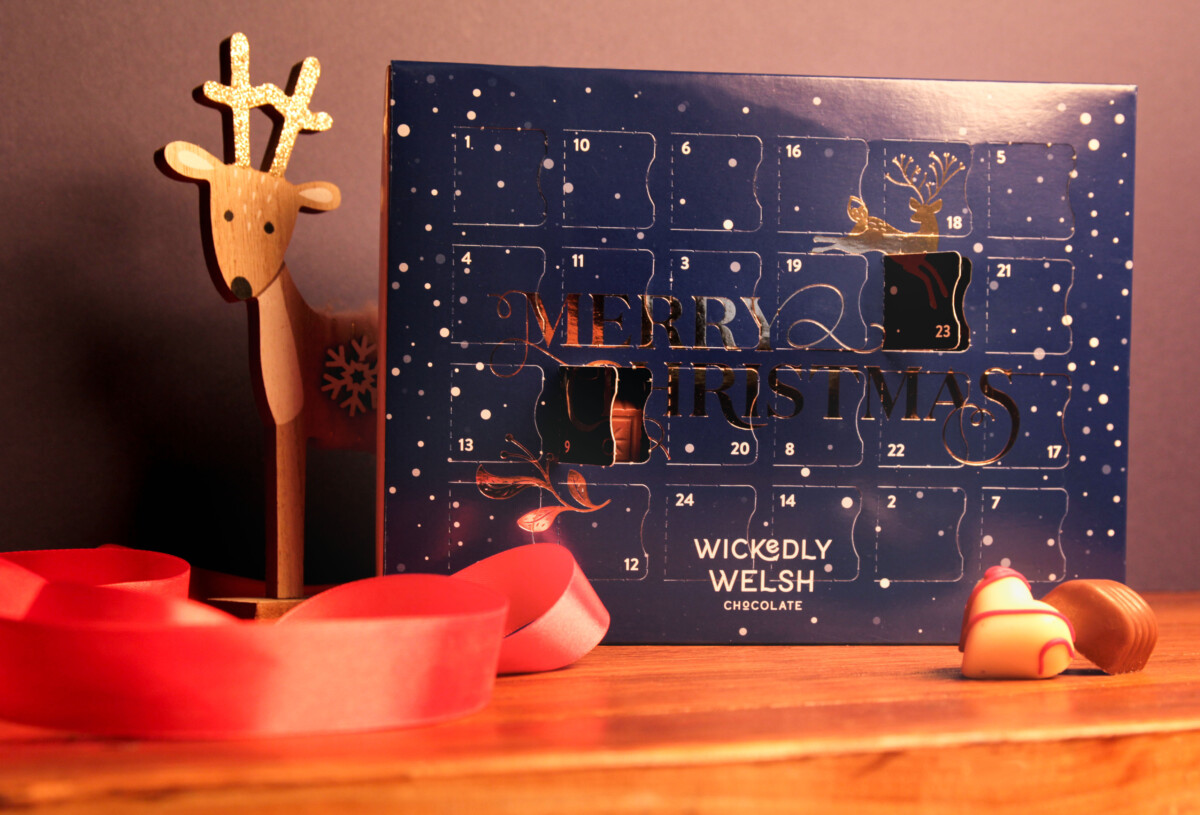 HAPPi
Celebrate a cruelty-free and eco-conscious Christmas countdown with the HAPPi Advent Calendar, the ultimate choice for those seeking a dairy-free alternative to the traditional milk chocolate advent calendar. Crafted with exquisite taste and ethical commitment, this luxurious calendar ensures that every day leading up to Christmas is a delicious and guilt-free experience. Behind each door, you'll find a delectable vegan treat made from award-winning oat m!lk chocolate, crafted from slavery-free Single-Origin Colombian Cocoa. The packaging is 100% plastic-free, reflecting HAPPi's commitment to sustainable practices. Immerse yourself in a world of sumptuous flavours, all while upholding a compassionate ethos. Discover the true essence of a vegan Christmas with HAPPi, where every moment is a celebration of both luxury and responsibility.
HAPPi Advent Calendar is £15 from happichoc.com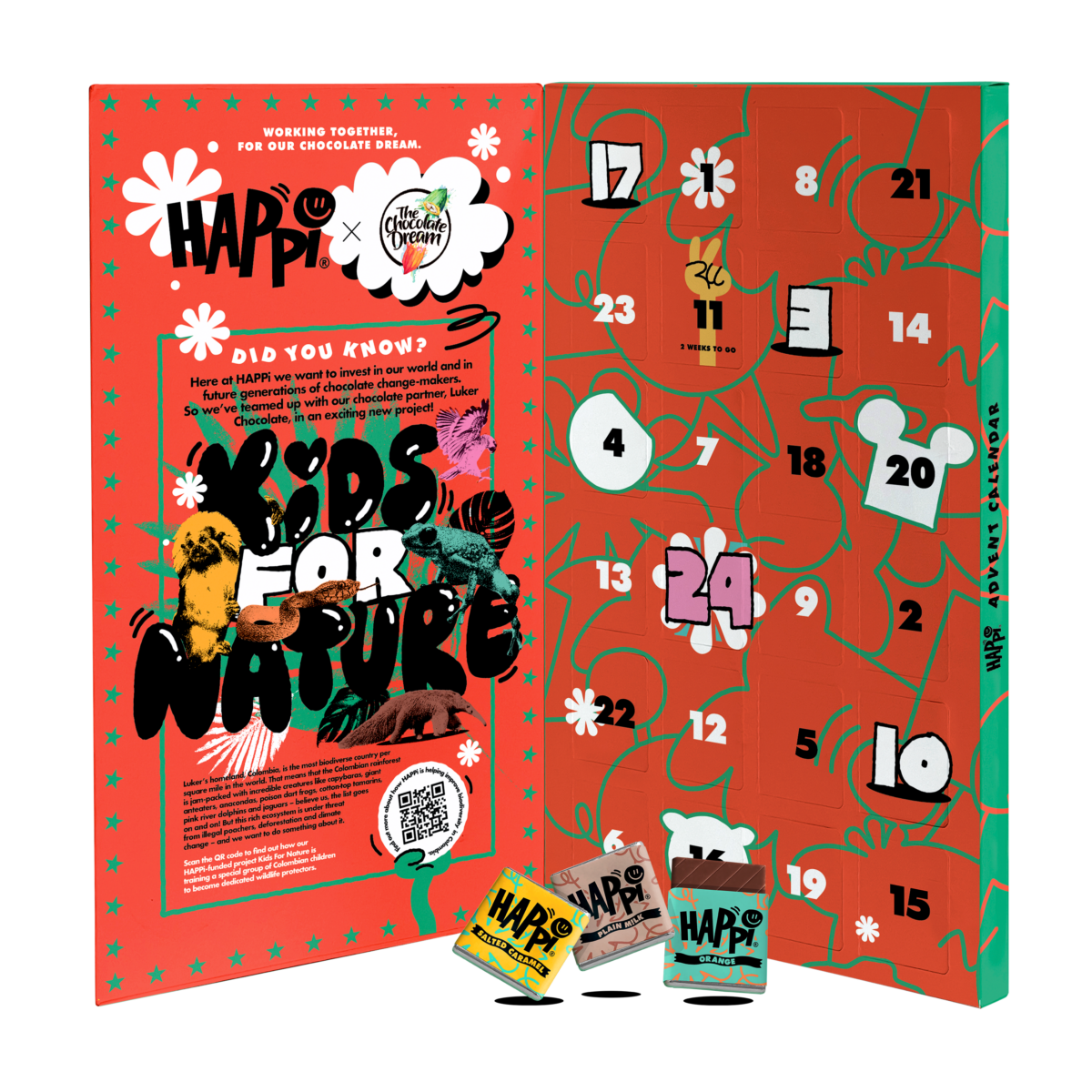 Tony's Chocolonely

Standing at two feet tall, Tony's Chocolonely larger than life Countdown Calendar is filled with 25 tiny Tony's in ten classic flavours of Fairtrade milk, dark and white chocolate wrapped in festive colours over 24 windows that are unequally divided just like the profits in the chocolate industry.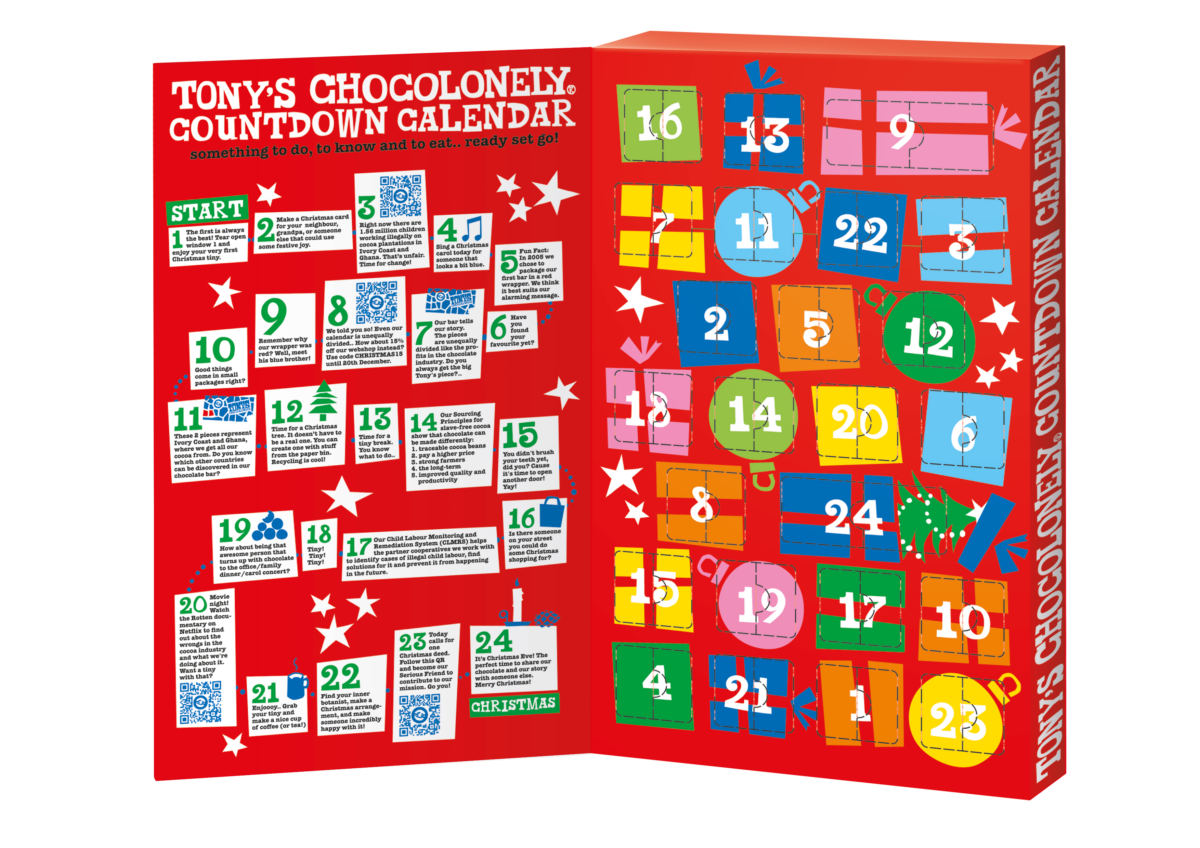 Every door has a message to help educate children about the bitter truth in chocolate with something to do, to know and to eat as part of Tony's Chocolonely's mission to make 100% slave free the norm in chocolate.

£14.99 from Waitrose, Sainsbury's, Ocado, independents and tonyschocolonely.com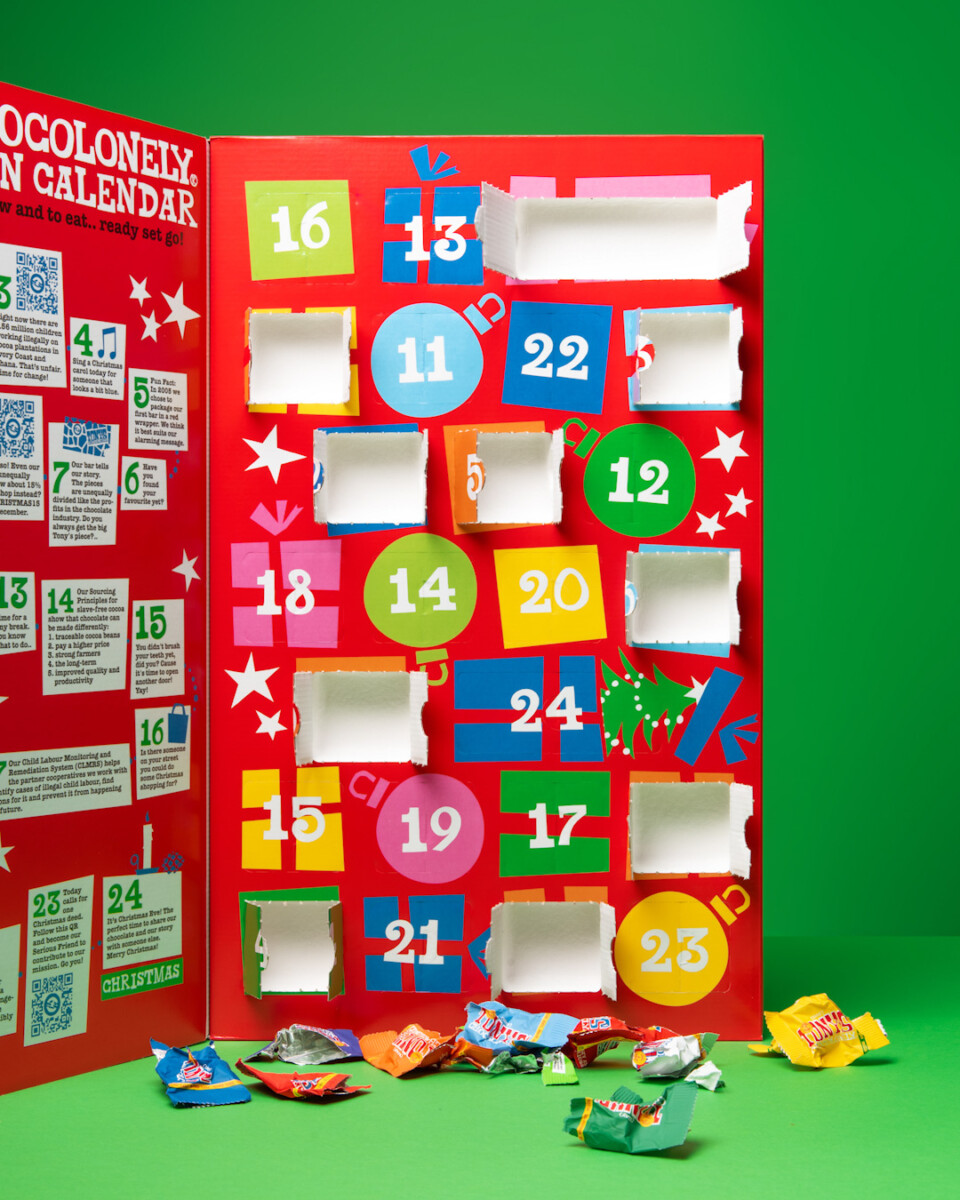 Ombar
Indulge in the delight of a vegan Christmas countdown with the Ombar Advent Calendar, a vegan chocolate lover's dream. It features 25 mini bars, showcasing the signature super chocolate from this renowned brand. Inside, you'll find the beloved Coco Mylk, the 60% Coco bar, as well as the indulgent Pistachio, Raspberry & Vanilla, and Hazelnut Truffle flavours. Crafted from premium, unroasted Ecuadorian cacao, Ombar's bean-to-bar chocolate ensures a rich, smooth, and nutrient-packed treat. This advent calendar aligns with Ombar's commitment to sustainability, being fully recyclable and plastic-free. It's not just dairy-free but also gluten-free, and bears certifications for Vegan, Fair Trade, and Organic, making it the ultimate guilt-free indulgence this festive season for those looking for a better chocolate to countdown to Christmas.
Ombar Advent Calendar is £14.99 from ombar.com
Monty Bojangles
Monty Bojangles, the multi-award-winning UK confectionery brand, have two calendars perfect for chocoholics with one specially made for vegans. For the ultimate way to countdown to Christmas, the brand new Enchanting Winter Nights Advent Calendar features a delicious chocolatey cocoa dusted truffle behind each door, with three on the final day! With multiple Great Taste Award winning flavours, including Choccy Scoffy, Orange Angelical, Popcorn Carousel, Flutter Scotch, Berry Bubbly and Cookie Moon, the hard part's going to be deciding whether to gift to someone special, or keep for yourself! £10 from Amazon, Asda, Twinings, TKMaxx and Ocado.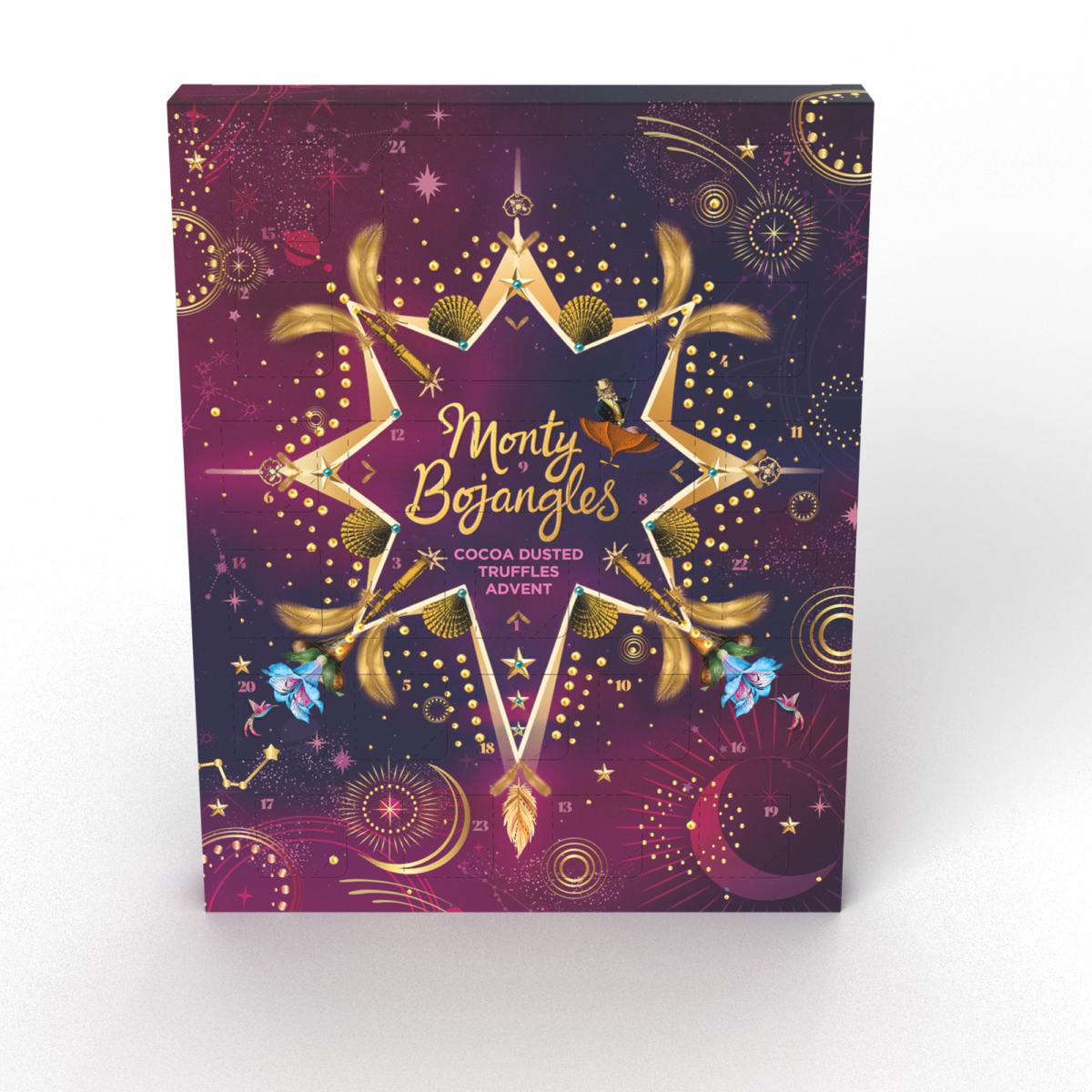 Sure to be an immediate best seller, Monty Bojangles Vegan Truffle Advent Calendar ensures that the vegan in your life needn't go without a delectable chocolate treat during the Christmas countdown. A curiously moreish must-have, this plant-based powerhouse is filled with delicious vegan cocoa dusted truffles each day, with three on the final day! Back for its second season, it's a total treat. £12 from Ocado, TKMaxx, Twinings, and Amazon.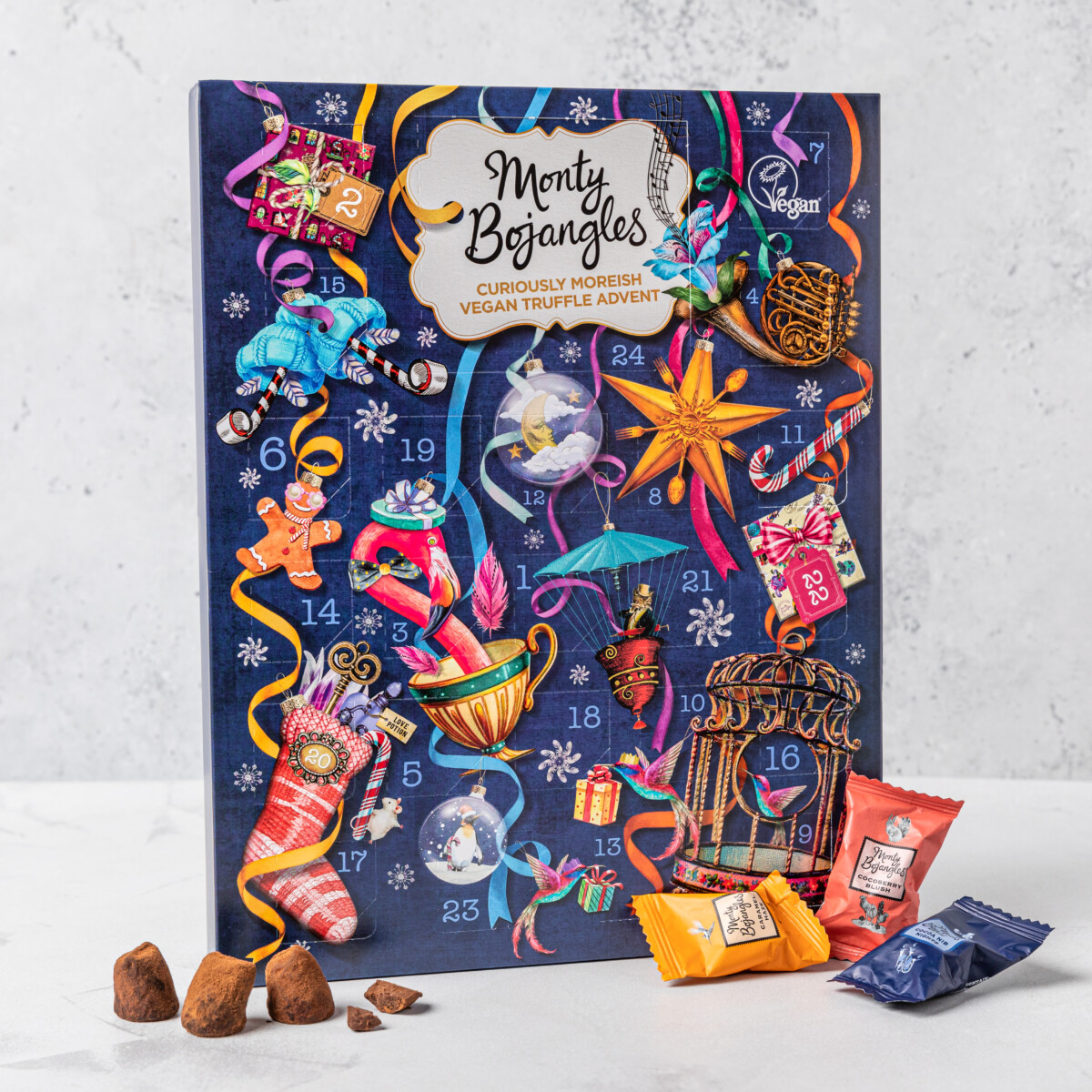 LoveRaw
LoveRaw is on a mission to bring you awesome chocolate that just happens to be vegan which everyone – including non-vegans – can enjoy! They use superior vegan ingredients in delicious flavour & texture combinations without compromising on taste. Their brand-new Advent Calendar for 2023 is filled with 24 festive shapes of dairy-free m:lk chocolate which is completely plant-based with no artificials and absolutely no palm oil. To say that the chocolate is utterly delicious would be an understatement! Anyone looking for an advent calendar that tastes as indulgent as it is guilt-free needs to chekc out LoveRaw's first-ever Advent Calendar… whether you're a vegan or not!
LoveRaw Advent Calendar is £6.99 from eatloveraw.com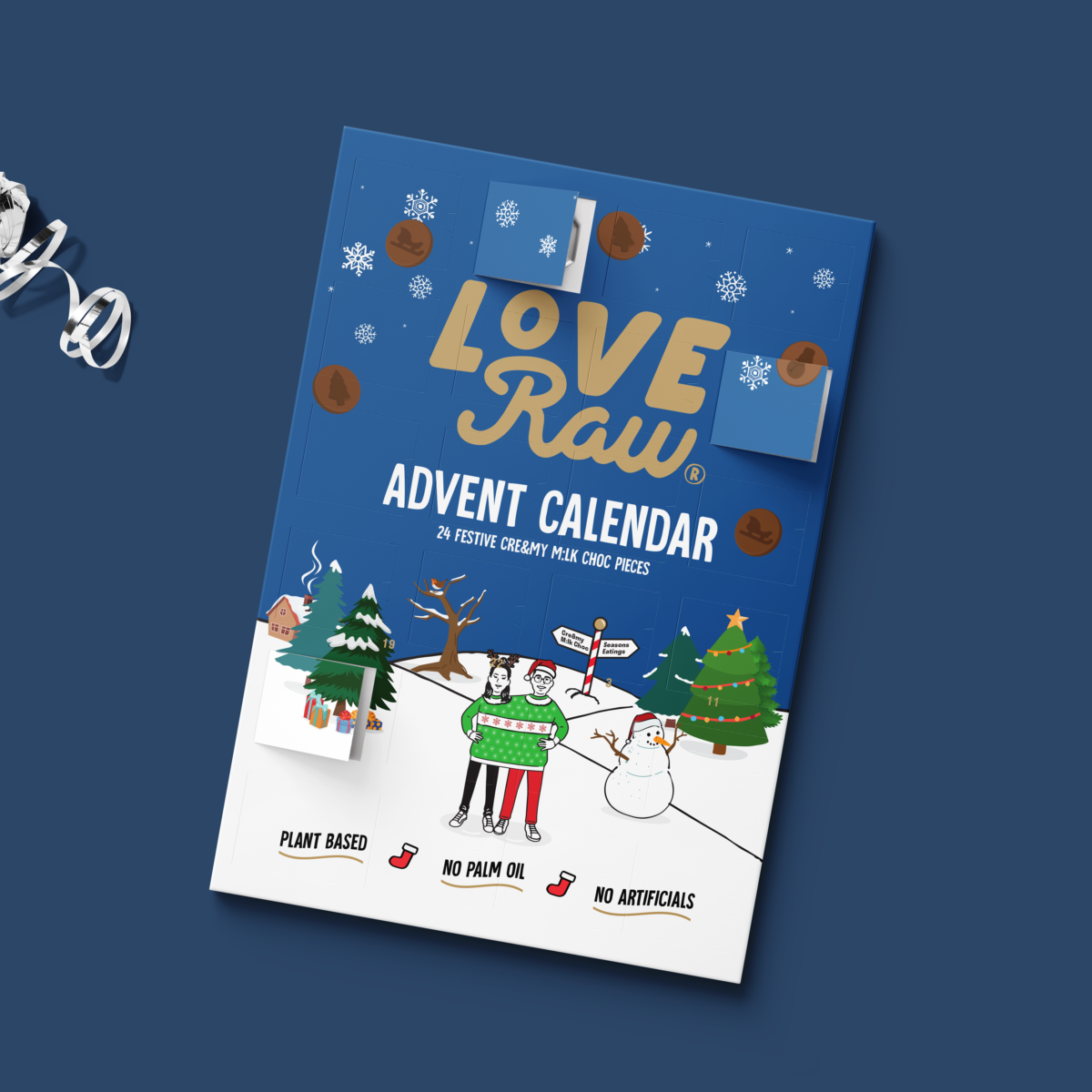 Divine Chocolate
Elevate your Christmas countdown with Divine Chocolate's Milk Chocolate Advent Calendar, a delightful choice for those seeking ethical indulgence this December. This Fairtrade gem not only provides a delicious milk chocolate heart every day but also ensures a heartfelt impact on cocoa farmers and their families. As the world's sole farmer-owned Fairtrade chocolate maker, Divine Chocolate is committed to fighting exploitation in the industry. Each daily treat is a testament to this commitment, ensuring your seasonal joy is intertwined with a genuine sense of responsibility and compassion.
Enjoy the true spirit of giving and savour the goodness of Divine Chocolate's Milk Chocolate Advent Calendar. £5 from Ocado, Oxfam, Whole Foods Market and www.divinechocolate.com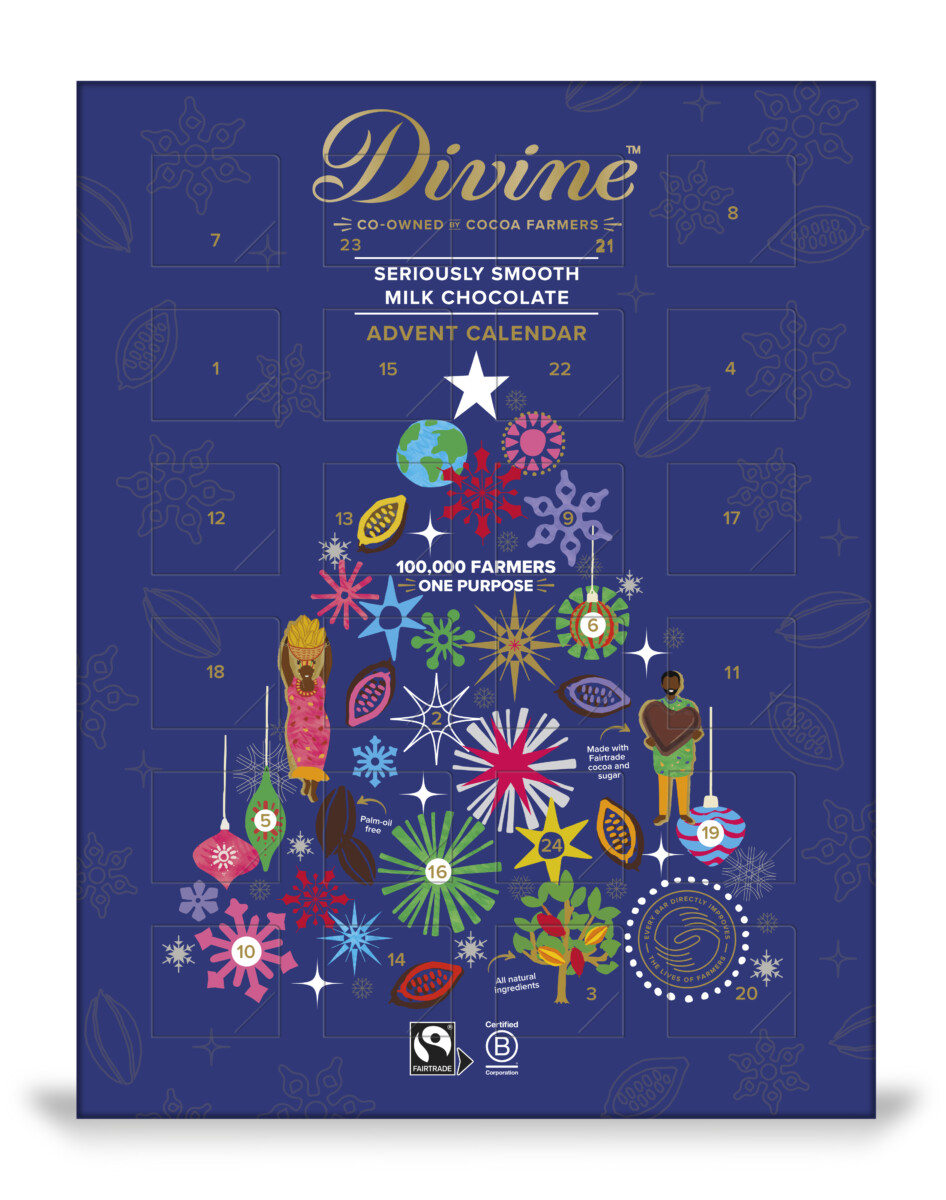 With its elegant design and irresistible 70% dark chocolate, Divine's vegan-friendly Dark Chocolate Advent Calendar brings a touch of sophistication to the advent countdown for those looking for a dairy-free alternative to the traditional milk chocolate advent calendar. Not only will you be rewarded with a deliciously smooth dark chocolate heart each day, but your daily Divine delight improves the lives of cocoa farmers and their families through Divine's commitment to fight exploitation in the industry as the world's only farmer-owned Fairtrade chocolate maker. 
Divine Chocolate's Dark Chocolate Advent Calendar is £5 from Ocado, Oxfam, Whole Foods Market and www.divinechocolate.com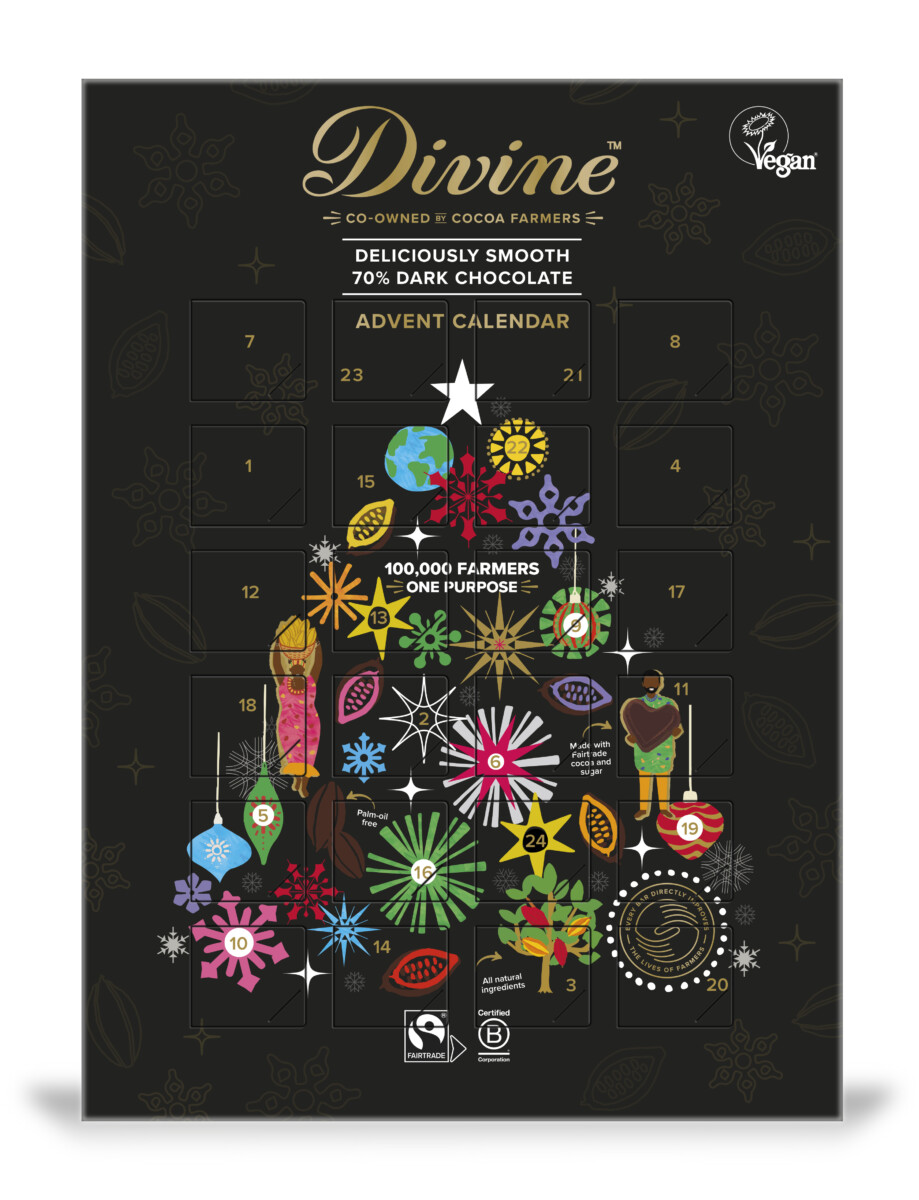 Swizzels
Add extra sparkle to the lead-up to Christmas with the Mr Swizzels Sweet Shop Advent Calendar. Designed with larger families in mind, this budget-friendly calendar promises 24 days of delightful sweet surprises, ideal for parents who need to buy multiple advent calendars for their family. Bursting with beloved Swizzels treats such as Squashies, Refreshers, Love Hearts, and Drumstick, it's a cost-effective way to bring smiles to every child's face. Each door reveals not just treats, but also fun jokes and festive facts, making the countdown even more entertaining. Make this Christmas season extra sweet for your brood with Swizzels' delicious array of confections, ensuring that every child has their own Mr Swizzels Sweet Shop Advent Calendar for a magical daily treat to look forward to.
Mr Swizzels Sweet Shop Advent Calendar is £5 available nationwide from major supermarkets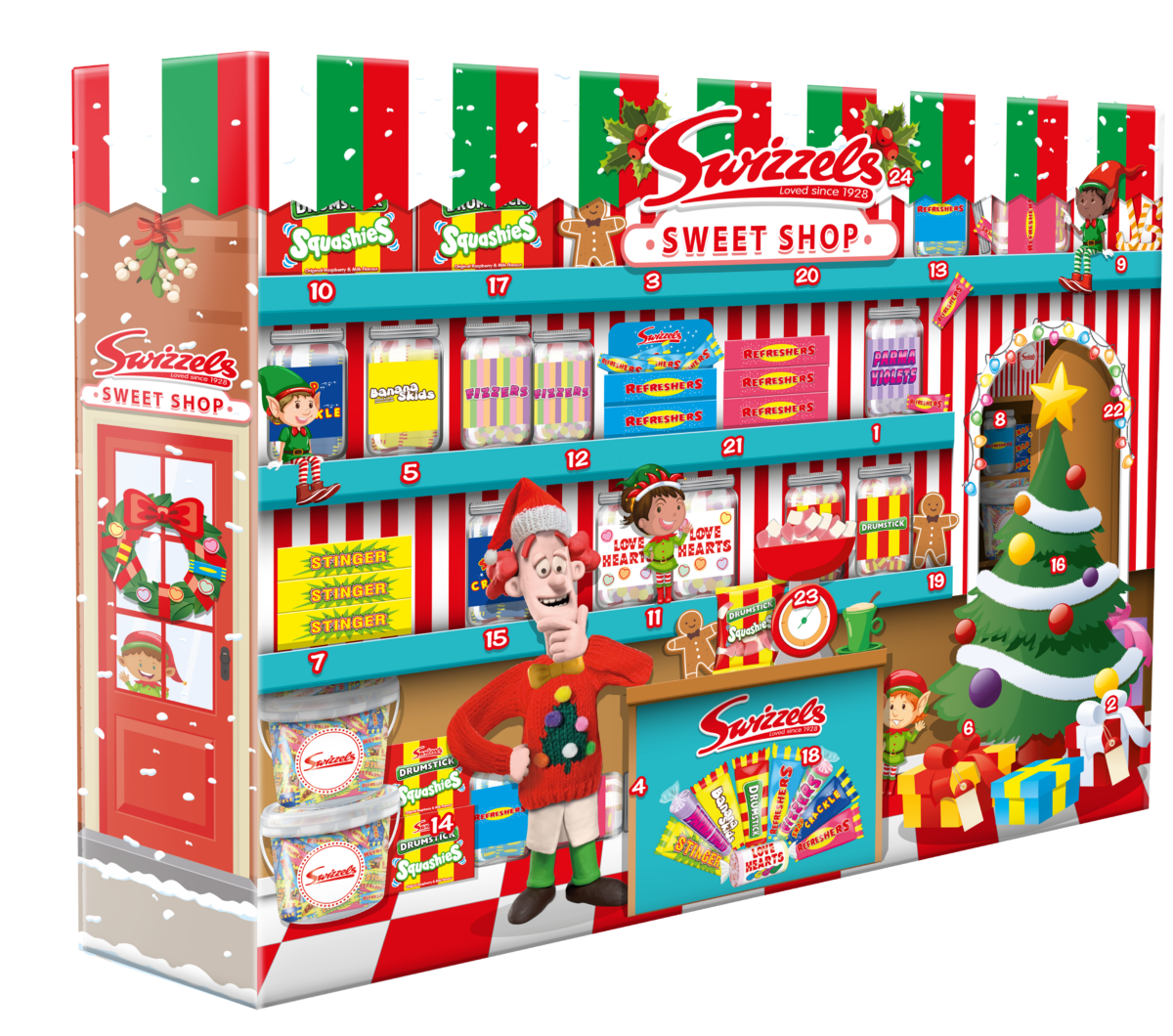 Moo Free
With over ten years of free-from choccy making experience, Moo Free's entire range is dairy, gluten and soya free, whilst also being suitable for vegans. Their seasonal collection is made using Moo Free's award-winning chocolate, sourced from ethical cocoa from Rainforest Alliance certified farmers. As with all Moo Free products, it doesn't use any single-use plastic and is presented in sustainable packaging, which is widely recycled.
Moo Free's 'milk' chocolate Advent Calendar is the perfect way to start your day in the lead up to Christmas. Using Rainforest Alliance cocoa, every time you open your advent door, you are helping to protect the planet and farmers who are sourcing your tasty Choccy. £3.99 from Tesco, Asda, Morrisons and Ocado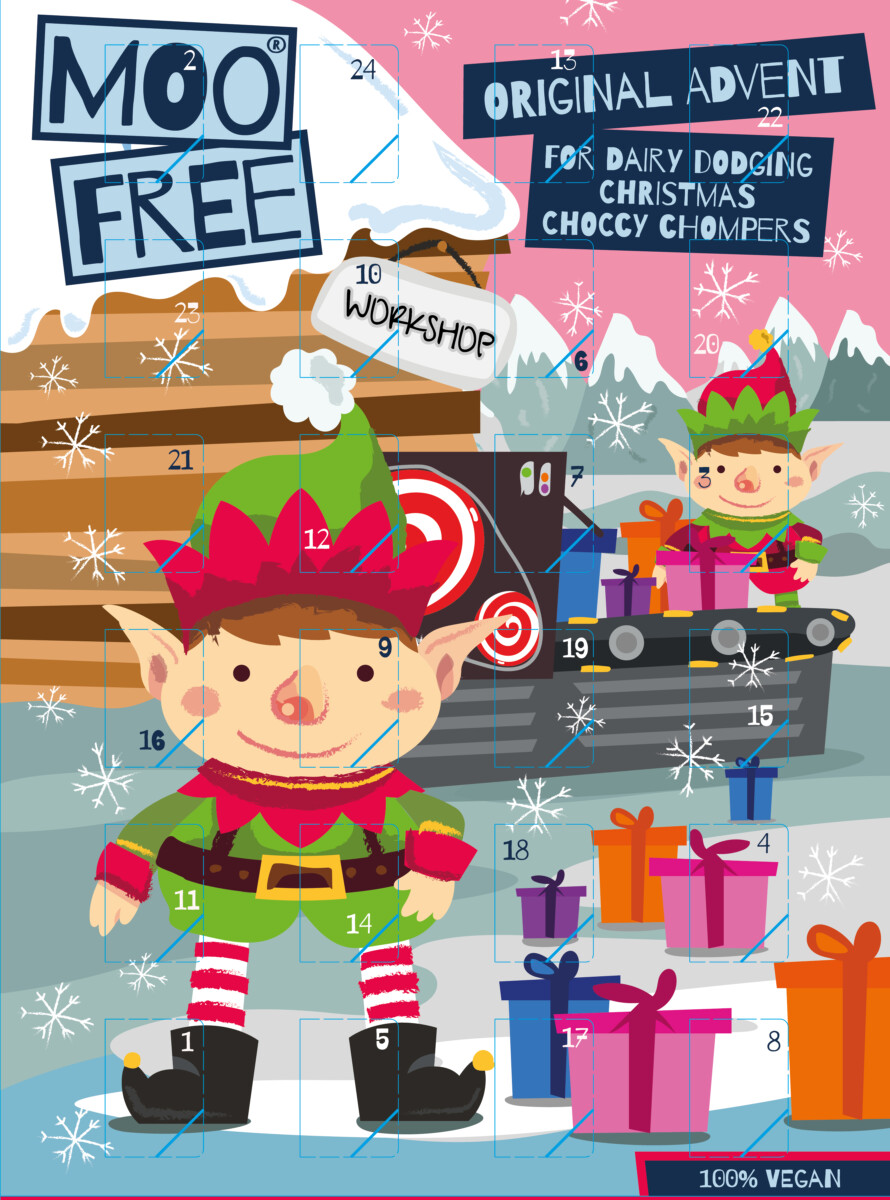 Using its renowned free-from and vegan white chocolate, each piece inside Moo Free's white chocolate Advent Calendar is made in Moo Free's UK factories that do not use milk, gluten or soya, so you can be sure that it's completely free from. £3.99 available from Asda and Ocado