If you're keen to avoid the ubiquitous tried-and-tested Indian dishes of London's dining scene, you must check out Yaatra for a culinary journey of diverse dishes that divulge new flavours and traditions. Located in the Grade II listed Old Westminster Fire Station, steeped in history, even Winston Churchill has been inside these four walls when he made that all important command from the wash room.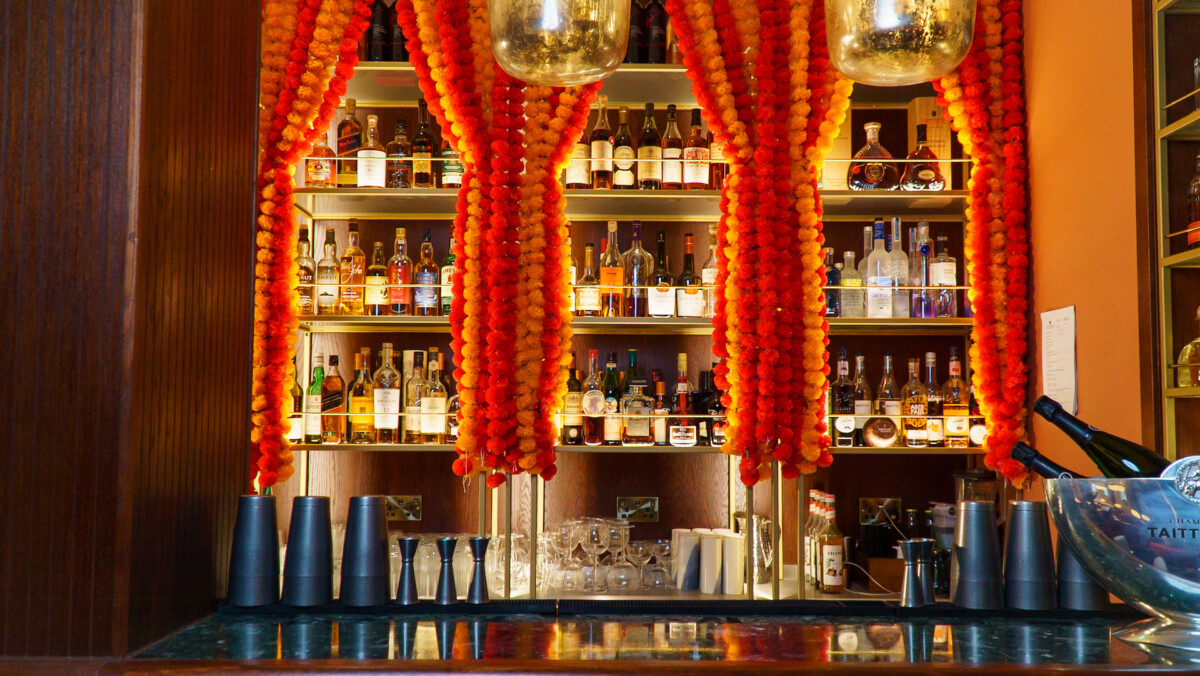 Yaatra takes your senses beyond the beaten track of Indian cuisine and into unexplored territory by the restaurant's own travelling chef Amit Bagyal and his incredible menu which is inspired by his travels across India and beyond, giving long overdue recognition to the small pockets of lesser-known territories that rarely get their opportunity to shine.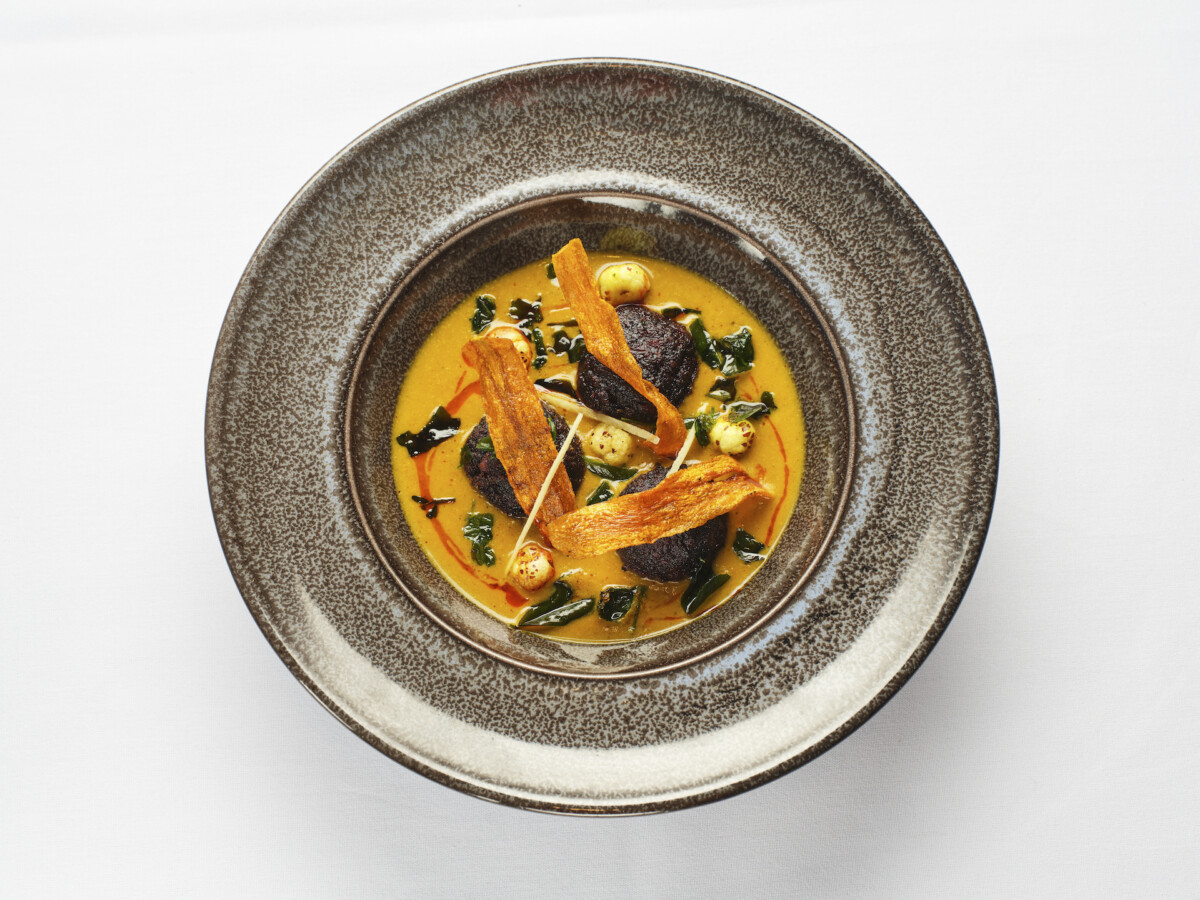 Previously of Michelin-starred Benares, Chef Amit knows how to form a fantastic plate of food, but this is the first time he has had the freedom to introduce diners to the full breadth of what Indian cuisine can offer. From picturesque temple towns to villages where ancient rituals are still embraced, Chef Amit takes inspiration from all corners of India, as well as some of his other most treasured travel destinations. The restaurant boasts a wonderful décor and amazing vibe, perfect for all ages and reasons to dine out.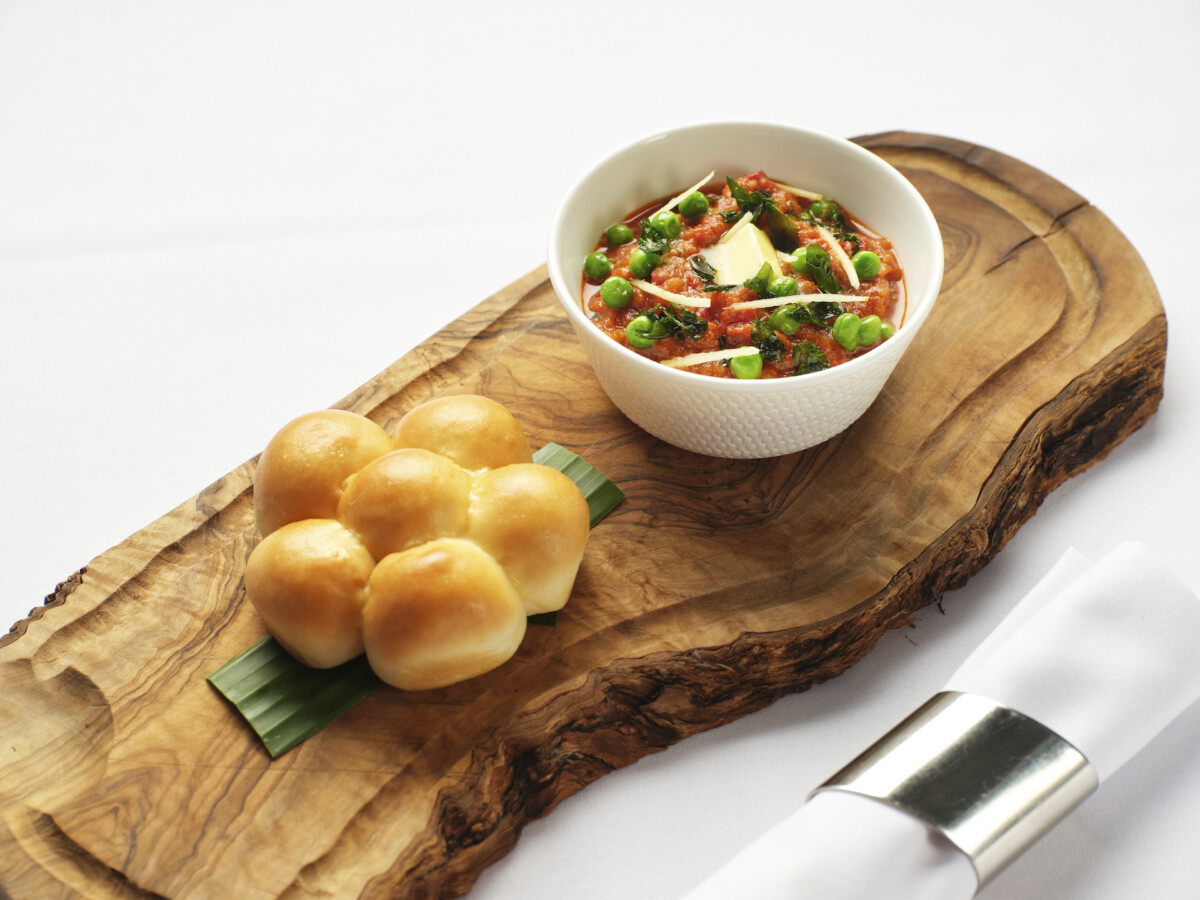 Yaatra offers an exciting a la carte menu that follows a spice-laden road trip brought to life using premium ingredients with a contemporary twist. As soon as you step into the restaurant, you'll be enveloped in an elegant, comfortable atmosphere and greeted by friendly, welcoming staff. Everyone is extremely knowledgeable about the menu and once you taste the food, you'll know that you're in for a truly special dining experience.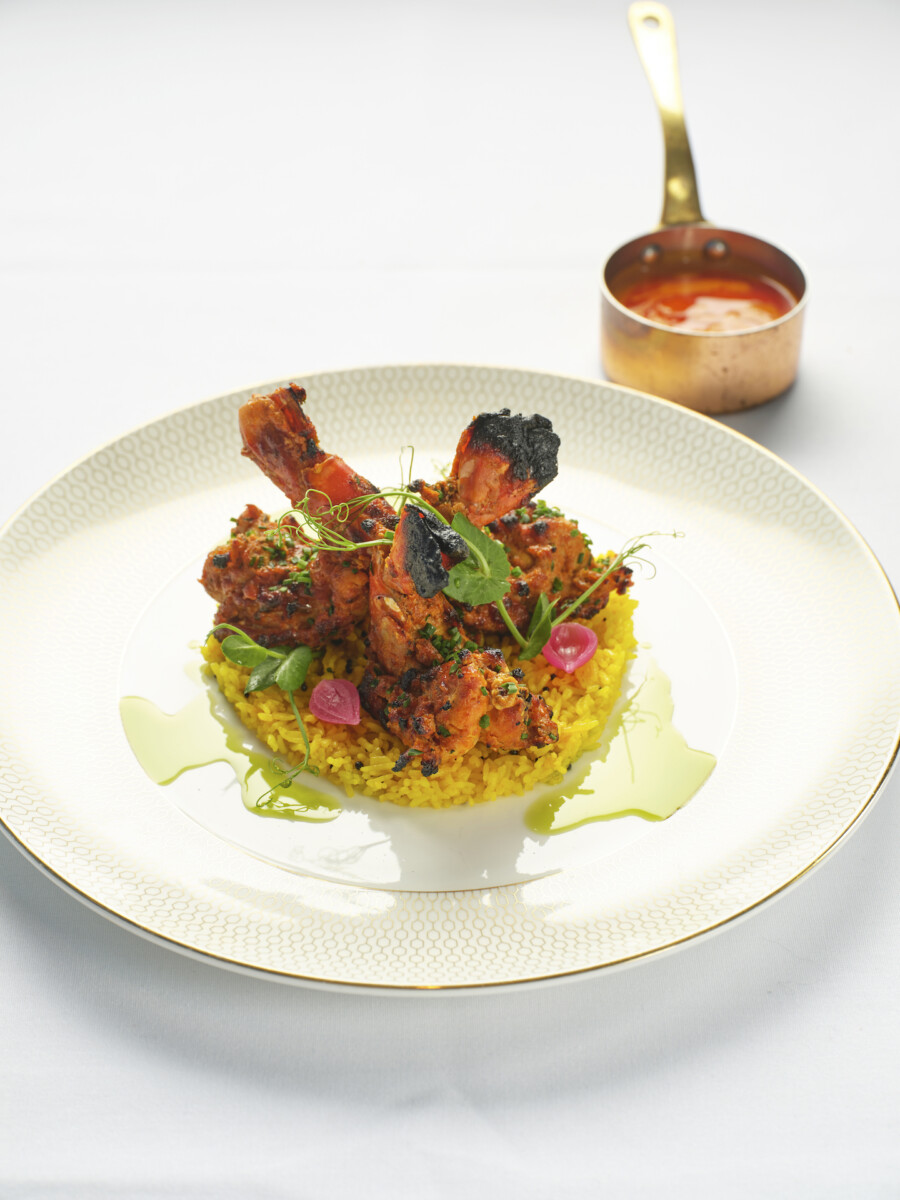 We decided to start the evening with a cocktail each. Yaatra's short but well thought out cocktail menu meant that we were torn between the following:
Yaatra Royale – An excellent cocktail for those who appreciate the classic combination of champagne and cognac. The Hennessy VS and Grand Marnier provide a rich base, while the bitters and brown sugar add depth and complexity. The champagne provides a refreshing effervescence that cuts through the richness of the other ingredients, resulting in a balanced and elegant cocktail.
Coconut Cloud – A unique and delicious cocktail that features Five Rivers Indian Spiced White Rum as the main ingredient. The toasted coconut and curry leave shrub, lime, and coconut cream complement the spiced rum, resulting in a drink that is both sweet and tangy. Likely refreshing and easy to drink.
The Fire Station Martini – The twist on the PornStar Martini is not lost on us. Served as a sophisticated and elegant cocktail that will please any martini lover. The combination of vodka, passionfruit puree and liqueur, vanilla syrup, egg white, and lemon juice creates the well known flavour profile so many love, that too with a frothy and velvety texture.
Amala Gin Fizz – Choosing a Gin fizz I think for when you are in the mood for a refreshing and light cocktail. I always think a must for lunch or al fresco dining. This fizz features Amala infused gin as the primary ingredient. The combination of Tanqueray Rangpur, mint and fennel seed syrup, lime, and egg white no doubt creates an easy to drink and full of flavour.
Szechuan Negroni – Another unique twist on a classic cocktail this time the Negroni. The Tandoor pineapple and Szechuan pepper Portobello Gin, sweet vermouth, and Aperol create a complex and flavorful base, while the Szechuan pepper adds a touch of spice and heat to the cocktail. The result is a bold drink that is perfect for those who like a bit of a kick in their cocktails.
His Nib's Old Fashioned – The Old Fashioned adorns many menus but can this one hold it' own. A perfect choice for those who appreciate a well-made classic cocktail. The hazelnut and cacao nib whiskey provides a rich and nutty flavor, while the whiskey and orange bitters and demerara sugar add depth and complexity. The result is a complex drink that is perfect for any occasion.
For those who wanted to guess, were you right? We chose the His Nib's Old Fashioned and the Fire Station Martini – after all we are in the Old Westminster Fire Station and there was a Fireman's Pole still within the building!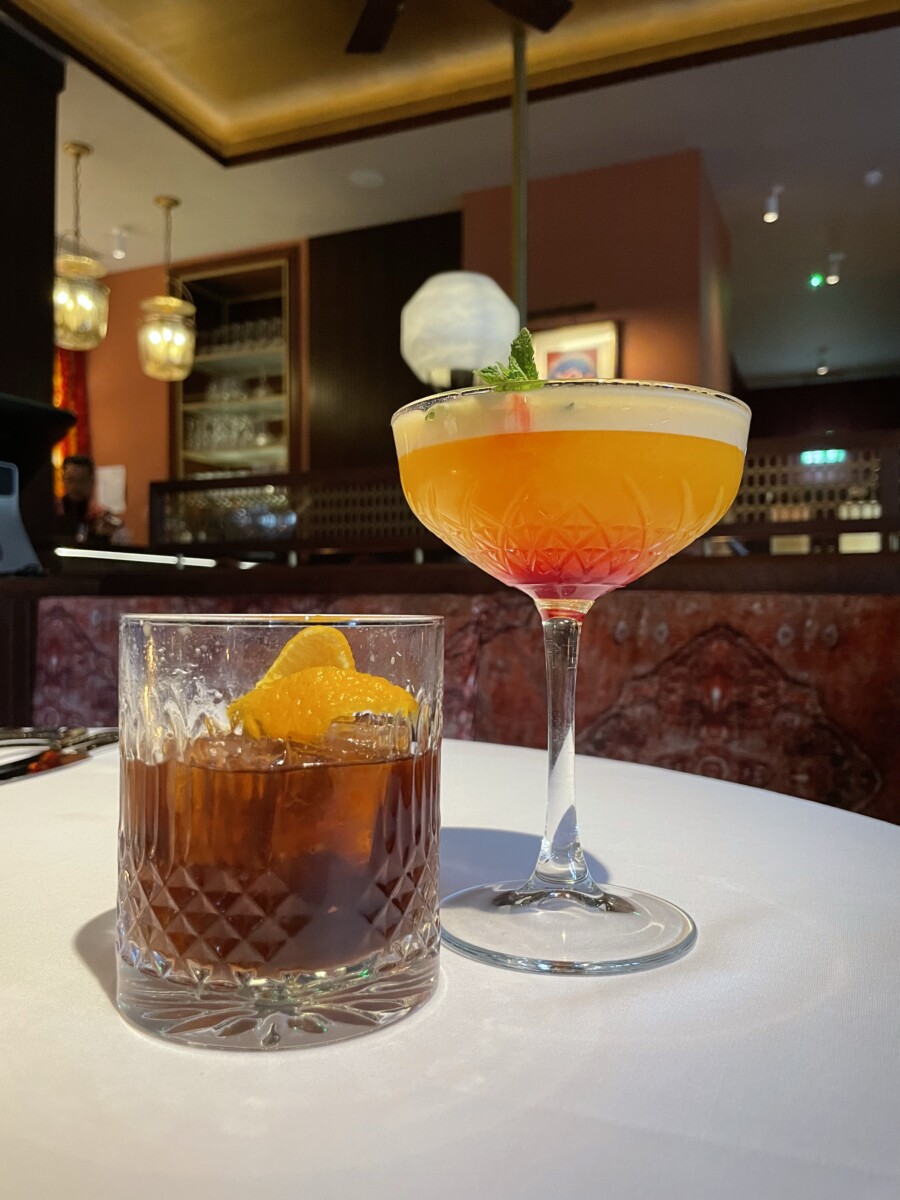 A delightful selection of starters included the Togarashi Roasted Scallops. These scallops are a treat for seafood lovers. The scallops are cooked to perfection and hit you first with the freshness of the sea before the heat gentles touches the back of your palate. The Coconut Butter and Citrus Podi add a unique taste to this delightful bite. With a very generous sized scallop, it is no surprise this was high up on our list of must-try dishes.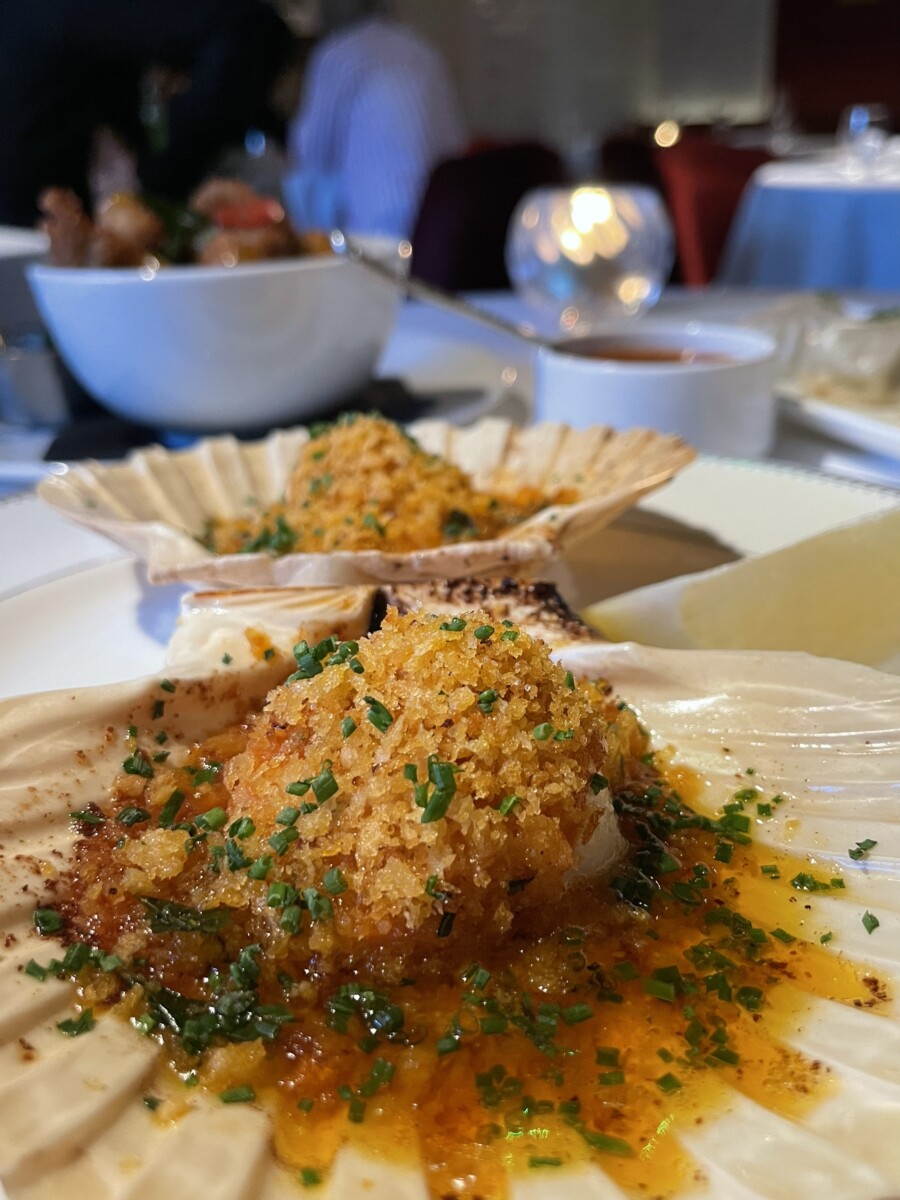 Saffron Chicken Tikka is a classic Indian dish that is taken to the next level at Yaatra. The chicken is tender and succulent with the saffron lending it a unique flavour. The Mung Bean Sprout and Mint & Garlic Chutney enhance the dish and make this one of the must-try dishes at the restaurant but we actually opted for the Calamari Pepper Fry.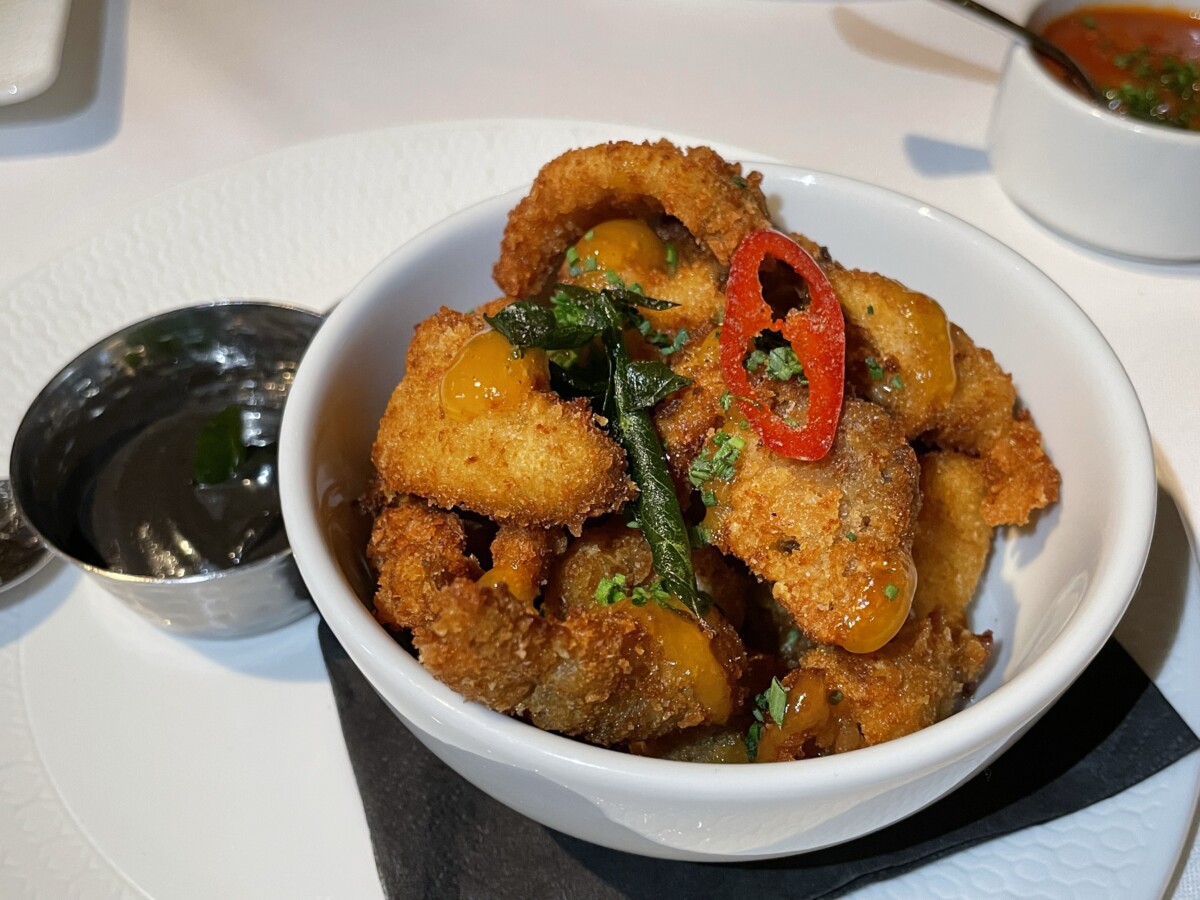 The calamari was a breaded not battered and had a hint of passion fruit to add a sweet bit tangy dimension. Paired with squid ink mayo which took this dish to the next level, it was hard to choose between which seafood spectacular we would order again, a very close tie.
The other starter which is a really interesting option are the Momos. best compared to dim sum, but more from a Nepalese origin. Served with a tomato sauce with a nice warmth to it. We loved them, but not typical of what you would expect on an Indian menu unless you were in the know and the chef was well travelled.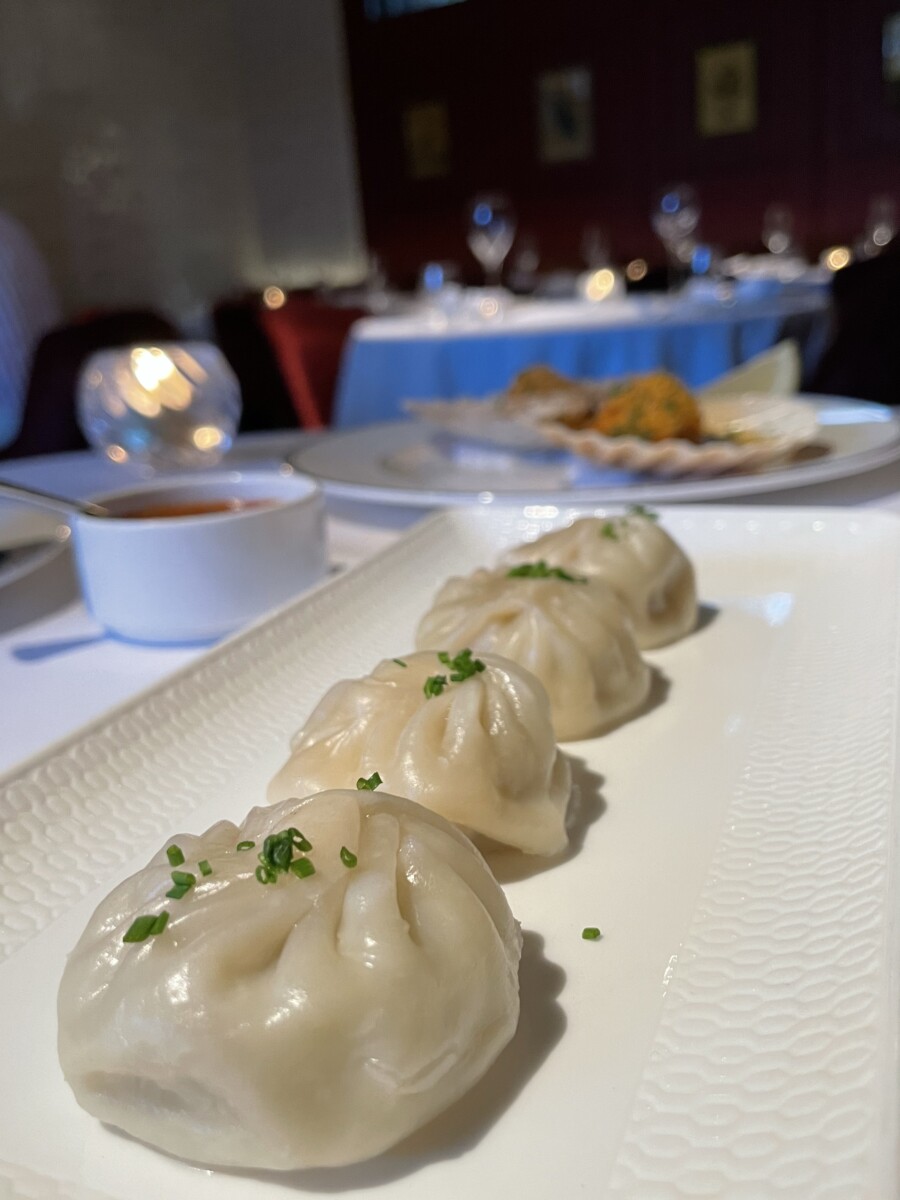 From the grills we choose the Grilled Freshwater Tiger Prawns. This dish is another excellent seafood option that features succulent tiger prawns. The turmeric and lemon rice add a lovely tanginess, while the Malabar sauce enhances the overall flavour. This dish is a must-try for seafood enthusiasts and the prawns were tender yet still had bite. The Tandoor infused these sea creatures with the smoky goodness we all love from this style of cooking.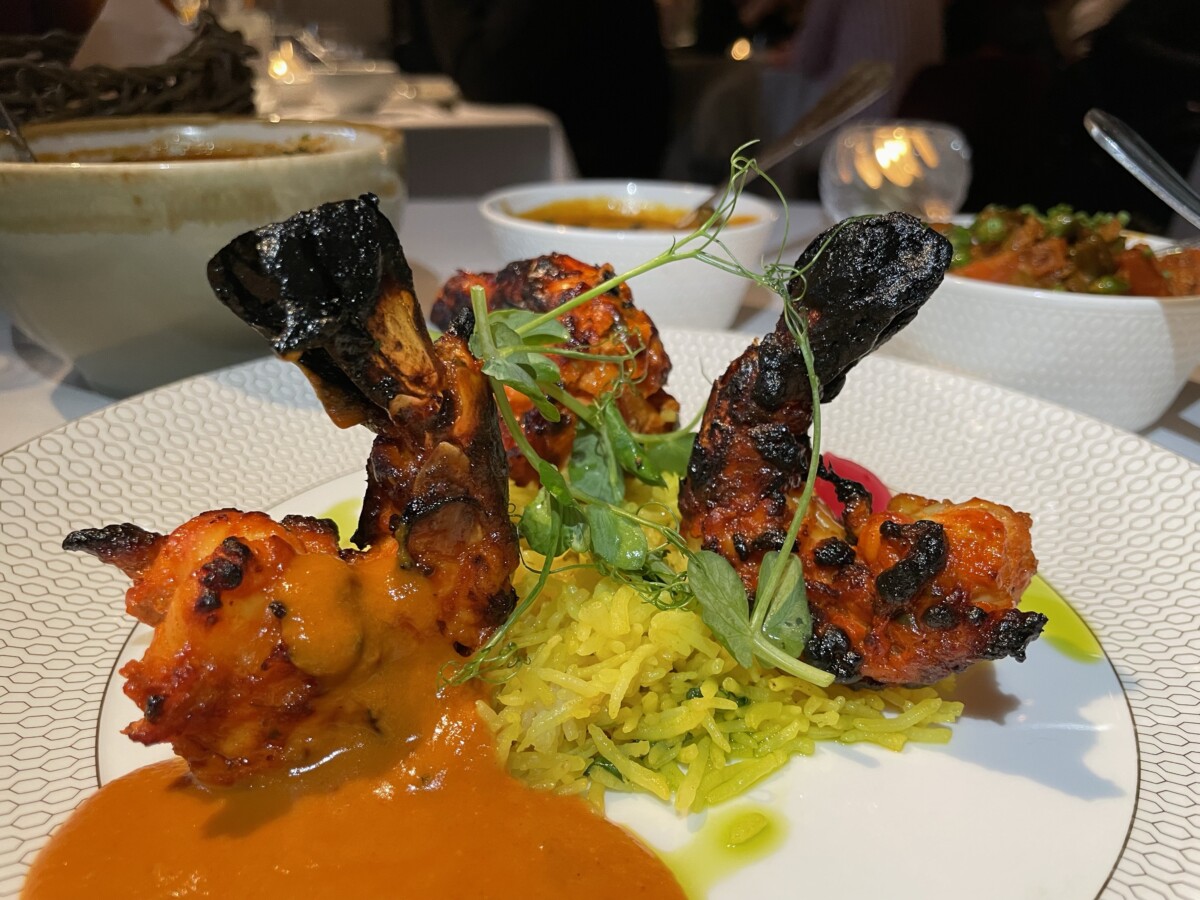 From the chefs specials, we chose Garhwal Goat Osso Buco. Following an authentic recipe passed down from Chef Amit's grandmother, this dish was too intriguing to pass up. Made with hand-crushed Himalayan spices and salt, and served with a flavourful ginger and turmeric sauce, this was a comforting dish with a homely feel.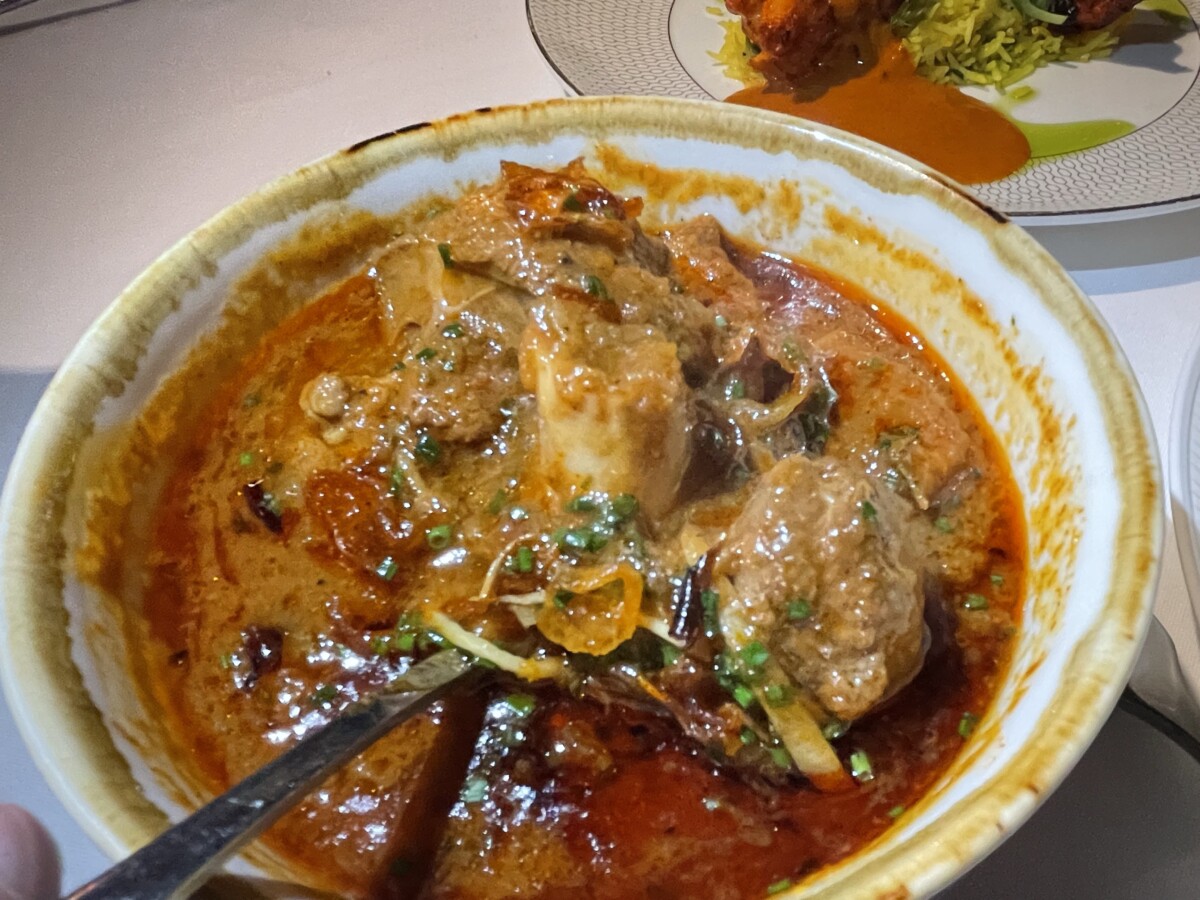 Great sides to choose from include Yaatra Stir-Fried Vegetables which were cooked to perfection – soft and succulent with an array of spices that kept one guessing.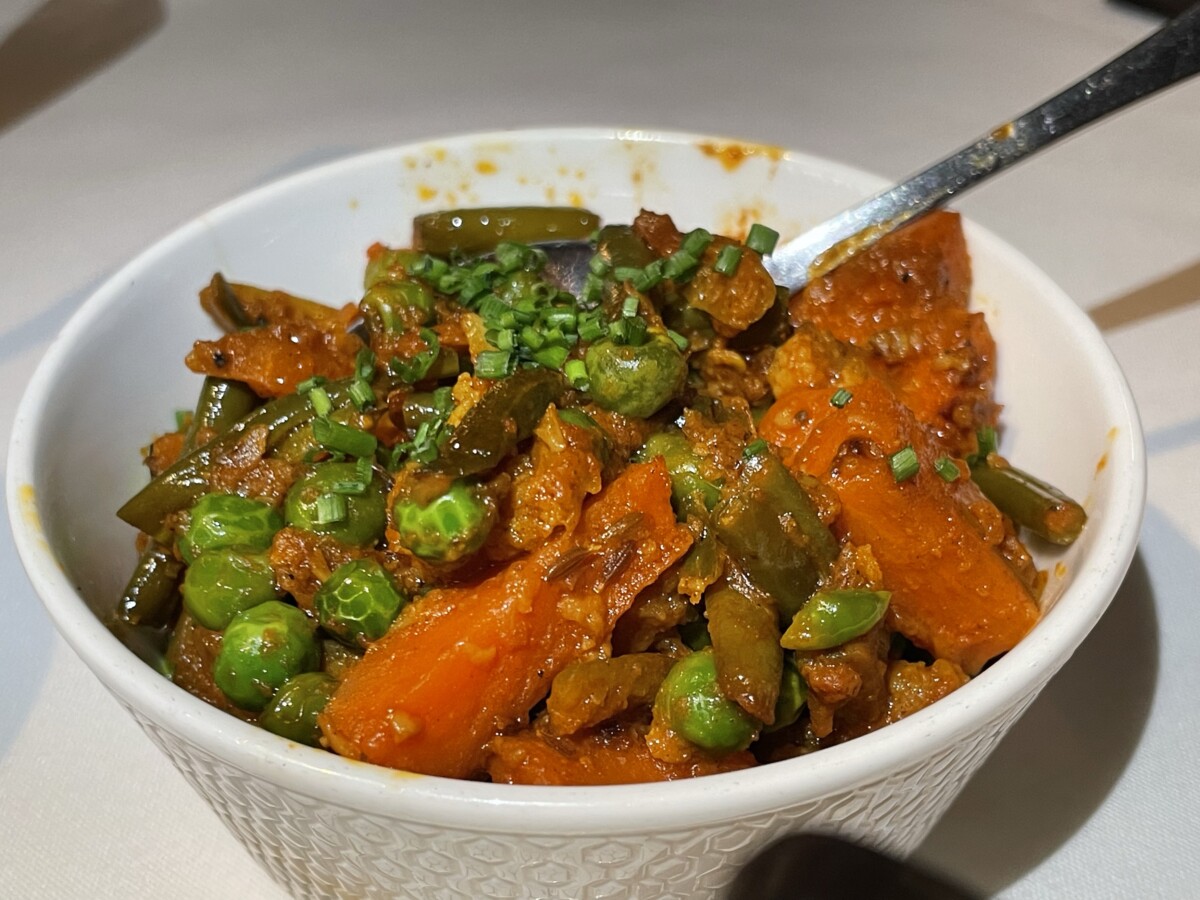 The Baby Aubergine with Tamarind & Peanut Sauce was a wonderfully warming side dish.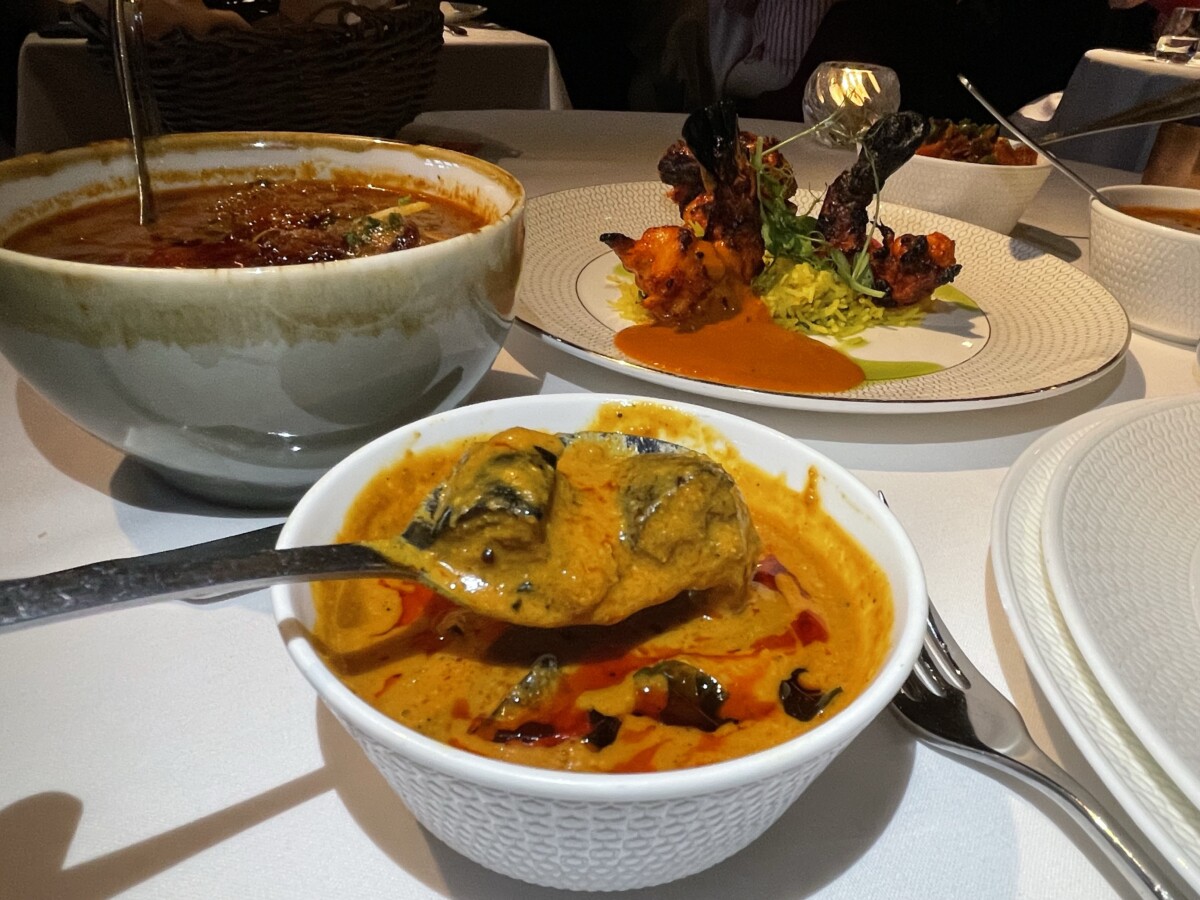 We also tried the Dal Fry Tadka which is a fantastic mild but flavoursome dish best enjoyed with some naan bread. It was both homely and wholesome.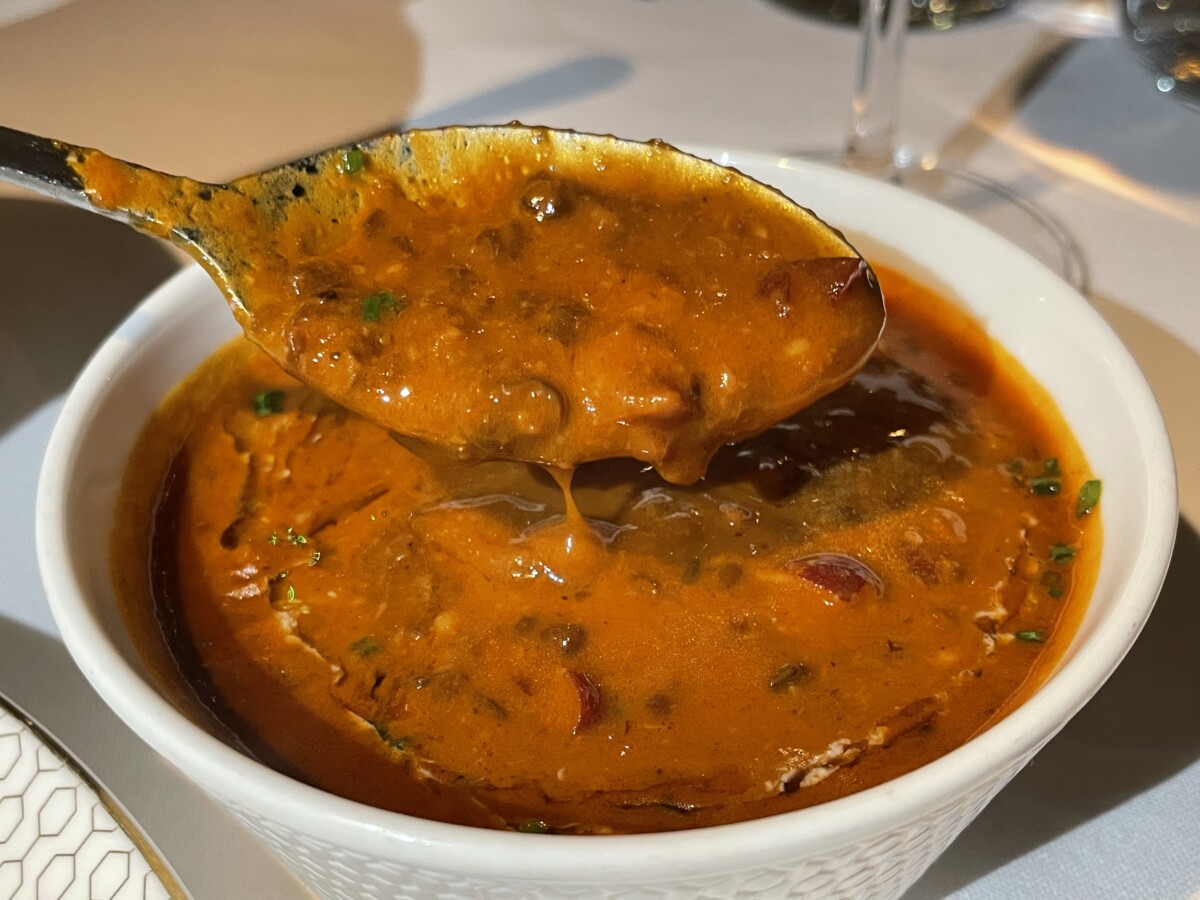 Other choices for mains that looked delicious include:
Tandoori Kebab Platter – The mixed platter offers a great variety of succulent prawns, chicken, and lamb sheekh. The spices are well-balanced, adding depth to the meat. Served with a refreshing mint chutney and salad, this dish is perfect for sharing with friends or as a starter.
Tandoori Veg Platter – A delightful vegetarian option for those who want to enjoy the smoky flavour of the tandoor oven. The platter comes with broccoli, soya chaap, and paneer. The vegetables are marinated with fragrant spices that give them the irresistible taste of a wonderfully seasoned Tandoor offering. Served with mint chutney and salad, this dish is a great way to sample a variety of vegetarian options.
Garlic & Herb Butter Poached Chicken Breast – A juicy chicken breast poached in garlic and herb butter. The semolina upma is light and fluffy, while the coconut sauce adds a delicate sweetness that balances out the flavours. A simple yet satisfying choice.
Herdwick Tandoori Lamb Chop – This dish features succulent lamb chops marinated in spices and grilled to perfection. The bone marrow sauce adds a rich flavour which complements the lamb while the green peas chokha masala adds a nice crunch. This dish is perfect for those who love a hearty and flavourful meal.
Charred Portobello Mushroom – This dish is perfect for vegetarians. It is served with Morels Malai Curry, grilled broccoli, and shimeji pickle.
The chef's classics menu definitely shines a light on lamb as an ingredient with the Sindhi Lamb Shank Biryani – a popular Indian dish consisting of slow-cooked lamb shank served over a bed of fragrant basmati rice and topped with crispy fried onions. Accompanied by a side of spicy aubergine salan and cooling cucumber and mint raita.
And for those in a group of 4 or more there is the Roast Bone-in-leg of Lamb. A hearty and satisfying dish perfect for sharing, featuring a succulent roast bone-in leg of lamb, served with a side of seasonal greens salad and a lamb sauce.
To end such a delicious meal we were wondering if this excellence could be kept up and wow yes it can. The Dessert menu has many dishes to choose from but we had to go classic with the Gulab Jamun which was sweet, moreish and a perfect way to end the evening.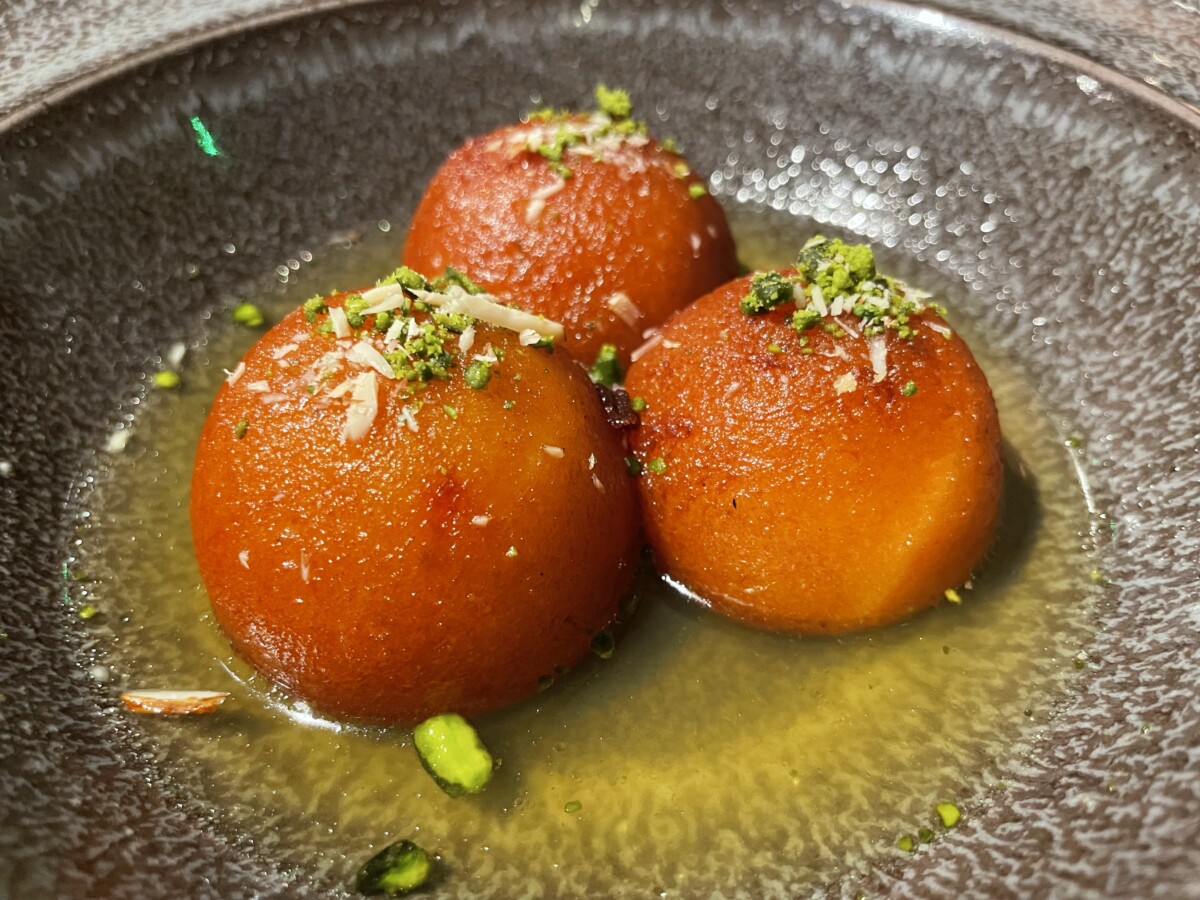 We were recommended the Rasmalai Strawberry Cheesecake with Naan Khatai Crumble and Kalamansi Sorbet. Really pleased we opted for this. The dessert was presented really nicely but the saffron flavours stood out and made this dish taste-tastic. After enjoying each mouthful, the Kalamansi Sorbet refreshed the palate to rejuvenate the sensation of the next bite. A great well thought out dessert.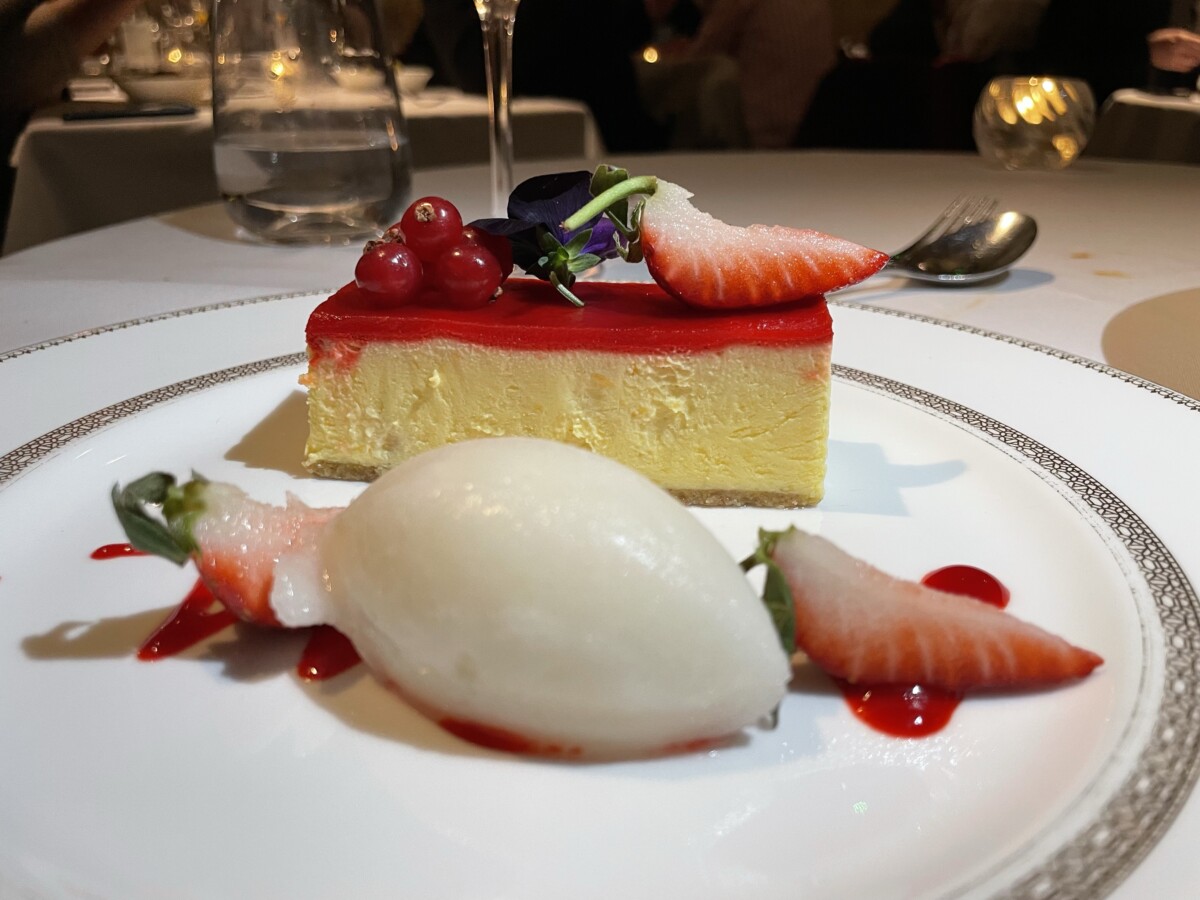 Yaatra is an outstanding and unusual Indian restaurant that is not to be missed. From the expertly prepared dishes to the sophisticated yet cozy atmosphere, Yaatra offers an unforgettable dining experience that will leave you wanting to return for more. Whether you're in the mood for classic Indian favourites or more adventurous lesser-known dishes, Yaatra's menu has something for everyone. So if you're looking for exceptional Indian cuisine that's off the beaten track of the ubiquitous Indian restaurants on London's dining scene, look no further than Yaatra.
Yaatra Westminster
4 Greycoat Place, Westminster, London, SW1P 1SB
020 4549 1906
www.yaatrarestaurant.com