As they celebrate their 10th anniversary this autumn, Novikov Restaurant & Bar maintains its reputation as one of London's most successful restaurants, combining an innovative dual culinary offering, exemplary service and cool, contemporary surroundings.
Located in the heart of Mayfair, Novikov Restaurant & Bar was founded in December 2011 by legendary Russian restaurateur Arkady Novikov. It is divided into two distinct restaurants and one stylish Lounge Bar – a legendary must-visit destination, with an extensive cocktail menu, live music and performances by some of the world's top DJs from Sally K to Spencer Mac.
Set across three floors, the venue's gorgeous interiors are the work of Geometry Design Moscow, overseen by Keir Townsend Project Managers.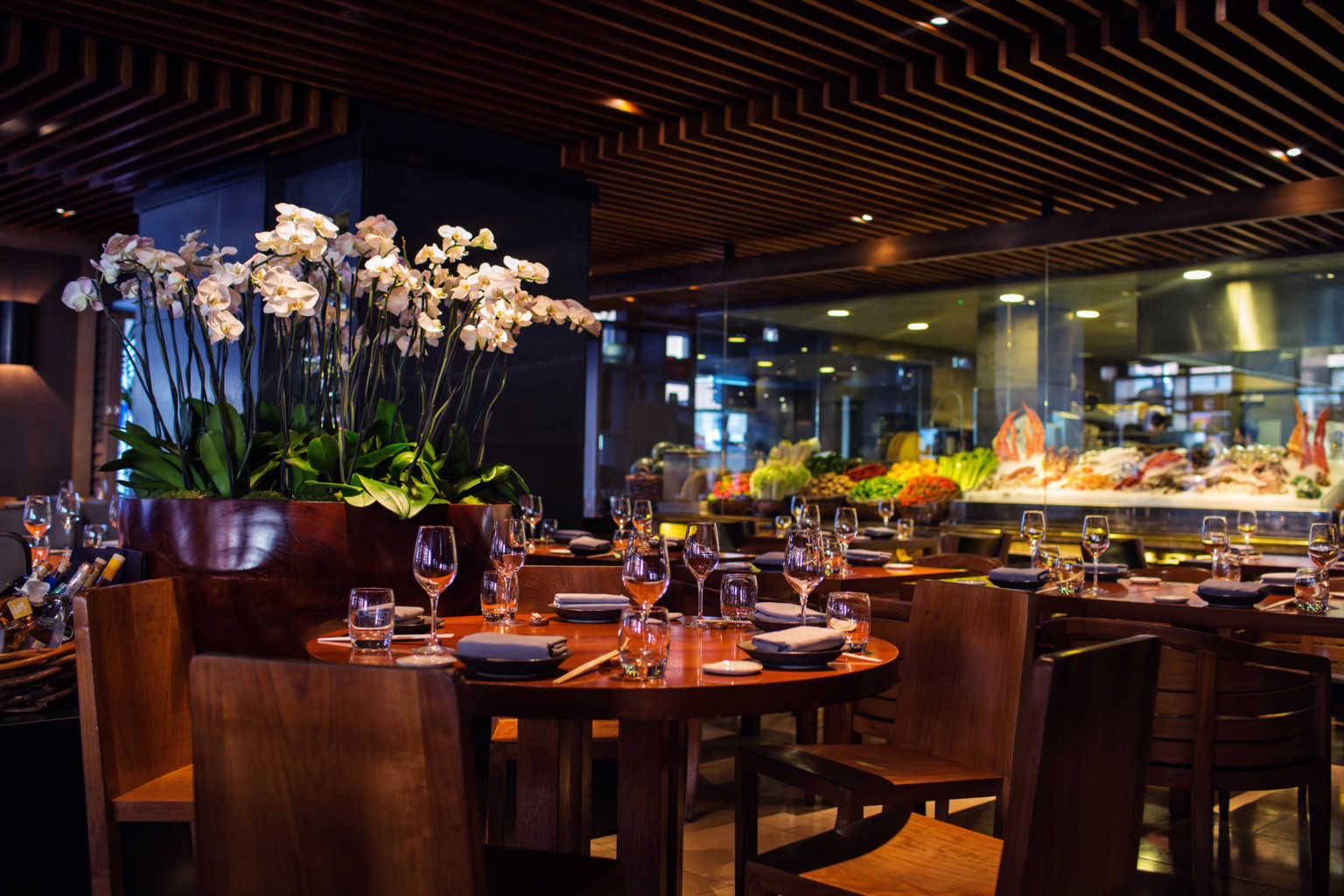 Novikov has constantly refined its food & drink offering, collaborated with like-minded brands such as Blue Marlin and developed and hosted Mayfair's must-visit annual Christmas market. Novikov also helped popularise the garden to plate concept with its very own market garden in the grounds of Suffolk's Brent Eleigh Hall.
The main entrance off Berkeley Street leads into the Asian Restaurant. Here cool granite walls complement the striking lacquered ebony bar-counter decorated with a jade stone belonging to Arkady Novikov himself. Materials used in this area – wood, stone and leather – are all natural. They are offset by subtle features such as a wall of cracked stone and bamboo chandeliers.
When dining at the Asian Restaurant, a real feature you can hardly miss is its open kitchen. Fronted by an amazing display of seafood and vegetables, it evokes the atmosphere of an Asian food market.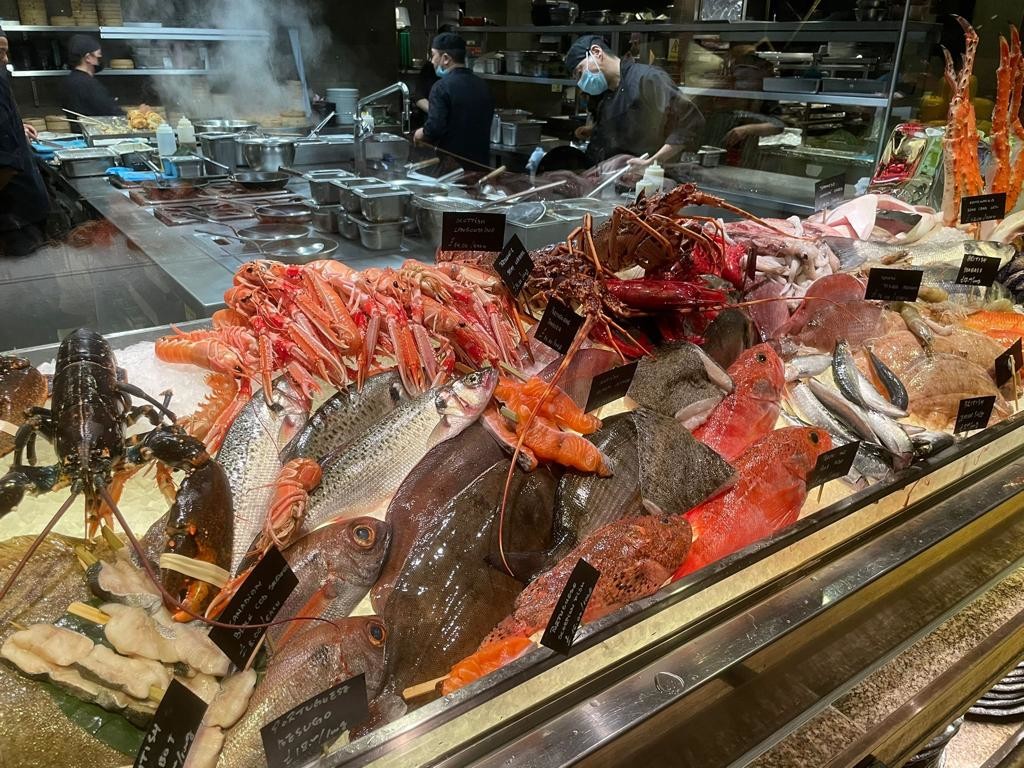 We were greeted by the Alaskan king crab in their window tank giving us a live view of the treats awaiting us inside. What's interesting is each king crab has a QR code that you can scan. It tells you the weight and who caught it. The code gives you the opportunity to see its catch on video and its journey.
The atmosphere here is at once welcoming and relaxing, but subtle enough not to distract from the food itself. The menu uses novel flavours and texture combinations, inspired by Chinese and Pan Asian cuisine.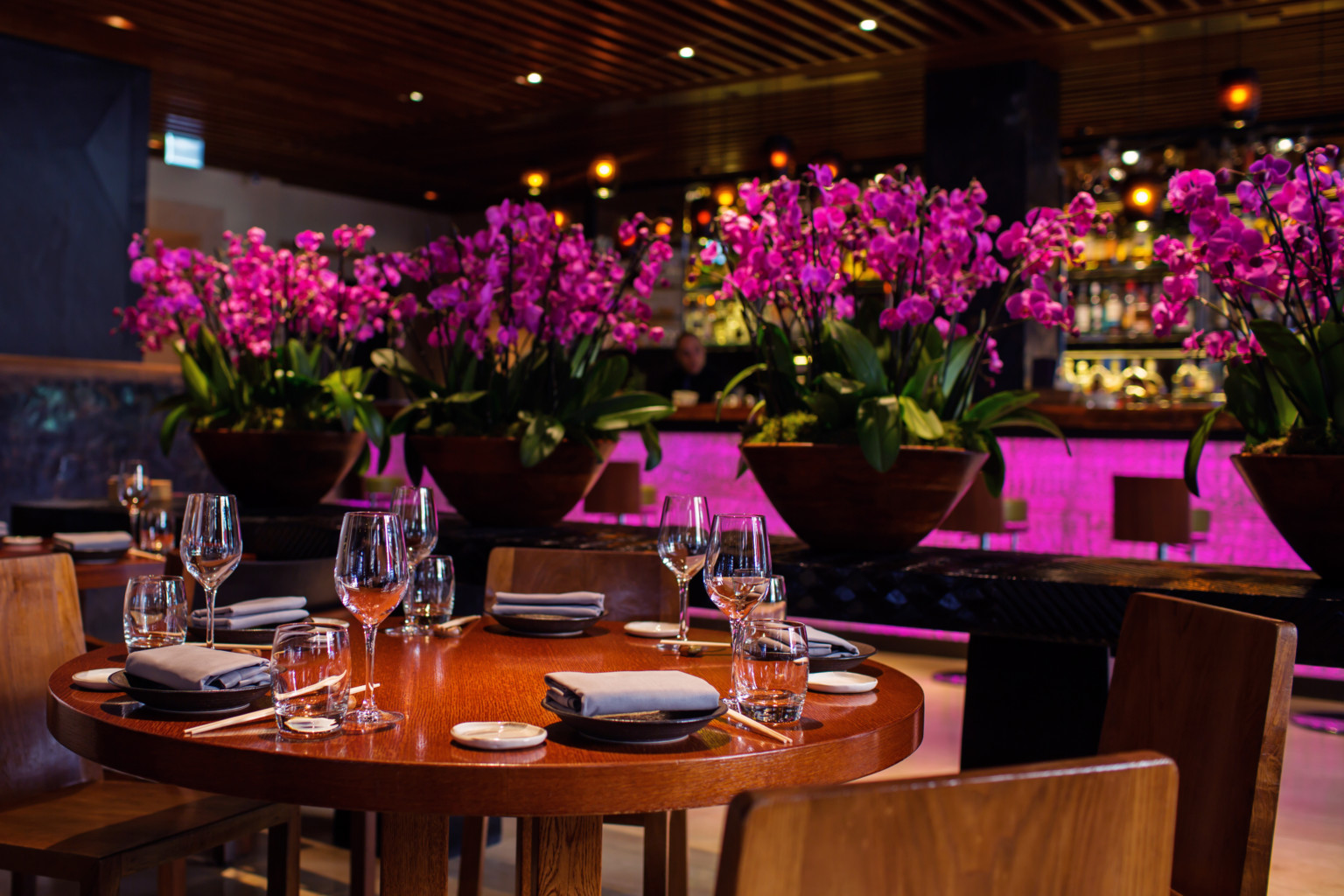 We had a nice tour of the restaurant which is split into two halves. We were dining in Novikov's Asian restaurant and as such, we were treated to a view of the open kitchen and the market section which allows you to take away your own veg and have the choice of the finest seafood in London.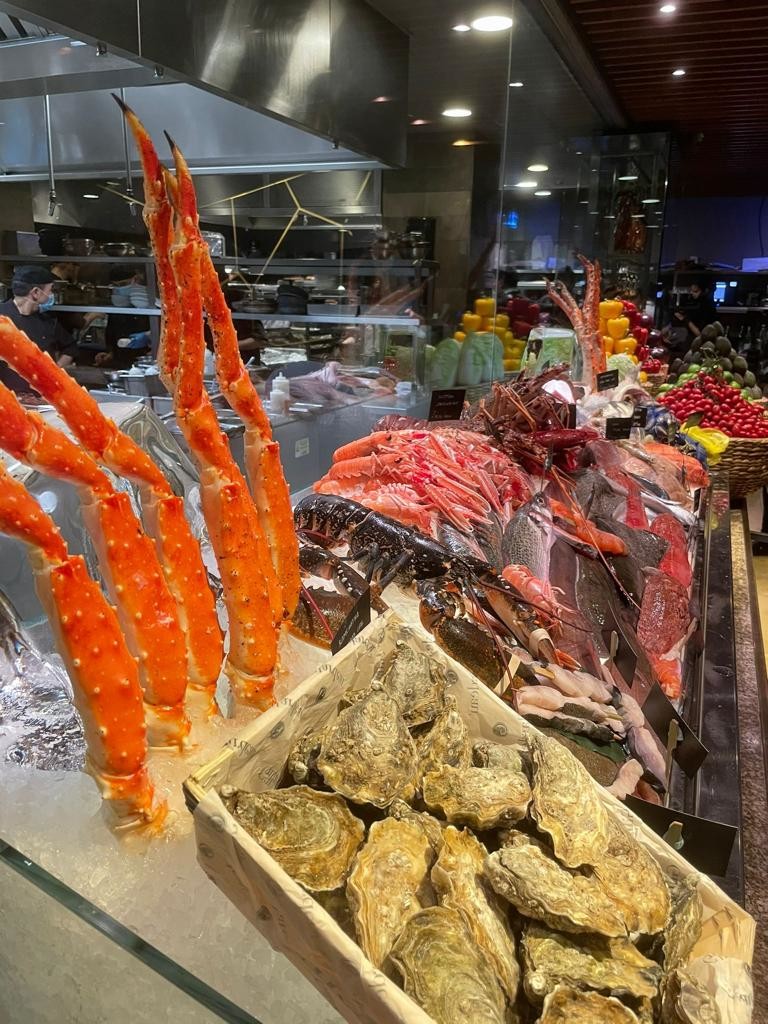 The seafood is flown in by private jet to ensure you have the freshest options available and the choice is mind-blowing.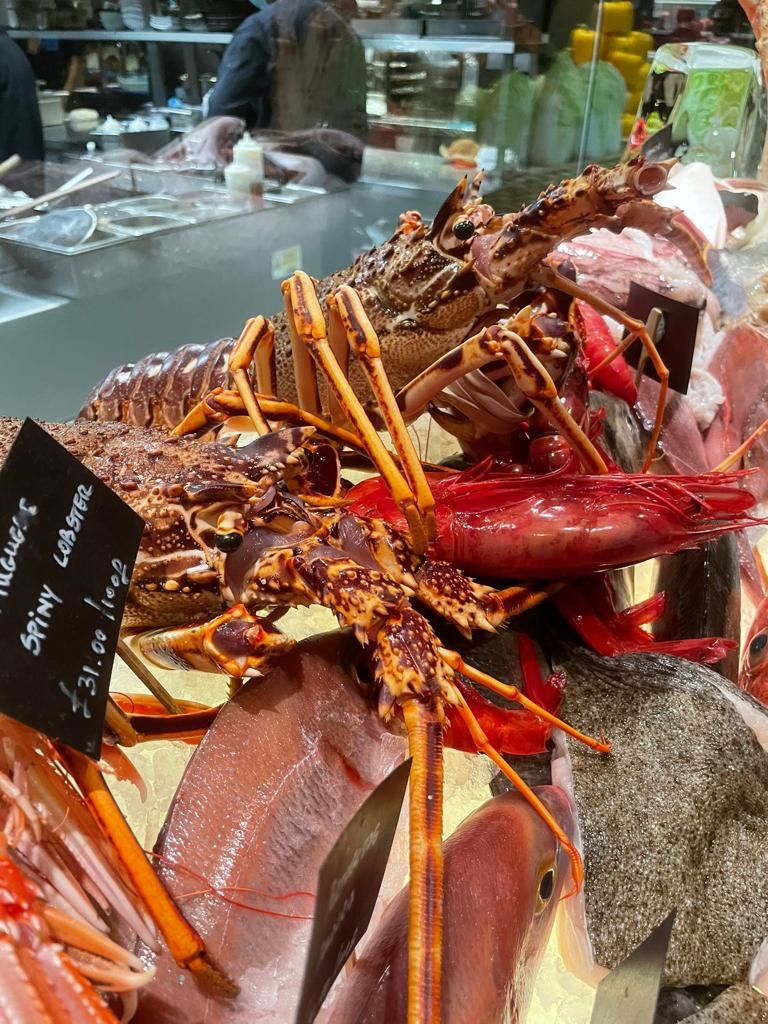 Once seated, we decided to leave the choice of all our dishes in the very capable hands of Novikov's front of house and we were in for a culinary feast that exceeded all our expectations.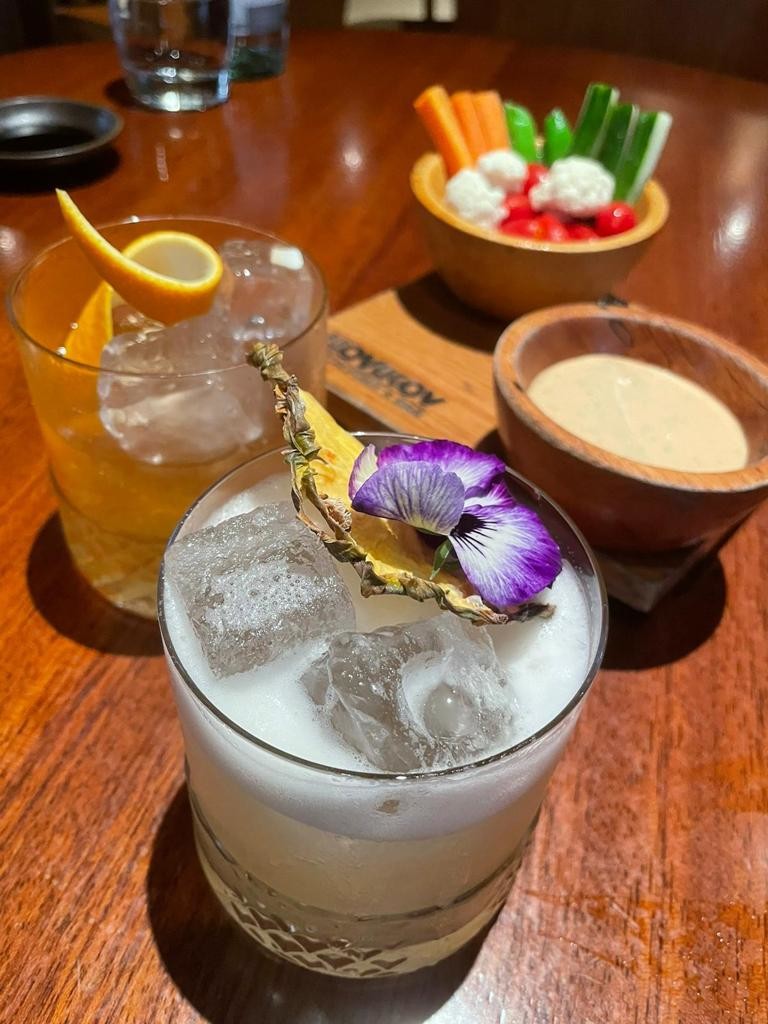 To we started off with a selection of sashimi to whet the appetite we were able to sample the Scallop and black truffle, yellowtail Coriander, and the Tuna and foie gras carpaccio.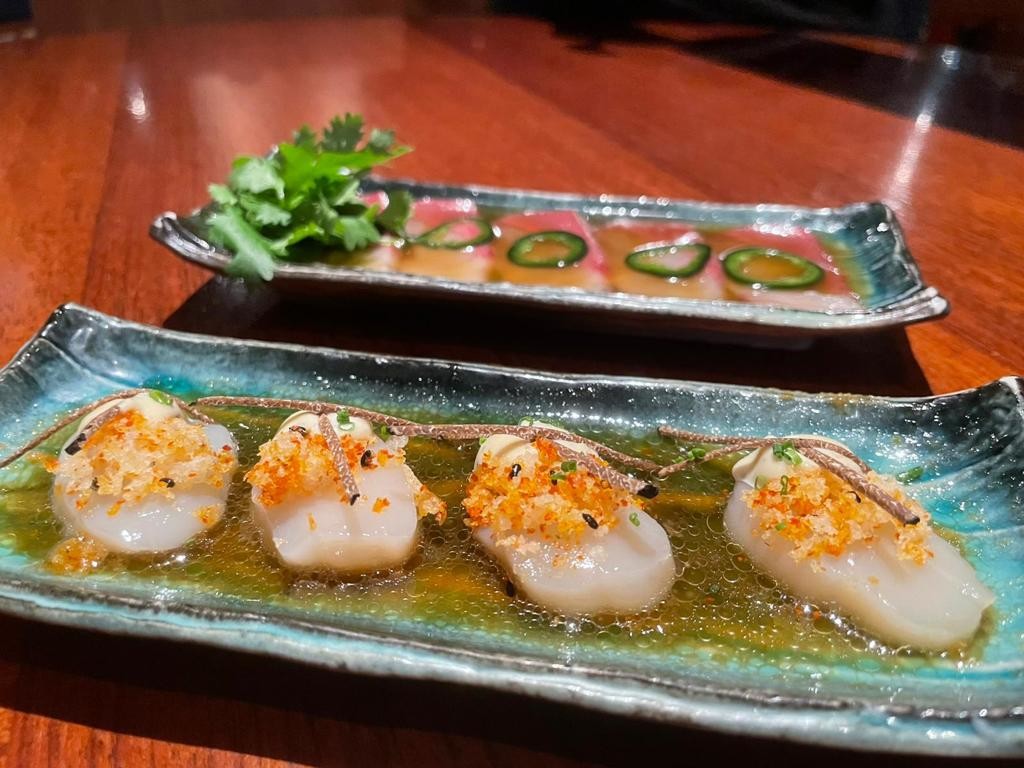 The scallop and black truffle is a dish that is a testament to the freshness of the seafood that Novikov selects for its customers. The dish is pleasing to the eye but is even better once you put it in your mouth. Light and rich in flavour this dish melts in the mouth.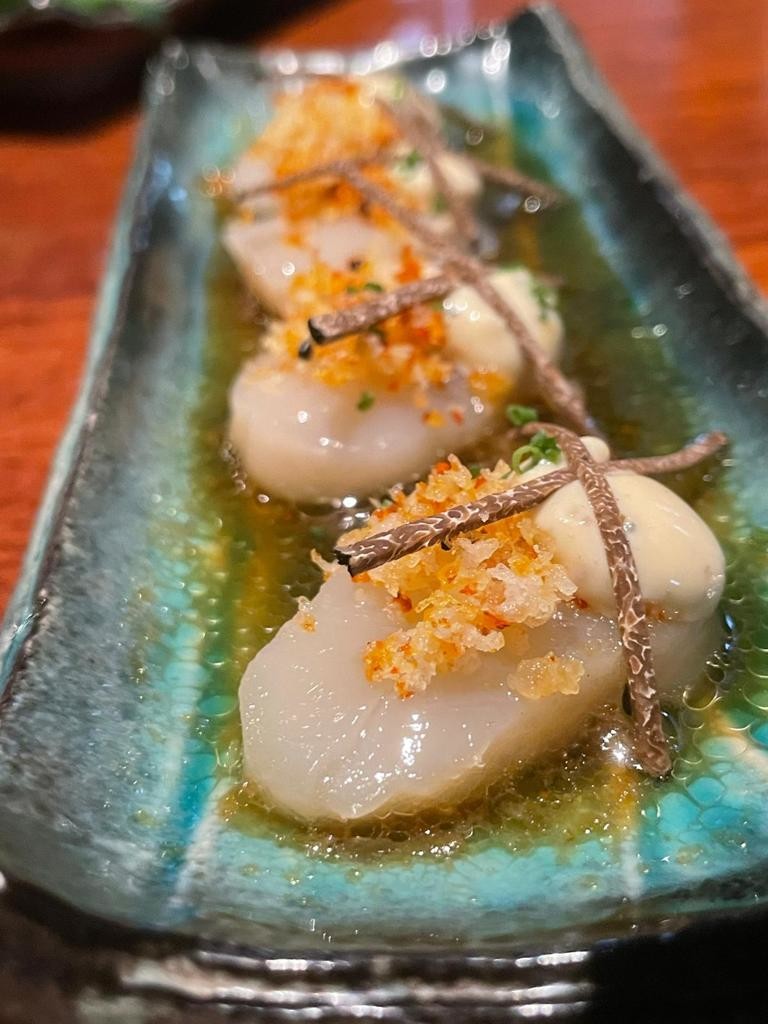 The Tuna and foie gras carpaccio is a work of art. Presented flat it is then rolled and cut into bite-size pieces. A rich dish but the flavours compliment each other with creamy foie gras creating a soft centre with the explosion of truffle and the tender tuna giving a mild reminder of the dish.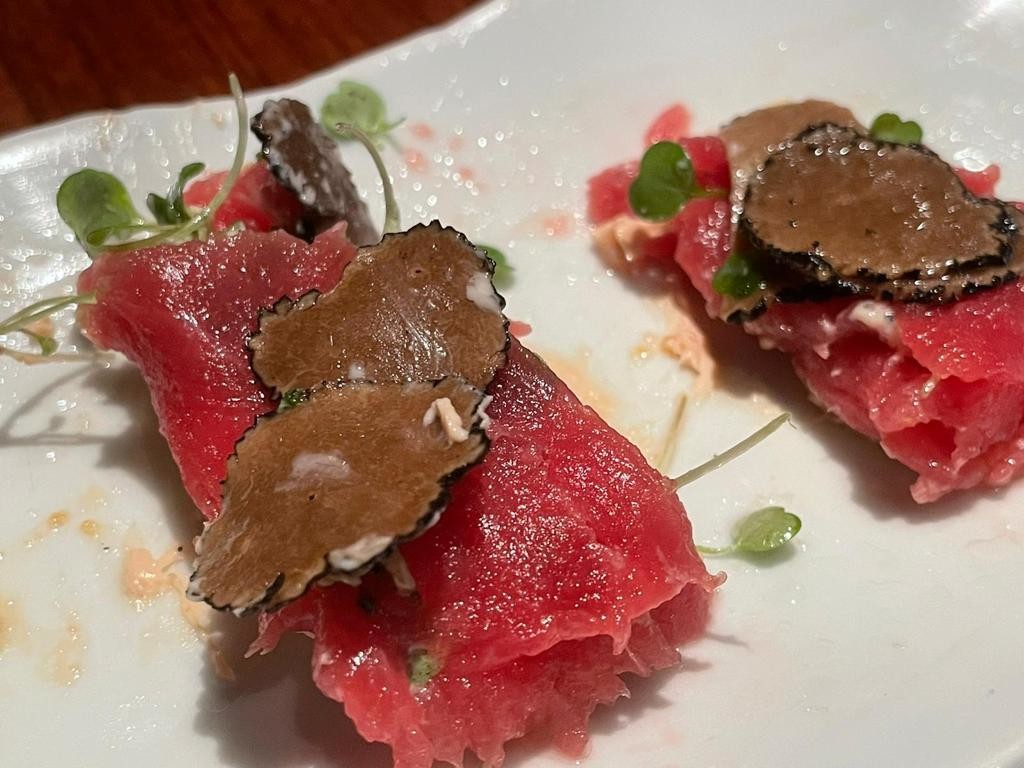 We were advised to try the Yellowtail Coriander last as it acted as a pallet cleanser to prepare us for the meal ahead. The classic combination of the yuzu truffle and yellowtail was taken to a new dimension with the addition of coriander, which has a distinctive but light presence in the dish, balanced perfectly setting the scene for some delicious dishes to come.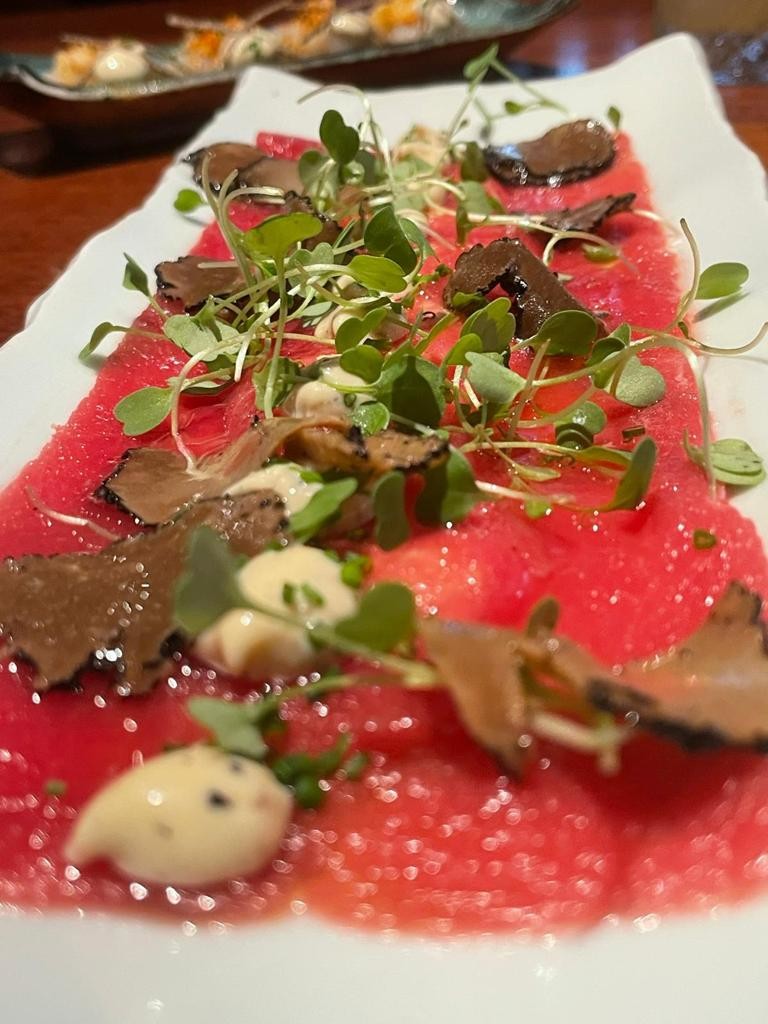 The next treat to make an appearance was a nigiri trio of seared Wagu, quail egg, and O-toro tuna. This was accompanied by the scallop cream cheese jalapeño and duck and foie gras pâté sushi roll.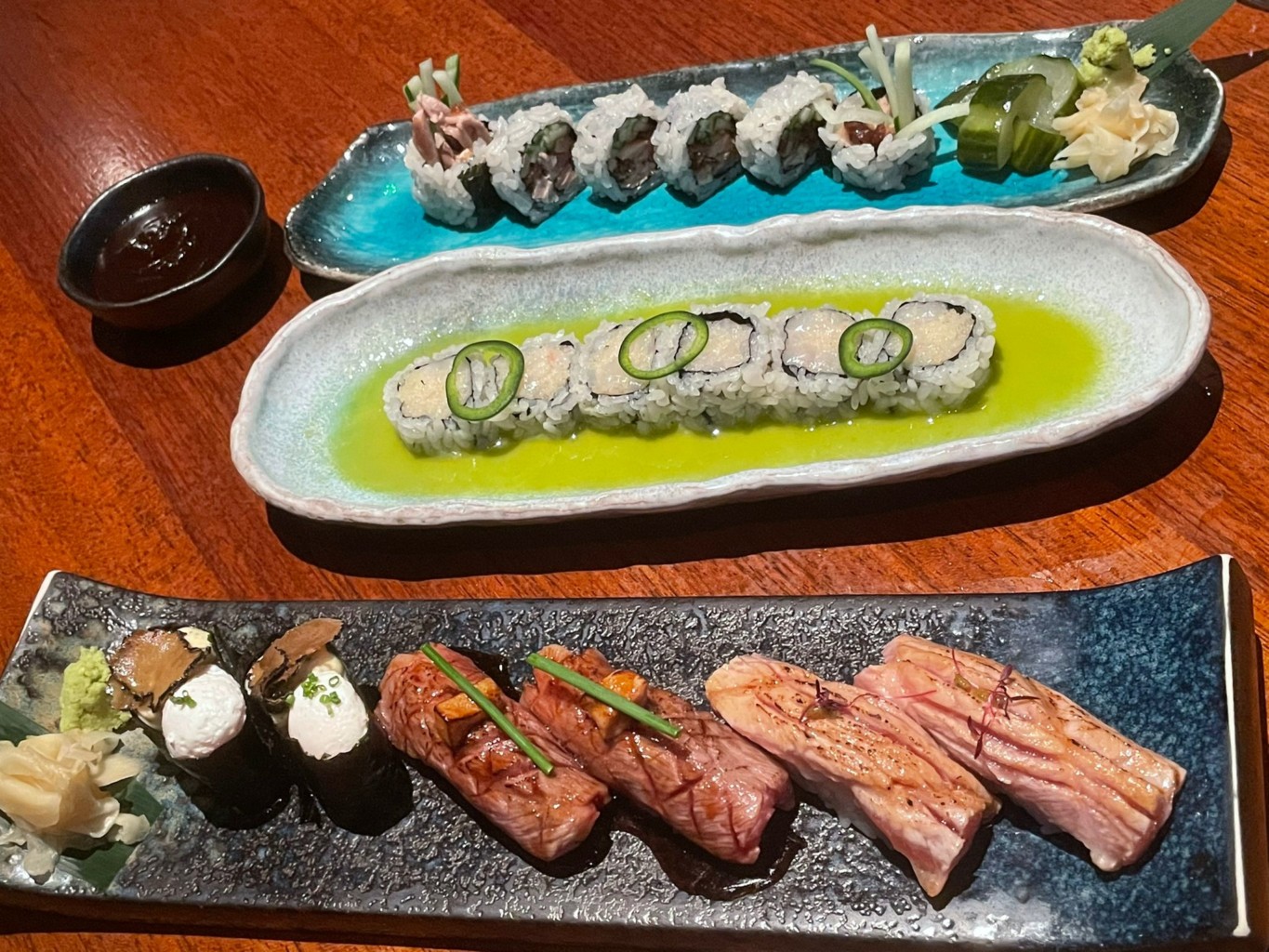 The seared Wagu Nigiri is a fantastic option for those who don't like fish or for something a little bit different. Great quality meet, where the flavours of the beef are allowed to shine.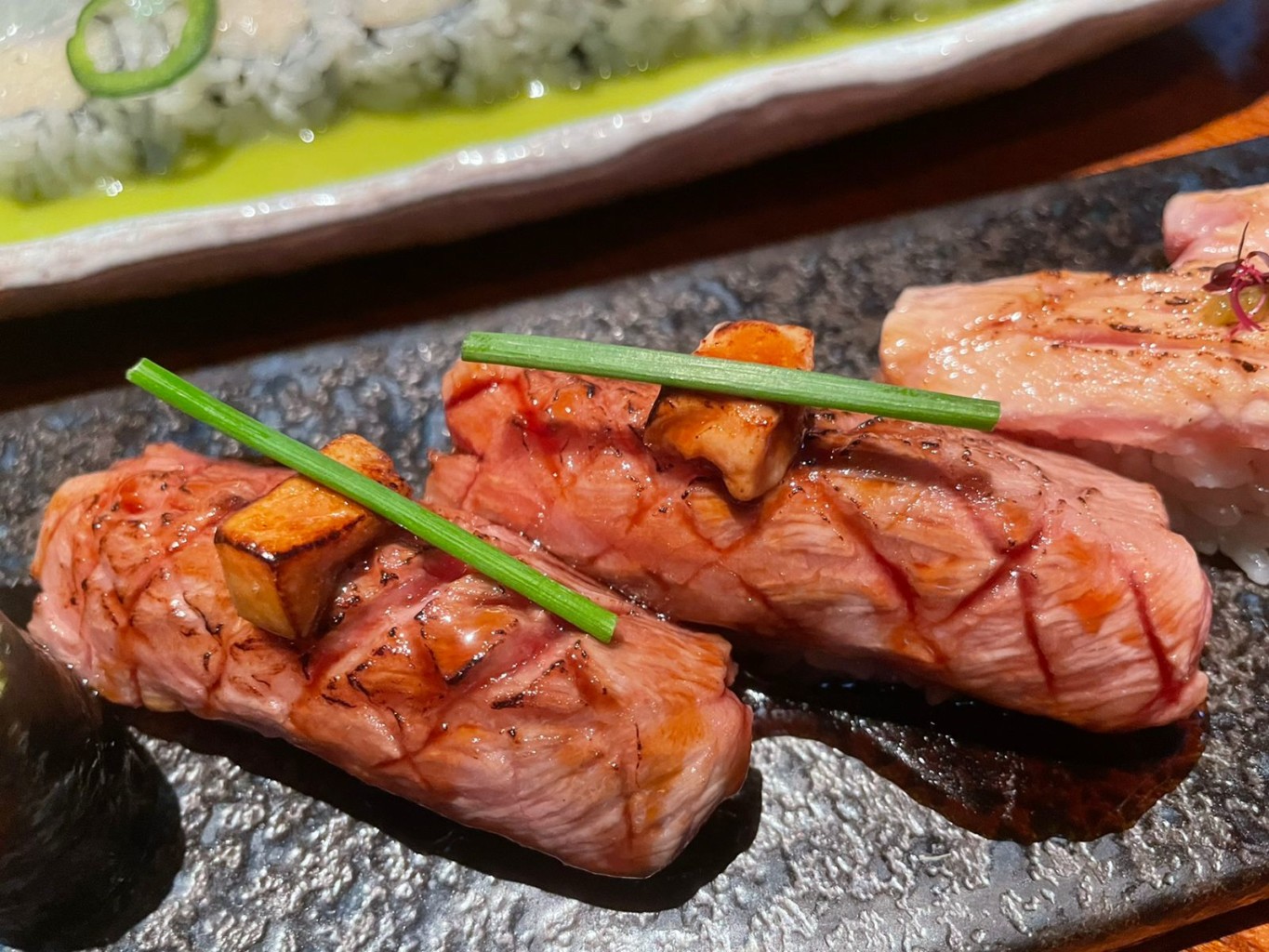 The O-Toro fatty tuna classically tasted rich and was and is a great alternative to classic tuna.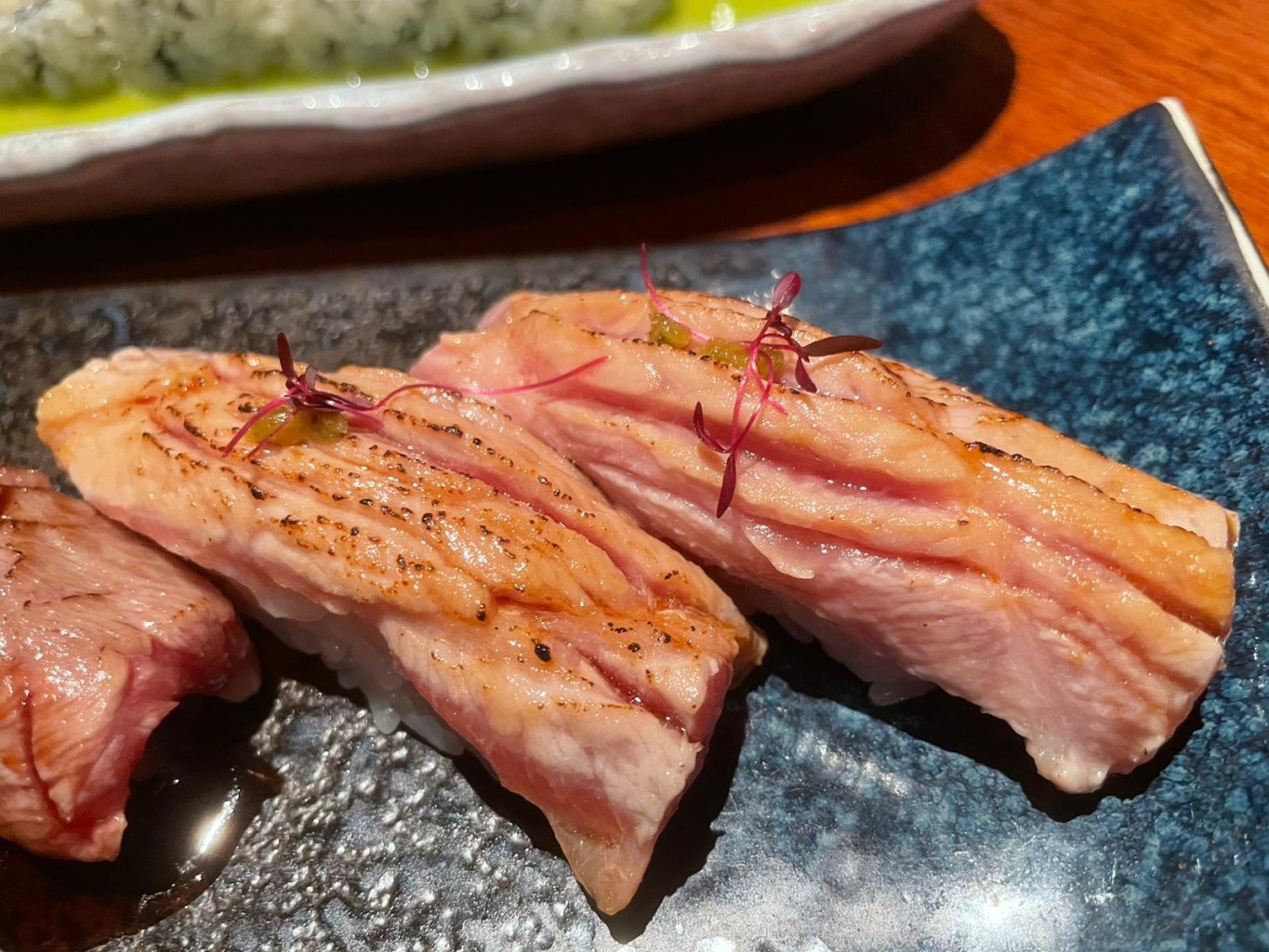 The quail egg is sensational. The truffle and egg work perfectly together especially when the centre of the quails egg explodes in the mouth. A highly enjoyable and satisfying bite.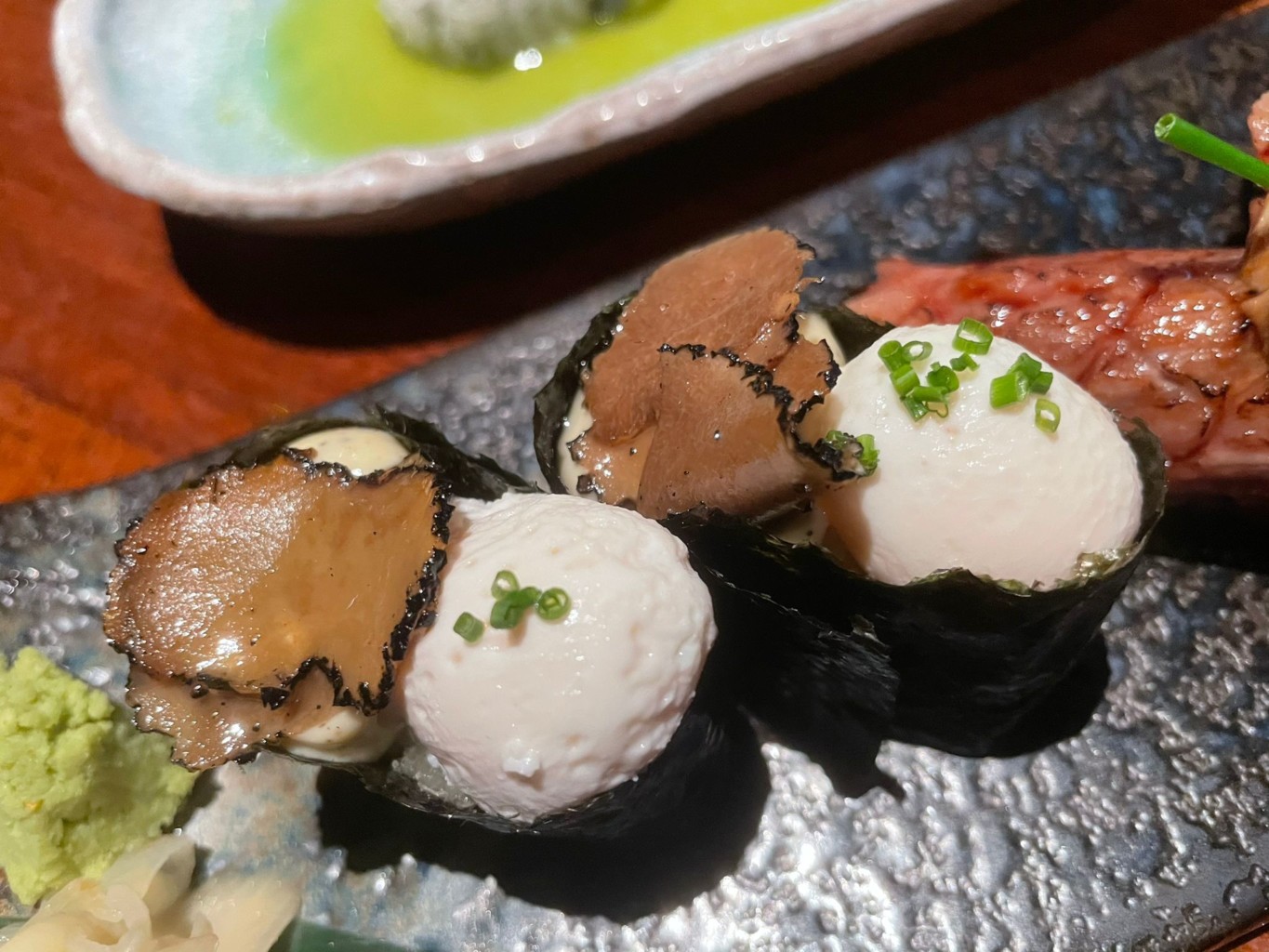 For those who are not fans of raw fish or want to try something different, the duck and foie gras pâté sushi is an option.
However, our favourite sushi roll is the scallop and jalapeño. For those worried about heat, you needn't be. The cream cheese softens any kick allowing the delicacy and freshness of the scallop to shine through. This is the common theme with Novikov you can tell they have gone to great lengths, even in the current climate, to source the freshest ingredients for you to enjoy.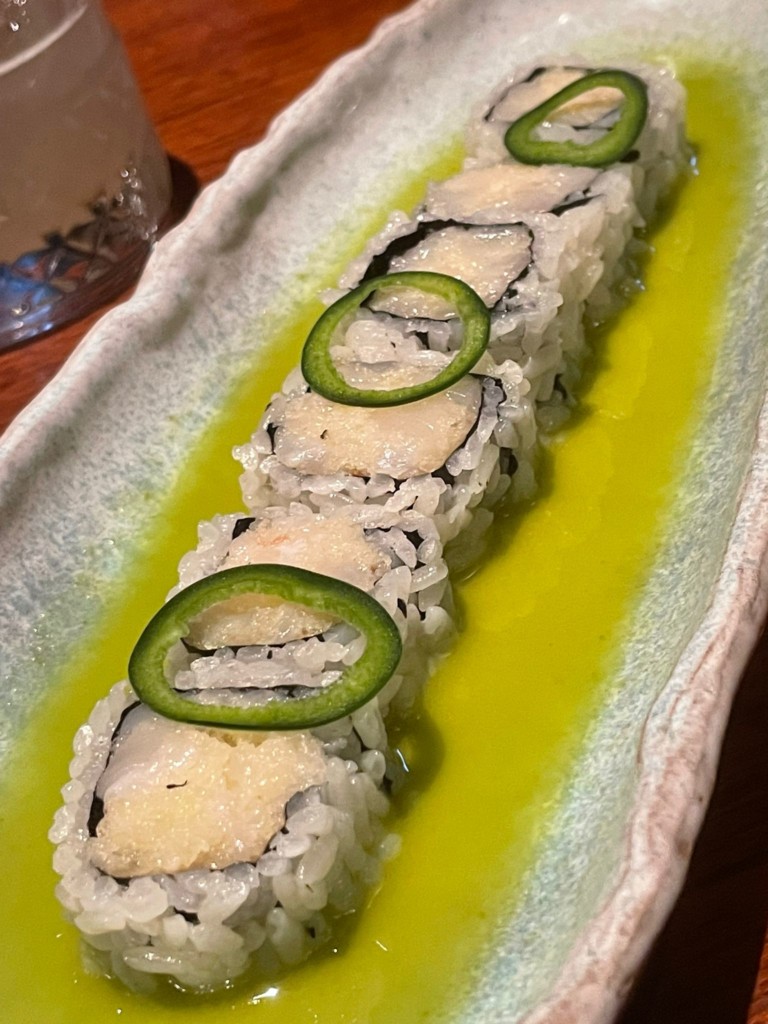 Novikov has an exquisite dim sum menu and we were lucky enough to try a couple of bites. The Spicy Prawn Moneybags come delicately wrapped and with this dish, spice is the name of the game. Although spicy it didn't overwhelm the prawn inside. A nice dish but only for those who enjoy heat.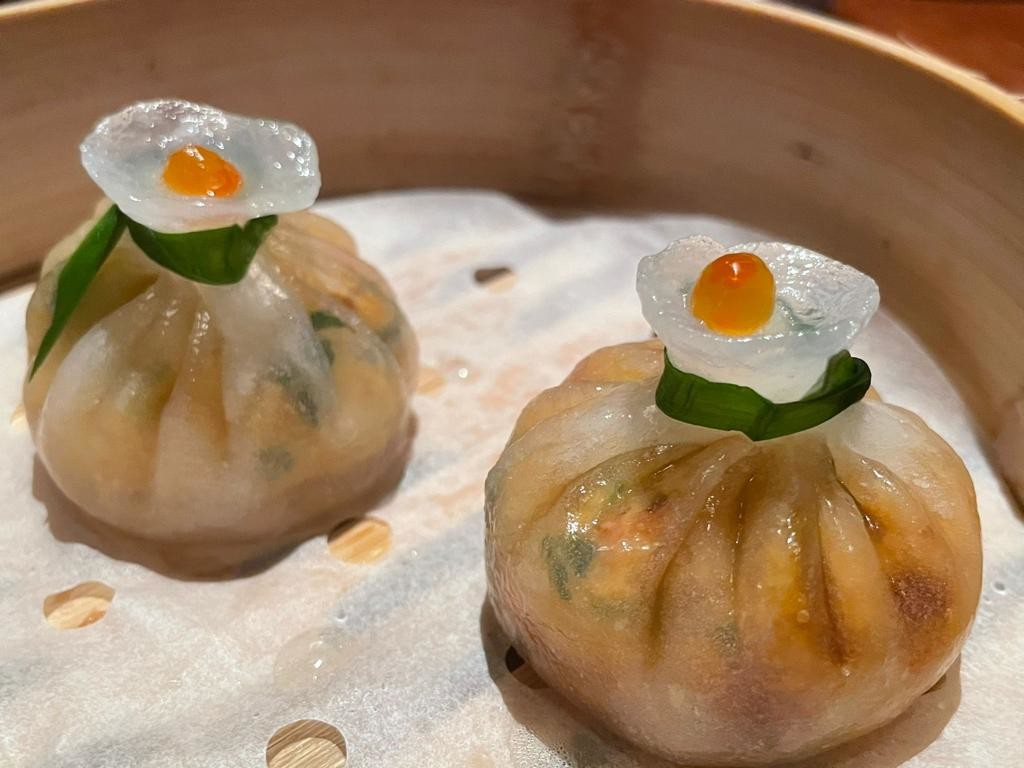 My dining companion tried the Chicken & Morel Siu Mai which comes with a generous piece of black truffle. The flavours stand for themselves but are heightened by the truffle and moreish combination.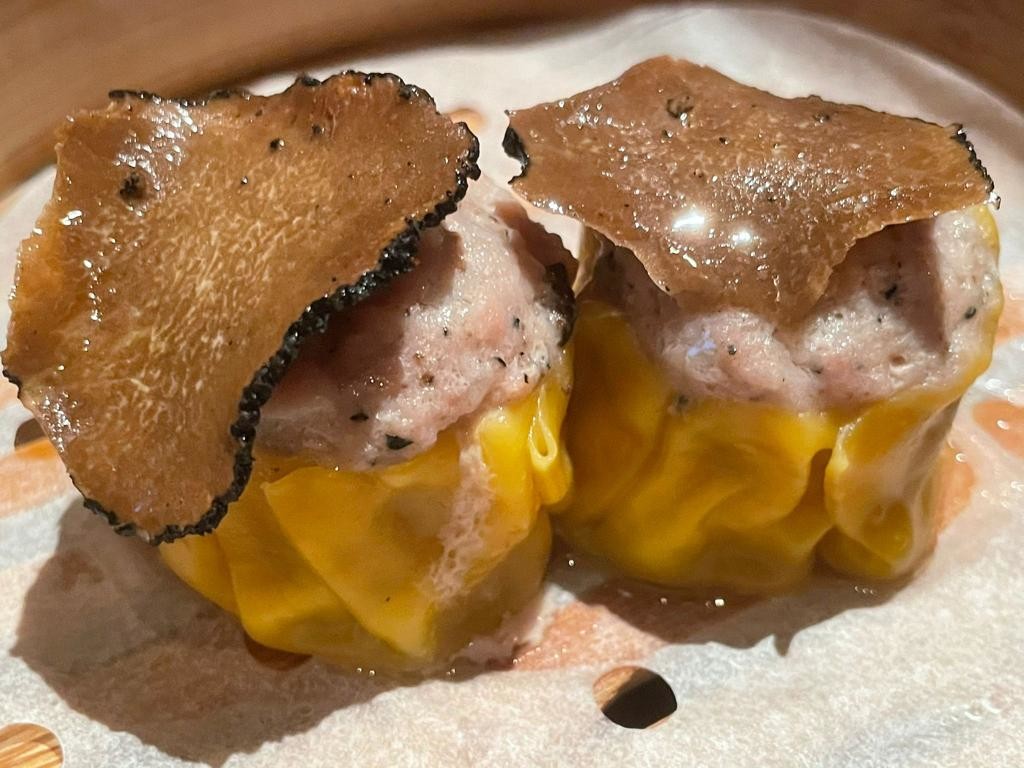 Next up were the Scampi Tails with truffle mayo the batter of the scampi was light and delicate and the scampi flesh is generous and soft. Paired with the truffle mayo this is an A grade dish.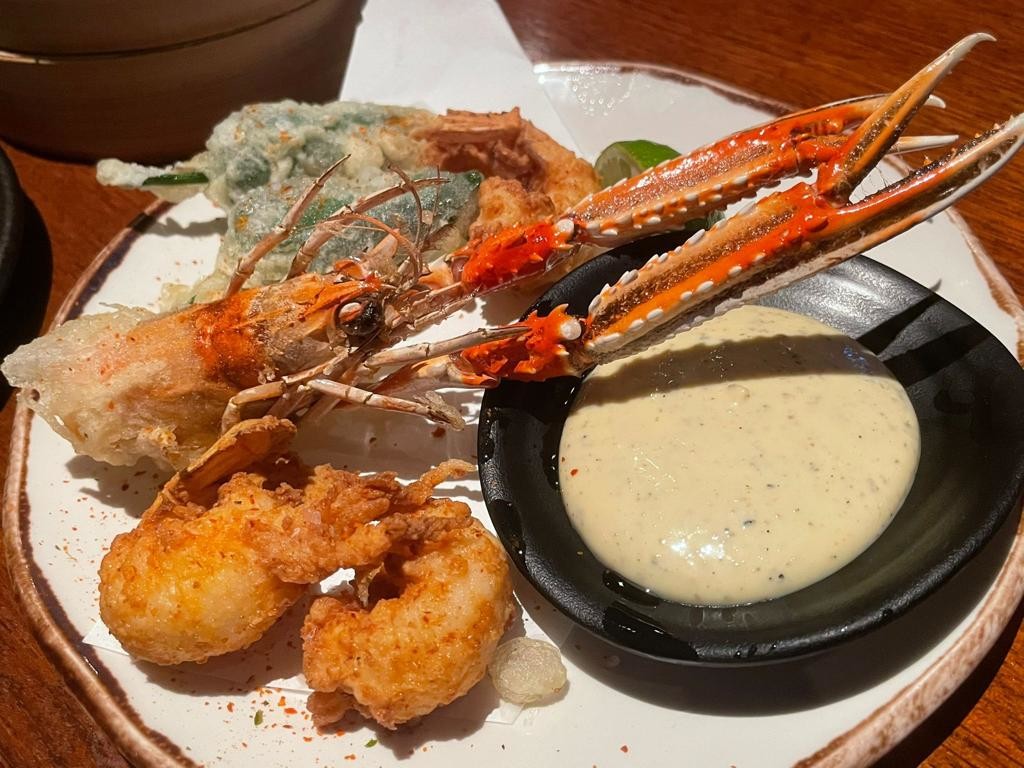 The Popcorn Fish is an interesting dish in that it keeps you guessing as there are different types of fish within each bite.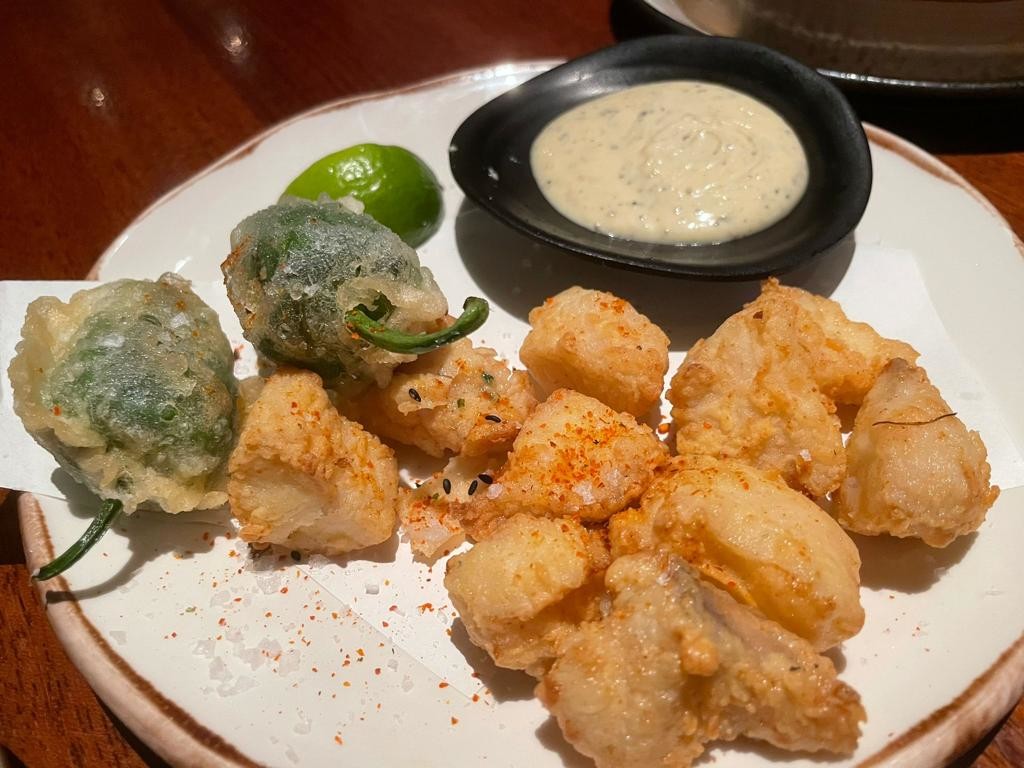 For the penultimate course, we were treated to Novikov Black Cod, Duck & Foie Gras and a side of Porcini & Truffle. The black Cod comes wrapped in a banana leaf which is then unwrapped to reveal this decadent meat from the sea. It comes with a side of sweet miso which really complements the fantastic flavour of this fish which is marinated 48hrs before you arrive to get the fullest flavour from the sweet-tasting meat. In our book, this is a must-try dish.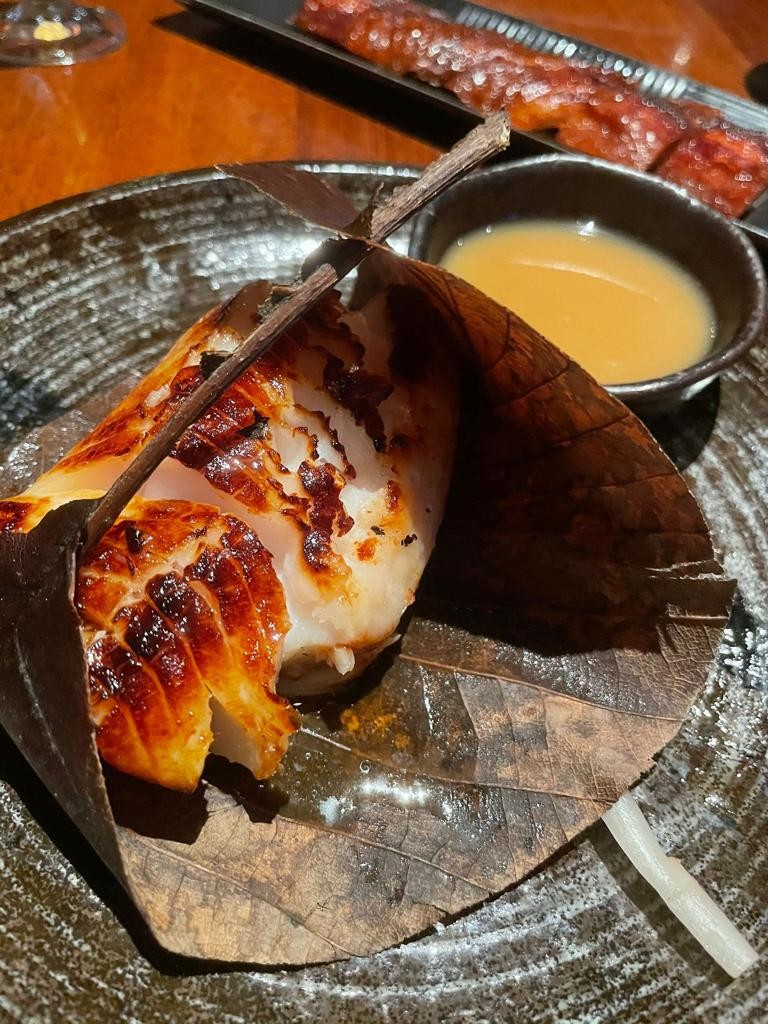 The Duck and foie gras is served in traditional and is cut into manageable pieces in front of you. The rich flavours compliment each other beautifully and have you looking forward to the next bite with eager anticipation.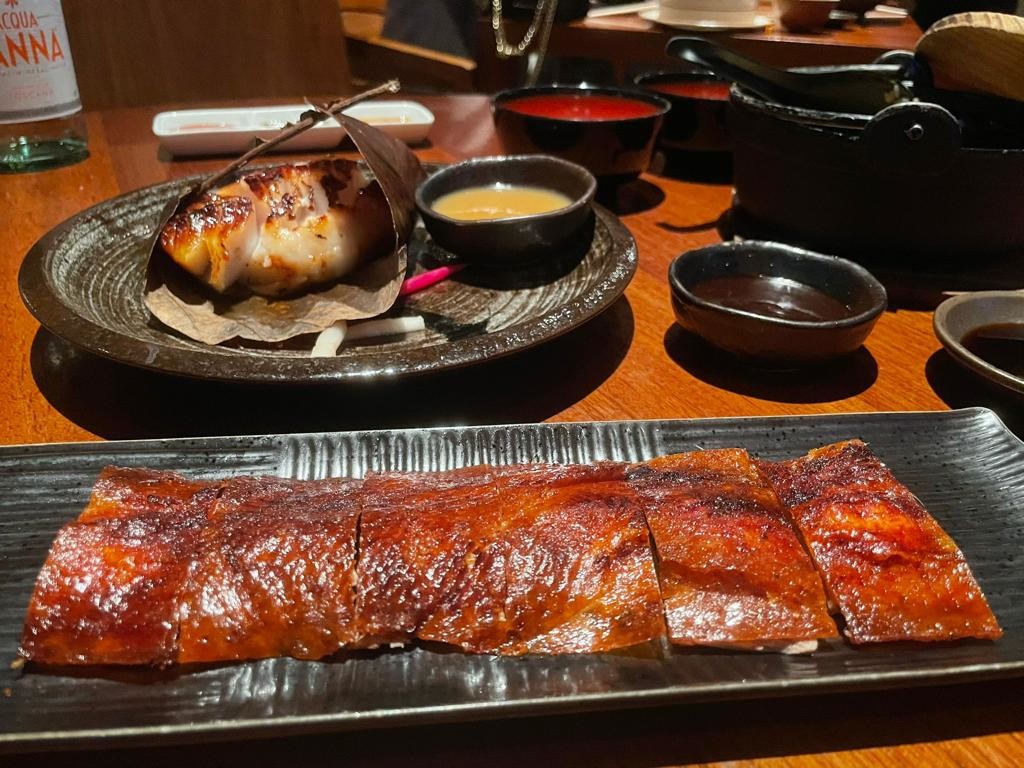 Our side order of porcini and truffle was the best mushroom rice we have ever tasted. Very generous portions of porcini and truffle make this dish a delight but remember to leave room for dessert!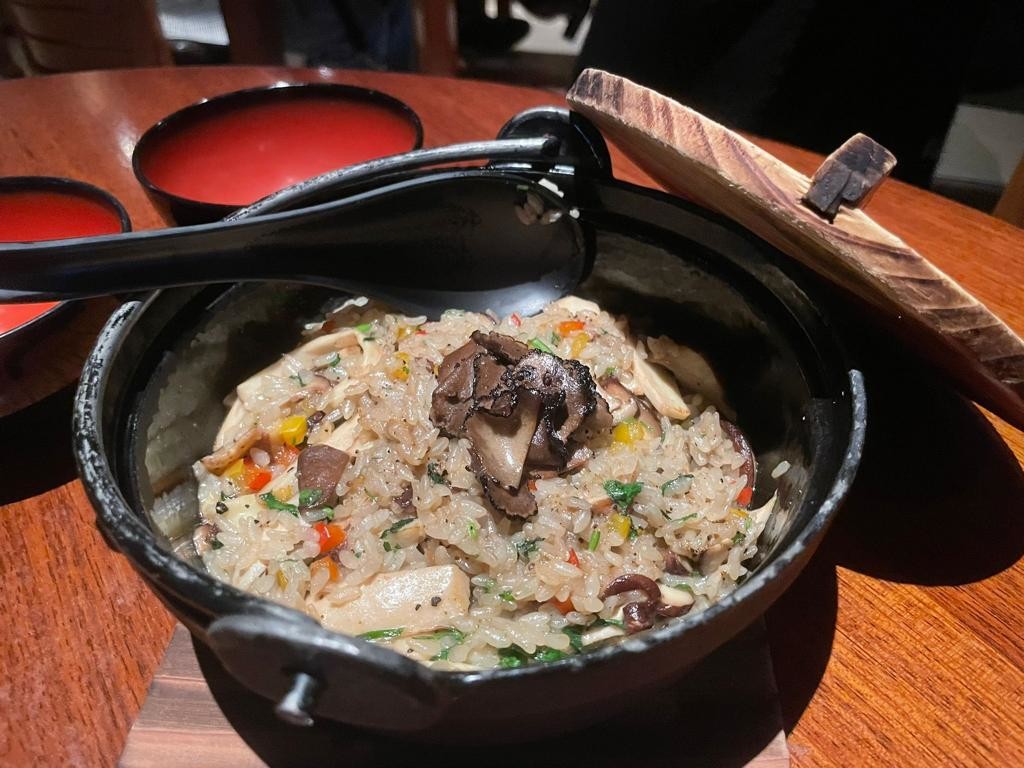 We were surprised with a fabulous selection of desserts which allowed us to see that Novikov sets high standards in every area. The selection was made all the more spectacular with clouds of dry ice swirling around the plate and the flavours didn't disappoint.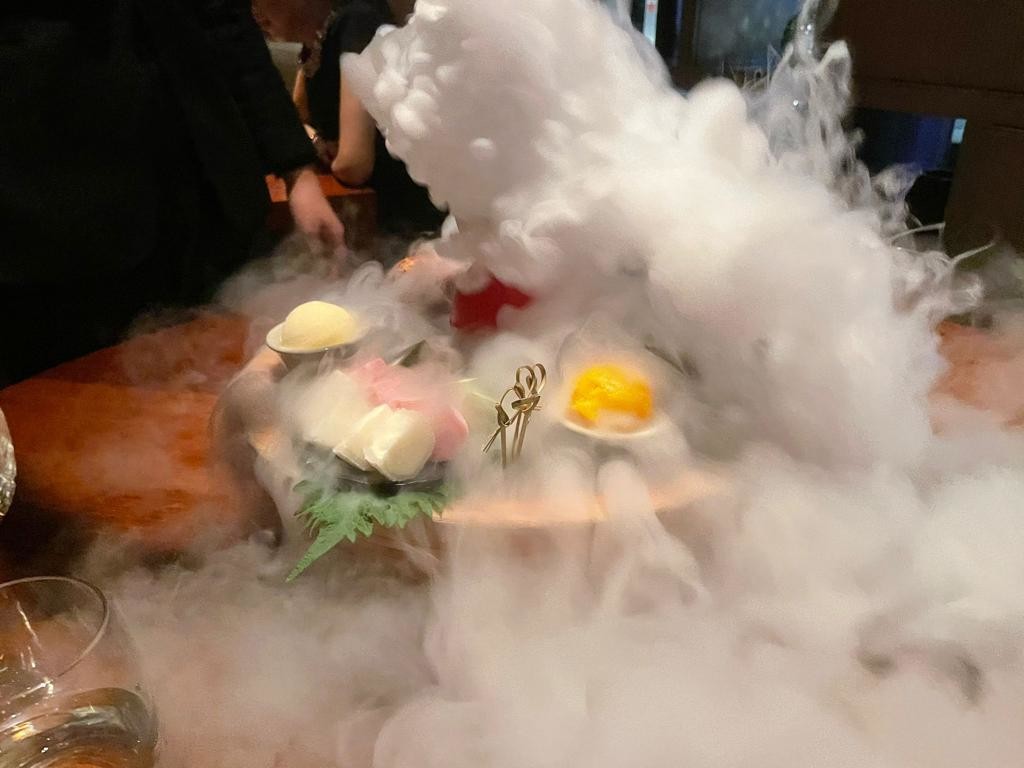 The Valrhona milk chocolate fondant is a show stopper. This is decadent heaven if you like chocolate it would be criminal to leave Novikov without ordering this dessert. From the very first bite, you feel cocooned in comfort. It's a surprisingly light dessert and the ice cream balances the dish so even if you have indulged in the tempting savoury dishes, you will be able to find room for this true piece of happiness encapsulated in a dessert.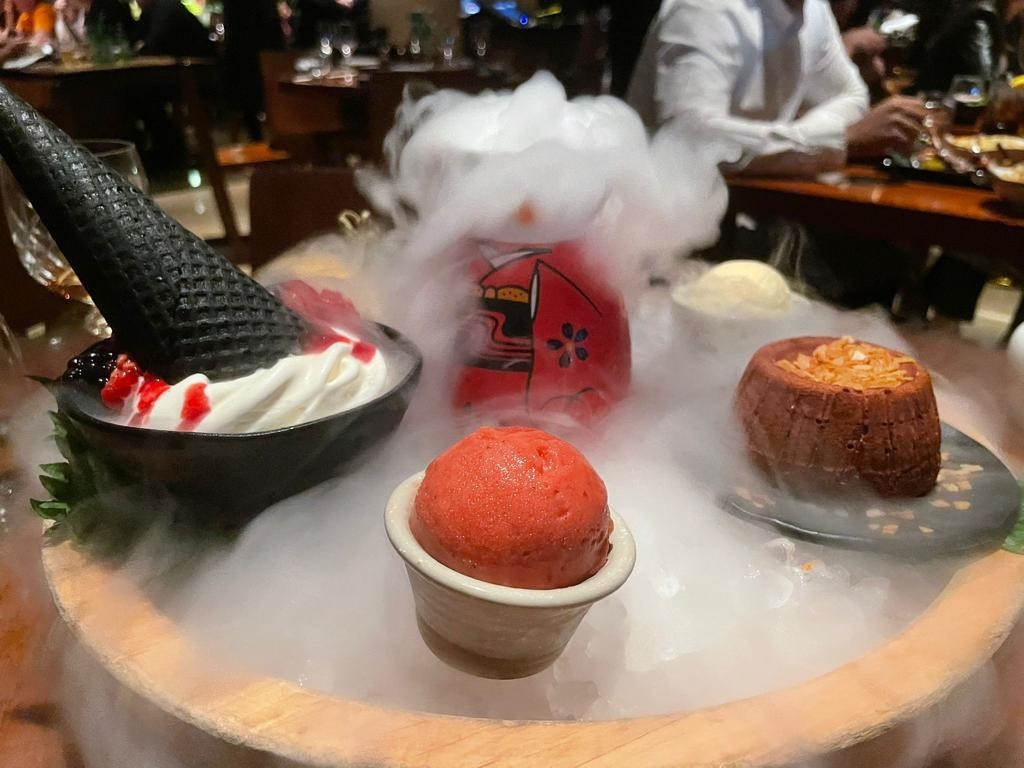 For those who want to keep it really light, try the Japanese mochi. The coconut was our firm favourite.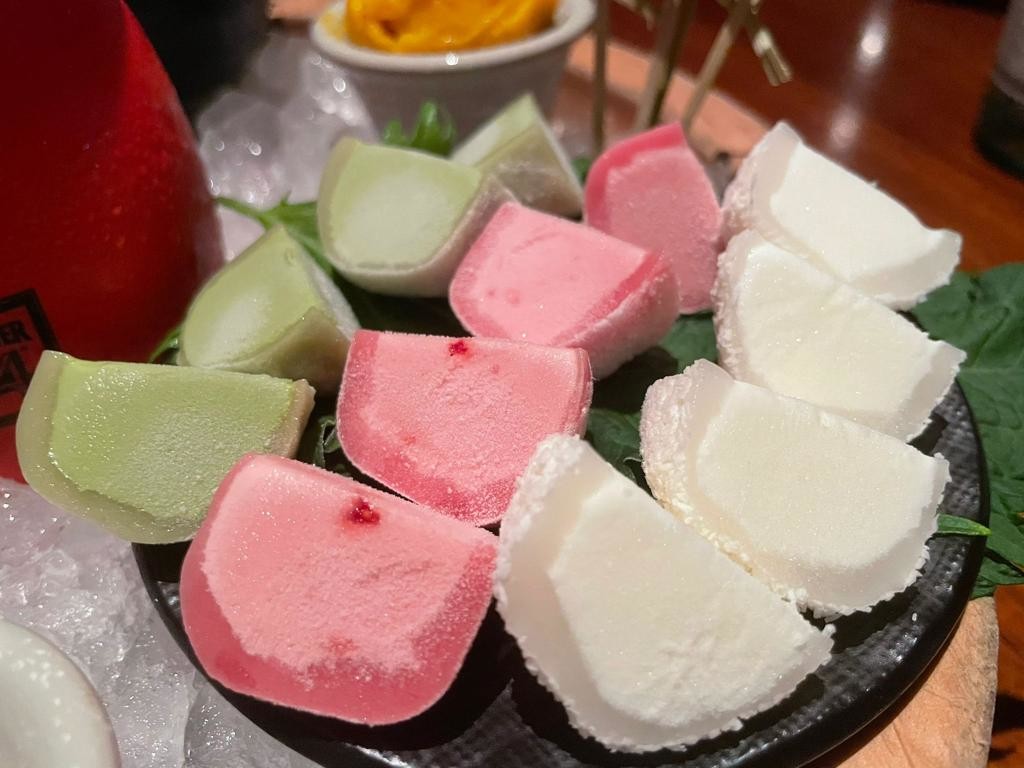 Novikov also has a collection of sorbets, but if you are an ice cream fan we highly recommend the soft scoop ice cream in a charcoal cone. It is served upside down, when you crack into the cone all is revealed as a hidden fruity sauce flows down and spreads over the ice cream. But there is more… as you delve to the bottom of the dish, cereal flakes add a crunchy element and another dimension to this dessert.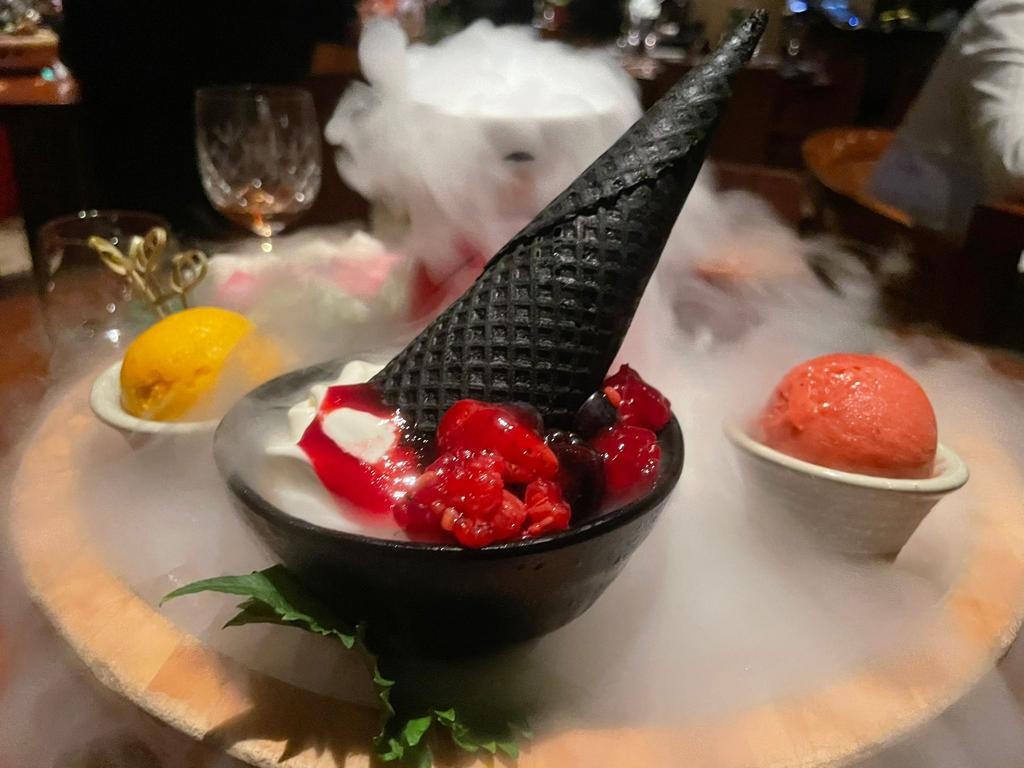 With desserts like these, we recommend going to Novikov Asian Restaurant with some foodie friends and trying them all. You won't be disappointed. What a perfect end to our wonderful culinary Asian adventure.
This autumn will see Novikov Restaurant & Bar mark its milestone 10th birthday with a series of special events, culminating in a grand celebration on 24th November. Full details will be confirmed in the next few months.
Novikov Restaurant & Bar
50A Berkeley Street, Mayfair, London, W1J 8HA
+44 (0) 207 399 4330
www.novikovrestaurant.co.uk