Prepare to embark on a journey of pure indulgence as we unveil the latest culinary sensation that's poised to captivate your taste buds and elevate your snacking experience. Joe & Seph's, renowned for their artisanal gourmet popcorn creations that push the boundaries of flavour, have just unleashed their latest masterpiece – the Cake Lovers range. Within this enticing collection, you'll discover a symphony of sweet, nostalgic, and utterly irresistible flavours, including Chocolate Fudge Cake, Millionaire's Shortbread, Peanut Butter Blondie, and Birthday Cake.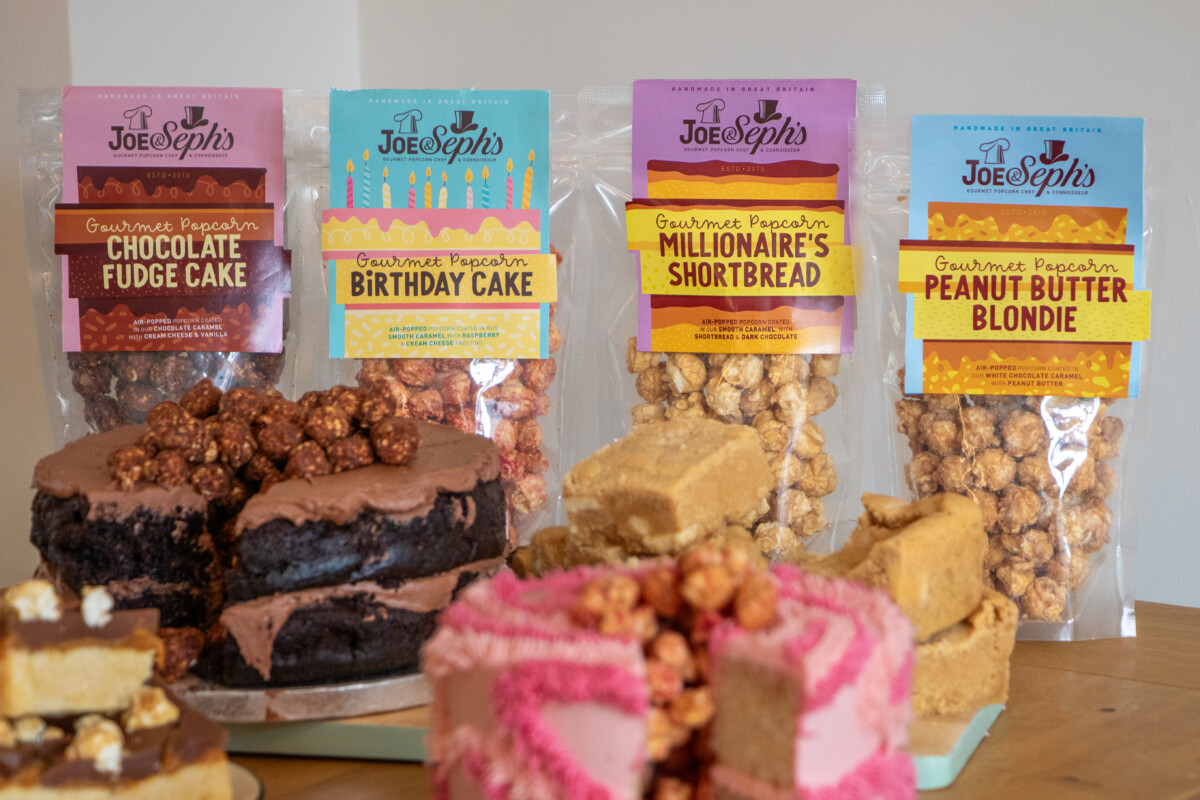 These delectable popcorn varieties promise to be a treat for all your senses, whether you're a dessert aficionado or simply looking to elevate your luxury snack game. So, grab a comfy seat and prepare to be tantalised by this mouthwatering journey through the intersection of gourmet popcorn and cake-inspired delights.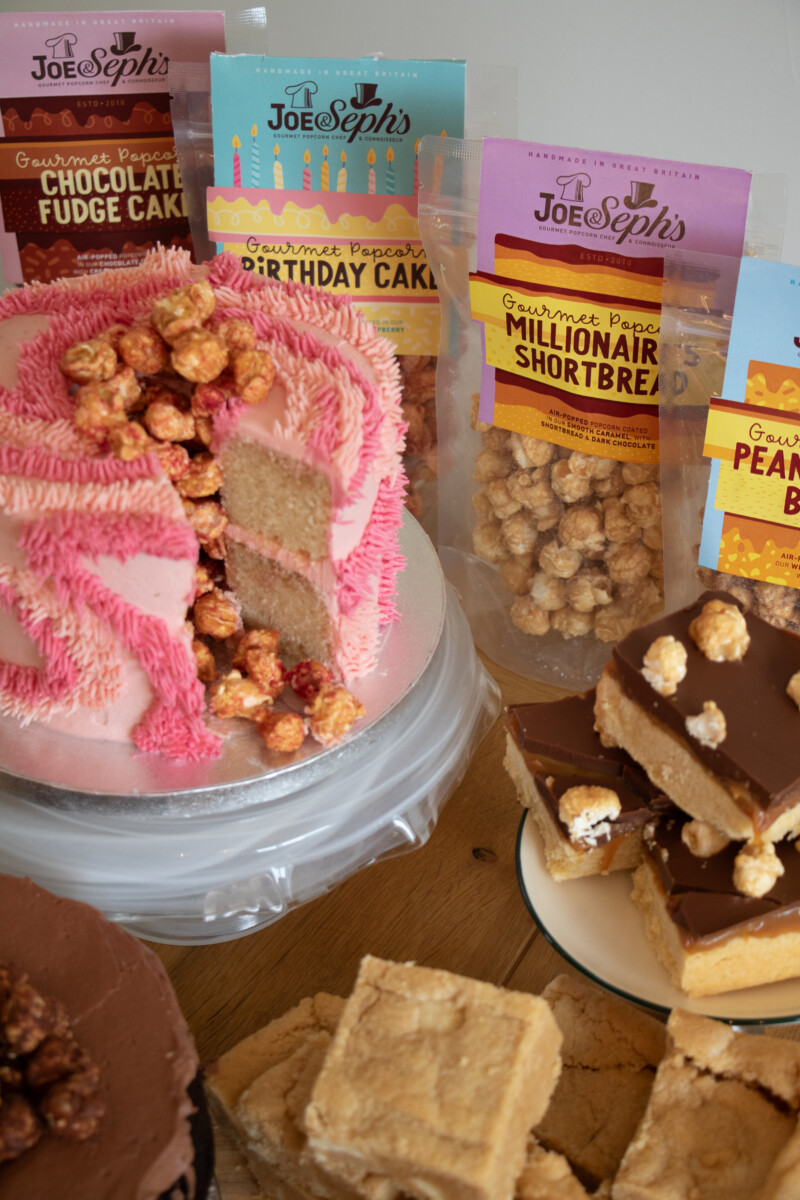 Chocolate Fudge Cake: A Decadent Delight for Movie Night
If you're a fan of indulgent treats, Joe and Seph's Chocolate Fudge Cake popcorn is an absolute winner. This limited-edition flavour combines air-popped popcorn coated in luscious chocolate caramel with a hint of cream cheese and vanilla. The result? A popcorn that tastes like it's straight out of a patisserie.
Imagine this: You're settling in for a cozy movie night, and you've chosen a classic romantic comedy. As the opening credits roll, you reach for a bowl of Chocolate Fudge Cake popcorn. The rich, velvety chocolate notes melt in your mouth, and the subtle cream cheese and vanilla undertones add a delightful twist. This is the perfect accompaniment to a rom-com, making your movie night feel even more special.
Pair this delectable popcorn with a glass of chilled milk to enhance the chocolatey experience. The creamy milk perfectly complements the sweetness of the popcorn, making it a match made in heaven.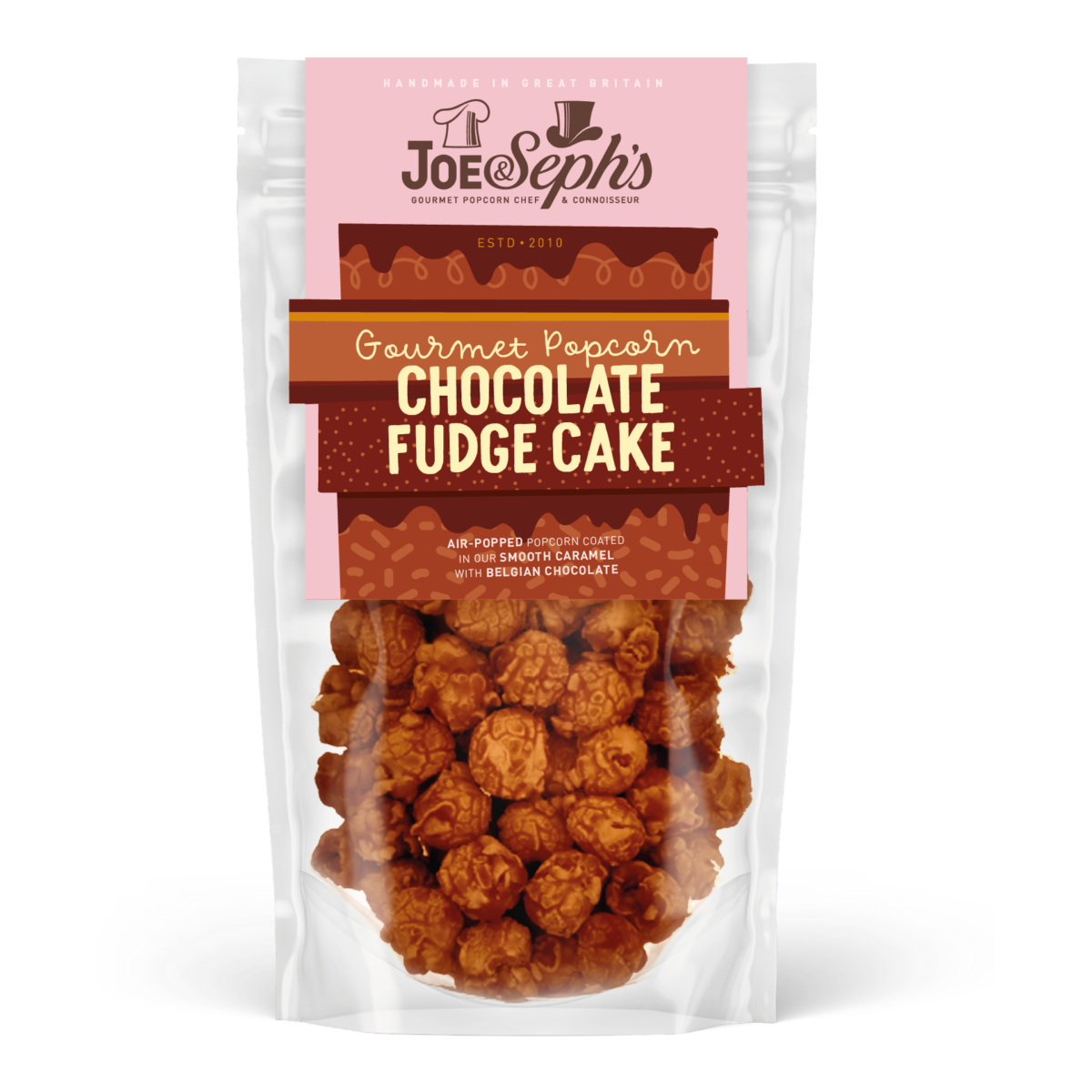 Millionaire's Shortbread: A Sweet Treat for Elegant Evenings
For those who appreciate the finer things in life, Joe and Seph's Millionaire's Shortbread popcorn is an exquisite choice. This limited-edition flavour features air-popped popcorn coated in smooth caramel, with the added luxury of shortbread and dark chocolate.
Picture this: You're hosting an elegant evening gathering with friends. The soft lighting and sophisticated ambiance create the perfect backdrop for a taste of luxury. As you mingle and chat, serve up bowls of Millionaire's Shortbread popcorn. The caramel's sweetness, combined with the crunch of shortbread and the richness of dark chocolate, elevates the evening to a whole new level of indulgence.
Pair this gourmet popcorn with a glass of champagne to complement the opulence of the flavour. The bubbles cleanse your palate between bites, allowing you to savour every nuance.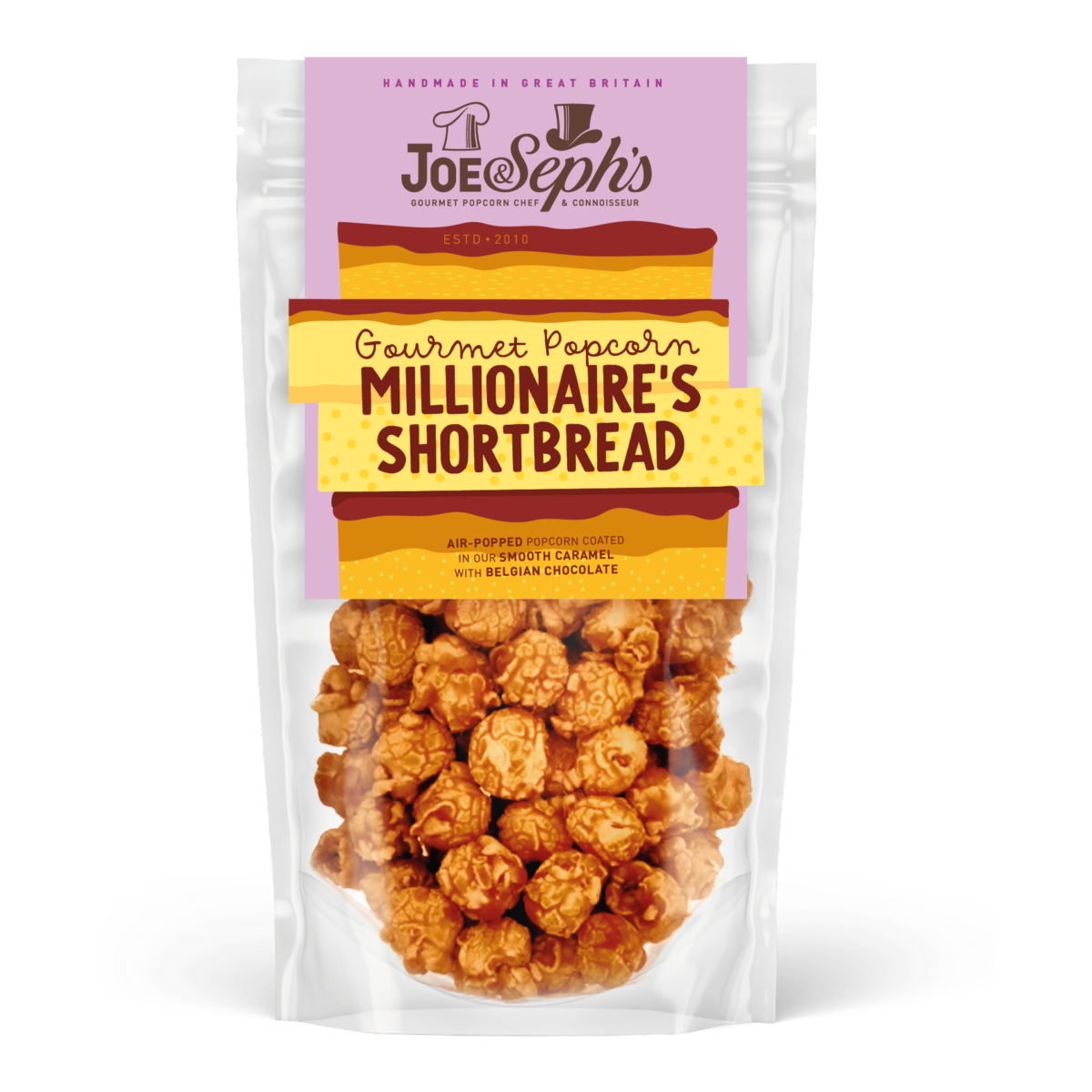 Peanut Butter Blondie: A Nutty Twist for Snacktime
Joe and Seph's Peanut Butter Blondie popcorn is a nut-lover's dream come true. This limited-edition flavour boasts air-popped popcorn coated in their white chocolate caramel sauce, with a generous sprinkling of crunchy peanut butter. It's no wonder it received a 1-star Great Taste award in 2022.
Here's the scene: It's a lazy Sunday afternoon, and you're relaxing with your favourite book in the garden. You reach for a bag of Peanut Butter Blondie popcorn. The white chocolate caramel coats the popcorn in sweet, velvety goodness, while the peanut butter adds a satisfying crunch. It's the perfect snack to accompany your leisurely reading session.
Pair this nutty delight with a chilled cider. The crisp and refreshing cider cuts through the sweetness, creating a balanced and enjoyable pairing.
Birthday Cake: Celebrate Every Day with a Bowl of Fun
Joe and Seph's Birthday Cake popcorn is a burst of joy in every bite. This limited-edition flavour features air-popped popcorn coated in smooth caramel, with a delightful twist of raspberry and cream cheese frosting.
Imagine this scenario: It's a sunny afternoon, and you're hosting a garden picnic with friends. There's laughter in the air as you spread out a colorful blanket and set up a mini tea party. To add a playful touch to your gathering, serve bowls of Birthday Cake popcorn. The sweet, fruity notes of raspberry and the creamy essence of the frosting create a festive atmosphere that makes every day feel like a celebration.
Pair this cheerful popcorn with a fruity cocktail, like a Raspberry Mojito. The zingy cocktail perfectly complements the raspberry in the popcorn, adding an extra layer of refreshment to your picnic.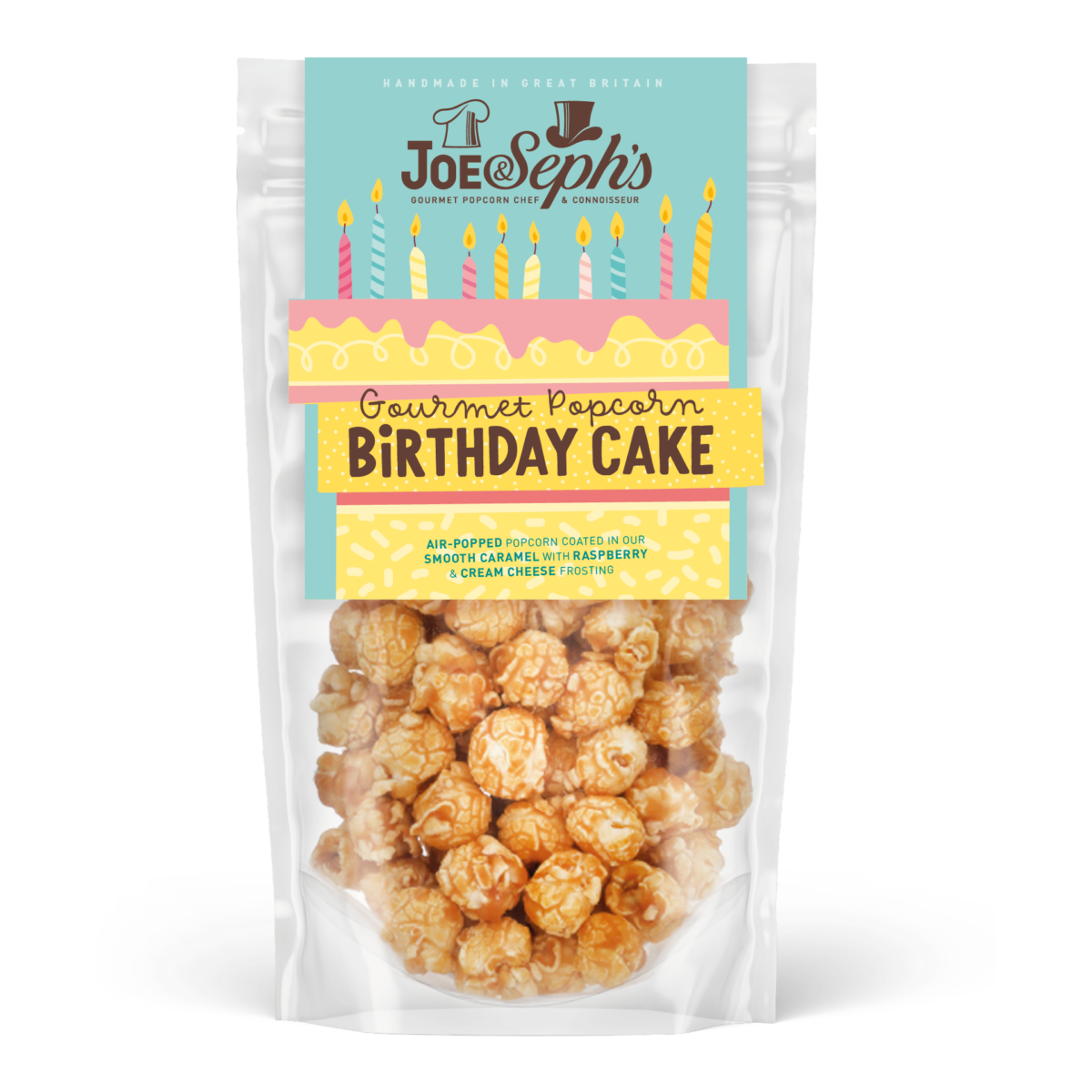 Joe and Seph's Cake Lovers range of limited-edition cake-inspired popcorn flavours are a delightful treat for various occasions. Whether you're enjoying a movie night, hosting an elegant evening, having a leisurely afternoon, or celebrating a picnic with friends, these popcorn varieties will elevate your snacking experience. You can purchase these irresistible popcorn flavours for just £4 each on Joe and Seph's website at www.joeandsephs.co.uk/popcorn
Don't miss the chance to indulge in these mouthwatering gourmet popcorn flavours from Joe & Seph's!