Jeru is a destination venue in the heart of Mayfair serving modern Middle Eastern food with a focus on seasonality. The team is led by Australian Chef Roy Ner and this is his first UK restaurant.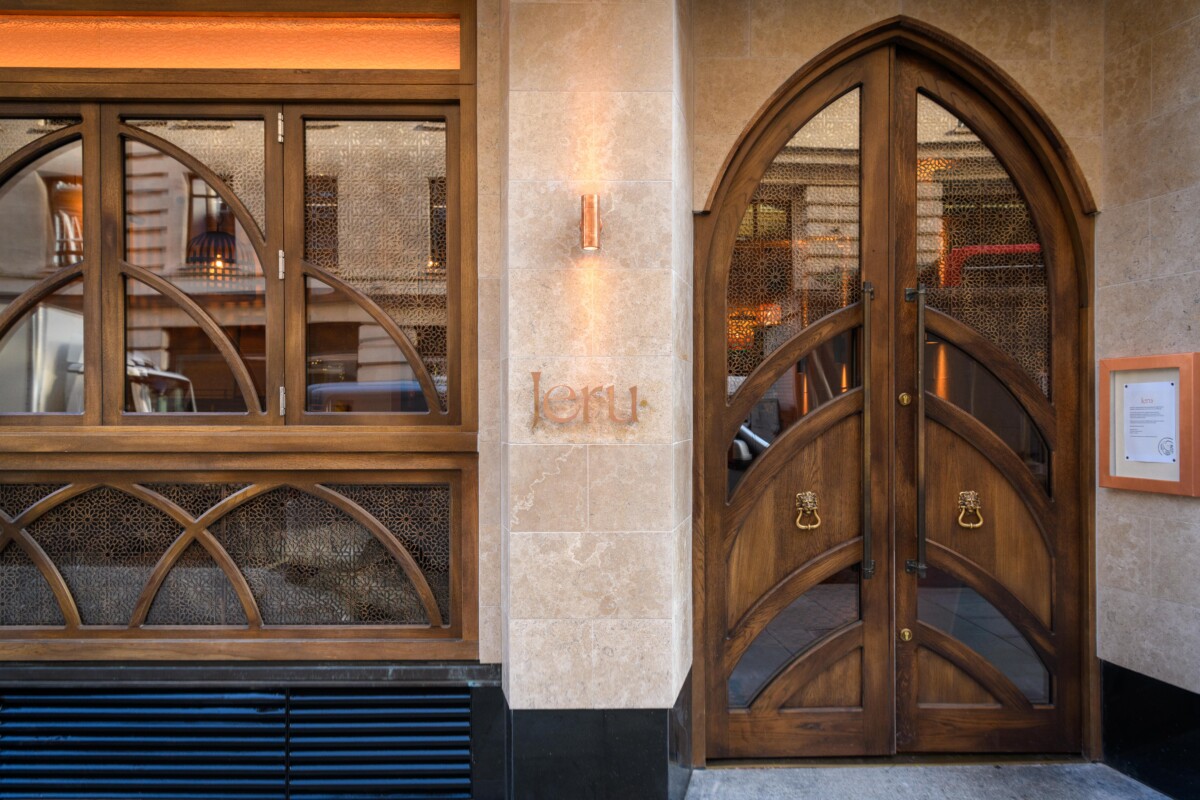 Award-winning celebrity chef Roy Ner is an exceptional talent that took Sydney food lovers by storm. Roy has a life-long passion for food and cooking, especially trying new, innovative flavours and textures drawn from his eclectic heritage which has exposed him to a myriad of exotic tastes, herbs and spices from the Middle Eastern region and beyond.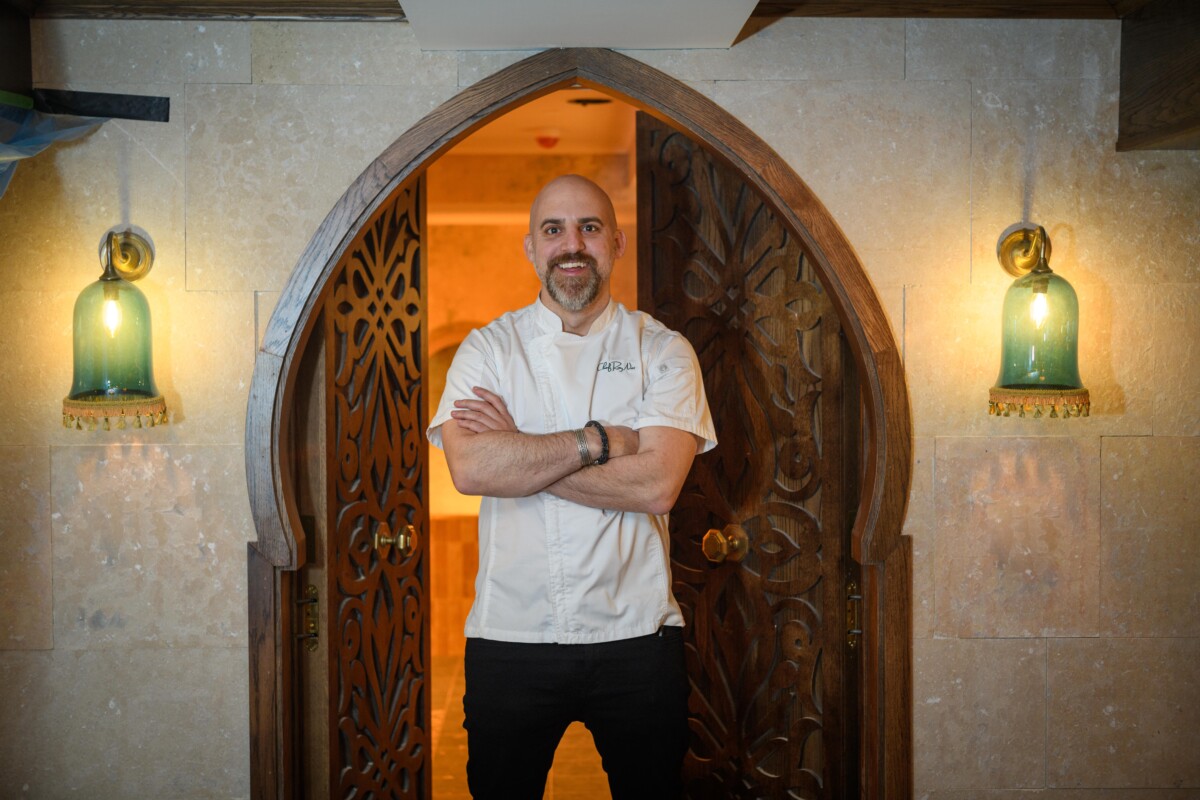 Roy particularly loves to highlight flavours from old and new cooking, blending cultures and ingredients together that showcases a unique culinary experience.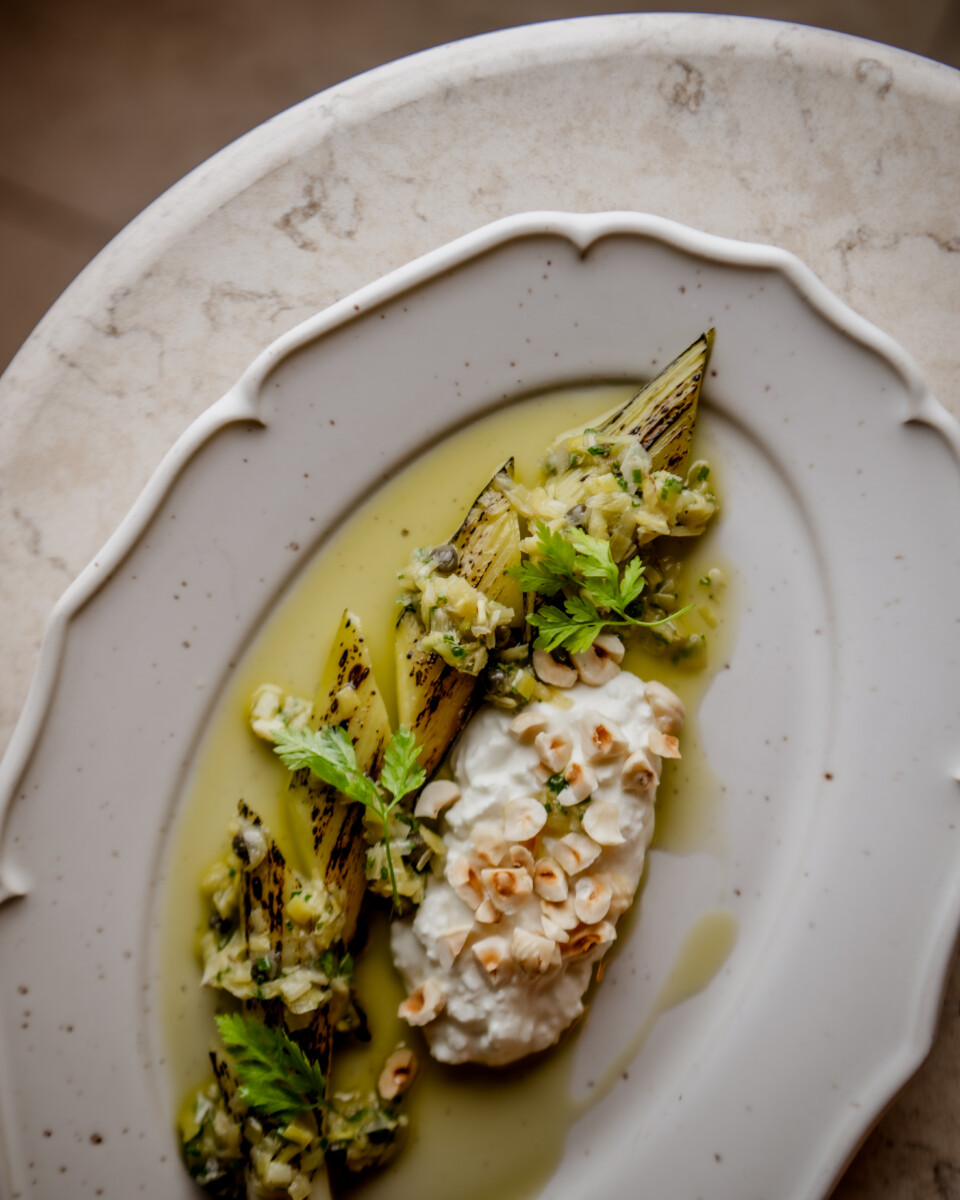 His recipes are based on grilling, roasting, fermenting, ageing in various methods from koji to fenugreek spice and using wildly exotic herbs and spices to celebrate raw ingredients.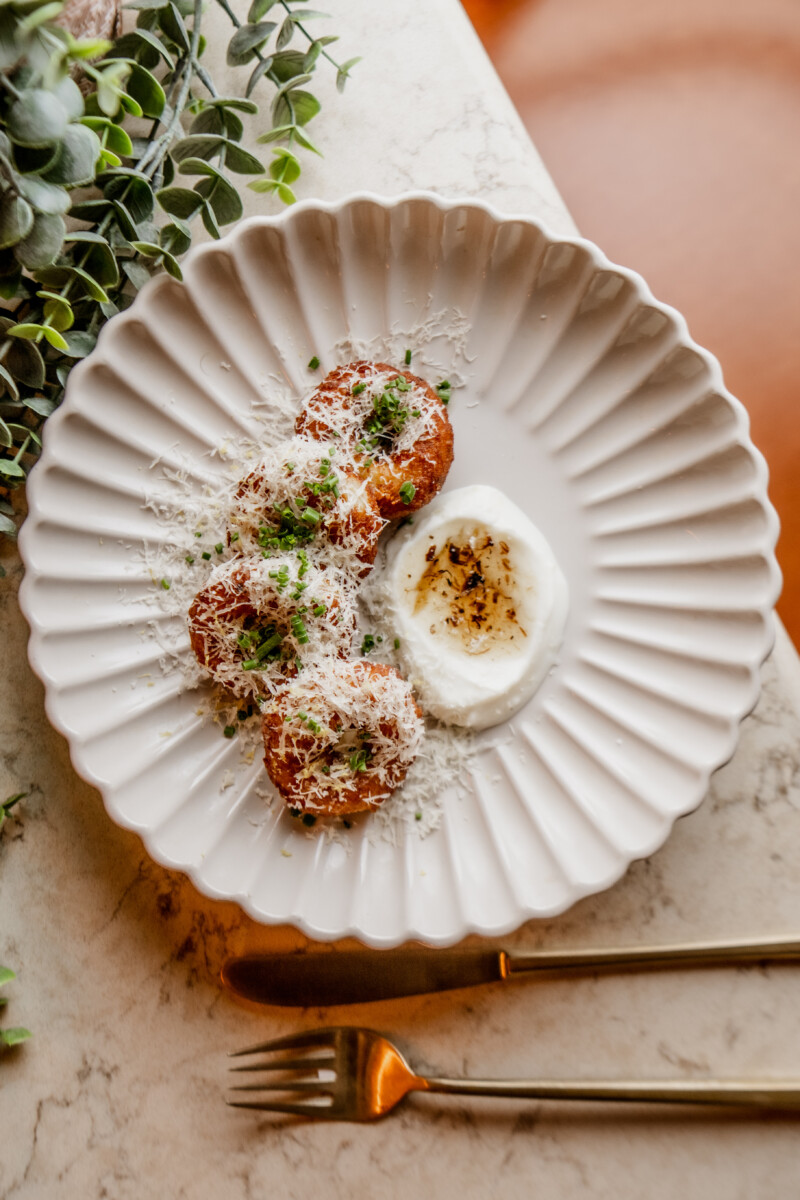 As well as a treasure trove of aromatic meat-based or seafood- based dishes, he particularly enjoys creating a plethora of tangy, wholesome and flavoursome vegetarian dishes.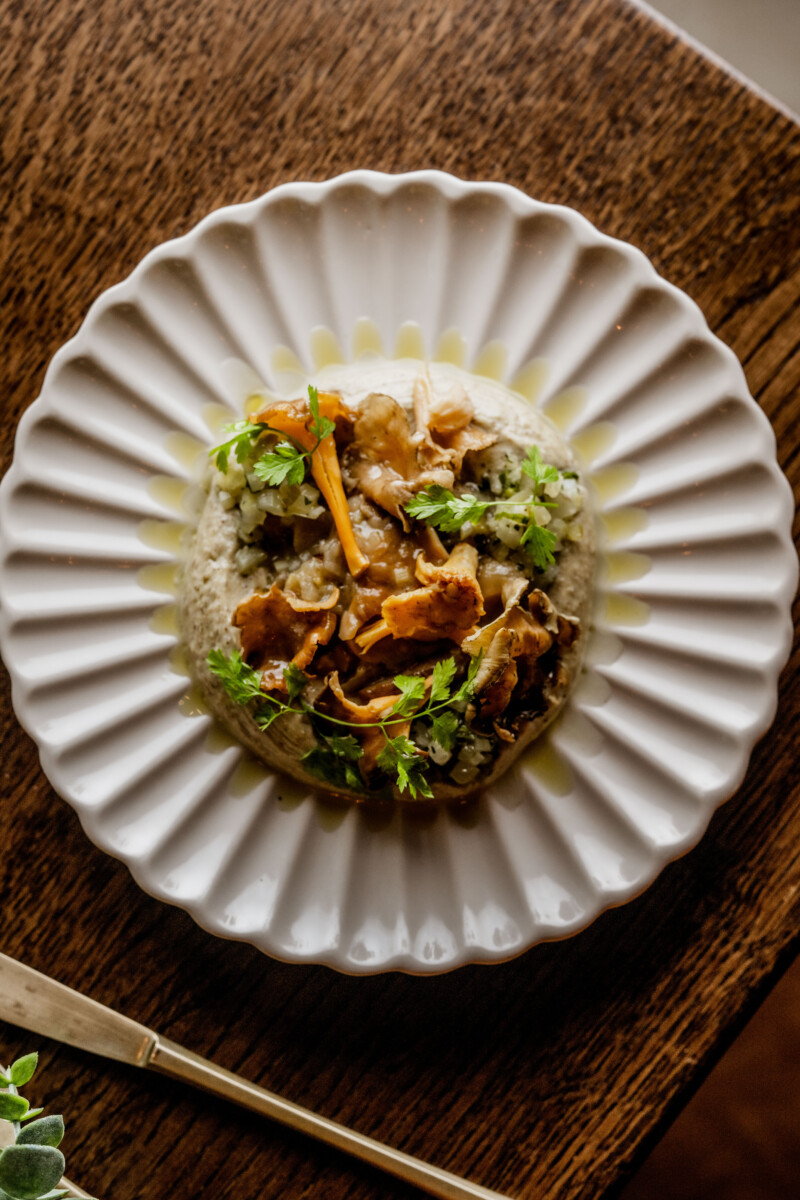 The name Jeru means 'old city' in Byzantine time. It was a place of nomadic tribal people where many different cultures collided – a true melting pot. The food at Jeru has drawn inspiration from this and Chef Ner has placed discovery and exploration at the heart of the Jeru journey.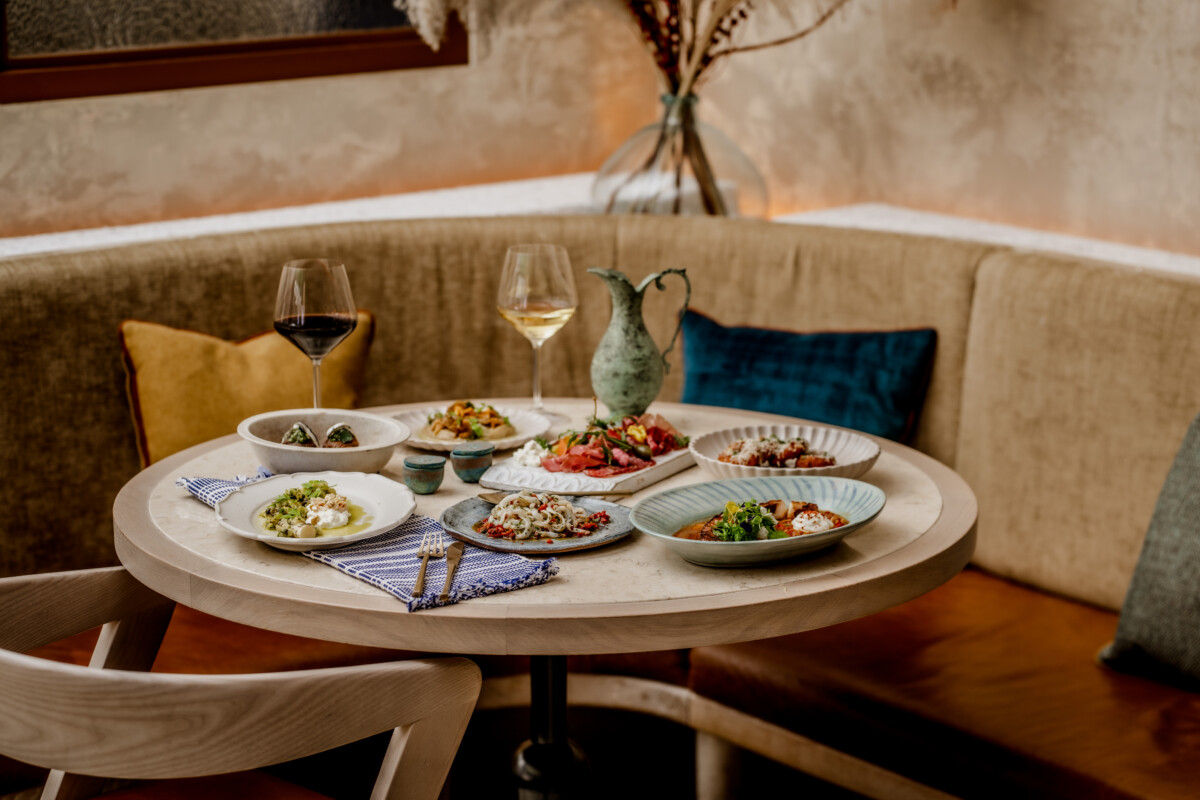 Guests will be enticed into the venue by the ever-tempting smell of freshly baked bread from the onsite bakery that welcomes them upon entering. Pide at Jeru serves up tantalising pides with the freshest seasonal produce as well as creating the famous Wood-fired potato bread with truffled honey and chickpea miso butter which has become a cult classic dish since their opening. The bakery is open Monday to Friday from 11am to 4pm and is closed on weekends.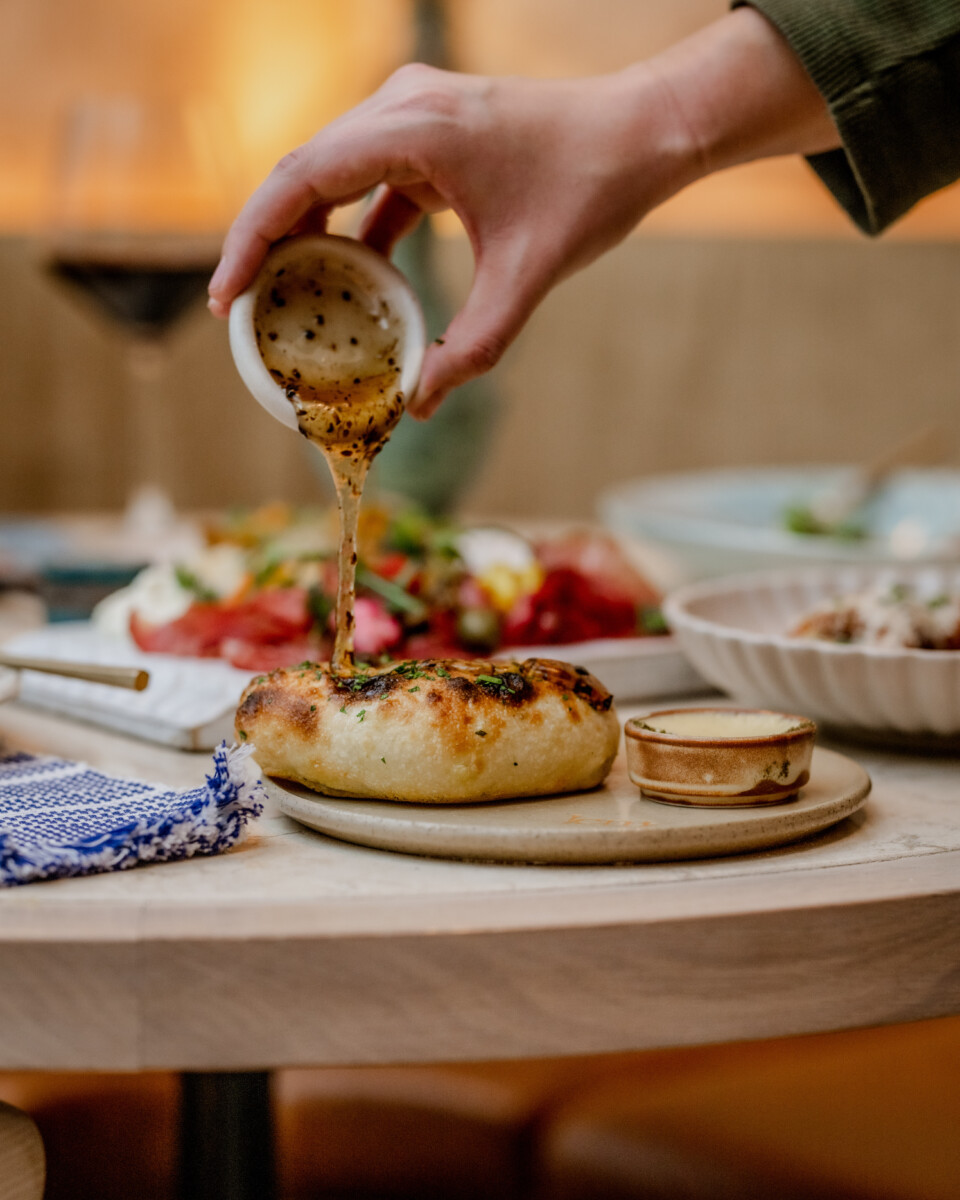 From the bakery, guests enter through a traditional Middle Eastern arched doorway that leads into the main restaurant. A bespoke herb chandelier hangs over the stairs and banquette seating, with built-in wine coolers, surround tables that face the open kitchen.  Here, the finest British produce will share the table with producers from around the world – menu highlights include: Black Chickpea Hummus, Charcoal Squid, Halloumi Doughnuts, Milk Fed Lamb Shoulder and Charcoal Leek.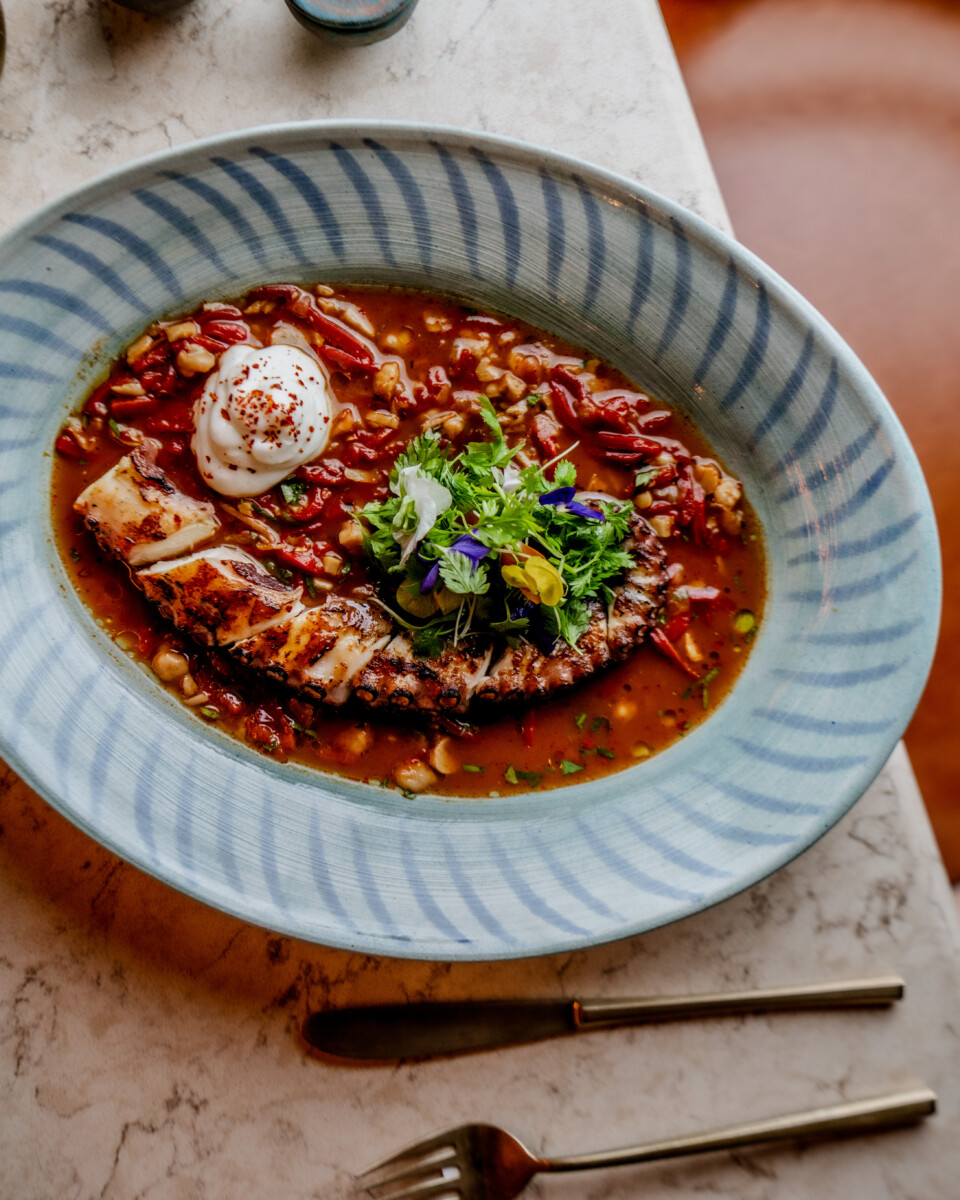 Chef Ner is working with the finest charcuterie experts in the UK to create unique menu items that haven't been seen before in the UK; Angus rump basturma and lamb and fennel salami will be served, as well as the first lamb bacon in collaboration with Hammond Charcuterie, with more artisan speciality meats coming soon from Jeru.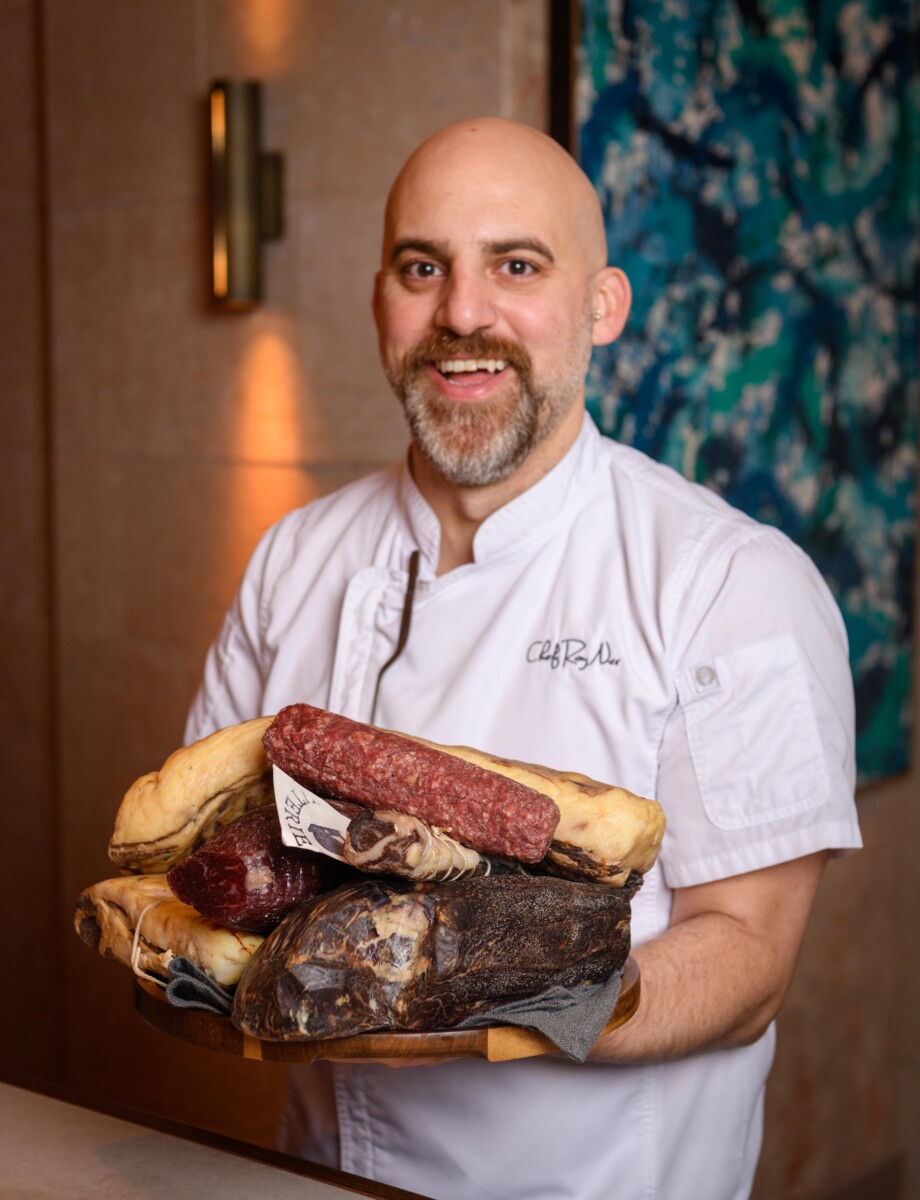 "We want people to feel at home when they visit us", says Ner, "guests will be able to see into the open charcoal kitchen, see where we dry age our seafood, beef and lamb, and see their dish come to life."
A 'wine room', that doubles as a semi private dining option, will offer an extensive wine and champagne menu curated to complement the menu and ethos. Showcased in a custom made 1,000 bottle wine wall, it includes the finest wines from the first producers in Phoenicia and Georgia through to modern day New World wines.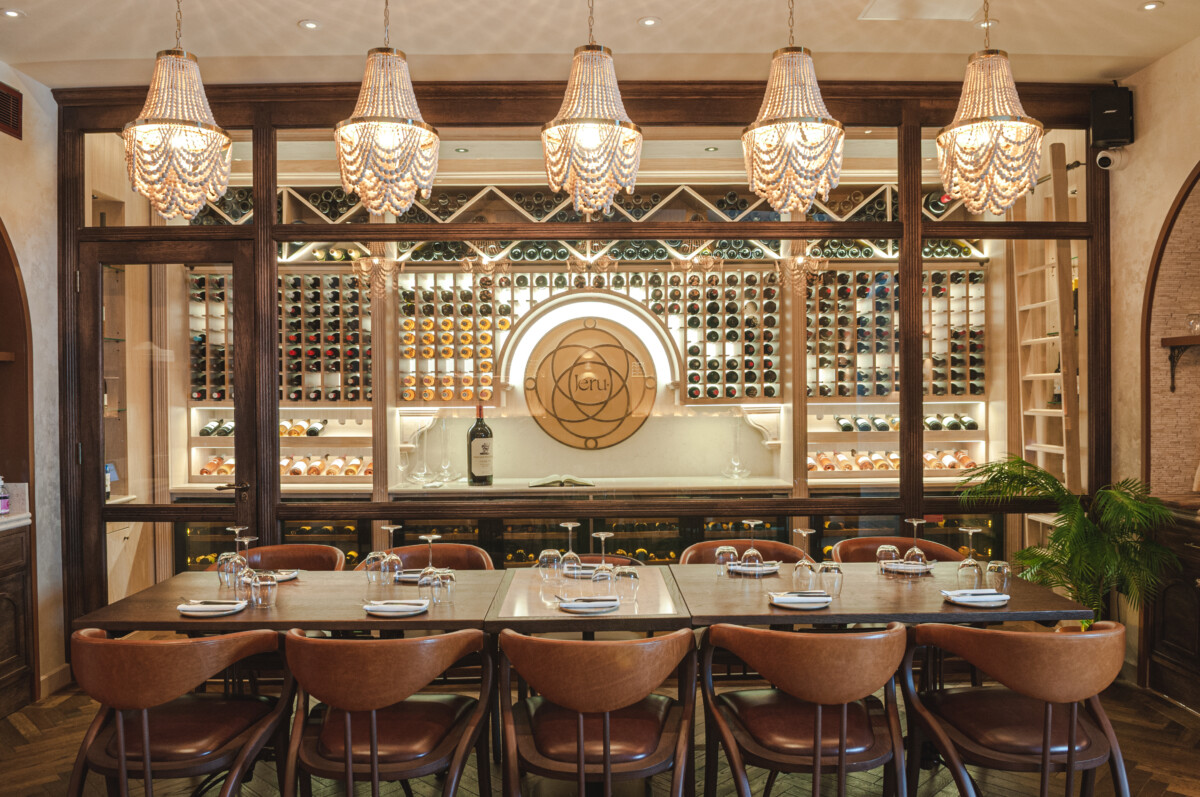 Moving through the venue, descend the stairs to discover Layla bar on the lower level.  Layla is a sophisticated cocktail bar with lush banquette seating serving fine wines and spirits and boasting a high-end specialty cocktail menu using flavour elements of the Middle East.
The Fig and Mint Julep cocktail is a refreshing blend of Knob Creek 9-year-old bourbon, fig, and mint. The bourbon's smoothness is enhanced by the subtle sweetness of the fig, while the mint provides a vibrant and invigorating element. This cocktail is a fantastic choice for bourbon lovers who enjoy a touch of fruity sweetness and herbal notes.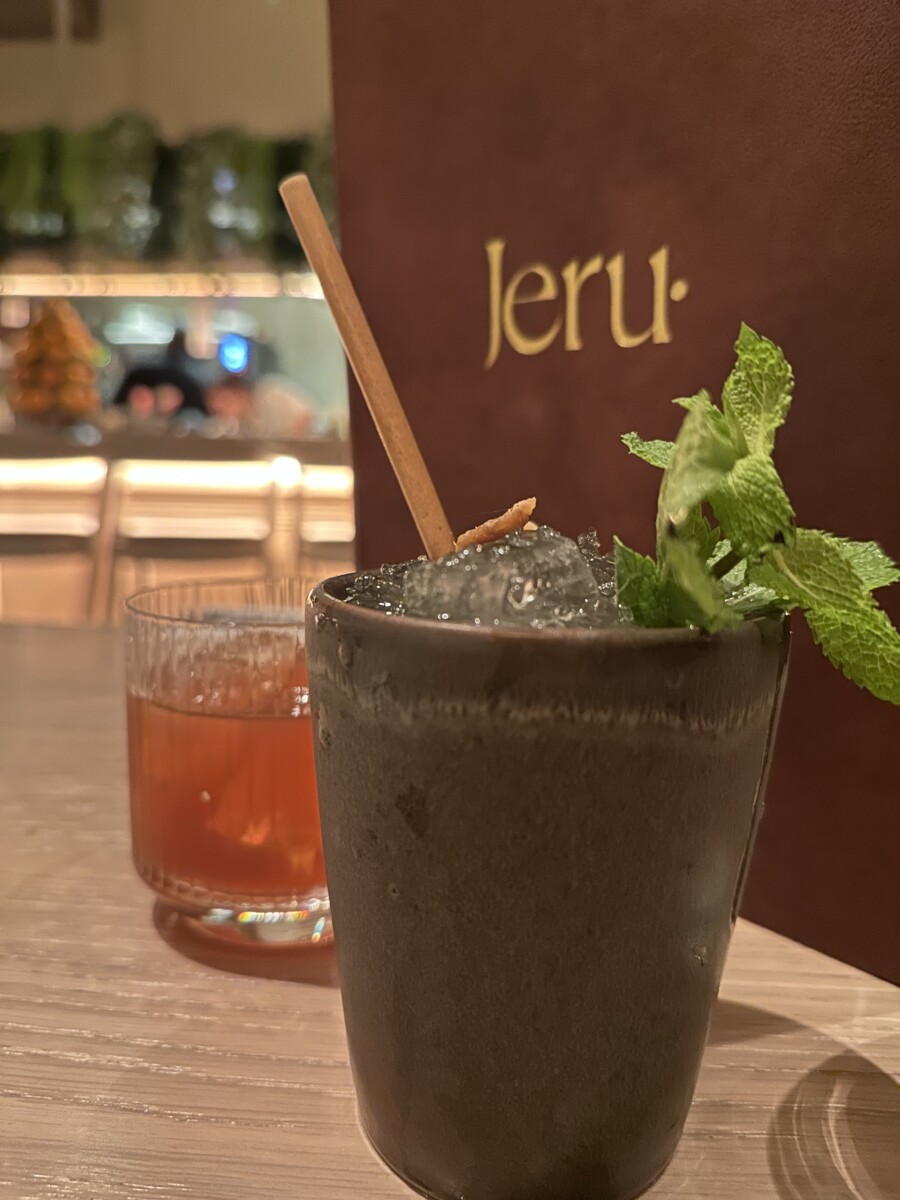 Contrast with the Tamarind Fashion cocktail which puts a twist on the classic Old Fashioned by incorporating Suntory Whisky Toki, tamarind, and sesame. The Suntory Whisky Toki provides a smooth and mellow base, complemented by the tangy and slightly tart flavour of tamarind. The addition of sesame adds a unique and unexpected nutty undertone, creating a modern and sophisticated variation of the timeless Old Fashioned. This cocktail is perfect for those seeking a new and innovative taste experience.
Layla overlooks the ultra-chic sunken lounge that will transform into a high energy dining concept at night. It will feature a rotation of London's finest DJs accompanied by live percussion and saxophones to provide a new addition to Mayfair's social scene.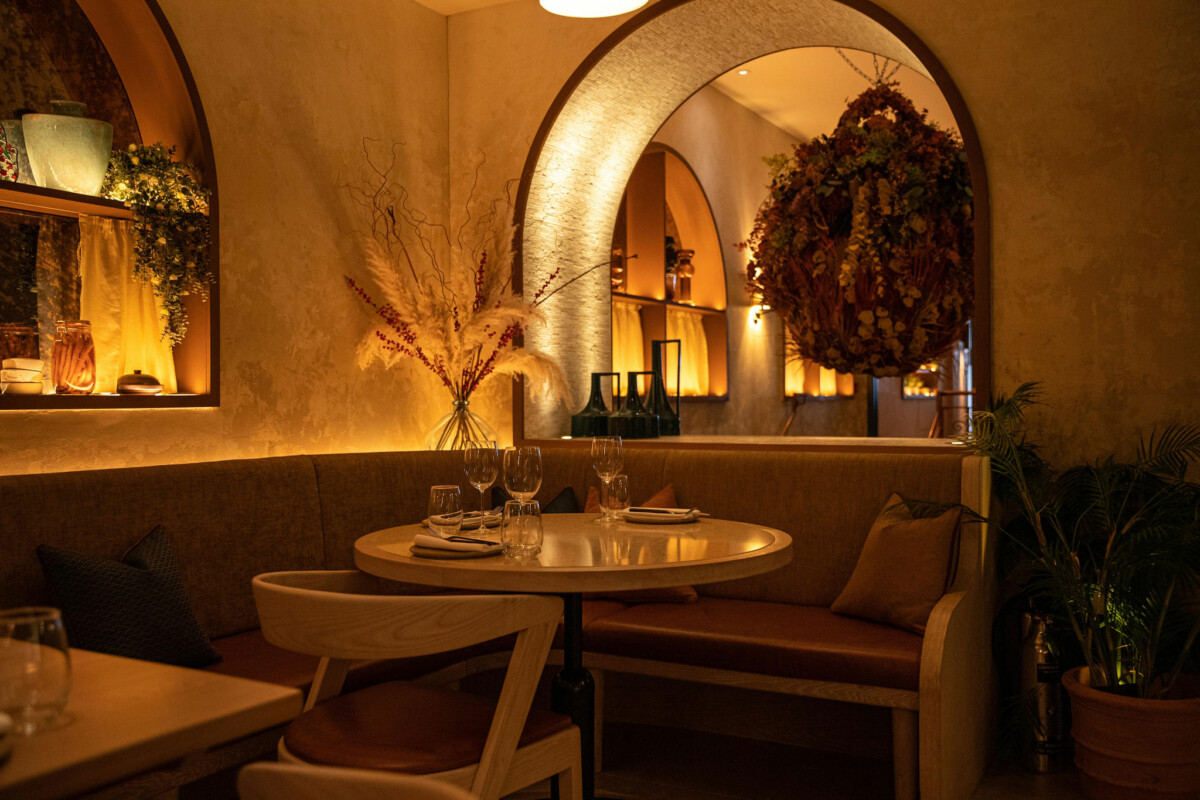 Join us as we explore of Jeru's extraordinary A La Carte menu, where every dish promises to transport you to a world of exceptional flavours and shared culinary experiences. From Starters and Mezze dishes to Mains, Sides and Dessert, we'll delve into the wonders of nine tantalising dishes that will leave you craving for more.
Potato-Fermented Wood-Fire Bread – a symphony of flavours & textures
A starter that captures the attention is the Potato-Fermented Wood-Fire Bread with Koji Butter & Truffle Honey. This delightful creation takes the humble potato and elevates it to new heights. The bread boasts a beautifully crisp crust, while the inside remains soft and pillowy. As you tear into the bread, a tantalising aroma engulfs your senses, accompanied by the alluring scent of truffle honey. Slathered with the smooth and creamy koji butter, this bread is a harmonious blend of earthiness, subtle sweetness, and a hint of umami. One bite and you'll be transported to a realm of pure gastronomic delight.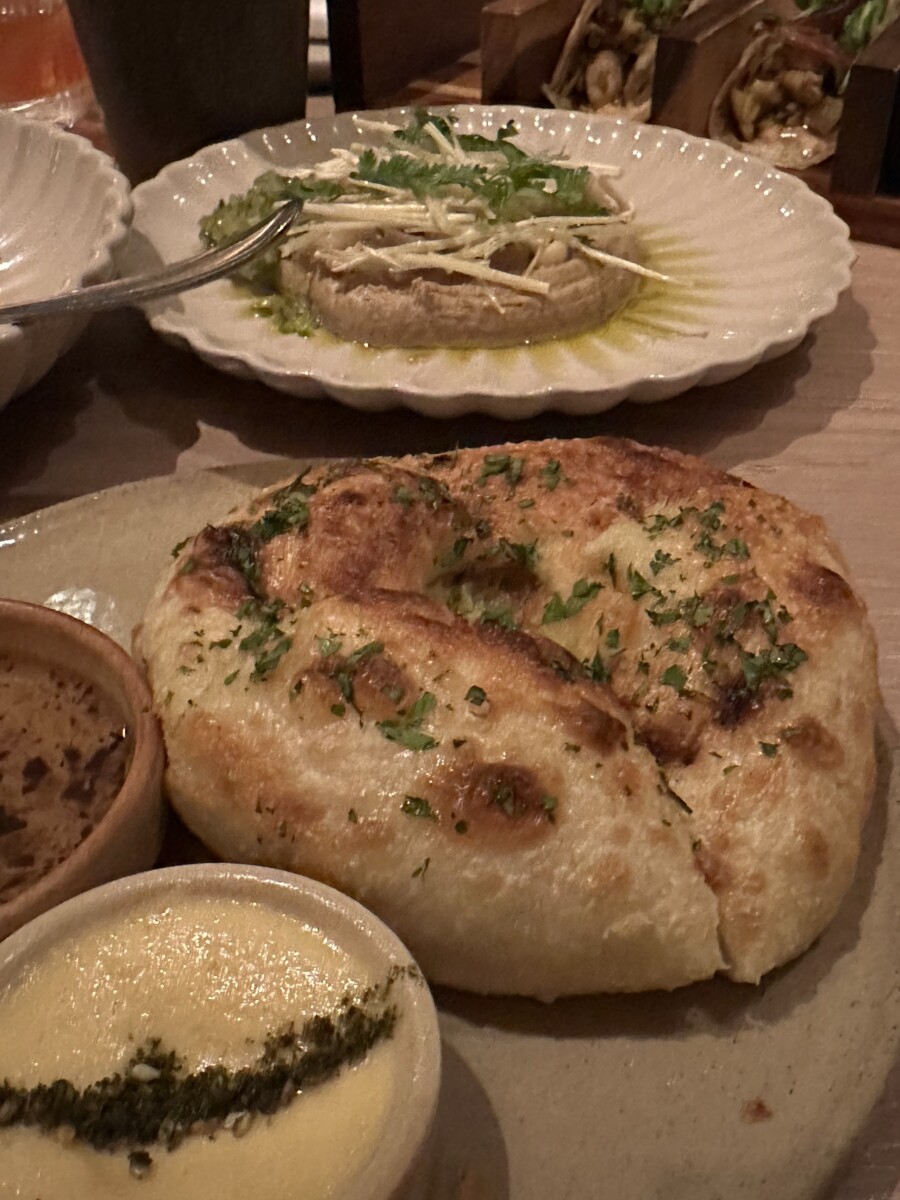 Black Chickpea Hummus – an explosion of earthy flavours in every mouthful
The second Starter dish on our culinary odyssey is the Black Chickpea Hummus with British Foraged Mushrooms & Herb Tatbila – an exquisite rendition of a classic favourite. Made from Mediterranean chickpeas, this creamy delicacy is given a twist with the addition of locally sourced British foraged mushrooms. The earthy aroma of the mushrooms permeates the air, complementing the nutty undertones of the hummus. Drizzled with a tantalising herb tatbila sauce that lifts the dish to new heights, each spoonful has a vibrant freshness. As you dip a piece of warm pitta bread into this luscious creation, your palate will be awakened by an explosion of flavours that celebrate the beauty of the natural world.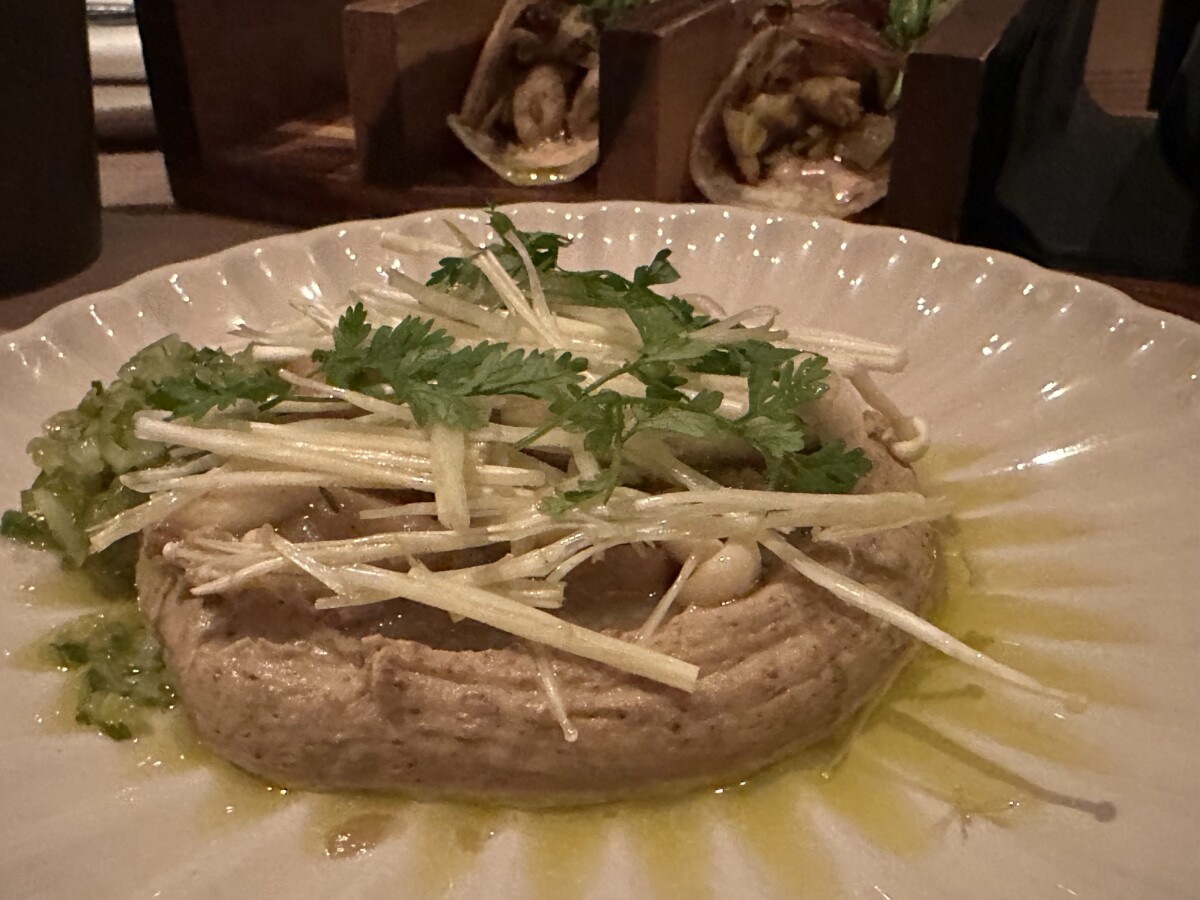 Charcoal Squid – a tantalising dance of smoky, tangy & spicy sensations
Prepare yourself for a sensory adventure with the Charcoal Squid with Sumac, Piquillo Salsa, Rocket & Chilli, a Mezze dish where the aroma of a charcoal grill mingles with the allure of the sea. The squid, cooked to tender perfection, carries a subtle smoky essence that complements its natural sweetness. As you take a bite, the sumac sprinkled on top adds a tangy zest that dances on your taste buds. The piquillo salsa, with its sweet and slightly smoky notes, harmonises beautifully with the squid. The peppery bite of rocket and a hint of chilli provide the finishing touches, adding a tantalising kick to this culinary masterpiece.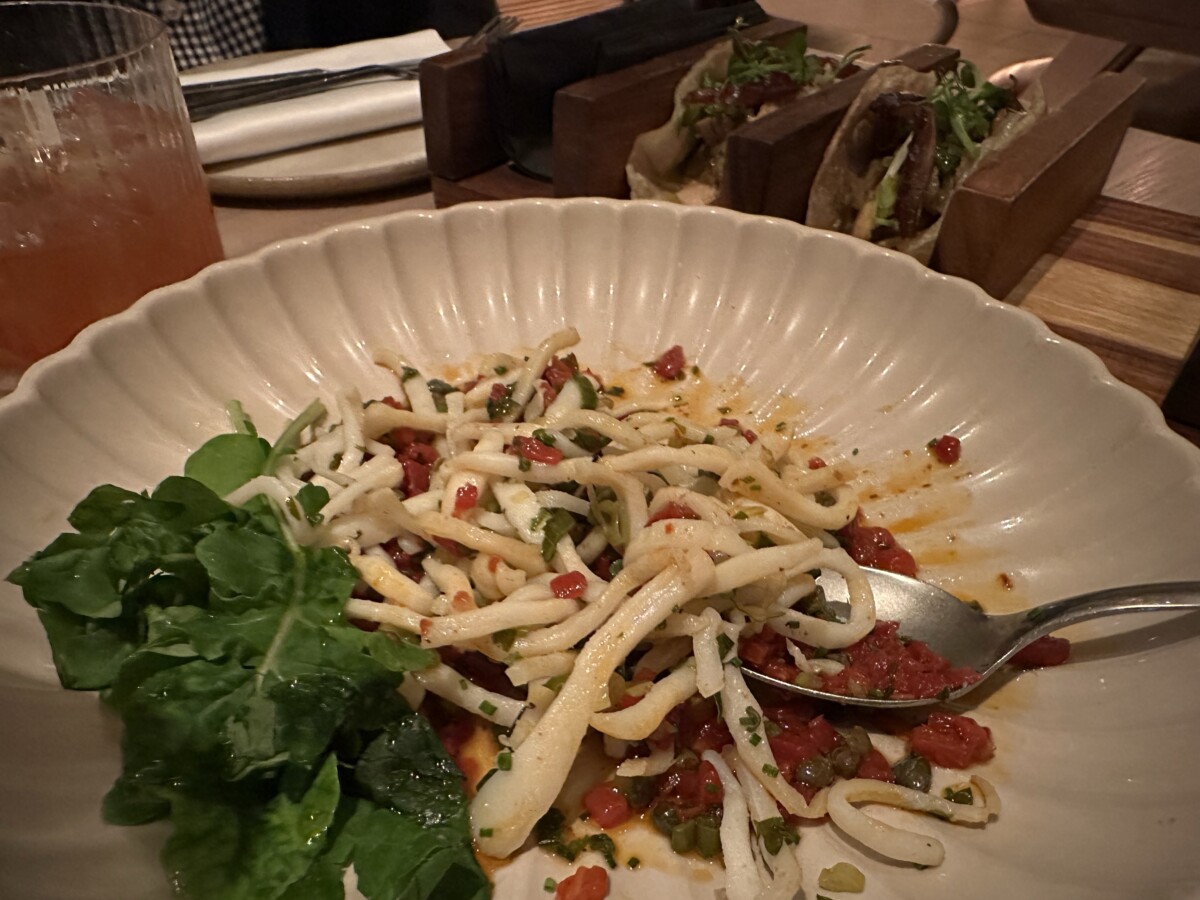 Confit Chicken & Foie Gras Shawarma – a spellbinding fusion of luxurious flavours
Prepare to be enthralled by the extraordinary Confit Chicken & Foie Gras Shawarma with Butter Bread, Tahini & Dates. This Mezze dish marries the succulent tenderness of confit chicken with the richness of foie gras, resulting in a culinary symphony that delights the senses. The butter bread serves as the perfect canvas, providing a delicate and buttery base to showcase the star ingredients. As you take a bite, the tender chicken and velvety foie gras melt in your mouth, leaving behind a decadent trail of flavours. The creamy tahini sauce adds a luscious nuttiness, while the dates bring a delightful touch of sweetness. Every element harmonises flawlessly, offering a culinary experience that is both luxurious and unforgettable.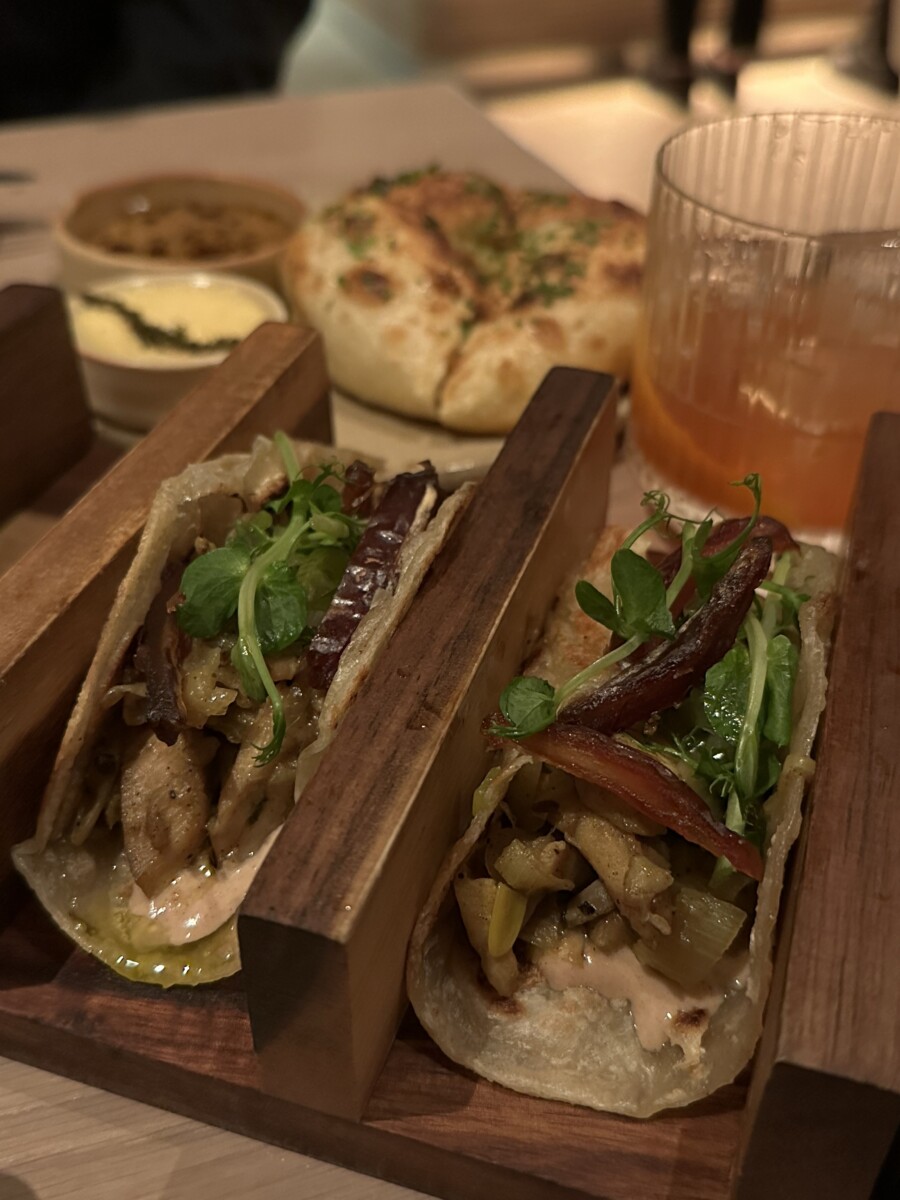 Grilled Octopus – a tantalising seafood symphony
Embark on a journey of exquisite seafood flavours with the Grilled Octopus with Spiced Langoustine & Chickpea Ragu dish from the Mezze section of the A La Carte menu. Expertly cooked to tender perfection, the octopus delivers a delicate and slightly smoky essence that is truly captivating. Paired with a spiced langoustine and chickpea ragu, this dish showcases a harmonious marriage of flavours from both land and sea. The langoustine imparts a sweet and briny note, while the chickpea ragu adds a hearty and aromatic touch. Every bite is an invitation to revel in the treasures of the ocean, transporting you to the sun-kissed shores of the Mediterranean.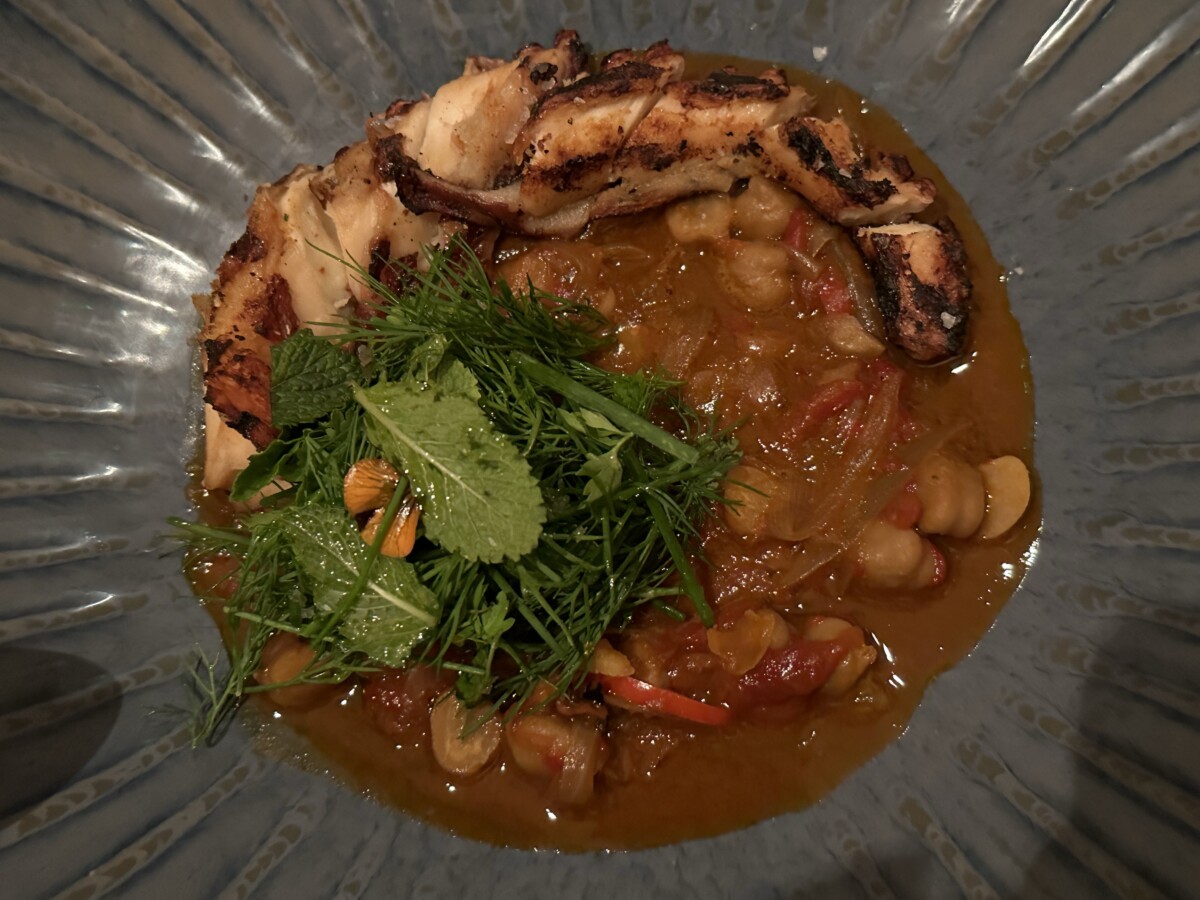 Herb-Crusted Welsh Lamb Rack – a succulent lamb experience with a refreshing twist
Indulge in a truly exceptional Mains dish with the Herb-Crusted Welsh Lamb Rack with Mint Dressing. This culinary masterpiece celebrates the succulence of Welsh lamb, elevating it to new heights. The rack of lamb is encased in a fragrant herb crust, creating a beautiful contrast between the tender meat and the crispy exterior. As you take a bite, the savoury herb flavours unfold, complemented by the refreshing mint dressing that adds a delightful burst of freshness. Each mouthful is a celebration of the finest quality lamb, expertly prepared to tantalise your taste buds and leave you craving for more.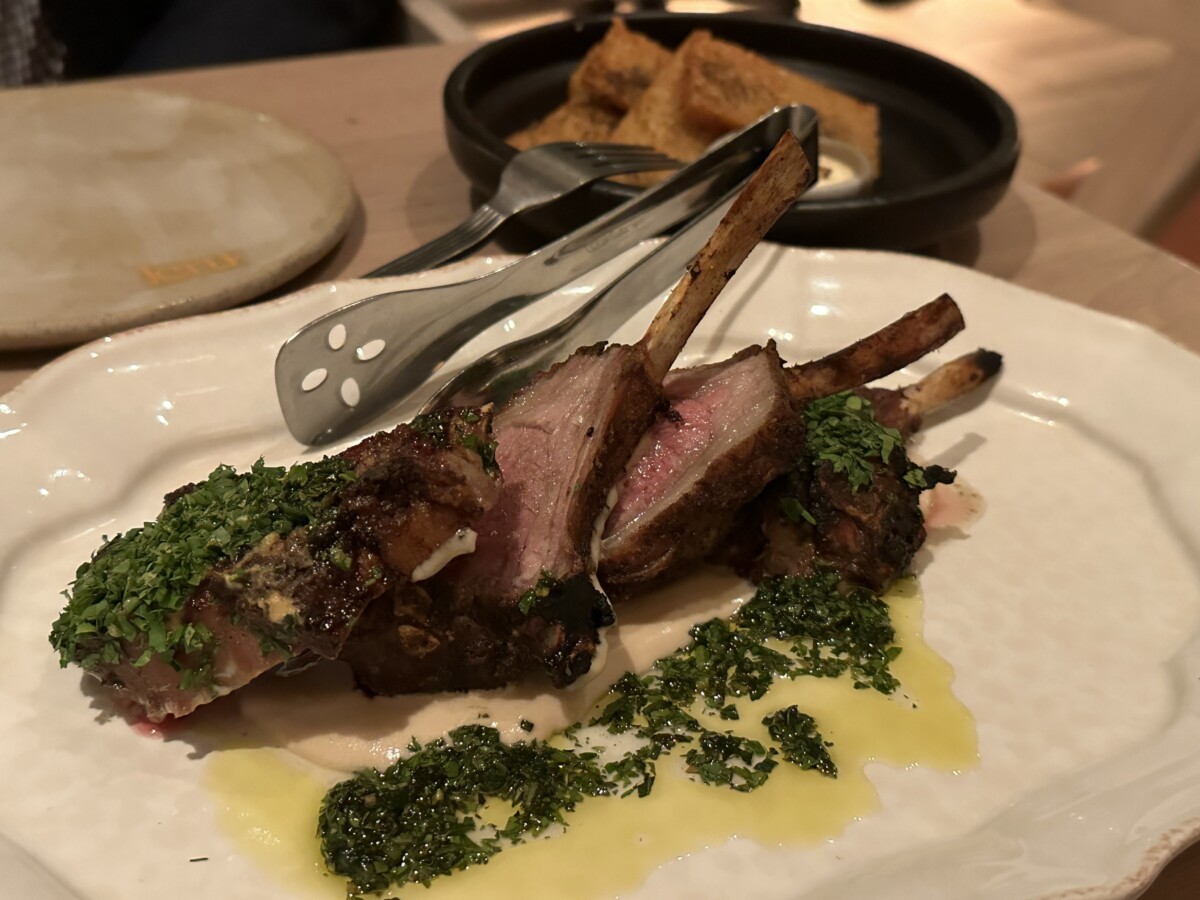 Charcoal Roasted Aubergine – a vegetarian masterpiece bursting with smoky & aromatic delights
For those seeking a vegetarian-friendly Mains dish, the Charcoal Roasted Aubergine with Spiced Lentil Ragu & Pine Nuts is a true revelation. This dish showcases the incredible versatility of this humble vegetable, transforming it into a culinary masterpiece. Roasted to perfection over charcoal, the aubergine develops a smoky essence that permeates each bite. The spiced lentil ragu adds depth and complexity, infusing the dish with a warm and aromatic blend of flavours. The sprinkling of pine nuts provides a delightful crunch and nuttiness, elevating the dish to new heights. Prepare to be captivated by the harmony of flavours and textures that make this vegetarian delight an absolute must-try.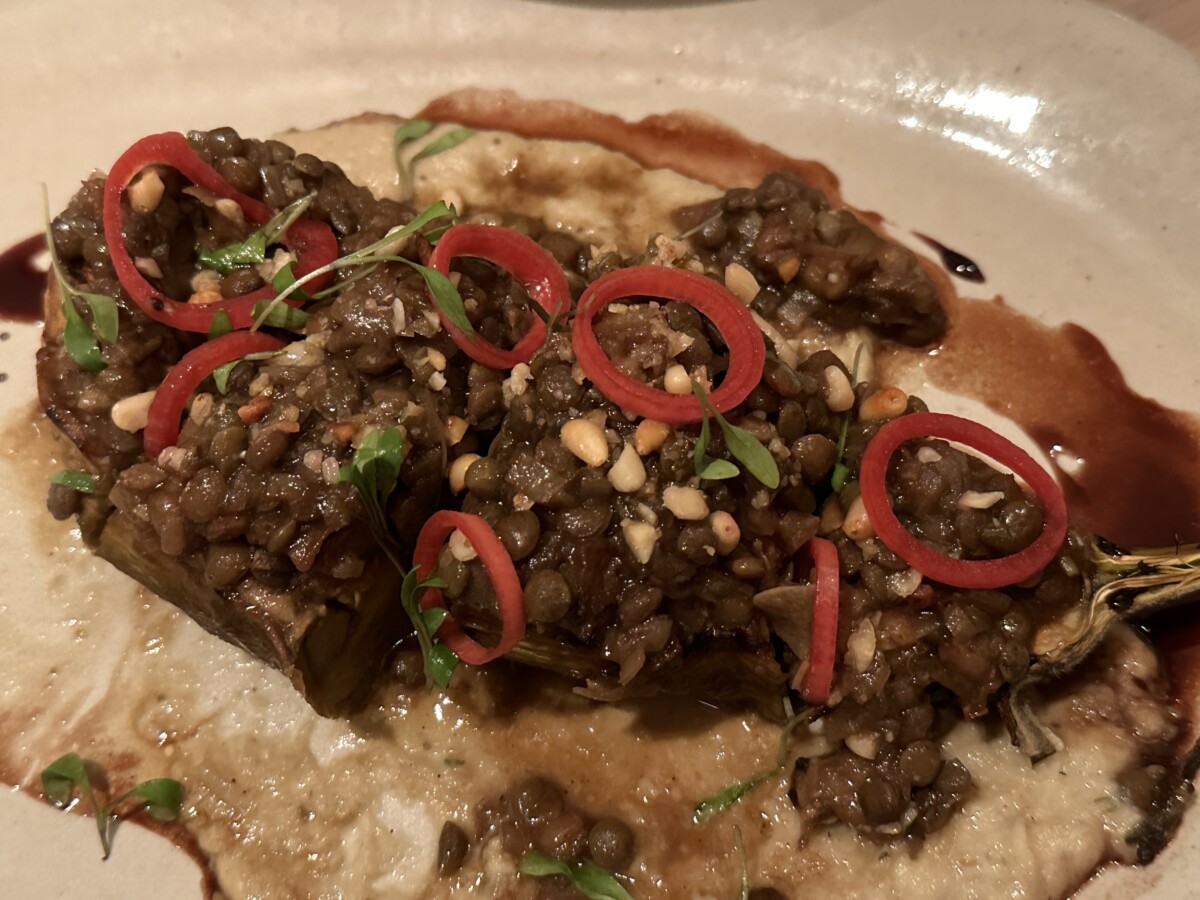 Agria Potato Rosti – an irresistible marriage of crispiness, creaminess & smoky allure
Prepare to be captivated by the simplicity and elegance of the Agria Potato Rosti with Aioli & Smoked Salt. This classic Swiss side dish is given a Middle Eastern twist, resulting in a culinary delight that will leave you enchanted. The rosti boasts a perfectly golden and crispy exterior, revealing a soft and creamy interior. The velvety aioli adds a rich and garlicky creaminess, while a sprinkle of smoked salt enhances the dish with a subtle smoky allure. With each bite, you'll experience a delightful contrast of textures, from the satisfying crunch of the rosti to the smoothness of the aioli. The flavours are comforting yet sophisticated, making this side dish a perfect accompaniment to the Mains on offer.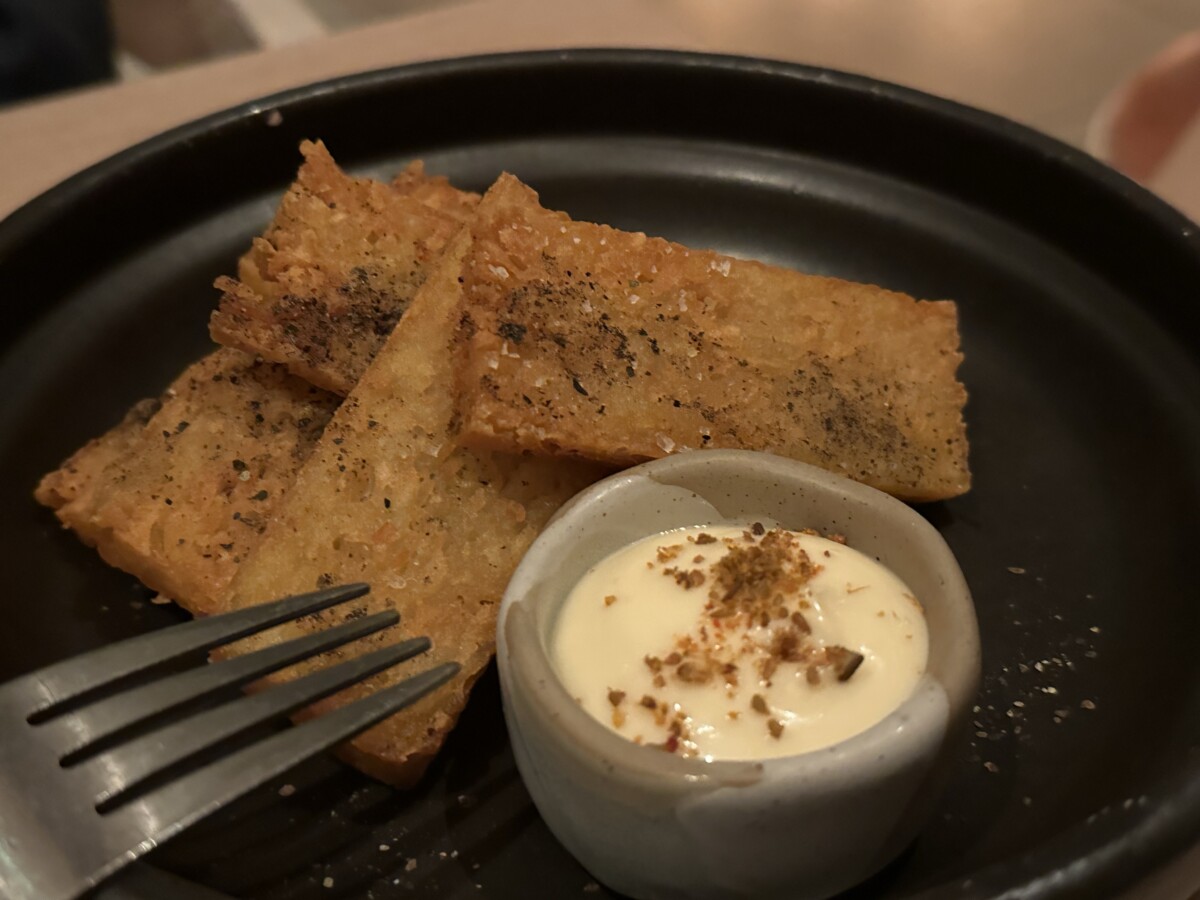 Baklava Cake – a sweet indulgence that pays homage to a beloved Middle Eastern dessert
No culinary journey through Jeru would be complete without a taste of the heavenly "Baklava" Cake 2.0 with walnuts, bergamot & vanilla ice cream. This delightful dessert takes inspiration from the classic Middle Eastern pastry and transforms it into a stunning cake that is both visually appealing and utterly delectable. Layers of delicate filo pastry are interspersed with a luscious filling of nuts and honey, creating a symphony of flavours and textures. Each bite is a journey through sweet, nutty, and subtly spiced notes that melt together in perfect harmony. The cake is moist and indulgent, making it a dessert lover's dream come true. Whether you're a fan of traditional baklava or seeking a delightful new twist, the Baklava Cake at Jeru is an absolute must-try.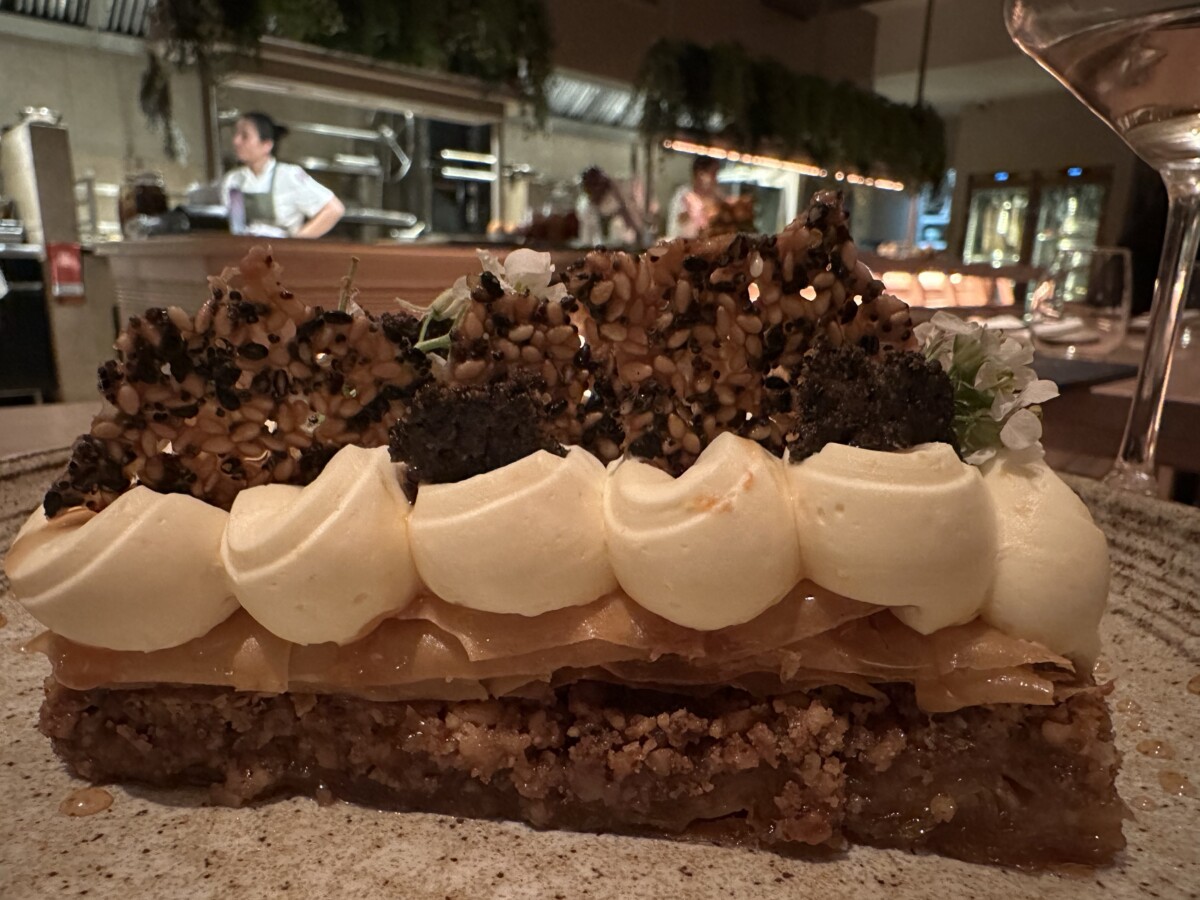 The dress code is smart and elegant. The Restaurant is open Monday to Thursday from 12pm to 2:45pm and 5:30pm to 10.15pm, Friday & Saturday from 12pm to 2:45pm and 5:30pm to 11:15pm. The restaurant is closed on Sunday.
Jeru
11 Berkeley Street, London, W1J 8DS
0203 988 0054
jeru.co.uk