By Louise Hill, co-founder and COO of GoHenry, the prepaid Visa debit card and app for 6-18 year olds.
Would you drop your child in the deep end of a pool for the first time and expect them to swim without giving them a chance to practice first? The answer is absolutely not. Because you can't just teach the theory of swimming, you need to get into the water and take the time to practice in a real-life environment.
It's exactly the same as learning money skills. According to a Cambridge University study, children's financial habits are formed by the age of seven and so teaching kids about money management from a young age is the best way to form positive habits that will last a lifetime.
The problem is that children have traditionally been left out of the digital economy, giving them limited opportunities to hone their skills. Kids see their parents using bank cards, taking money out at an ATM and shopping online, but are not afforded the same opportunity to learn how to manage money in this way.
We founded GoHenry in 2012 after coming to this realisation. I started chatting with two parents at my son's football match about how topping up iTunes and games accounts was getting out of control in my house and that I had started pinning my iTunes bills to the fridge door to explain to them why their £4 pocket money was now only 50p.
I know from this experience just how difficult it can be to teach kids money skills. It's certainly not as exciting to a child as swimming, and so finding ways to make financial education fun, attractive and engaging is vital.
So here are my top tips for parents looking to help their children become money-savvy from a young age:
1. Pay regular pocket money
It doesn't matter how much money you give your children, but the act of paying regular pocket money helps open up conversations around money in the home and gets children thinking about the four key pillars of money management: Earn, Save Spend, and Give.
2. Set tasks
It's a hot topic, but paying for tasks can help kids learn where money comes from and that it has to be earned. It also shows them the value of money and that it doesn't necessarily come easy!
3. Earning is empowering
For older children who don't already work at the weekend or during the school holidays, encourage their entrepreneurial spirit by getting them to think about innovative ways they can earn some extra cash.
4. Set limits
Help your children learn in a safe environment by setting age-relevant limits on their spending, for example, no more than £10 per week on online gaming or £5 on music.
5. Learn by doing
There's no better way to teach kids the value of money than letting them buy that 'must-have' item with their own money. They'll soon start to realise that things aren't as 'must-have' as they originally thought when it's their own money that's gone!
6. Let them make mistakes
It's all part of the learning process and much better for them to make a £20 mistake aged 7 than a £2,000 one aged 27.
7. It's good to talk
It is so important to talk about money at home; where it comes from (earn); why it's important to save; that when it's gone, it's gone (spend); and the role of donating to people less fortunate plays in society (give). This is even more important as we move to a cashless society and children don't see money physically exchanging hands in the way they used to.
GoHenry is a prepaid debit card and financial learning app for kids aged 6-18 that has recently launched in-app financial education lessons, Money Missions, to address the widening financial literacy gap.
About the expert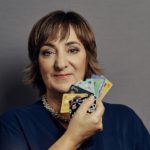 Louise Hill is the co-founder and COO of GoHenry, the prepaid Visa debit card and app for 6-18 year olds that empowers young people to learn money lessons from a young age and take part in the digital economy.
Louise co-founded GoHenry in 2012 when she realised that her own children needed a platform to learn how to spend and manage money.  The idea for GoHenry came about through a conversation she had with two friends whilst watching her kids play a school football match, where they discussed the lack of financial solutions for families, young children and teens in an increasingly cashless society. Fast forward to today and GoHenry now has a community of over 1.5 million customers in the US & UK who fiercely believe that good money management is a vital life skill.
Learn more at www.gohenry.com/uk