As a gentle chill fills the air, the world gears up to celebrate Diwali, the Festival of Lights, on 12th November. Diwali is a joyous and significant festival that symbolizes the victory of light over darkness and good over evil. Over 5 days, families come together, exchange gifts, light oil lamps, and decorate their homes with intricate rangoli patterns. Join us as we embark on a journey to explore the cultural richness and significance of this festival.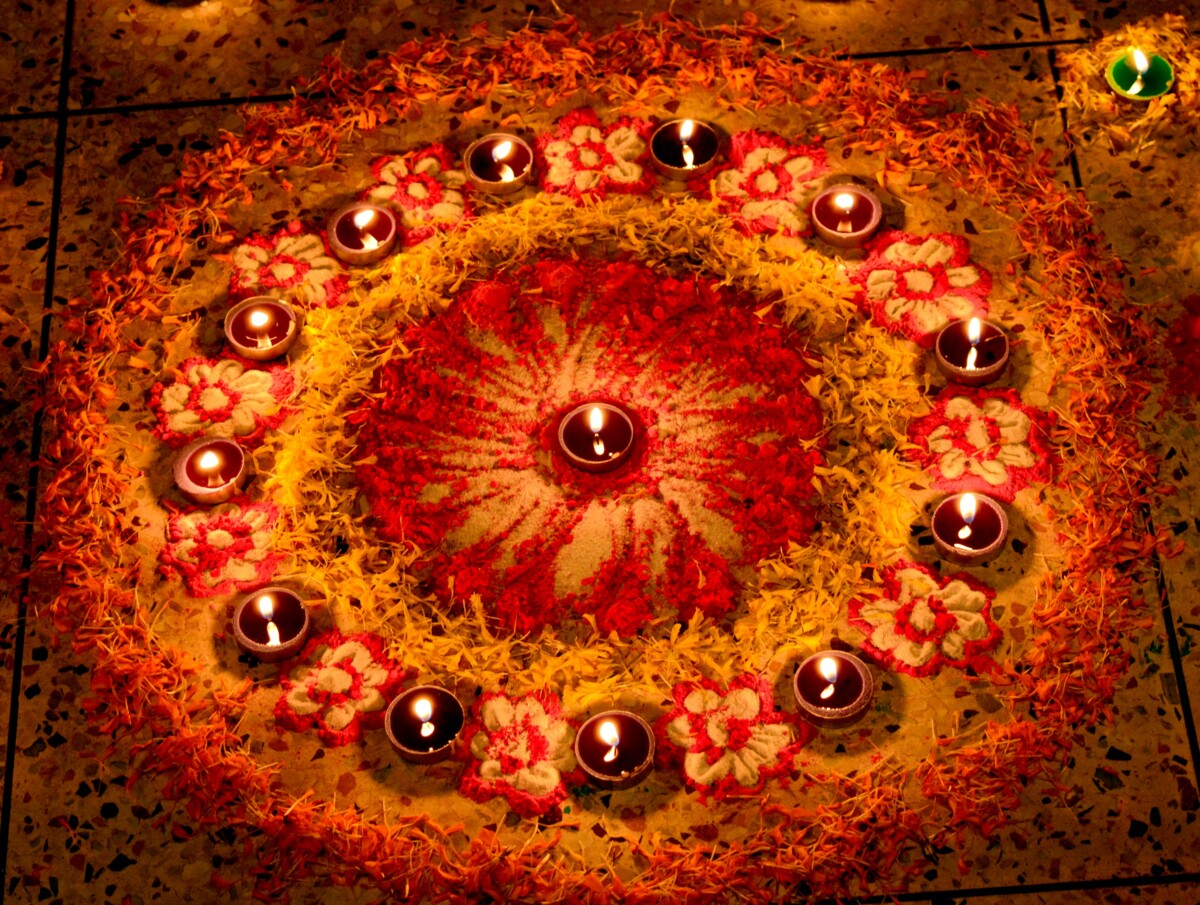 Diwali, also known as Deepavali, is one of the most widely celebrated festivals in India and among the Indian diaspora around the world. It holds immense cultural and religious significance, and its observance varies among different communities and regions.
Diwali is primarily a Hindu festival, but it is also celebrated by Jains, Sikhs, and some Buddhists, each community attaching its own unique significance to the festival. The festival generally marks the triumph of light over darkness and good over evil. It usually falls in the autumn season and lasts for five days, with each day having specific customs and rituals.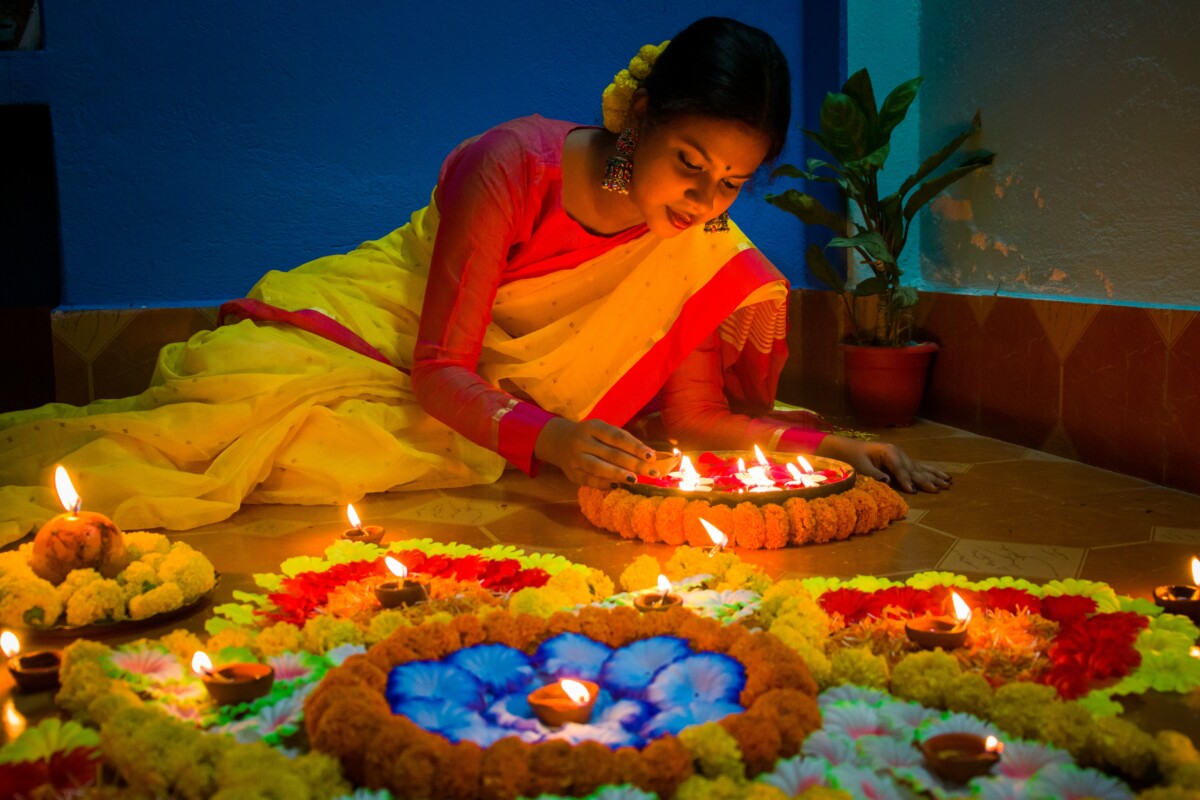 During Diwali, people illuminate their homes with oil lamps and candles, decorate them with colourful rangoli (intricate designs made on the ground), and enjoy fireworks at night. Exchanging gifts and sweets, cleaning and decorating homes, and visiting temples to offer prayers are common practices during this time. The festival also signifies the beginning of the new financial year in some Indian communities.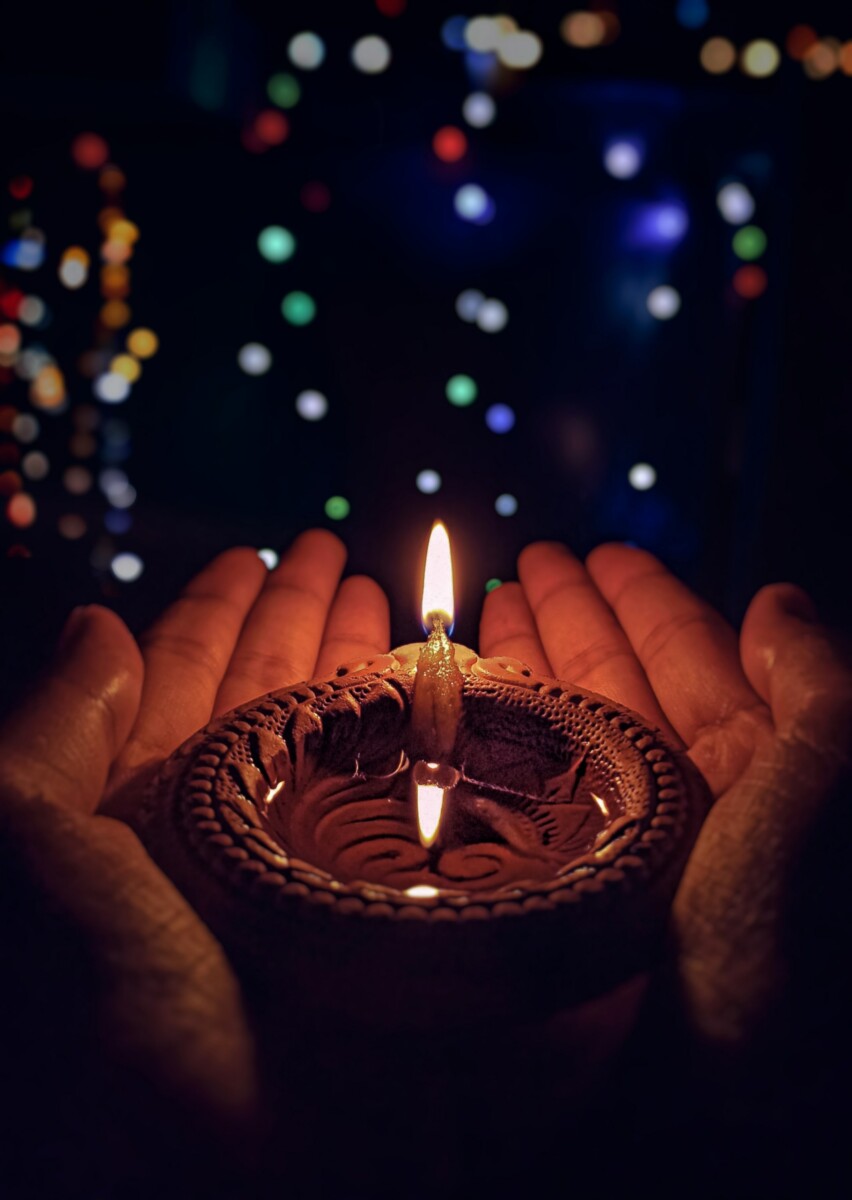 In addition to the religious aspects, Diwali holds a broader cultural significance, promoting a sense of togetherness, generosity, and joy among people. It is a time for families and friends to come together, strengthen bonds, and celebrate the spirit of unity. While Diwali has its roots in various religious traditions, it has evolved into a more inclusive and secular celebration, bringing people of different backgrounds and beliefs together to partake in the festivities and share in the joy of the season.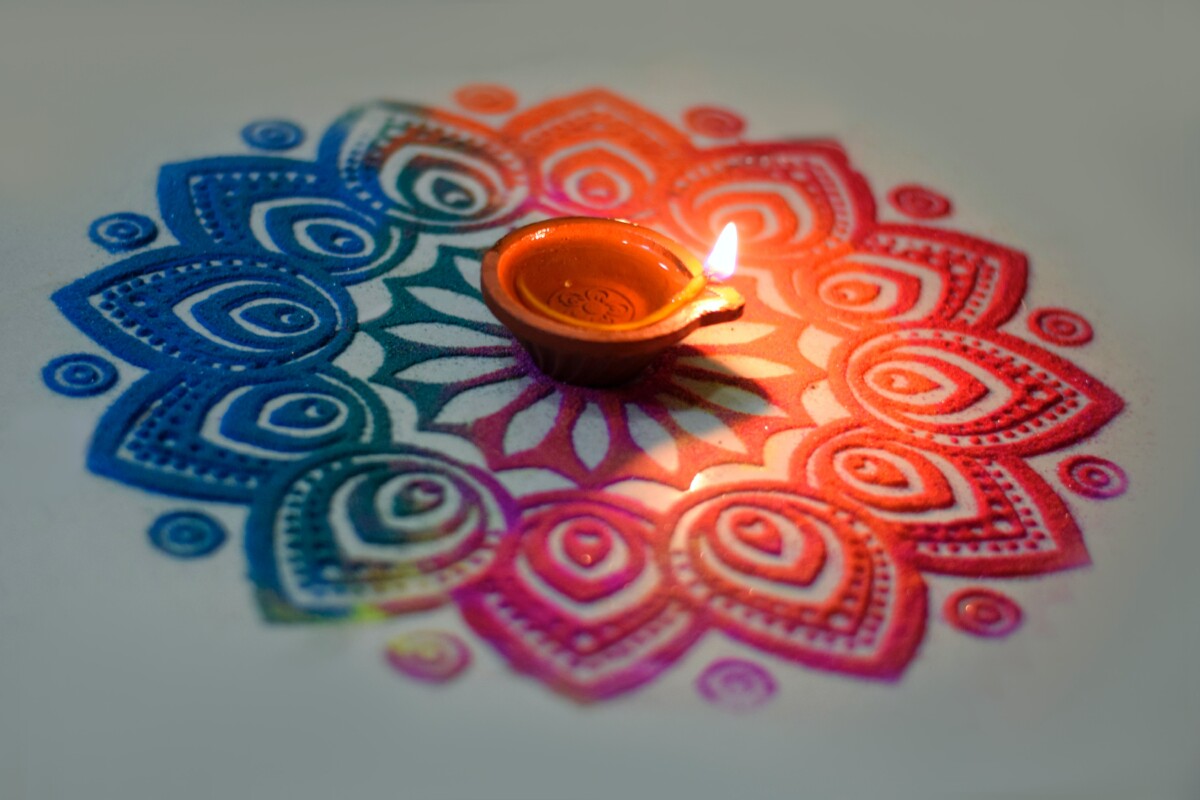 Whether you're already well-acquainted with Diwali or it's your first encounter, this is your gateway to discovering delightful Diwali-inspired treasures, from the limited-edition Rampur Double Cask Diwali Spiced Manhattan and the best Chai tea from the Chai Guys to the delectable Almond & Rose Diwali-inspired doughnut created by Crosstown and more. Let us dive in to the vibrant world of Diwali as we share ways you can make this festival of light your own with the best Diwali-inspired food & drink.
Rampur Double Cask Diwali Spiced Manhattan Bottled Cocktail
As we embrace the spirit of Diwali, there's no better way to illuminate your celebrations than with the limited edition Rampur Double Cask Diwali Spiced Manhattan Bottled Cocktail, brought to you by the makers of the renowned Rampur Indian Single Malt Whisky. This captivating libation not only pays homage to the festival's cultural significance but also embodies the artistry and craftsmanship of Indian distillation.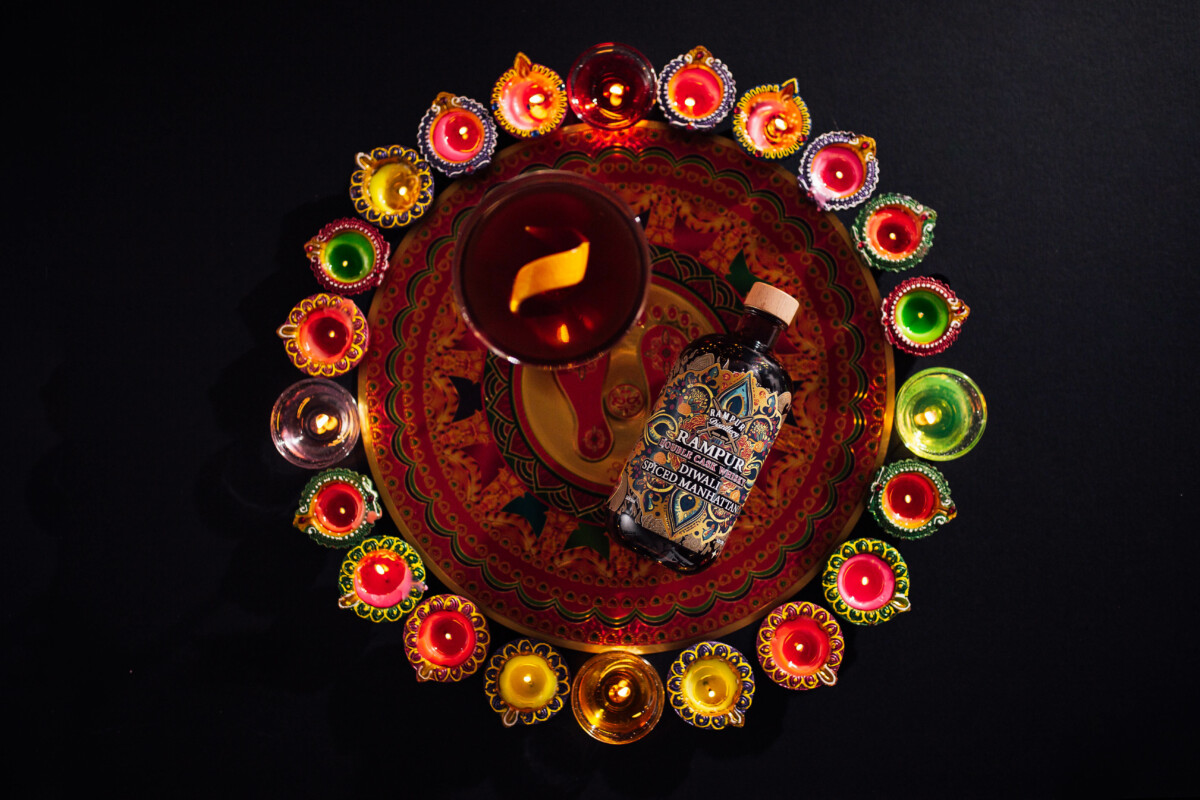 Produced in the Rampur Distillery – which is India's oldest distillery nestled in the serene foothills of the Himalayas – Rampur Double Cask Indian Single Malt Whisky is a testament to time-honoured craftsmanship. Distilled in traditional copper pot stills, this whisky undergoes a unique maturation process. Two-thirds of its life is spent resting in carefully selected American Bourbon Barrels, infusing it with a warm, oaky character. The remaining third matures in European Oak Sherry Casks, imparting deep, rich undertones. Importantly, this exquisite whisky remains non-chill-filtered, preserving its full, unadulterated flavour.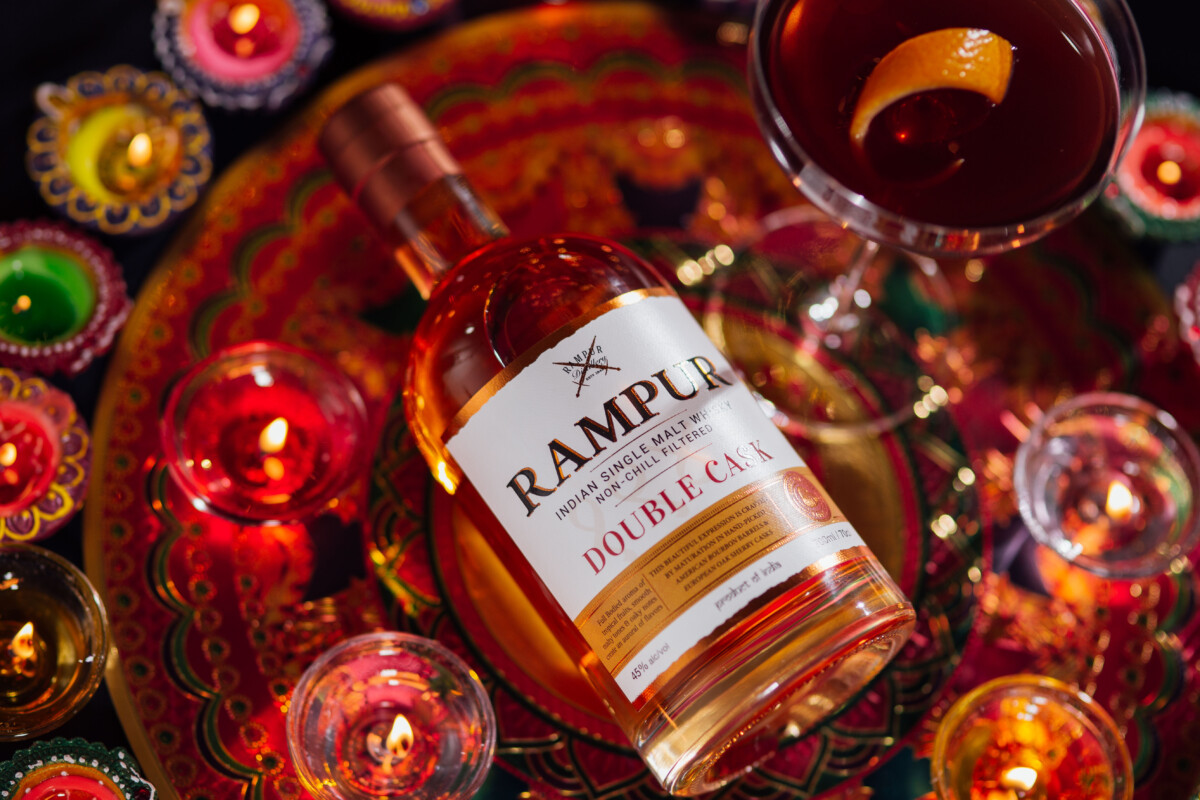 The limited-edition Rampur Double Cask Diwali Spiced Manhattan is a delightful fusion of flavours, meticulously curated to enliven your Diwali festivities. This elegant concoction marries the fine Rampur Double Cask Whisky with the rich depth of Sweet Red Agora Rosso Vermouth and the nuanced complexity of Bittermens Buckspice Ginger Bitters. Each sip tells a story of sophistication and balance, making it the perfect complement to your Diwali celebrations.
Crafted for both connoisseurs and novices, each 50cl bottle contains five servings of this enchanting cocktail. Preparing it is a breeze – just stir the contents over ice, pour into a chilled coupe glass, and garnish with a dehydrated orange wheel. The result is a captivating, well-balanced Manhattan that captures the essence of Diwali in a glass.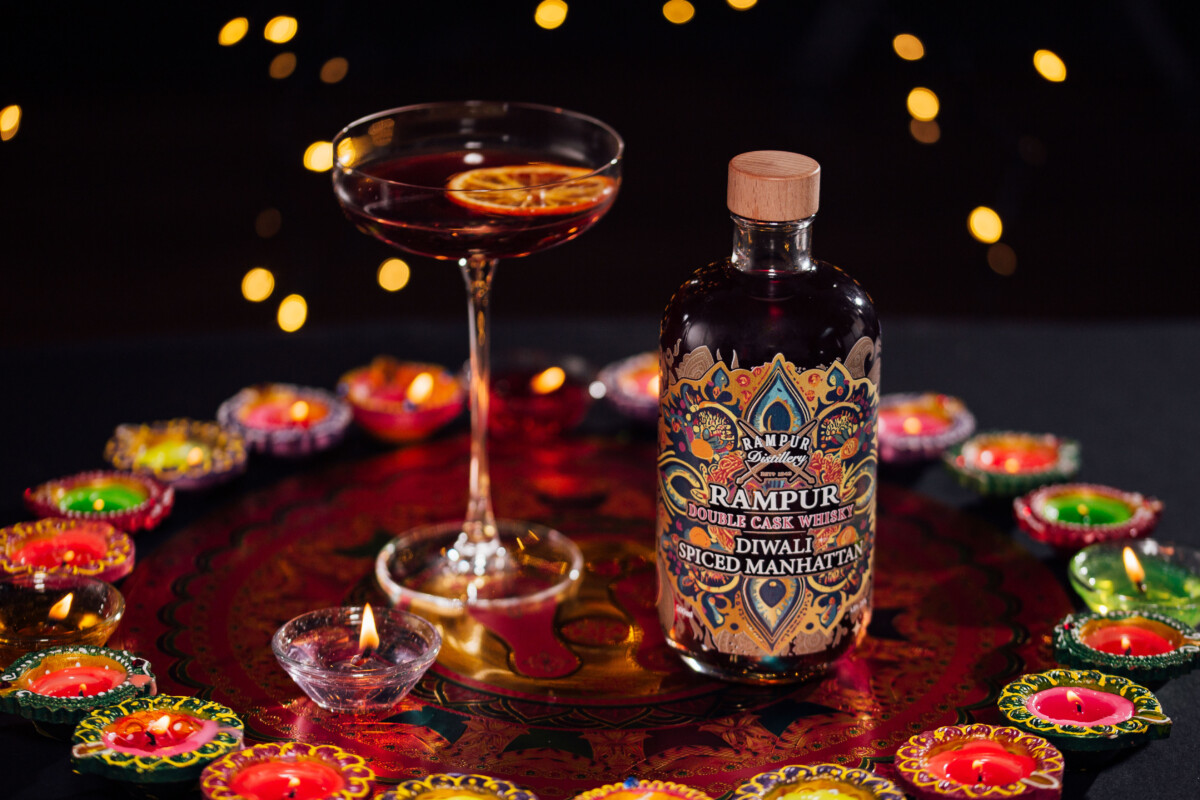 The Rampur Double Cask Diwali Spiced Manhattan Bottled Cocktail is £24.99 for a 50cl bottle available from DrinkSupermarket.com
Chai Guys Trio Bundle
For those who seek an exceptional chai experience this Diwali, Chai Guys presents the Trio Bundle – a collection of handcrafted chai blends that redefine the art of tea-making. Designed to transport you to the vibrant streets of India, each blend is a celebration of rich tradition and contemporary craftsmanship making them the perfect accompaniment to traditional Indian sweets enjoyed during the Diwali festivities. The Trio Bundle includes the timeless elegance of Masala Chai, the bold and indulgent Kadak Chai and the limited edition Kesar Chai.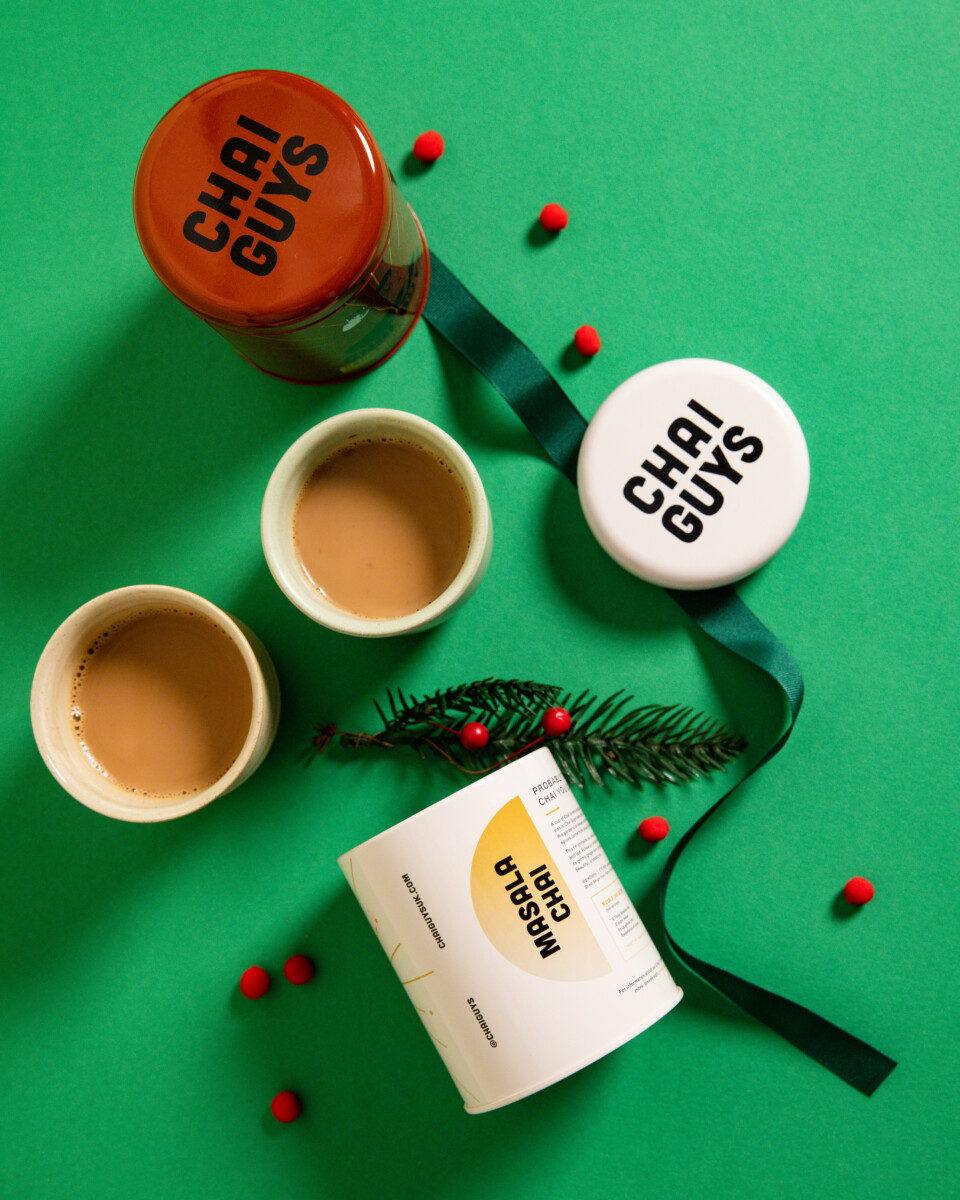 The Masala Chai in this bundle represents the timeless elegance of this classic blend. It is a harmonious fusion of fragrant spices and high-quality tea leaves. With just the right balance of each element, it offers a captivating journey for your taste buds. Follow our simple recipe to craft the classic Masala Chai, complete with its gentle ginger warmth, or steep our blend in hot water for a beautiful, aromatic tea that's as inviting as it is comforting.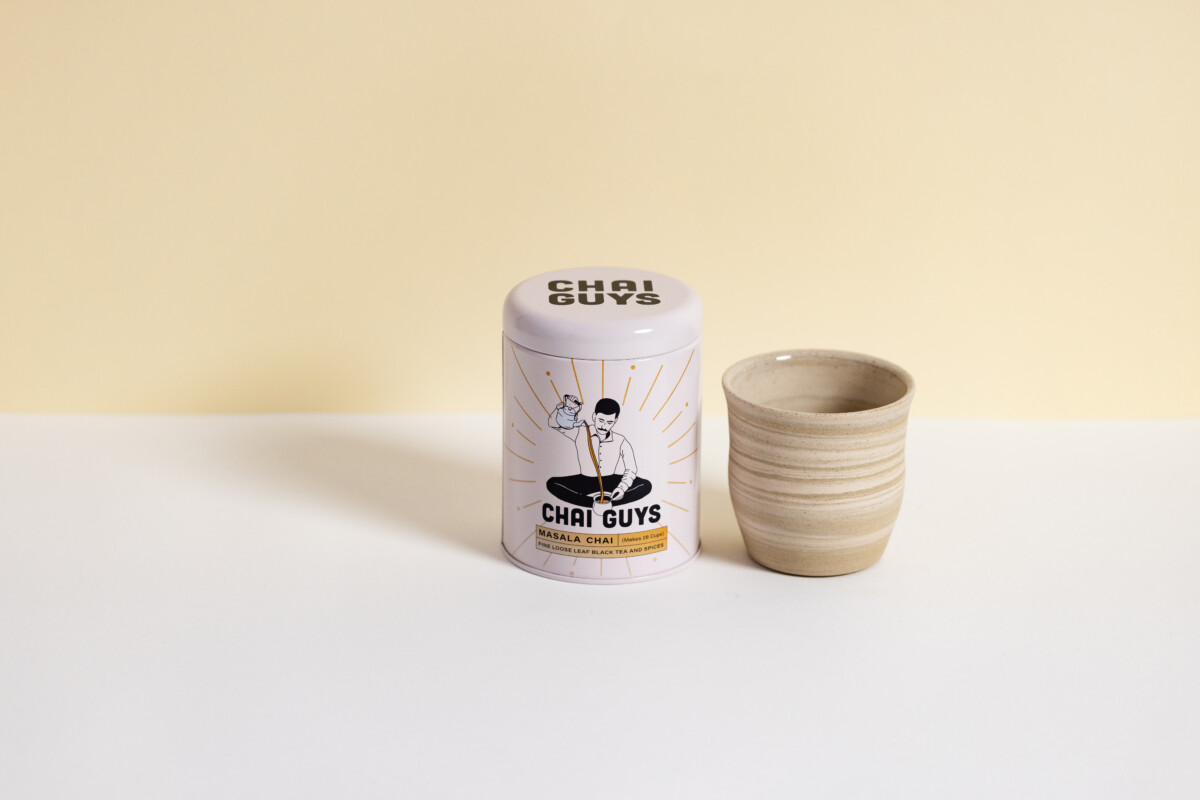 The Kadak Chai in the Trio Bundle takes chai to new heights. This blend combines a robust black tea base with a subtle medley of spices. The result is a bold and indulgent brew that embodies the spirit of robust Indian chai. Follow our straightforward recipe to create a creamy, indulgent Kadak Chai that's perfect for those who like their tea strong and full-bodied. Alternatively, steep our blend in hot water for an aromatic cup that delivers a striking punch of flavour.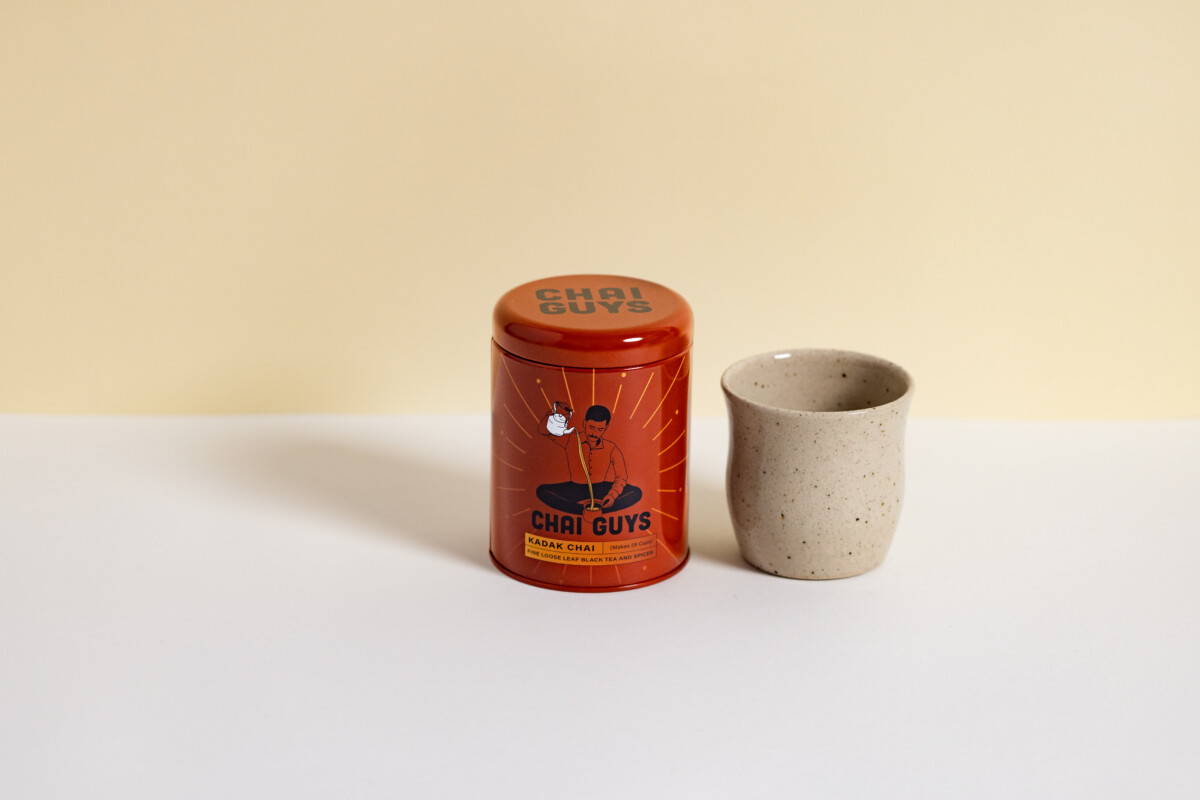 Chai Guys presents the crown jewel of this bundle with the limited edition Kesar Chai. Inspired by the Chaiwallas of Kolkata, this blend is an exploration of bold and exotic flavours. A strong black tea base is carefully infused with the opulence of saffron and the delicate essence of rose, creating an earthy yet sweet floral flavour that's truly unique. This blend encapsulates the essence of India's diverse chai culture and provides an enchanting experience for the most discerning tea enthusiasts.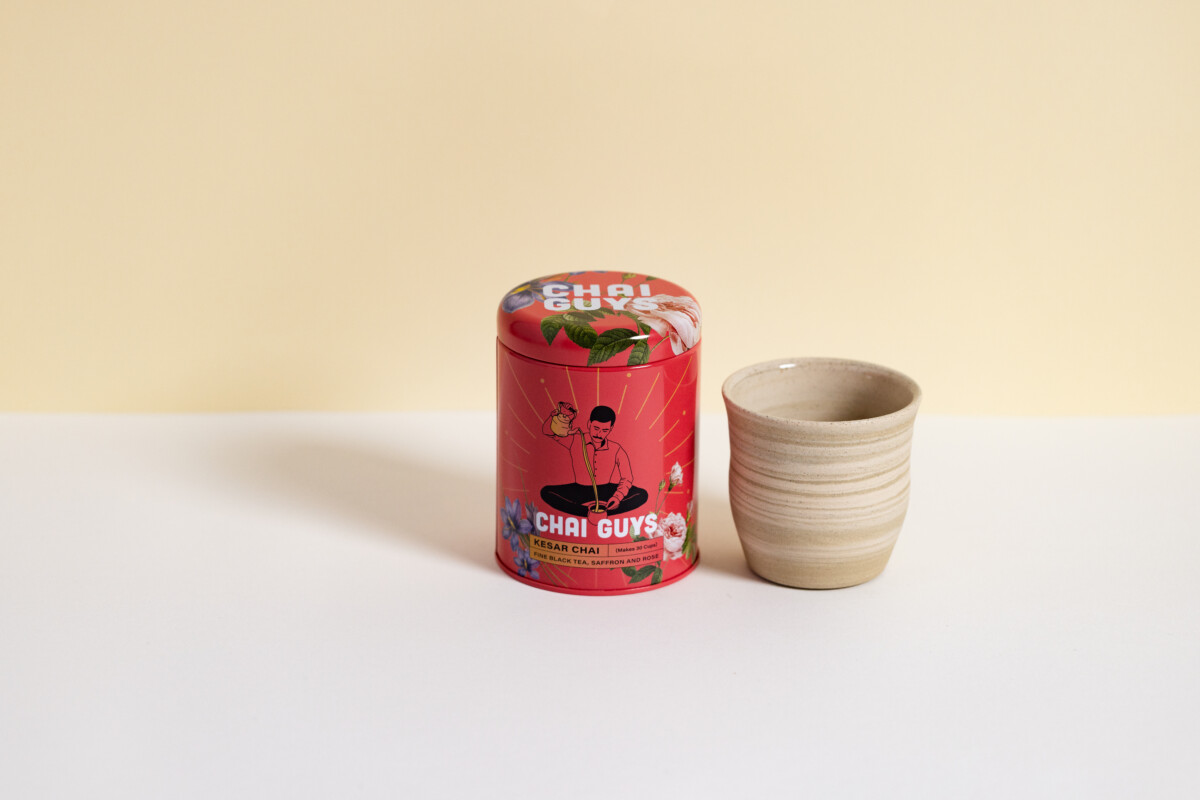 The Chai Guys Trio Bundle is not just a collection of tea blends; it's a journey through the heart of India's chai tradition. Whether you're a seasoned chai lover or new to the world of authentic Indian tea, this bundle offers a range of possibilities. Each blend is thoughtfully crafted to elevate your chai experience and take you on a sensory tea adventure like no other that transcends borders and time. Embrace the art of chai-making with Chai Guys and experience the true essence of India's tea culture this Diwali.
The Trio Bundle is £59 from chaiguys.shop
Prodigy Limited Edition Diwali Gifting Tin
As a brand founded by two British Indians, the Festival of Light is a special event for Prodigy Snacks. The B Corp chocolate brand has unveiled a Limited Edition Diwali Gifting Tin, with a selection of festive, plant-based, nutritious treats, which are the perfect gift for chocolate lovers to celebrate Diwali.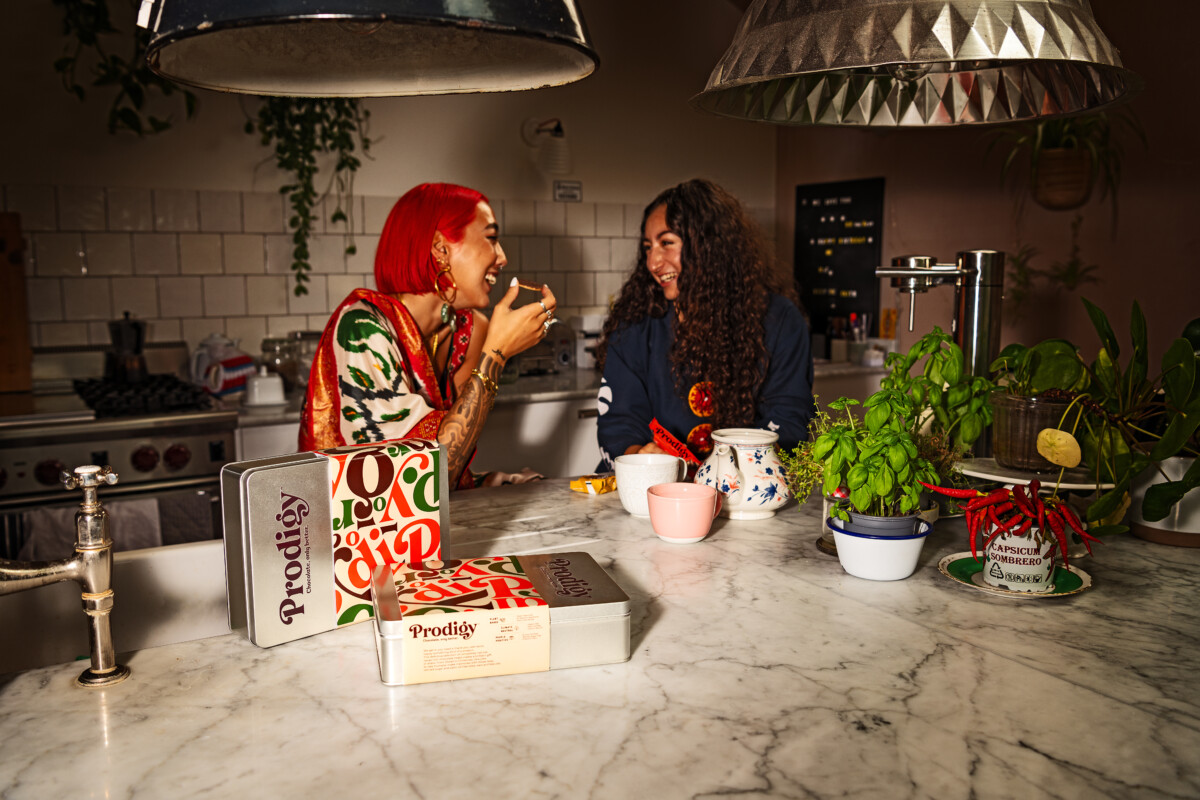 The Diwali Gifting Tin features a range of Prodigy delights, including nine naturally delicious plant-based chocolate bars (45g each), in flavours including Salted Caramel, Creamy Coconut, Dark & Sea Salt, Orange & Baobab, Roasted Hazelnut, Creamy Smooth and Peanut & Caramel, three Daydreamer pouches (120g each) and four packets of Phenomenoms Chocolate Biscuits. Each Prodigy treat is wrapped in compostable and biodegradable packaging and tins can be recycled or reused, specifically designed to care for the environment. The palm oil free, vegan and palm oil free chocolate bars contain no refined sugar or artificial sweeteners, and are low in natural sugar, with an average of just 7g per serving.
The Prodigy Limited Edition Diwali Gifting Tin is £34.99 from prodigysnacks.com
Crosstown Diwali-Inspired Almond & Rose Doughnut
In celebration of the vibrant and culturally rich festival of Diwali, Crosstown has artfully crafted a special treat that beautifully blends traditional flavours with their renowned sourdough doughnuts. While traditional Diwali sweets are deeply rooted in Indian culinary heritage, Crosstown's Diwali-inspired Almond & Rose Doughnut offers a contemporary twist providing a fresh and unique way to enjoy the festive flavours of Diwali.
The custard filling of this delectable egg-free doughnut is a harmonious blend of condensed milk, velvety almond butter from Pip & Nut, and fragrant rose custard, all lovingly encased within Crosstown's renowned sourdough dough. What makes this doughnut truly exceptional is the custard's carefully balanced composition. The sweetness of the condensed milk, the creaminess of almond butter, and the floral notes of rose water come together in a delightful symphony of flavours.
To elevate this culinary masterpiece, it's adorned with a crunchy almond butter and rose glaze, adding an enticing textural contrast and a more pronounced almond and rose essence. The finishing touch is a vanilla and rose crunch crumble that imparts a subtle yet delightful crunch, further enriching the overall experience.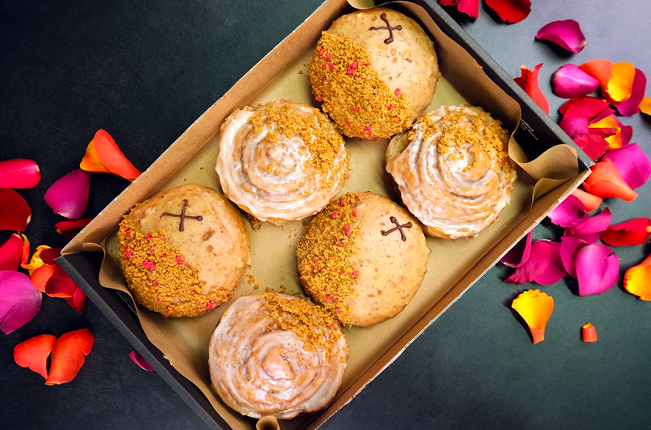 But that's not all – Crosstown has gone a step further by curating a sharing doughnut box to celebrate Diwali. The box features a perfect combination of both traditional and contemporary flavours as alongside the new Almond & Rose doughnuts, you'll also find the ever-popular Cinnamon Scroll.
The Cinnamon Scroll offers a taste of nostalgia, with Crosstown's signature sourdough rolled with Sri Lankan cinnamon, topped with their Tongan vanilla bean glaze, and finished with a sprinkling of homemade vanilla bean crumble. It's a delightful blend of comforting warmth and exquisite sweetness that embodies the spirit of harmony & togetherness during Diwali celebrations.
This delightful Diwali Doughnut Selection is available in both six and twelve-pack options and can be delivered right to your doorstep across England, Wales, and lowland Scotland. Whether you're celebrating Diwali or simply looking to treat yourself to a touch of gourmet decadence, Crosstown's Almond & Rose Doughnut is an invitation to celebrate Diwali through the joy of sharing these delectable delights with your family and friends.
To find out more and place an order, please visit www.crosstown.co.uk/doughnuts/diwali
Creams Cafe Pistachio Kulfi Sundae
Creams Cafe has just the treat to make Diwali even more delightful and filled with sweetness. Until 12th November, you can enjoy their limited-edition Pistachio Kulfi Sundae at selected Creams Cafe locations across the UK. This special sweet creation is the perfect treat to enjoy during Diwali.
Inspired by the rich tradition of Indian kulfi ice cream, this sundae features scoops of handmade pistachio gelato gently infused with cardamom powder. It's then crowned with generous swirls of vanilla soft serve and drizzled with velvety white chocolate sauce. For that added touch of decadence and crunch, you'll find white chocolate blossoms and chopped nuts artfully arranged on top. As a final flourish, delicate edible rose petals garnish this unique dessert.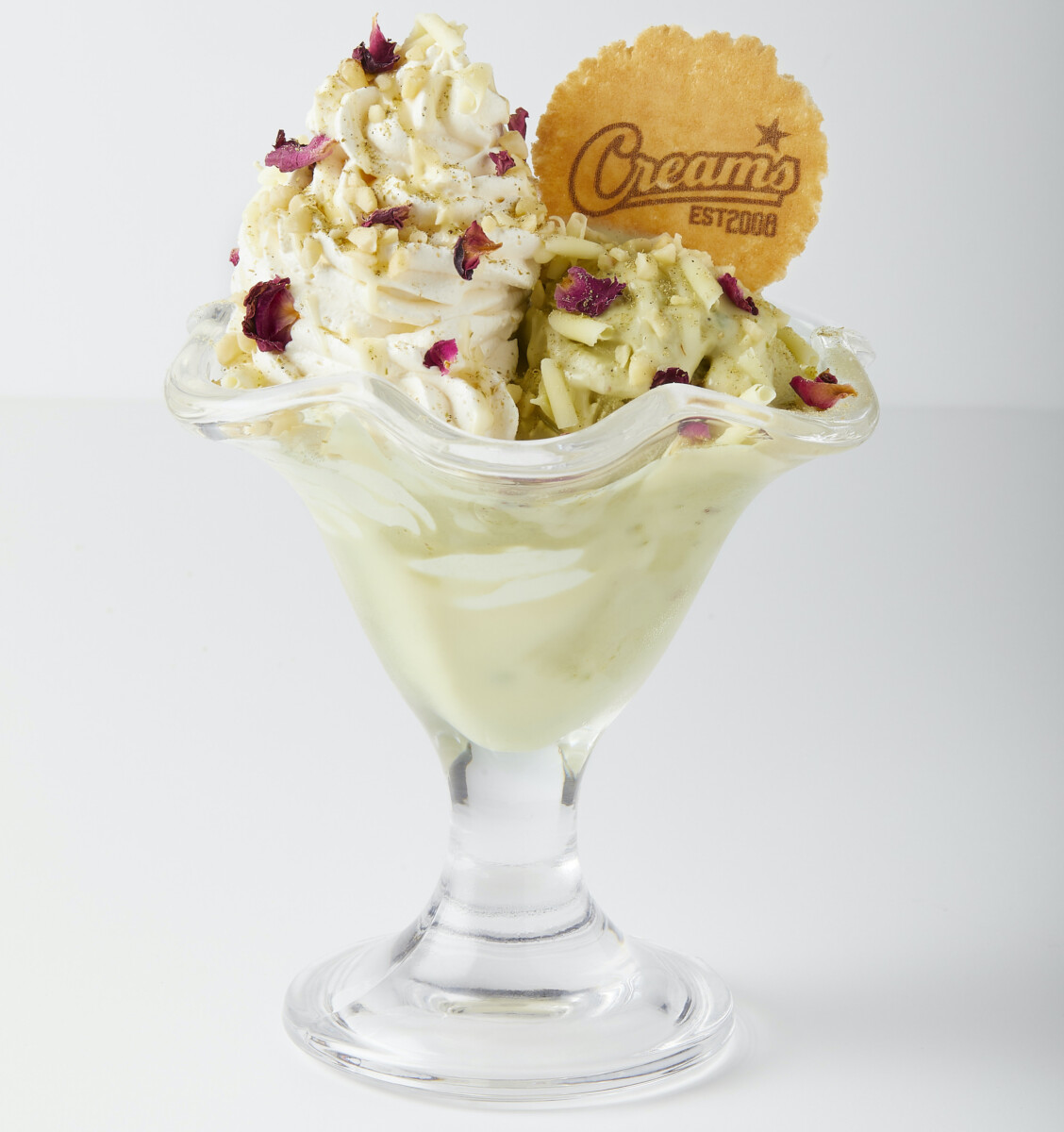 The Pistachio Kulfi Sundae is available for dine-in, takeaway, or delivery via Just Eat, Uber Eats, or Deliveroo at select Creams Cafe locations. It's a perfect way to sweeten your Diwali festivities, allowing family and friends to come together and enjoy this ultimate Diwali dessert.
Although sadly not available in all Creams Cafes across the country, if there is a selected location near you, we highly recommend you try this limited-edition Pistachio Kulfi Sundae before it disappear from the menu after Diwali. It's a delightful way to embrace the spirit of the Festival of Lights through the joy of sharing food with those you love and the embracing the indulgent pleasure of a delectable sweet treat during the Diwali celebrations.
The limited-edition Pistachio Kulfi Sundae is £9.95 and is available from Creams Cafes in Bedford, Bexleyheath, Blackburn, Blackpool, Bluewater, Brixton, Bromley, Camberley, Cambridge, Canterbury, Chatham, Cheetham Hill, Coventry, Crawley, Croydon, Doncaster, Eastbourne, Edgware, Epsom, Gants Hill, Gravesend, Harlow, Hereford, Hounslow, Kilburn, Leamington Spa, Luton, Manchester Arndale, Marble Arch, Middlesbrough, Morden, New Haw, Nottingham, Orpington, Rickmansworth, Romford, Sheffield, Slough, Staines, Streatham, Uxbridge, Wood Green and Woolwich.
Usborne Diwali Magic Painting Book
It's great to get the kids involved with preparations for Diwali as all the family come together to celebrate the Festival of Lights. But when you want the children to enjoy some calming quiet time during this busy time, here's a great mess-free way to keep them occupied from one of our favourite children's book publishers, Usborne. The Diwali Magic Painting Book is filled with images showing different aspects of the Diwali festival of lights, from families enjoying sparklers and gifts to scenes of Diwali sweets and temple offerings, rangoli patterns and diya lamps.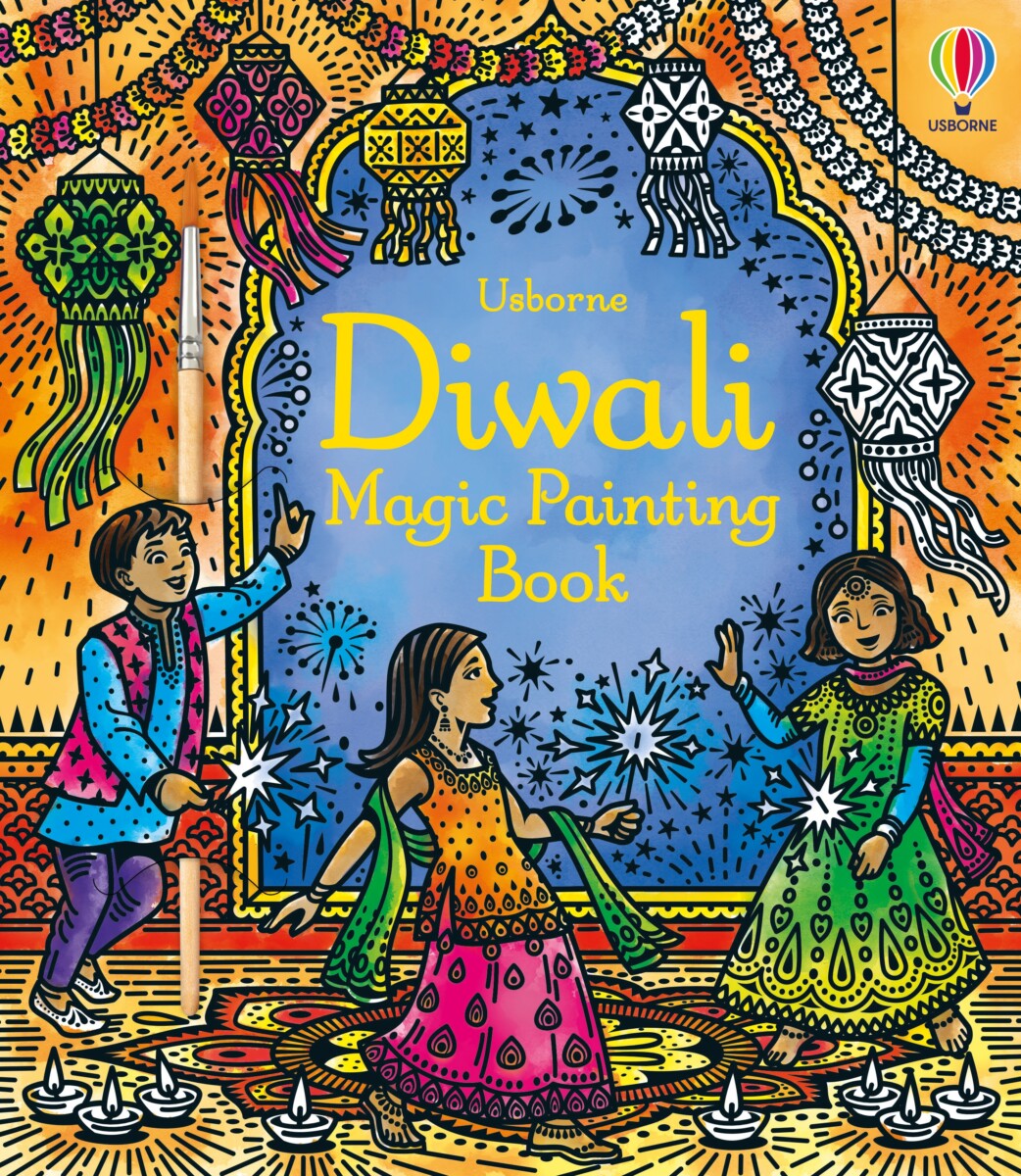 You'll love the fact that the kids simply need to use the quality wood-handled paintbrush included with the book and a little water to bring the joyful images of Diwali celebrations magically to life by brushing water over the black and white designs to reveal an uplifting array of vivid colours. Usborne have thoughtfully included a waterproof back flap which can be tucked under each page as it's painted, to stop water from seeping through to the rest of the book.
£6.99 published by Usborne