Half a century has passed since Browns Brasserie & Bar first welcomed guests through its doors in the charming seaside town of Brighton. Today, the timeless appeal of Browns' classic seasonal food and signature cocktails can be savoured in locations across the country, each offering a quintessentially British experience steeped in heritage.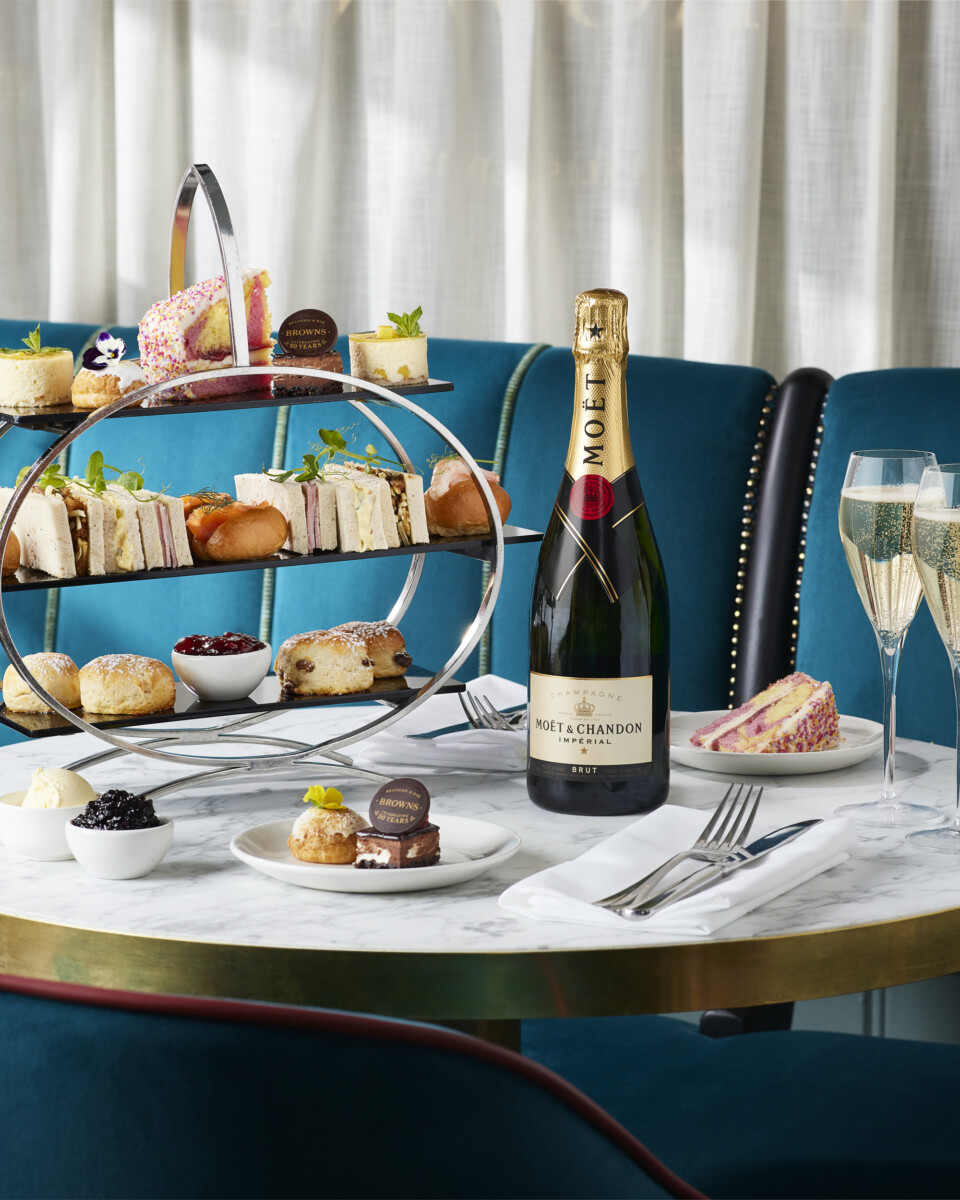 Celebrating its enviable status as an iconic British establishment on the UK restaurant scene, Browns is commemorating its remarkable 50th anniversary with a delectable celebration – the Browns 50th Anniversary Afternoon Tea. Since the opening of their first restaurant & bar in Brighton half a century ago, Browns has become synonymous with quintessential British charm and culinary excellence. This special occasion is marked by an array of tantalising savouries, irresistible mini cakes and puddings, and delightful scones, accompanied by slices of their special birthday cake adorned with sprinkles in a delightful raspberry marble design. Notably, Browns is also proud to offer a bespoke Gluten Free Afternoon Tea, accredited by Coeliac UK, catering to guests with those dietary requirements.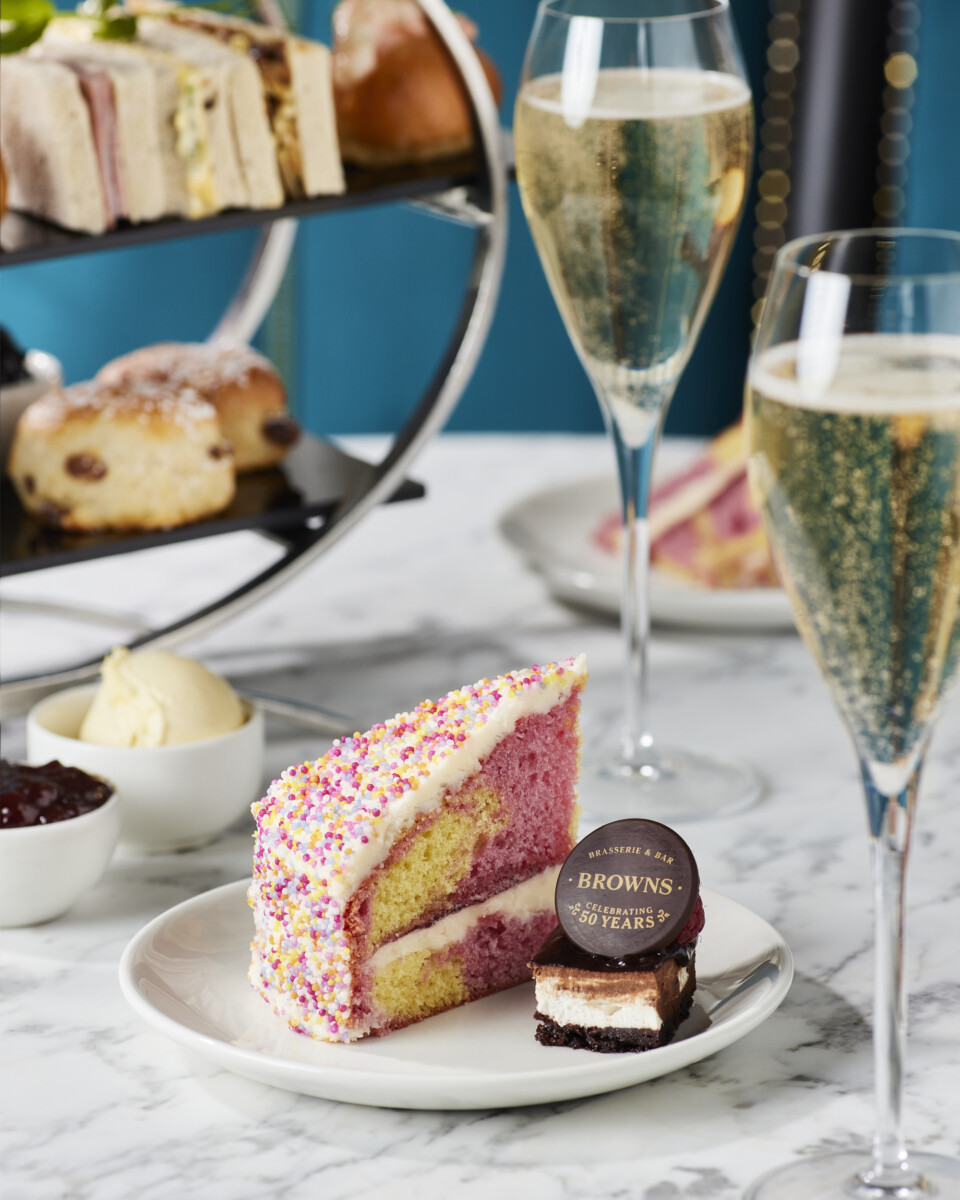 Whether shared with friends or family, indulging in the Browns 50th Anniversary Afternoon Tea is an experience enhanced by the opportunity to pair the delectable treats with your choice from a selection of Good Earth teas, each a planet-conscious tribute to natural teas. Alternatively, guests can push the boat out and opt for a chilled glass of Champagne, or one of two fabulously nostalgic 50th Anniversary cocktails, artfully crafted exclusively for this momentous occasion by Browns mixologists.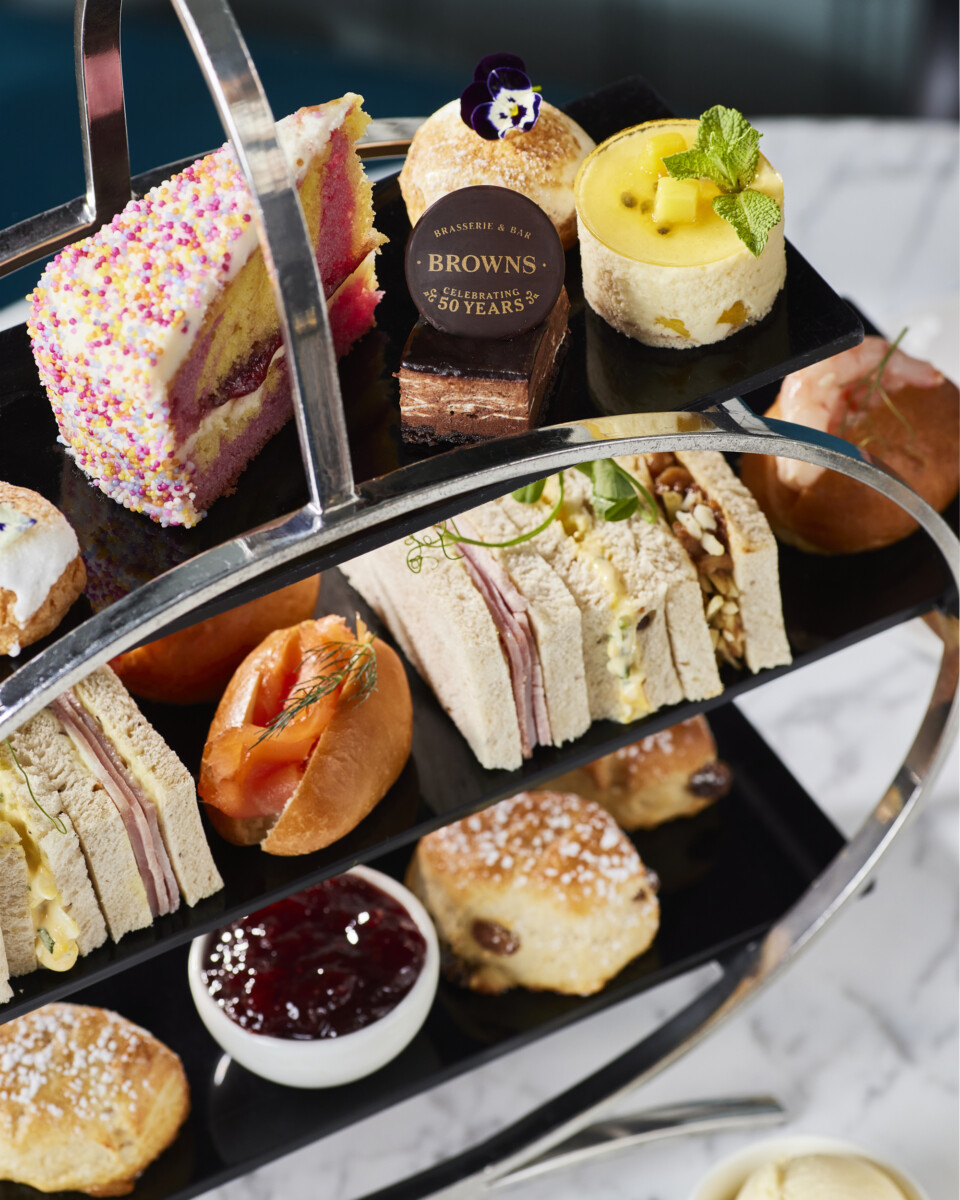 Savouries: Exquisite Delights to Whet the Appetite
The savoury selection for the special Browns 50th Anniversary Afternoon Tea comprises a variety of meticulously prepared delights. Dainty sandwiches, served on sesame multi-grain bread, feature fillings that will tantalise your taste buds: from the classic combination of Ham & Dijon Mustard to the delightful pairing of Cheddar & Bramley Apple Chutney. Another standout is the Heritage Hen Egg Mayo, a true testament to traditional British flavours. Additionally, mini brioche rolls offer a touch of elegance with options such as Smoked Salmon & Cream Cheese, or the refreshing blend of Prawn & Baby Gem Lettuce.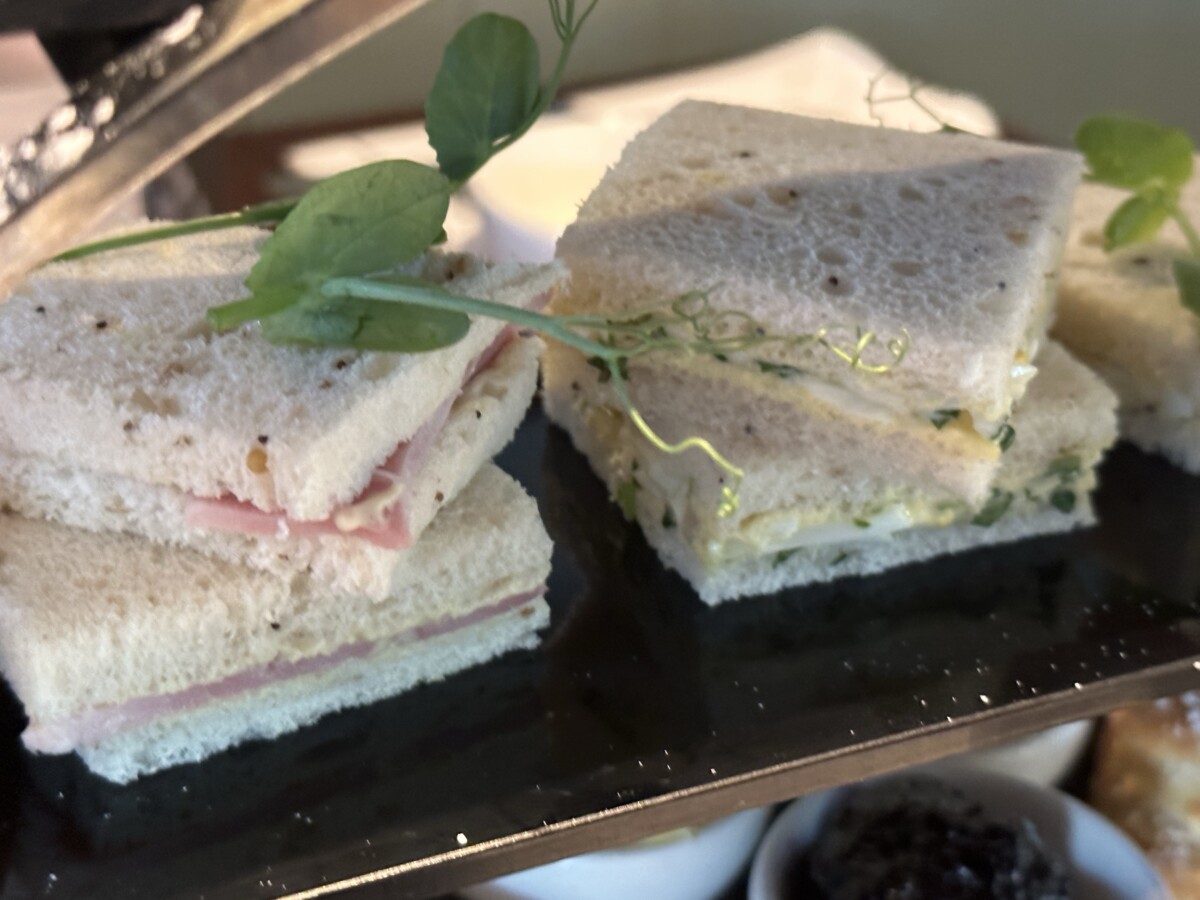 Warm Scones: Quintessentially British Fare
No Afternoon Tea is complete without warm, freshly baked scones. As an quintessential part of Browns 50th Anniversary Afternoon Tea, the Warm Scones are presented in a delightful duo of both plain and fruit scones. Served with a generous dollop of clotted cream, along with not one but two seasonal jams of blackcurrant and strawberry, these mini scones will transport you to a realm of pure indulgence.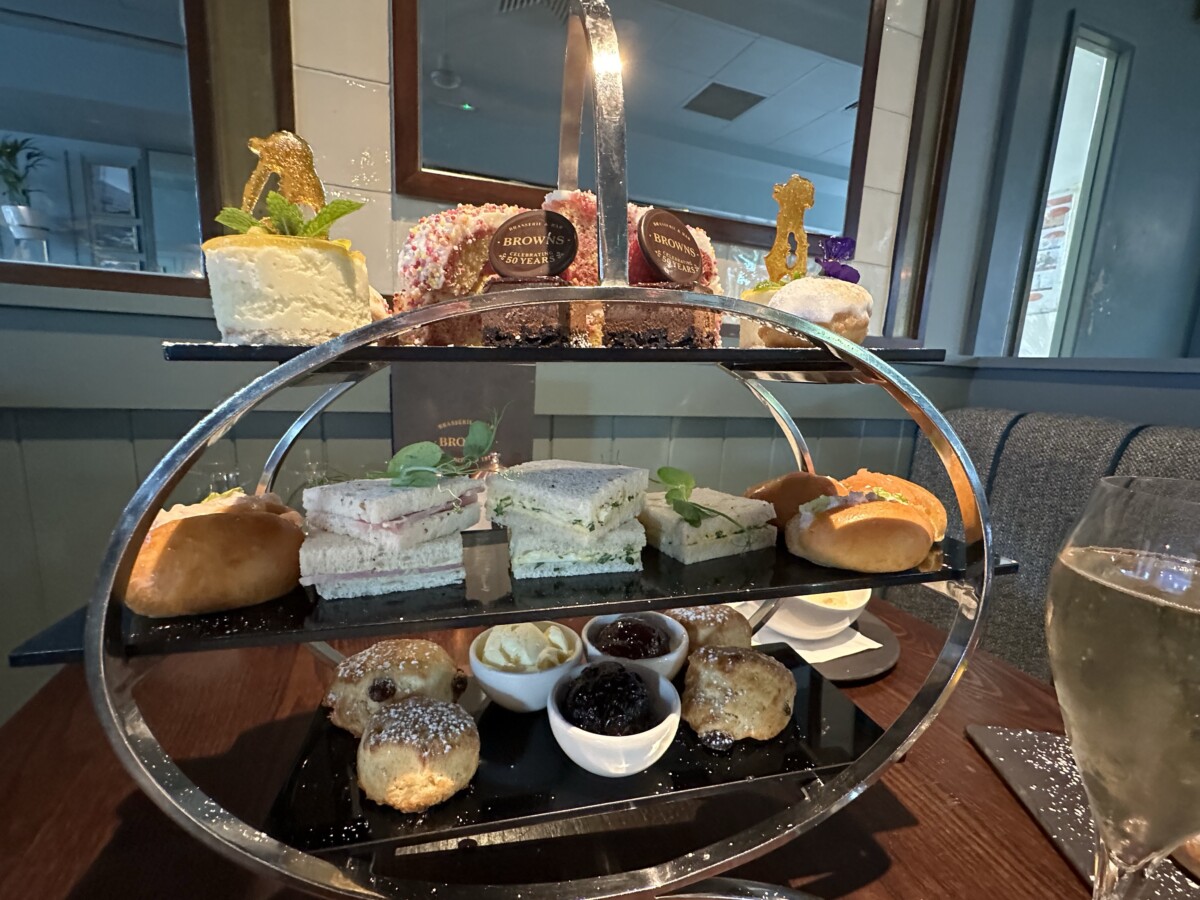 Mini Cakes & Puddings: Indulgent Sweet Treats
Prepare to be enchanted by the artistry and taste of the mini cakes and puddings that grace the Browns 50th Anniversary Afternoon Tea. The Raspberry Marble Birthday Cake is a homemade showstopper, blending flavours of vanilla and raspberry harmoniously and adorned with celebratory sprinkles.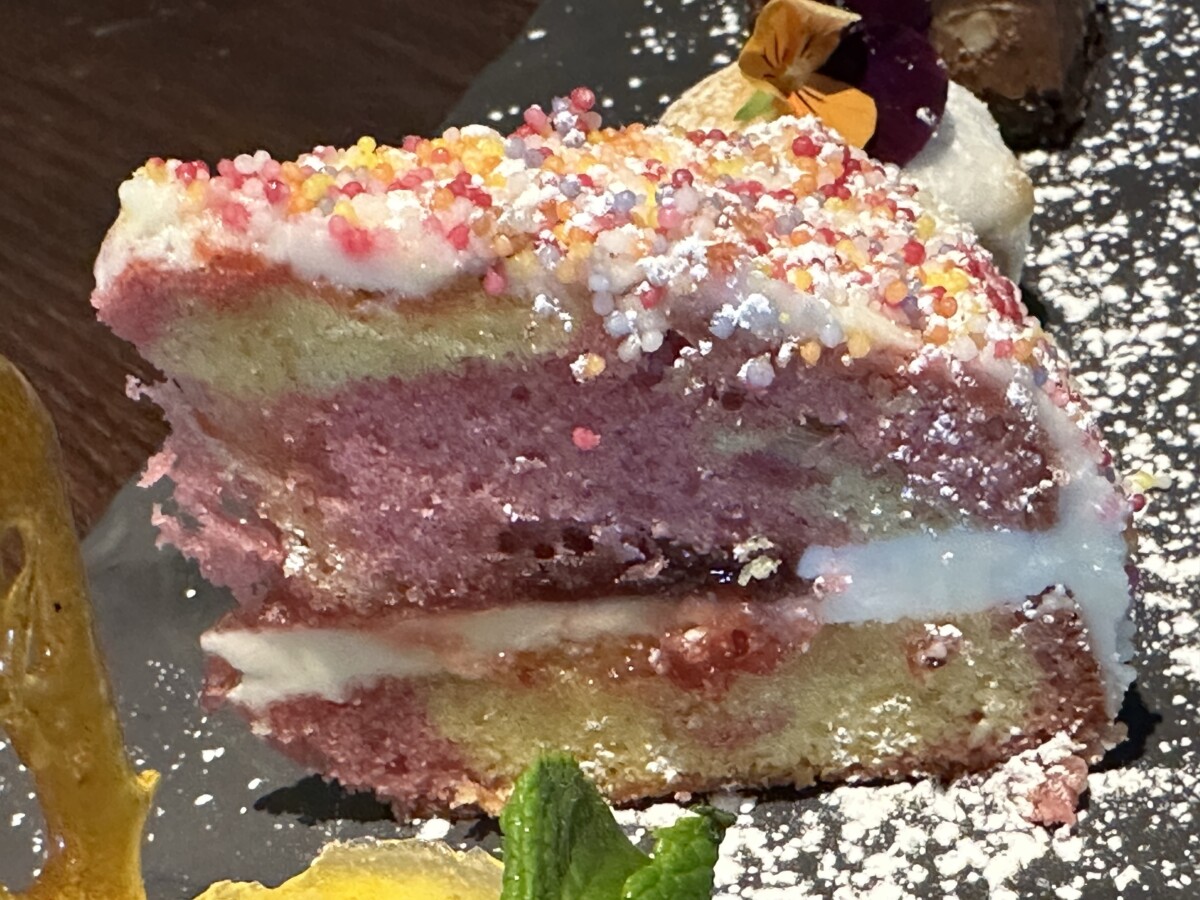 The Mango & Passion Fruit Torte offers a tropical escape, artfully embellished with sugarcraft…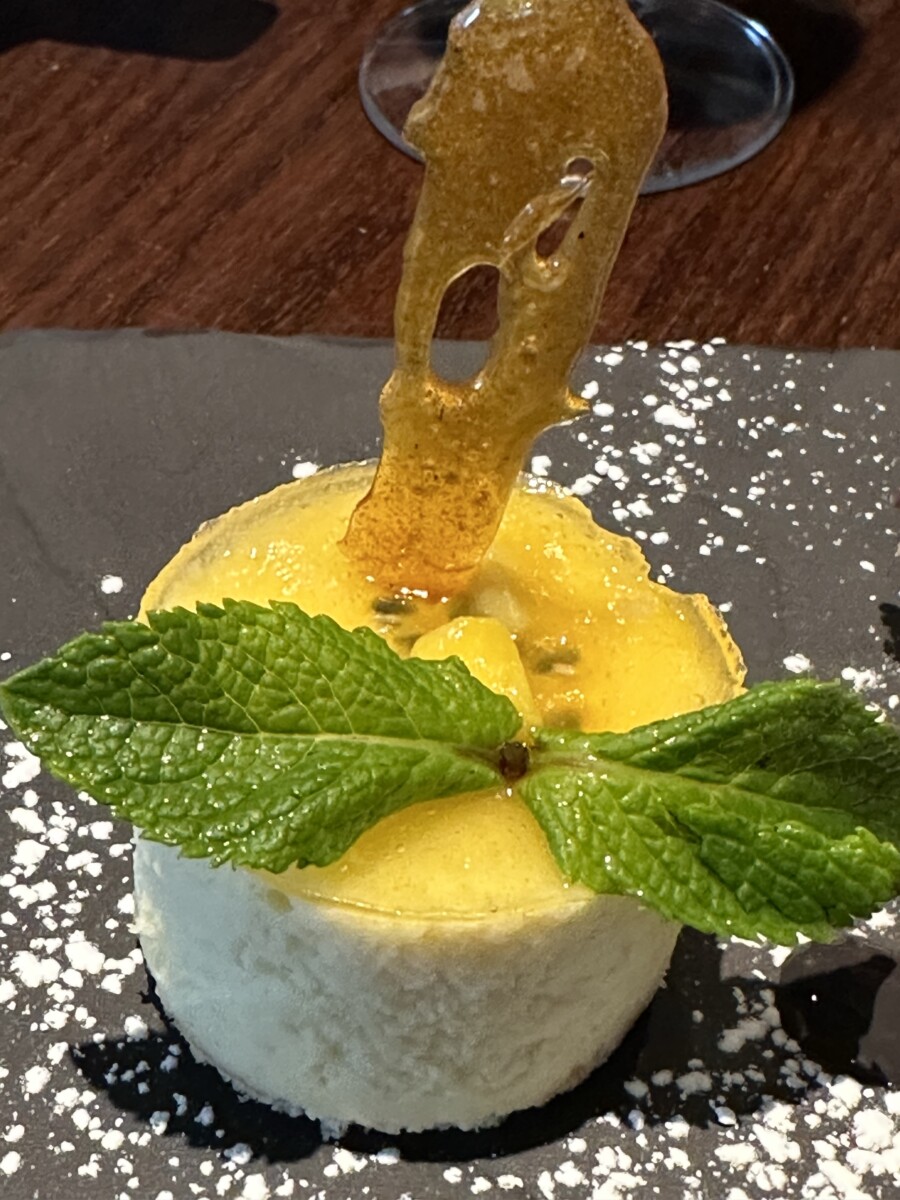 … while the Chocolate Delice, embellished with a special 50th Anniversary chocolate and a fresh raspberry, will satisfy even the most discerning chocolate lover.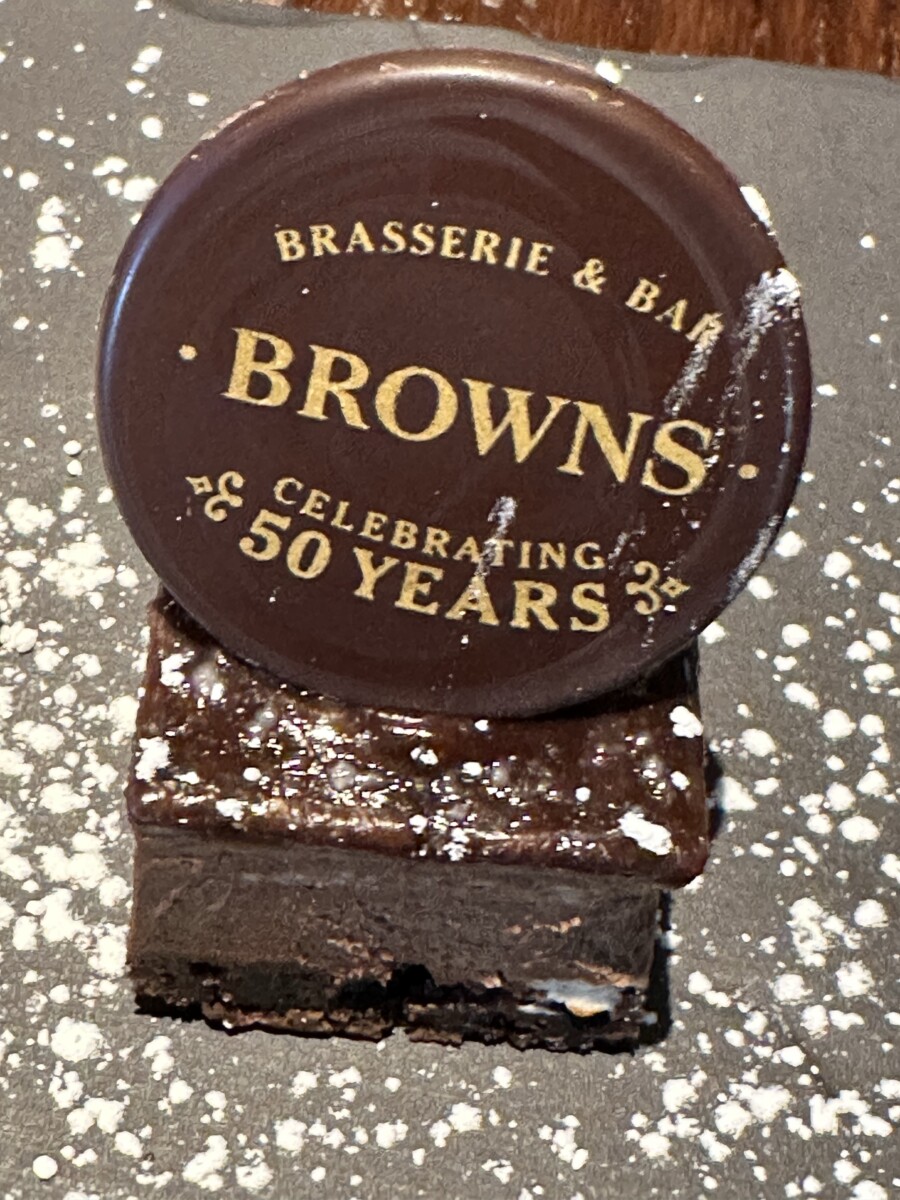 Lastly, the Lemon Posset Profiterole, adorned with soft icing and delicate edible flowers, adds a touch of elegance and tangy zest to the experience.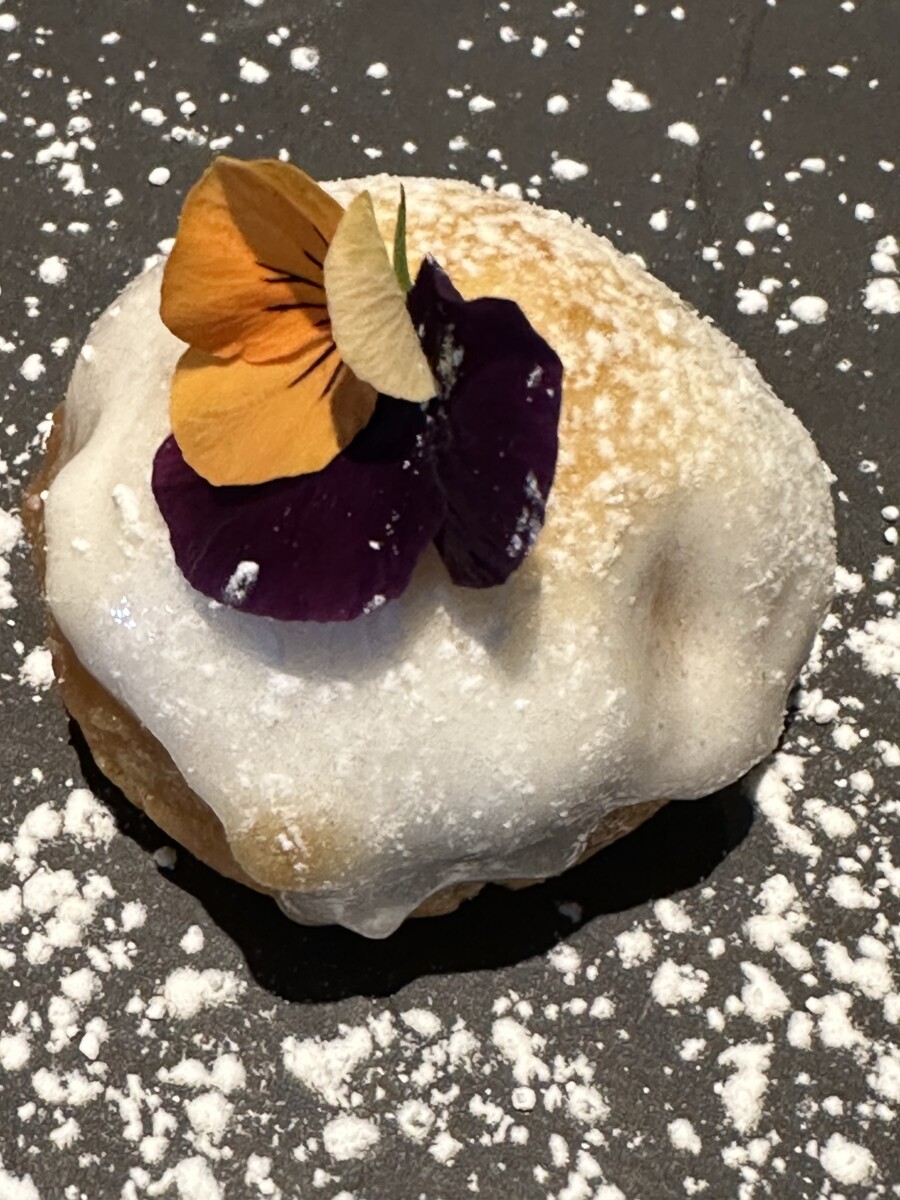 Good Earth Tea: A Symphony of Natural Flavours
Good Earth Tea, known for its planet-conscious approach and dedication to natural ingredients, presents an enticing array of flavours to accompany your Afternoon Tea. From the classic English Breakfast and the sophisticated Earl Grey to the delightful combinations of Elderflower & Pear and Passion Fruit & Orange, each sip is a moment of pure bliss. For those seeking a health kick, Green Tea and Ginger, Turmeric & Lemon offer refreshing alternatives. The Rooibos Chai, with its aromatic spices, rounds off the selection, appealing to those with a taste for something unique.
Every element of the Afternoon Tea, from the delightful savouries to the exquisite cakes and the wide range of teas, is thoughtfully listed with their corresponding calorie counts on the menu. This attention to detail ensures that even those watching their waistlines can indulge in these little luxuries without too much guilt.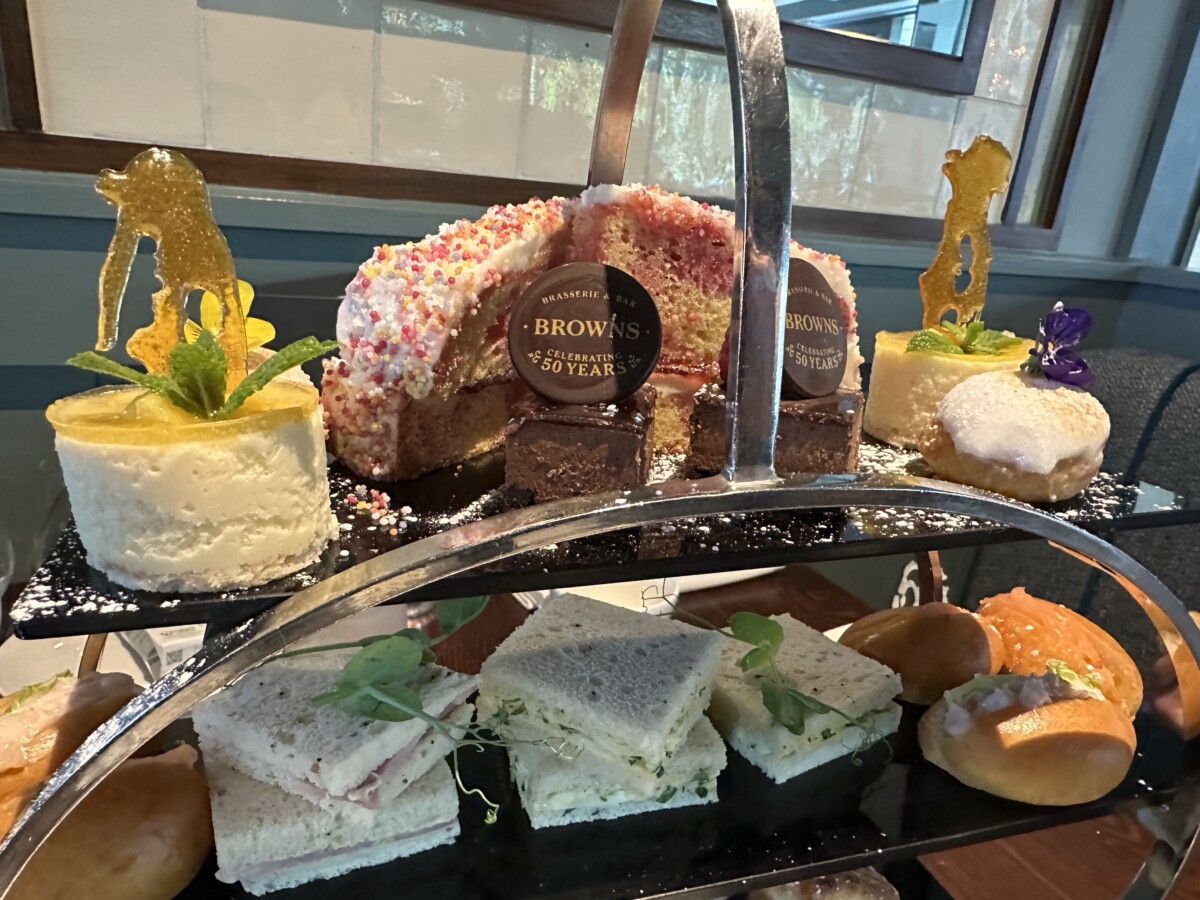 Browns 50th Anniversary Afternoon Tea: Indulgence Worth Every Penny
Priced at £22 per person, Browns 50th Anniversary Afternoon Tea offers exceptional value for the experience it provides. For those seeking an elevated experience, an upgrade to a glass of Moët & Chandon Impérial Champagne or one of two bespoke 50th Anniversary cocktails is available for £32 per person. The Lady Cherry Blossom cocktail, skillfully crafted with Bombay Sapphire Gin, apple juice, apricot, cherry blossom syrup, lemon, and bitters, offers a refreshing twist. Alternatively, the Pineapple Upside Down Cake Highball, made with Chase Vodka, Chambord Raspberry Liqueur, pineapple juice, vanilla, and maraschino cherry, presents a delightful blend of flavours.
Indulge in Browns 50th Anniversary Afternoon Tea and celebrate this milestone in British culinary heritage with style and delectation. To embark on this gastronomic journey, simply visit www.browns-restaurants.co.uk to find your nearest Browns location.