As the vibrant leaves begin to paint the trees with hues of red and gold, and a crisp chill graces the evening air, it's undeniable that autumn is upon us. With the changing of seasons, our palates too yearn for something new and exciting to savour. In the spirit of embracing the autumn, we've collaborated with Tracklements to bring you a trio of delectable recipes that will surely elevate your autumn dining experience. From Mark Hix's  enticingly juicy Meatball Sub generously dressed with Tracklements Sweet Mustard Ketchup, to the indulgent and family-friendly Ham and Cauliflower Cheese, featuring a robust Wholegrain Mustard glaze, and finally, a creamy Pea & Mint Risotto, brought to life with the zingy notes of Tracklements Traditional Mint Sauce, our culinary journey promises a symphony of flavours. So, put on your apron, sharpen your knives, and let's embark on a culinary adventure that celebrates the essence of autumn with every delicious bite.
Meatball Sub with Tracklements Sweet Mustard Ketchup
This is a cracker of a recipe from renowned chef, Mark Hix. These juicy, moreish, meatballs are packed full of flavour.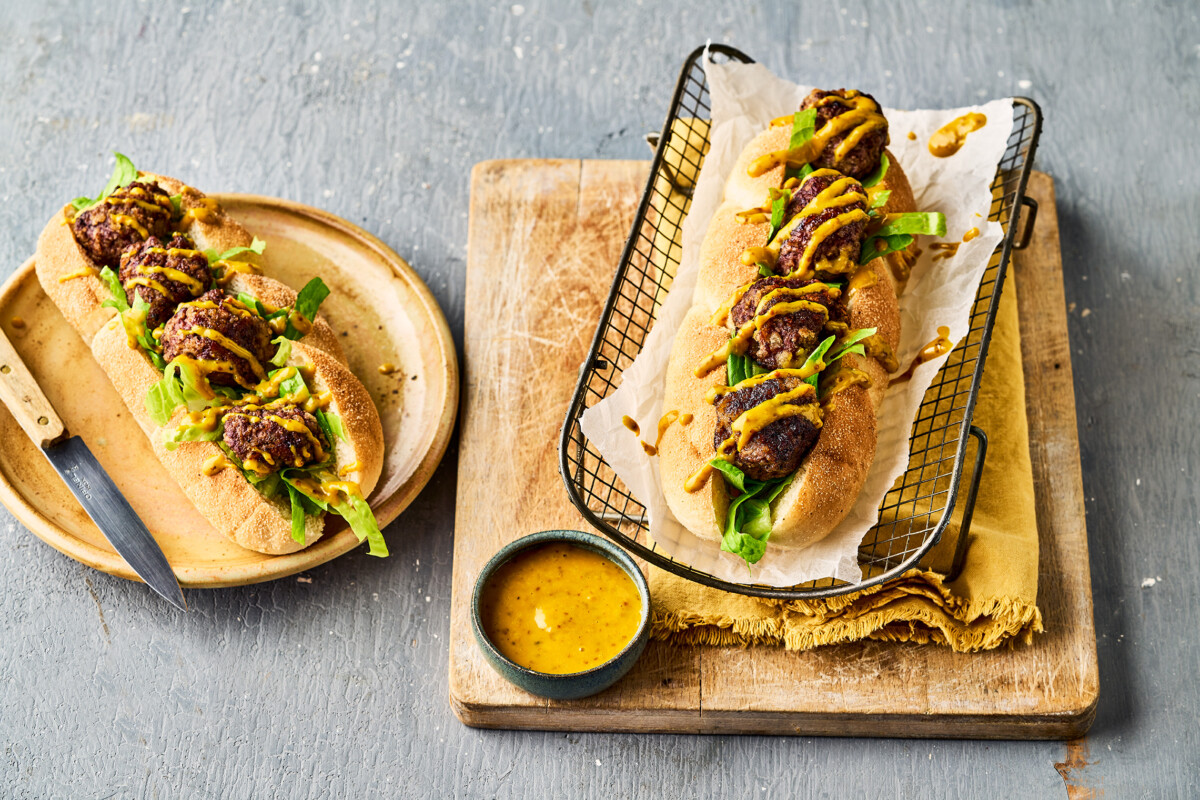 Serves: 4
Prep and cook time: 15 – 20 mins
Ingredients
For the rolls:
4 hot dog torpedo rolls
2-3 leaves, shredded cos lettuce
Tracklements Sweet Mustard Ketchup
For the meatballs:
300g beef mince
50g fresh white breadcrumbs
1 tsp ground cumin
Salt and freshly ground black pepper
Vegetable oil
Method:
Pre-heat the oven to 160°C/gas mark 3
Mix the mincemeat with the breadcrumbs, cumin and season. Mould into 16-20 small meatballs. Heat the oil in a frying pan and brown the meatballs evenly on a high heat then finish in the oven for 15 minutes
To serve, warm the rolls for a minute or so then cut them vertically two thirds of the way through, open them up, put some shredded lettuce in the bottom then place 4-5 meatballs on top and pour over the Sweet Mustard Ketchup
Ham and Cauliflower Cheese with Robust Wholegrain Mustard
A mustard sticky-glazed ham with rich cauliflower cheese for an indulgent centrepiece, perfect for a family gathering – and hopefully there will be some left over for a supper of ham and chutney sandwiches.  Serve with greens and crunchy roast potatoes to mop up the sauce.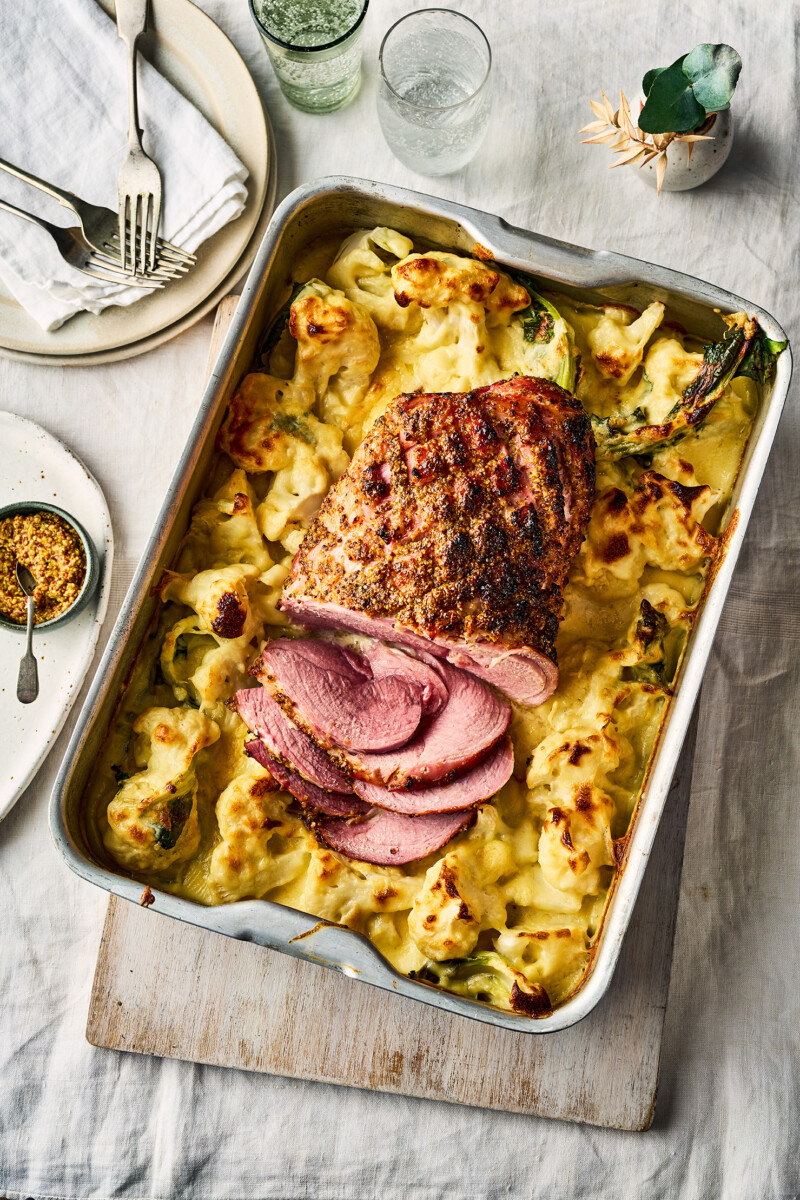 Serves: 6 – 8
Ingredients:
2kg gammon joint
2 tbsp Tracklements Robust Wholegrain Mustard
2 tbsp brown sugar
2 large cauliflowers, leaves cut off, broken into pieces
50g butter
80g plain flour
600ml milk
Pepper to taste
250g grated Cheddar cheese
Method:
Pre heat the oven to 160°C/325°F/gas mark 3
Place the gammon, skin side up, into a large pan and cover with cold water and heat until it just starts to simmer, then remove from the heat and throw away the water
Put a length of foil over a roasting tin and another piece widthways to form a cross. Place the ham skin side up in the middle and wrap the foil up to create a tent around the ham which is tightly sealed but with room for air to circulate
Bake for 1 hour and then remove from the oven and the foil and turn the oven up to 220°C/425°F/gas mark 7
While the ham is cooking mix the mustard and brown sugar into a paste
Cook the cauliflower in boiling water for 3-4 mins until just cooked then drain and allow to steam dry in the colander before spreading over a roasting tray
Next, make the cheese sauce: melt the butter in a saucepan, stir in the flour to form a roux. Slowly pour in the milk, whisking constantly to form a smooth sauce, season with a grind of pepper and taste.  Simmer for 5 mins stirring constantly and add the cheese. Loosen with a little extra milk if needed
Pour the sauce over the cauliflower in the roasting tray and sprinkle with some extra cheese if desired
Using a sharp knife, cut away the string and skin to leave a thin, even layer of fat. Use the tip of the knife to score the ham fat into a diamond pattern
Brush the mustard mixture all over the ham, pressing it into the score marks in the fat
Place the ham, fat side up in the middle of the cauliflower cheese and return to the hot oven for a further 30 mins until the ham is golden and the cheese is bubbling.  Rest for 5 mins before serving
Pea & Mint Risotto with Tracklements Traditional Mint Sauce
Italians describe a properly cooked risotto as 'all'onda' (wave-like), meaning that the risotto has an almost porridge-like consistency, but individual grains are still slightly firm with a distinct 'bite'. Rich and creamy, yet delightfully fresh, this Pea & Mint Risotto is perfect for a starter or a decent main course for two.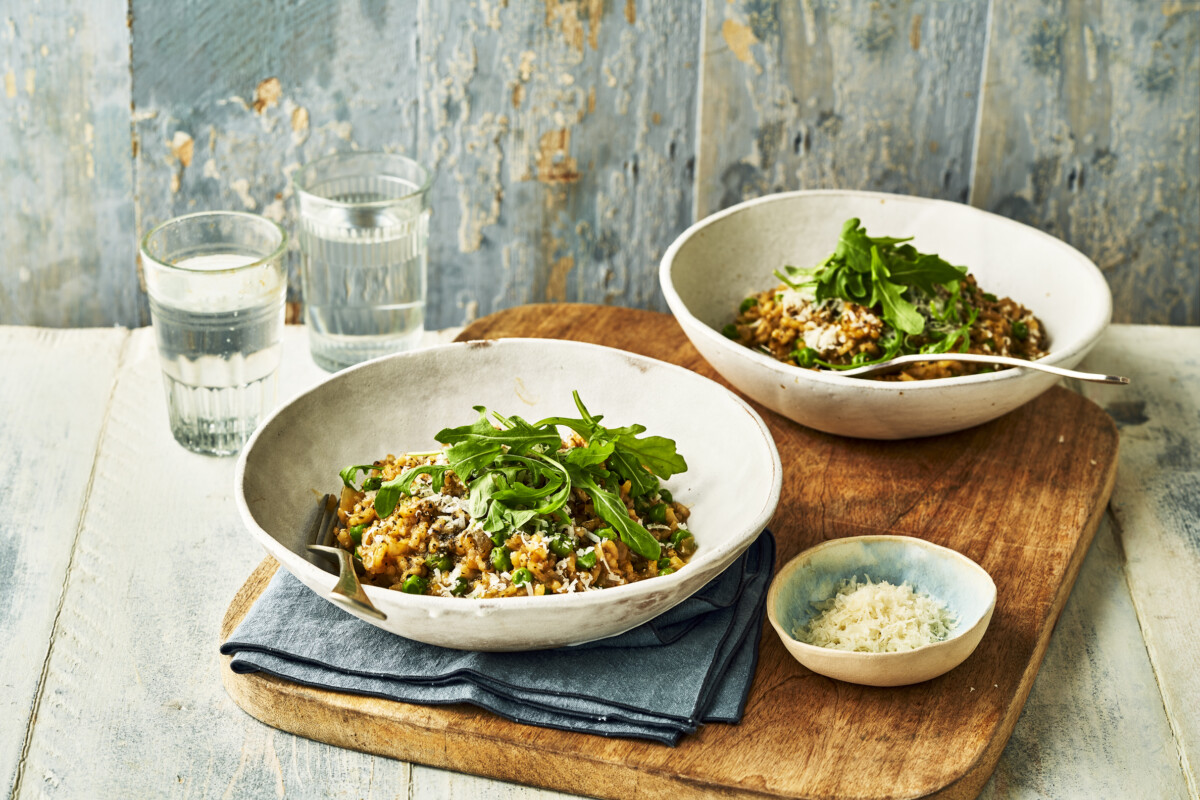 Serves: 2
Ingredients:
Large knob of butter
1 small onion, finely chopped
125g Arborio risotto rice
450ml vegetable stock
125g frozen peas
1-2 tbsp Tracklements Traditional Mint Sauce
Sea salt and black pepper
Grated Parmesan (for mixing through, and sprinkling over the risotto)
Rocket for a chef-y flourish or as a side salad
Method:
Melt the butter in a pan, add the onion and cook for 3 mins until soft
Stir the rice into the onions to coat the grains in butter and cook for a minute more
Start adding the stock a ladleful at a time, stirring often, only adding more once the liquid has been absorbed by the rice (this should take about 20 mins)
If the rice is still a little hard – just add a touch more stock.
As the rice becomes plump and tender, about 5 mins before the end of cooking, stir in the peas, Traditional Mint Sauce and the Parmesan (and an extra knob of butter if you're feeling indulgent)
Season to taste and serve with more grated parmesan and a rocket salad
Tracklements Sweet Mustard Ketchup, Tracklements Robust Wholegrain Mustard and Tracklements Traditional Mint Sauce are available online at www.tracklements.co.uk
Introducing Tracklements' Sizzling Chilli Sauce Trio
Calling all spice aficionados and flavour seekers! Tracklements is about to set the palates of foodies a-sizzling with their scorching new Chilli Sauces. Whether you're a fan of fiery feasts or simply looking to zhush up your everyday dishes, these sauces are the secret ingredient you've been craving. Let's take a closer look at what makes each one a flavour-packed sensation.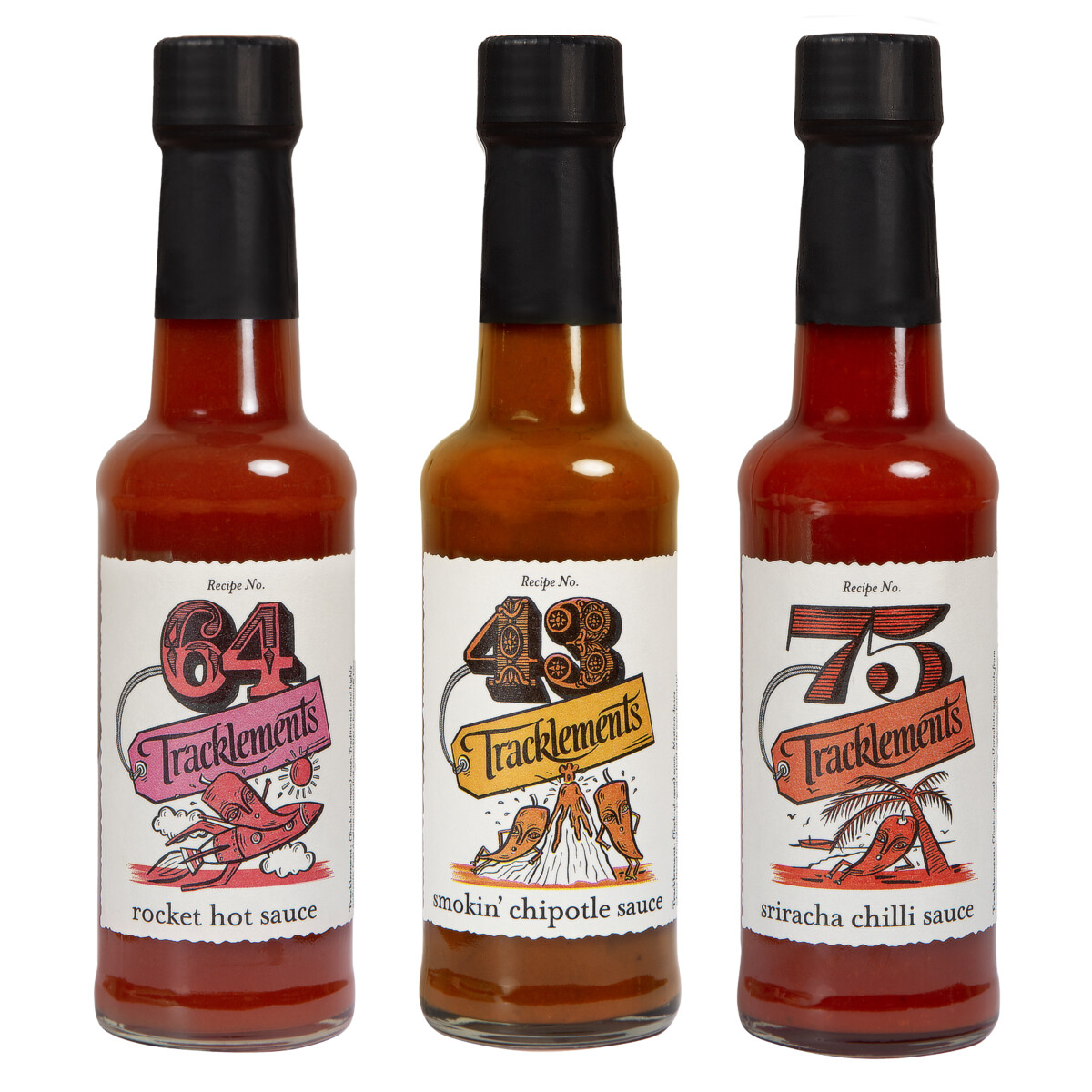 Tracklements Rocket Hot Sauce
Prepare your taste buds for a rollercoaster ride of heat and flavour with Tracklements Rocket Hot Sauce. Crafted from a blend of Bird's Eye and Scotch Bonnet chillies, this vegan elixir is a shot of molten lava for your favourite foods. From burgers and tacos to pizzas and curries, there's nothing this sauce can't elevate to gourmet status. Once you try it, you'll find it superlatively moreish and irresistibly versatile.
Tracklements Sriracha Chilli Sauce
Not all sriracha sauces are created equal, and Tracklements Sriracha Chilli Sauce is the proof. What sets it apart from the competition is the use of whole fresno chillies, delivering a fruitier and more complex flavour. These chillies are chopped and fermented on-site, following a traditional recipe that includes a dash of fish sauce for an authentic tongue-tingling tang and intense heat. Splash it on cheese on toast, egg fried rice, corn fritters, pho, spring rolls, meat, fish, or mix it into mayo for a delectable chippy dip. The possibilities are endless, and your taste buds will thank you.
Tracklements Smokin' Chipotle Sauce
For a sweet, smoky, and spicy experience, turn to Tracklements Smokin' Chipotle Sauce. Made with red chillies for a hint of poke, smoked Chipotle chillies for that smokiness, and Scotch Bonnet chillies just for fun, this sauce transforms any meal into a flavour sensation. Barbecues will never be the same again, as it makes meats sizzle with suspense, veggies explode with va-va-voom, and tofu tingle with joy. Drizzle it over pulled pork, hot dogs, veg kebabs, or jackfruit in any form. And if you're feeling adventurous, try it with huevos rancheros, the traditional Mexican brunch favourite.
Where to Find Tracklements Chilli Sauces
Tracklements Rocket Hot Sauce, Tracklements Sriracha Chilli Sauce, and Tracklements Smokin' Chipotle Sauce are all priced at just £3.50 for a 150ml bottle. You can find these flavour-packed delights individually at fine food delis, farm shops nationwide, and online at www.tracklements.co.uk. However, for those who crave convenience and the ability to transform everyday dishes into fabulous creations with a quick shake, we recommend stocking up on all three. With Tracklements by your side, culinary magic is just a splash away so prepare to elevate your meals to new heights!