Norma is the first independent restaurant project from the team behind The Stafford London and is inspired by the food and culture of Sicily, with particular emphasis on the Moorish influences of the island's cuisine.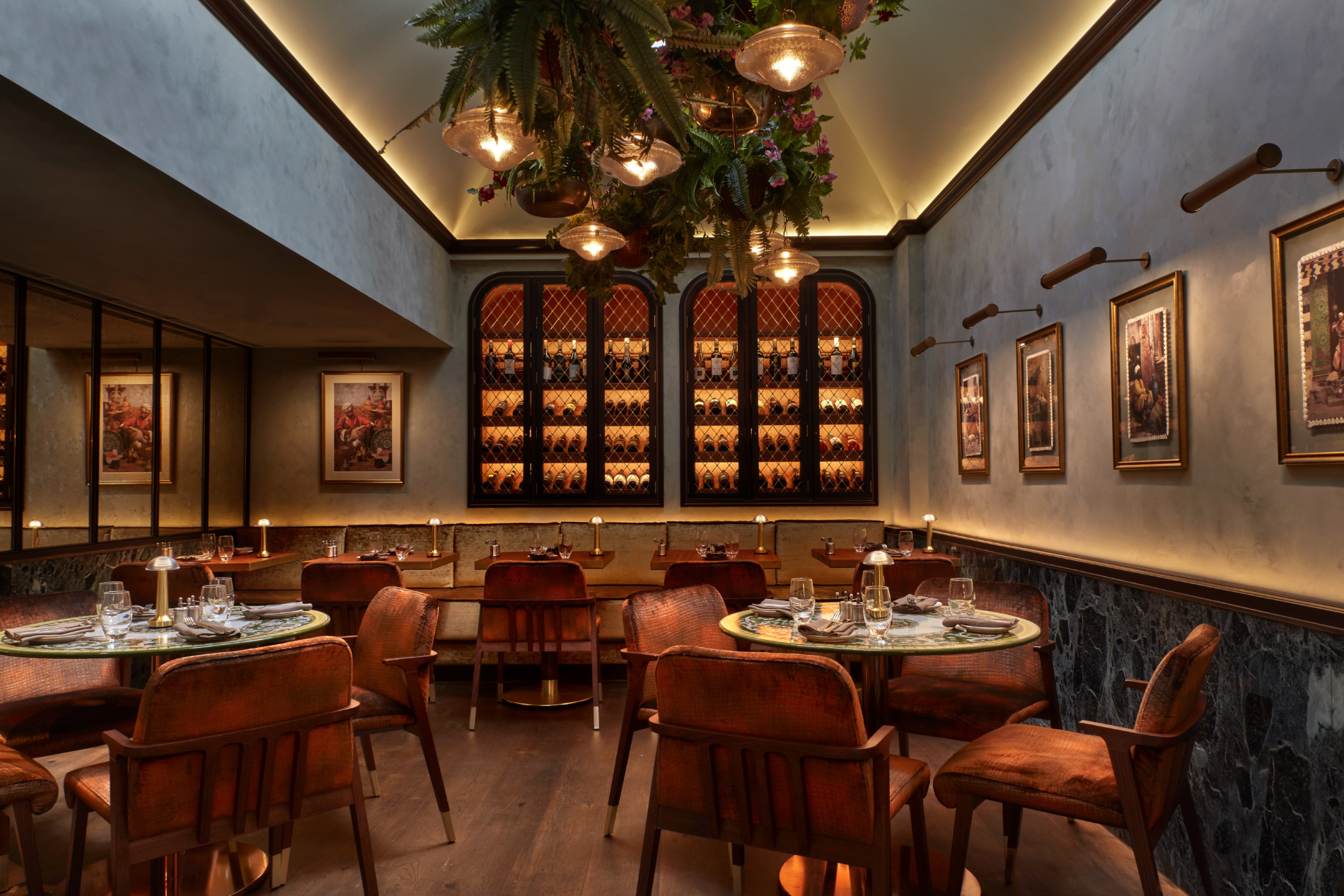 Norma is innovative and contemporary, whilst embodying warm and welcoming Italian hospitality and characteristic charm. The restaurant takes inspiration from the grand café culture of Sicily, the largest island in the Mediterranean Sea, and celebrates the richly influenced cuisine of the land. Moorish ingredients and produce – including a craftily selected list of Sicilian marsala, passito and limoncello – are championed by Executive Head Chef, Giovann Attard, who is well-versed and passionate about the flavours of the region.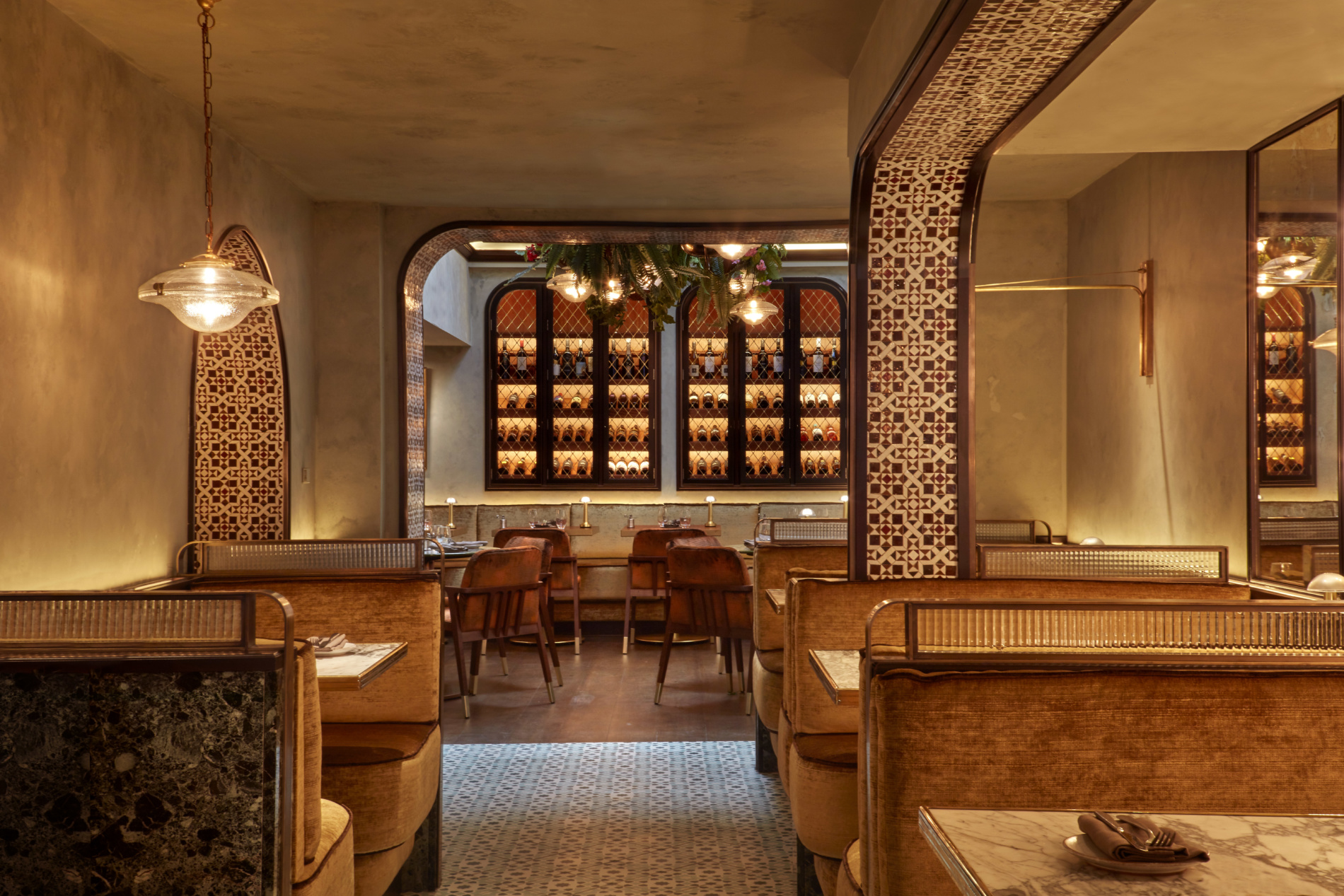 Housed in a converted characterful townhouse on Charlotte Street, Norma is split across three floors containing spacious dining areas, a cocktail bar and a private dining room. A crudo bar takes centre stage of the ground floor, showcasing an array of seasonal raw seafood. The main menu focuses on modern Sicilian-inspired dishes, ranging from antipasti and pastas, to larger plates of grilled fish and meat.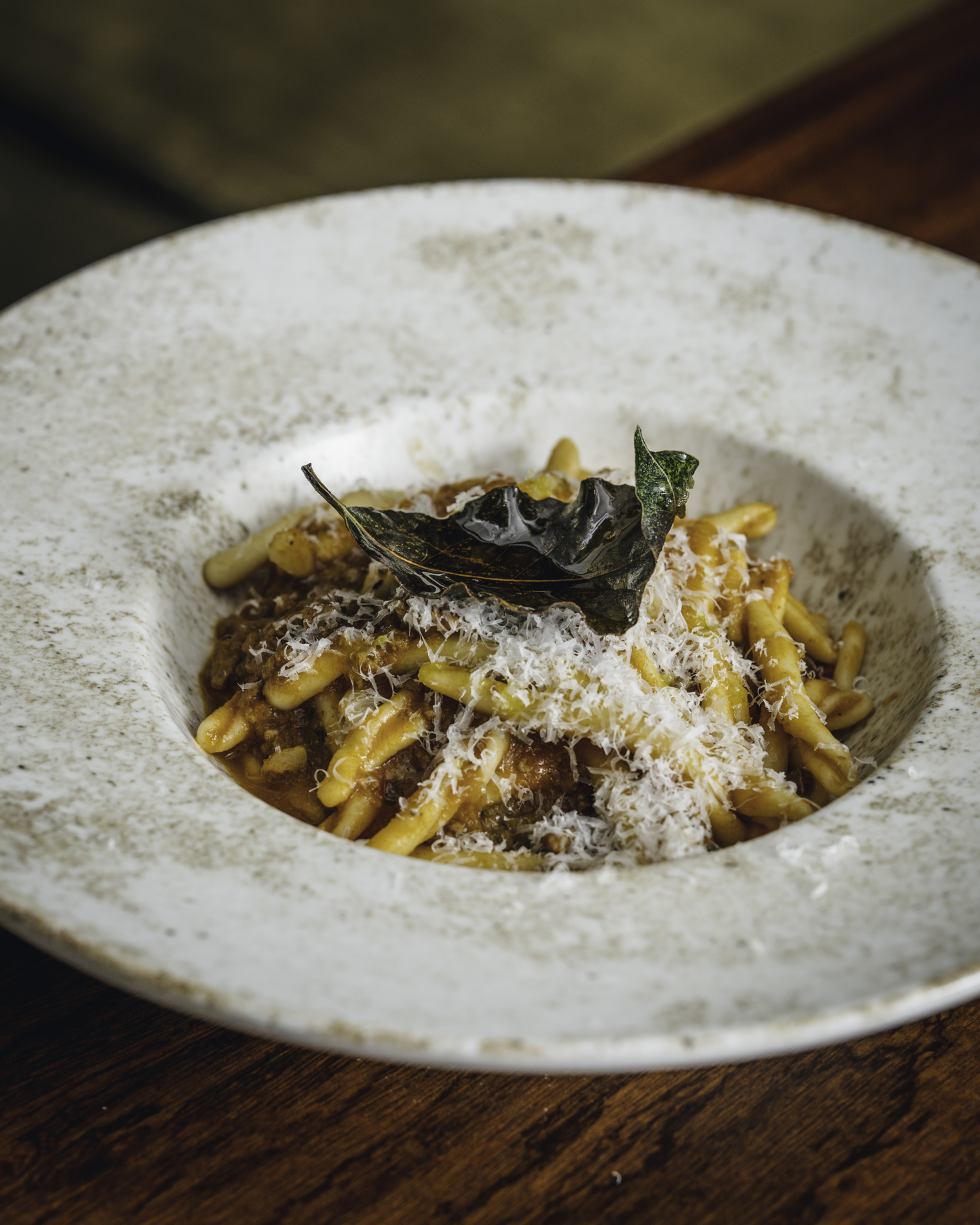 Norma champions seasonal Italian produce, including the signature Norma aubergine parmigiana. Upstairs in the private dining room, guests can order family-style, sharing platters of fresh pastas, breads (Panelle and Focaccia) and an array of puddings, including homemade Cannoli, seasonal Gelato and a mouthwatering 'Norma' Pumpkin-Spiced Tiramisu. Norma's fresh take on food and fabulous combinations really awaken the palate. The beef fillet with chestnut crumb is a great example of the colourful and textured plates that are produced at this fine establishment.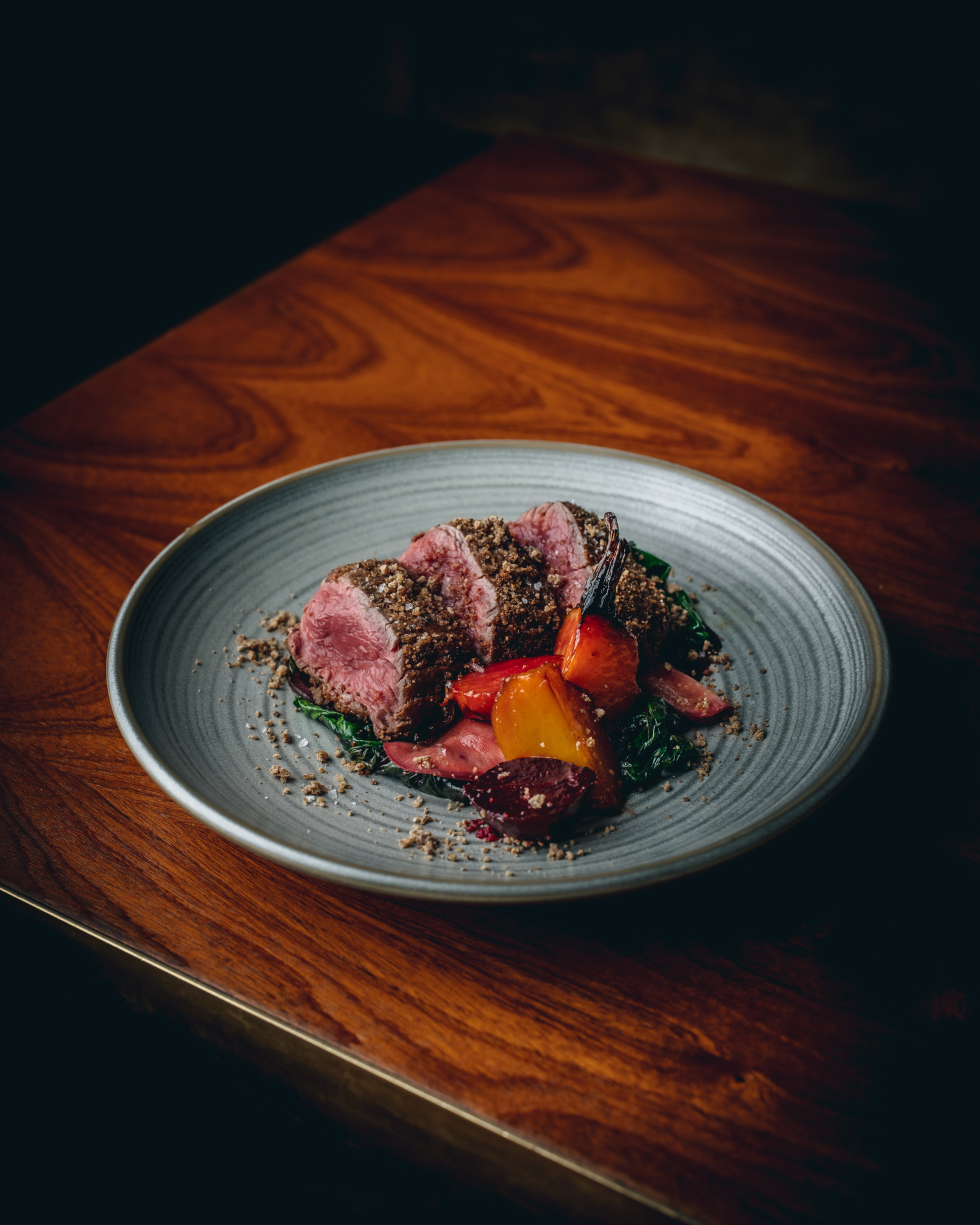 To accompany Giovann's Sicilian inspired menu, there is a comprehensive drinks list including a selection of Marsala wines. Originating from the small coastal town by the same name in Western Sicily, the fortified wine is a unique but authentic accompaniment to Giovann's sweet and savoury dishes. There is also a creative list of cocktails, named after key moments in Sicily's early history. The drinks champion produce and flavours so evocative of the region including cherries, vanilla and figs and liquors such as chinotto, vermouth and limoncello. Seasonal items feature throughout the menu as can be seen with this tasty fig and burrata creation.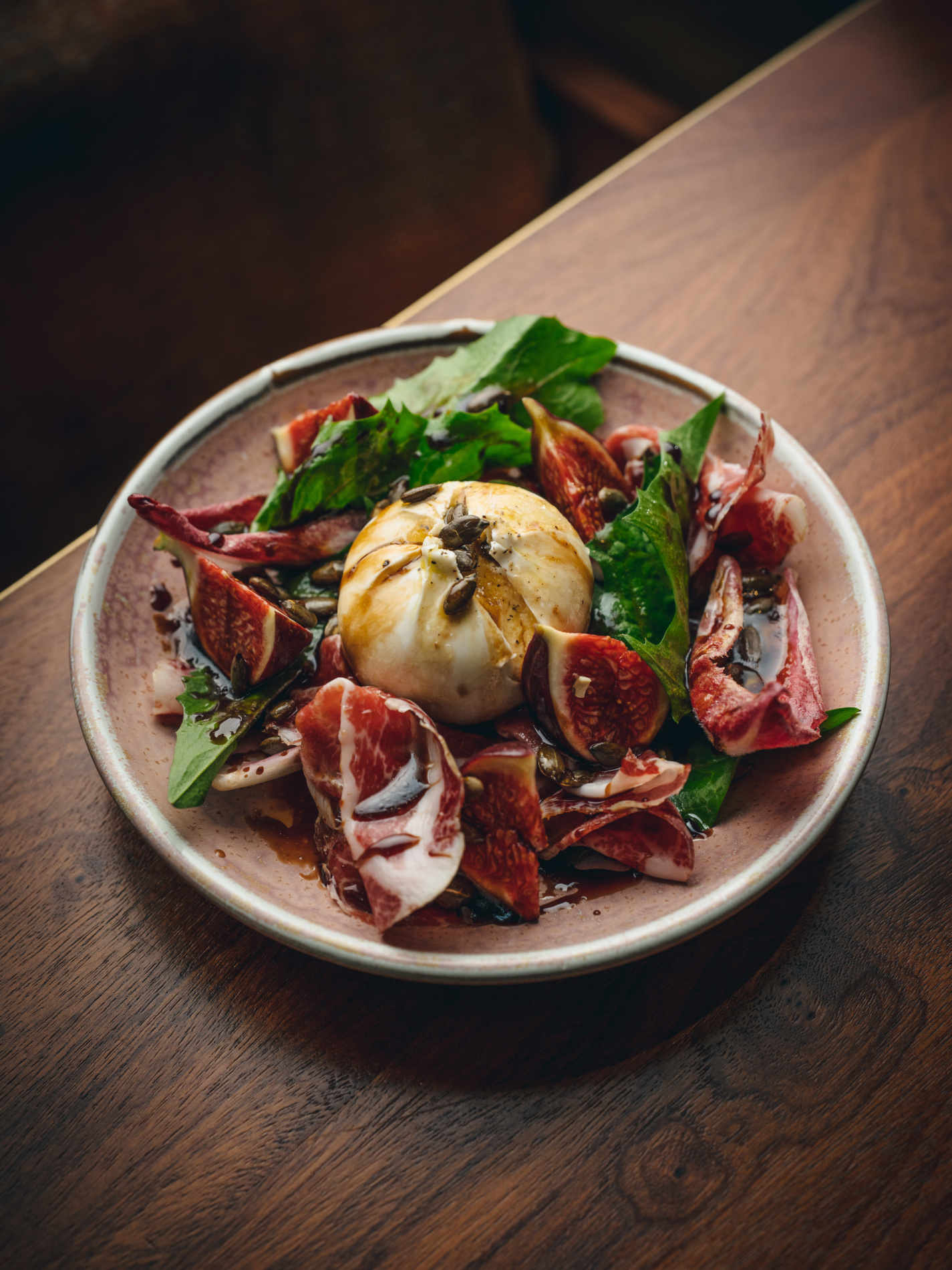 We sat down to a delightful Sicilian take on nibbles from the Snacks menu, which included Etna Olives freshly plucked from Mount Etna and  Focaccia with extra virgin olive oil already infused within. Paired nicely with Sicilian fizz, which is better than Prosecco and good competition against its French counterpart.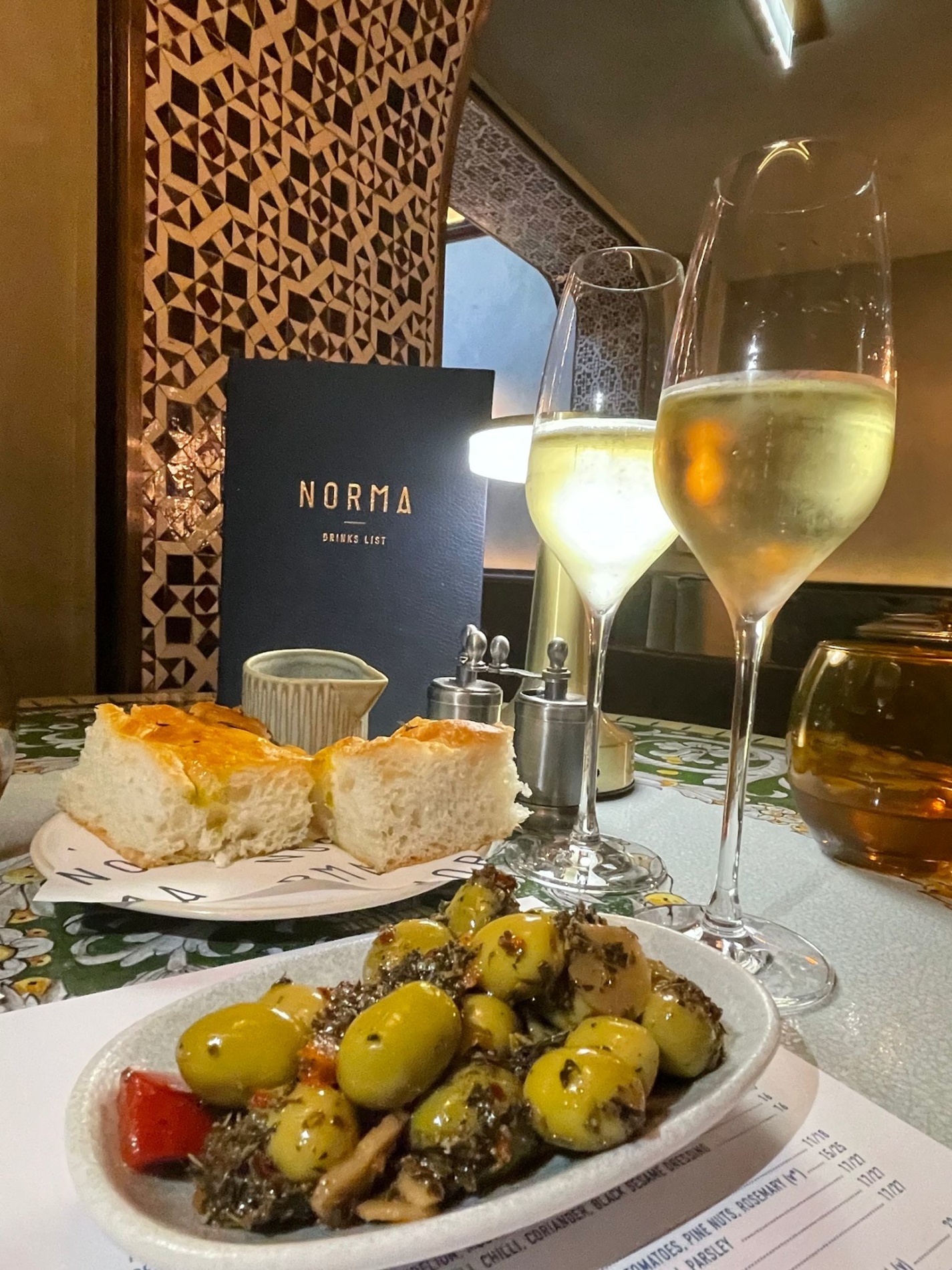 Spaghettini Fritters with parmesan sauce are an absolute must to order from the Snacks menu.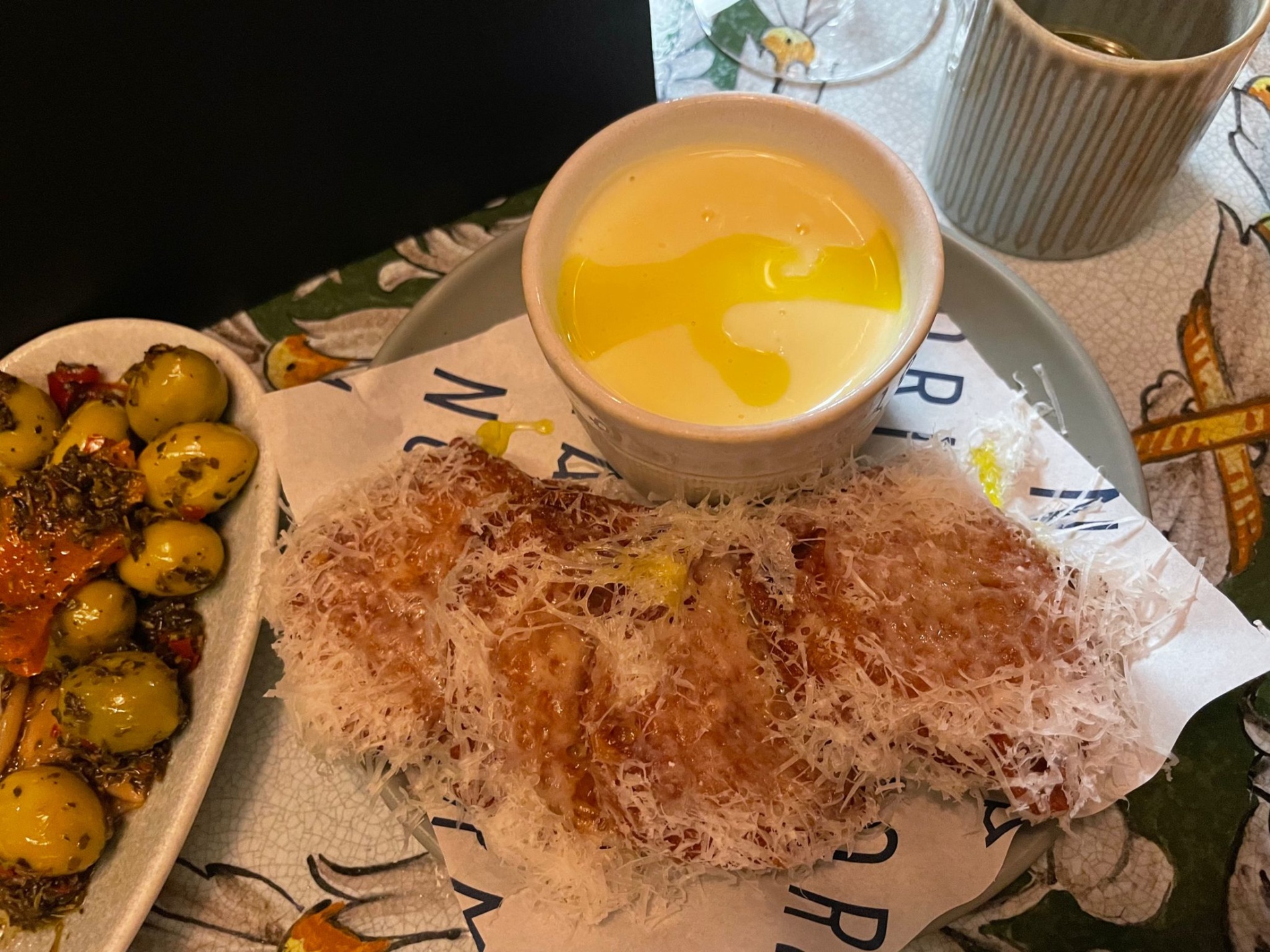 If you like Mac 'n' Cheese but wanted something far more decadent but that still brings the comfort of home to your palate then these fritters are well worth a try.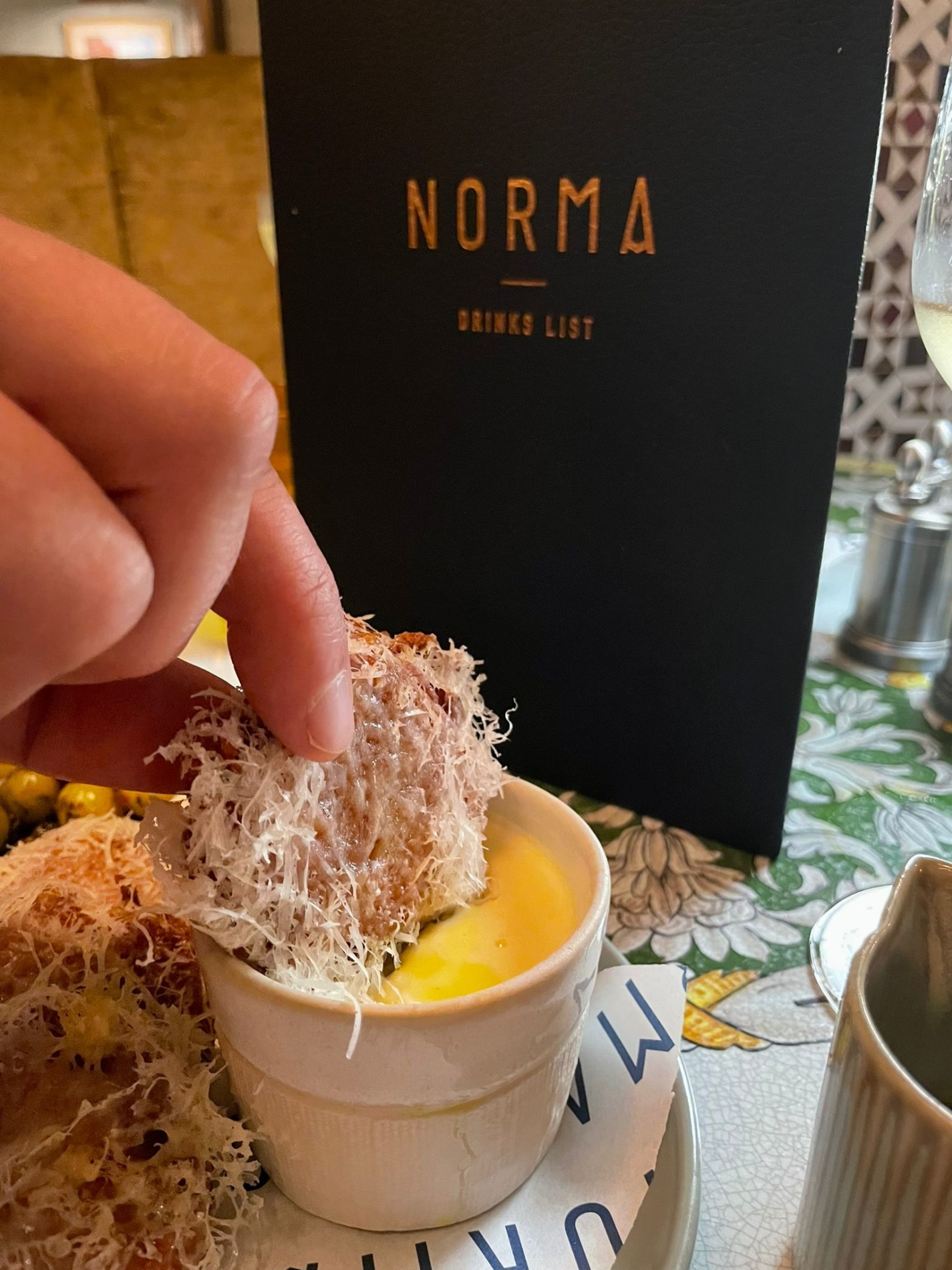 From the Antipasti menu, the Grilled Octopus was paired well with a black garlic aioli, chilli and coriander that remained delicate with a subtle heat and black sesame dressing. This is a signature dish on the current menu and we can see why it lasted.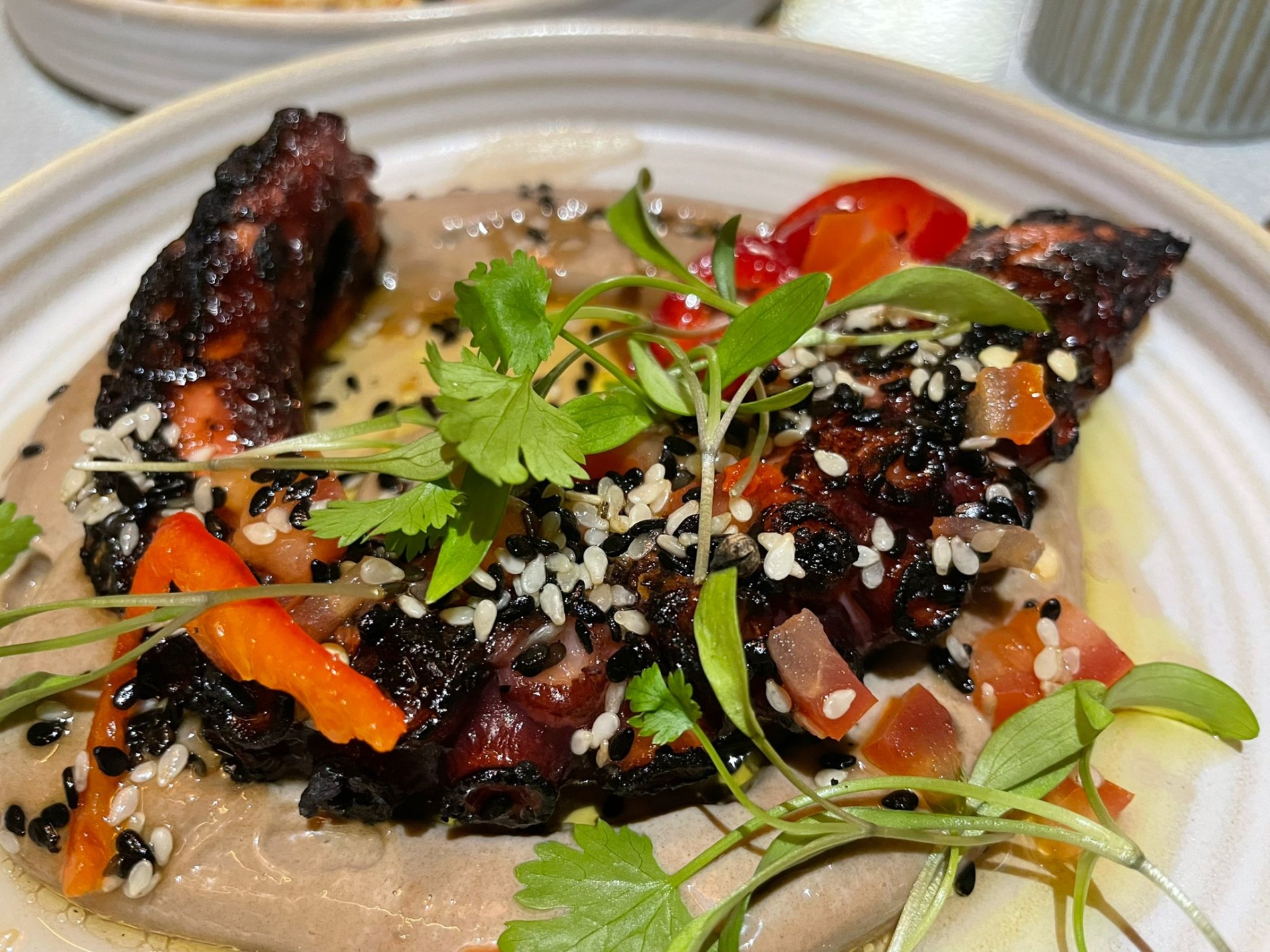 The special of Baby Squid with a basil aioli and fried capers was an interesting combination but felt more crunchy than calamari for some bites. An extremely generous portion so perhaps one to share.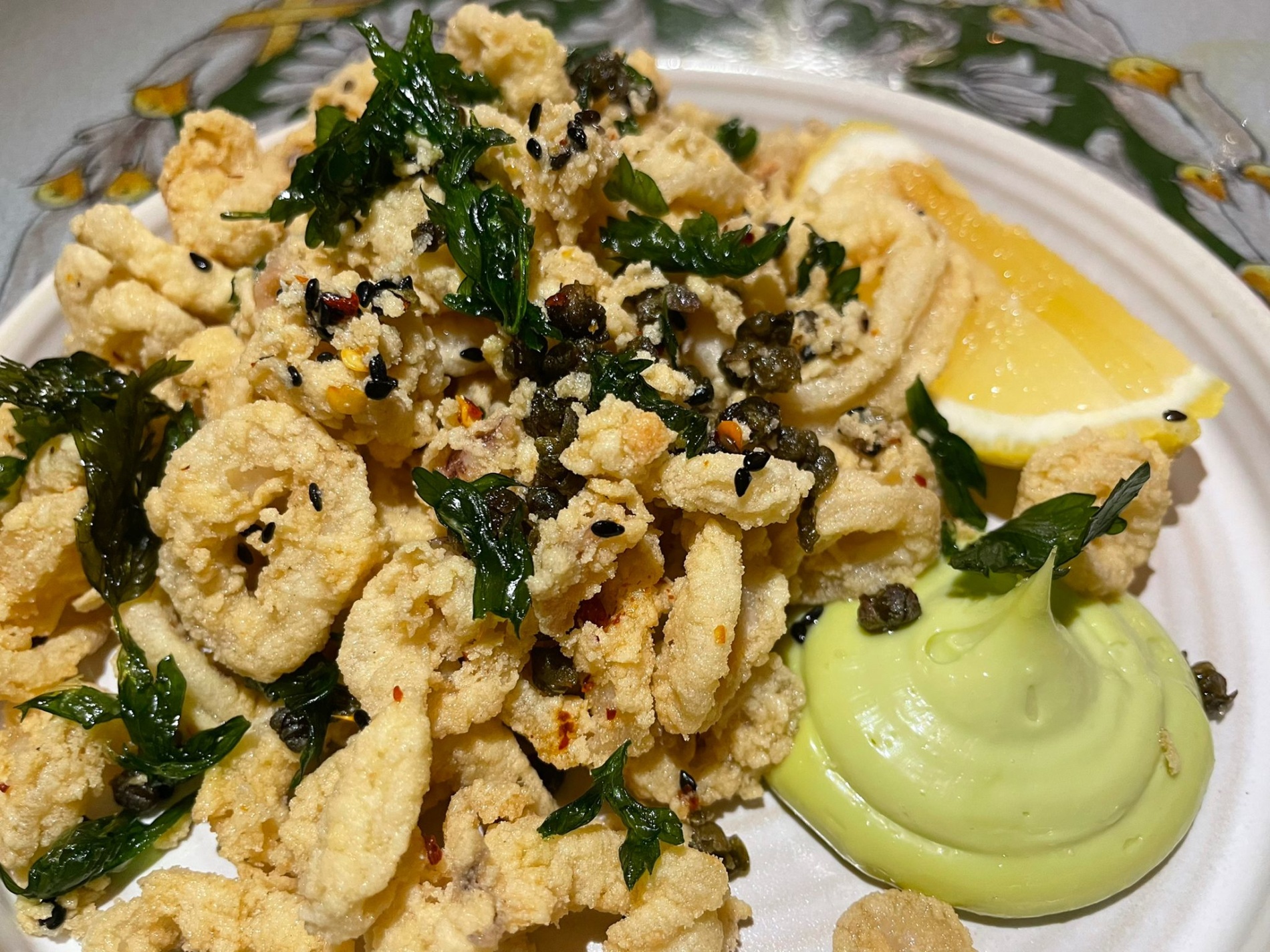 From the Primi menu, the Linguine with Cornish crab dressed with chilli and lemon butter was a light and delicate seafood dish. Rumour has it that it was once removed from the menu but the regulars missed it so much that it had to return never to be removed again.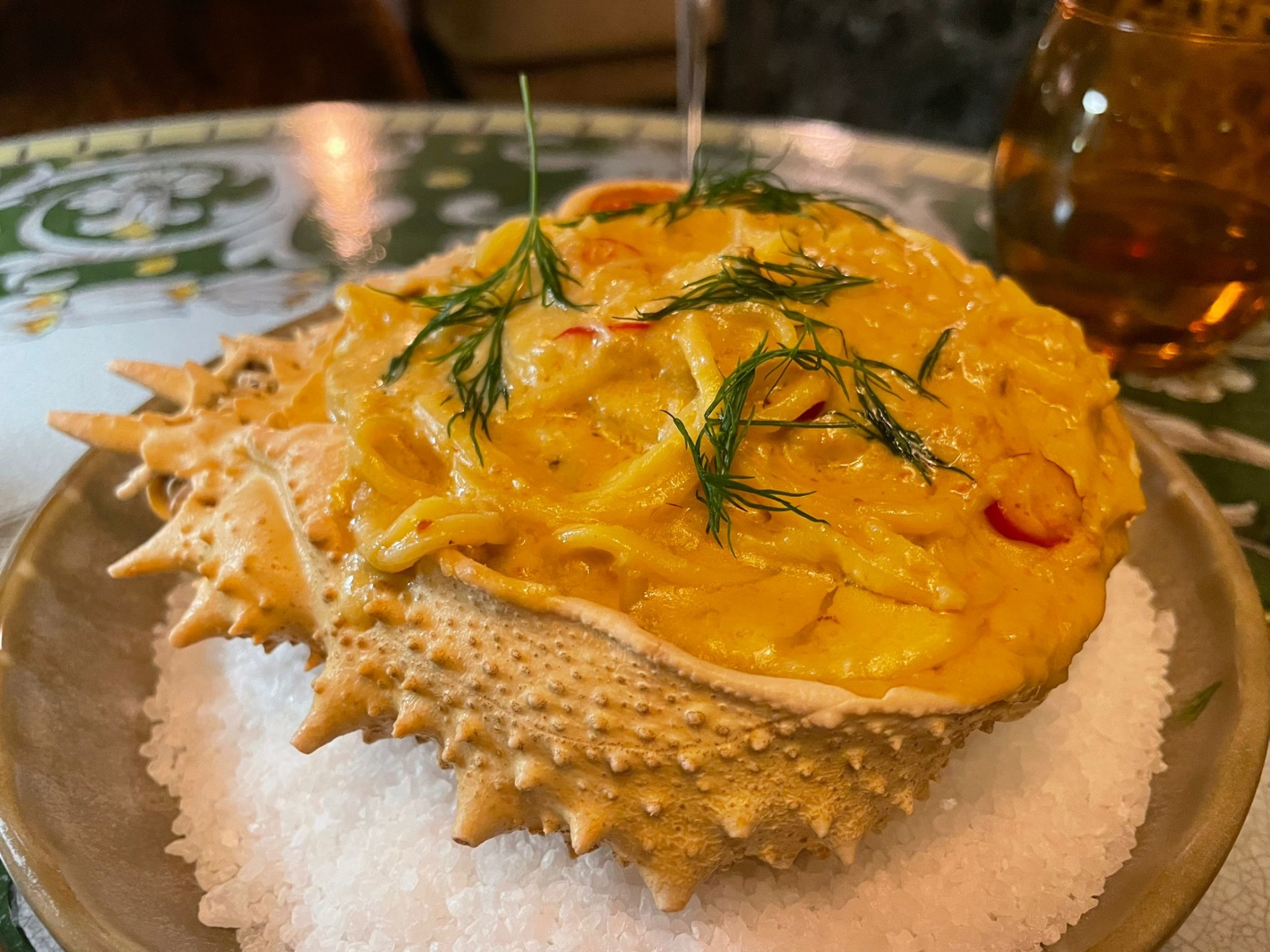 The chef however was inspired to make Lasagne with crab and prawns – a more autumnal seafood dish which we personally thought was one of the best pasta to grace our palate. Very moreish. Interestingly thought out and fabulously presented. If the Crab Lasagne is on the menu, then this is a dish not to be missed. The seafood takes centre stage. Prawn bisque and bechamel sauce provide a creamy delight to the dish with the prawns taking it from a bisque-like sauce to a much more meaty addition to this lasagne of the sea.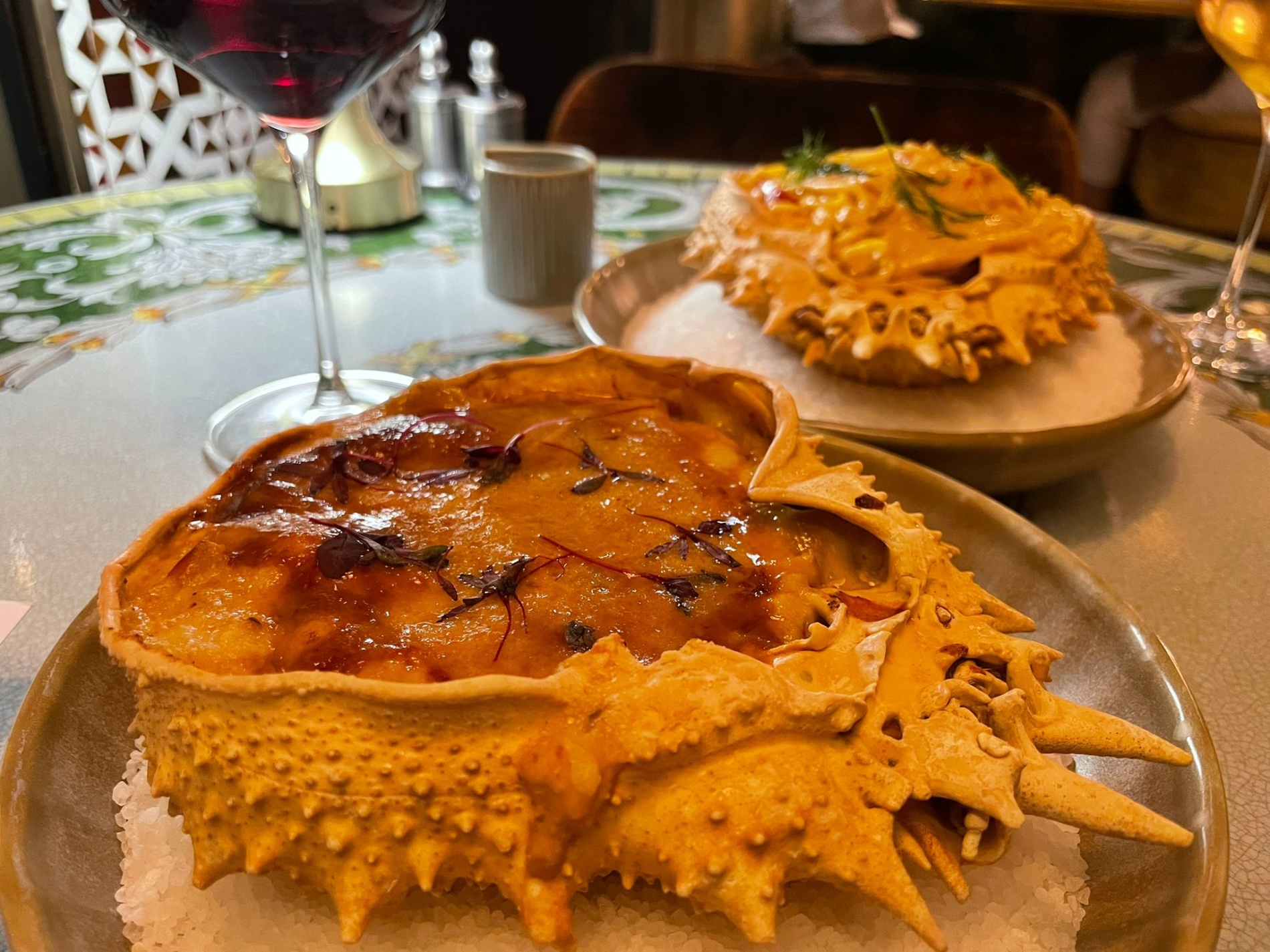 As you enter Norma you are greeted with a lovely selection of fresh fish on ice. The special Secondi choices for our visit included SeaBass, Plaice and Monkfish. The Monkfish Tail was a huge portion, gently grilled in a Robata Grill, just on the edge of a light grill leaves the Monkfish delectable and tender, which is something not many chefs can pull off. Paired with a basil aioli is fresh and refreshing but still a meaty portion worth sharing. It also came with a small and crispy side salad.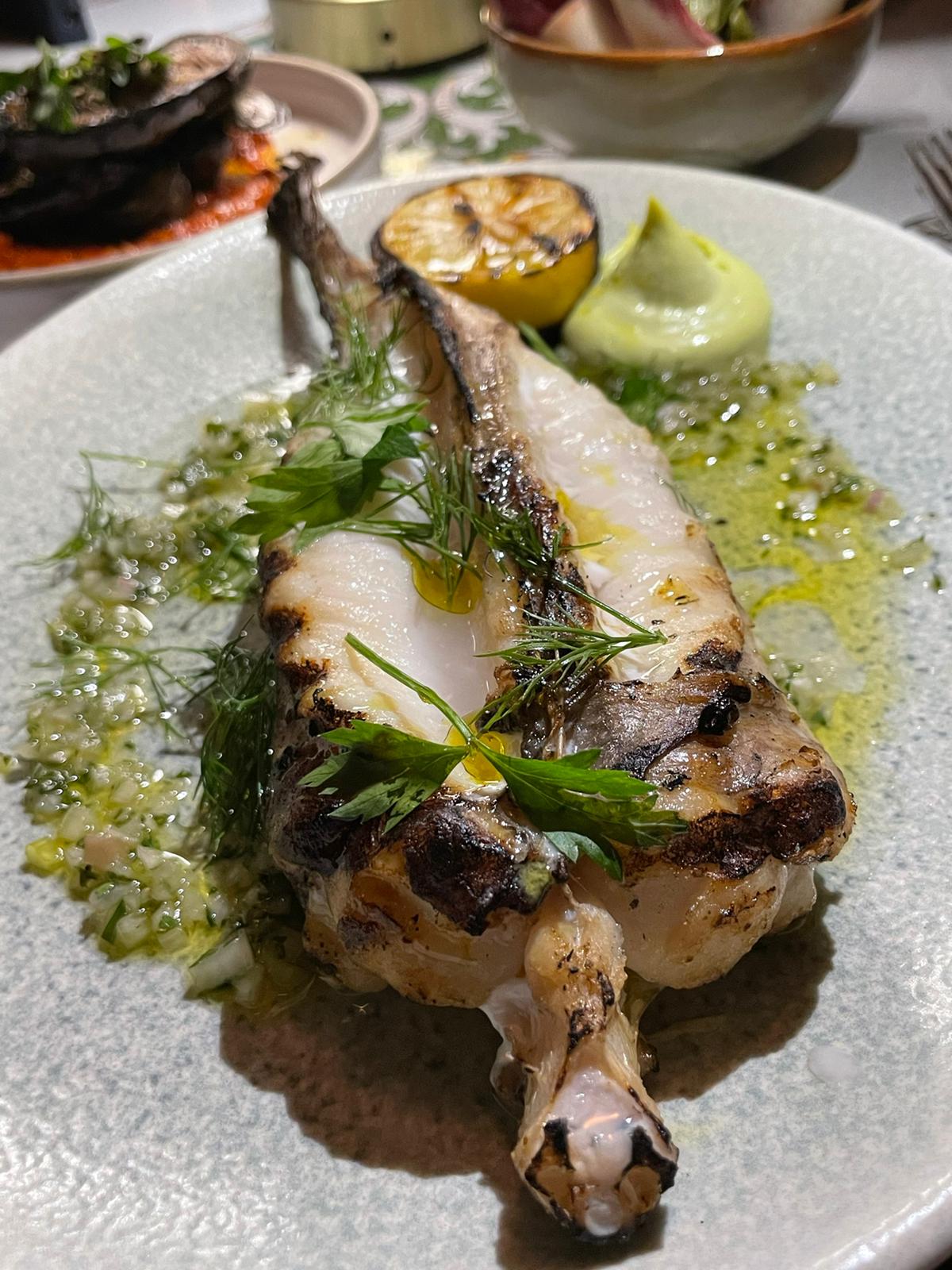 From the Secondi menu, Pan-Seared Stone Bass with leeks, sea beet and girolles came with a creamy sauce with leeks done two ways. Light and perfect for fish lovers who just want a fillet and prefer not have to dissect around any bones. A meaty choice albeit a light one, it is too good to share though!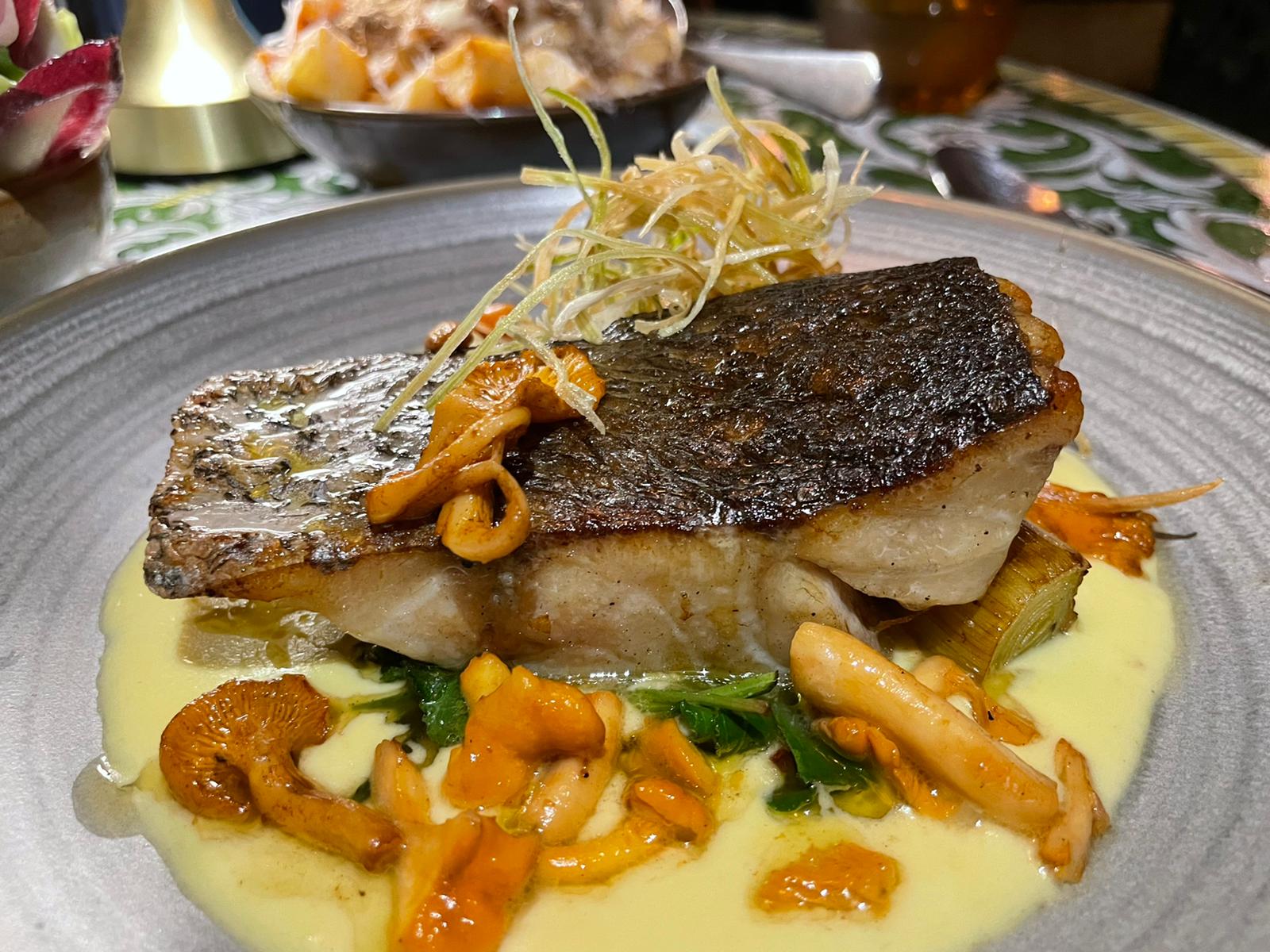 From the Contorni menu, the Chargrilled Baby Black Aubergines come slightly firm but still soft on the inside. They pack a spicy hit with the cumin and ve-ndjua adding to the flavour. An interesting side perfect for your vegan dining companion.
The Fried Potatoes were small bites of crispy potatoes covered in generous amounts of Pecorino topped with truffle. A very moreish combination which keeps one coming back for more.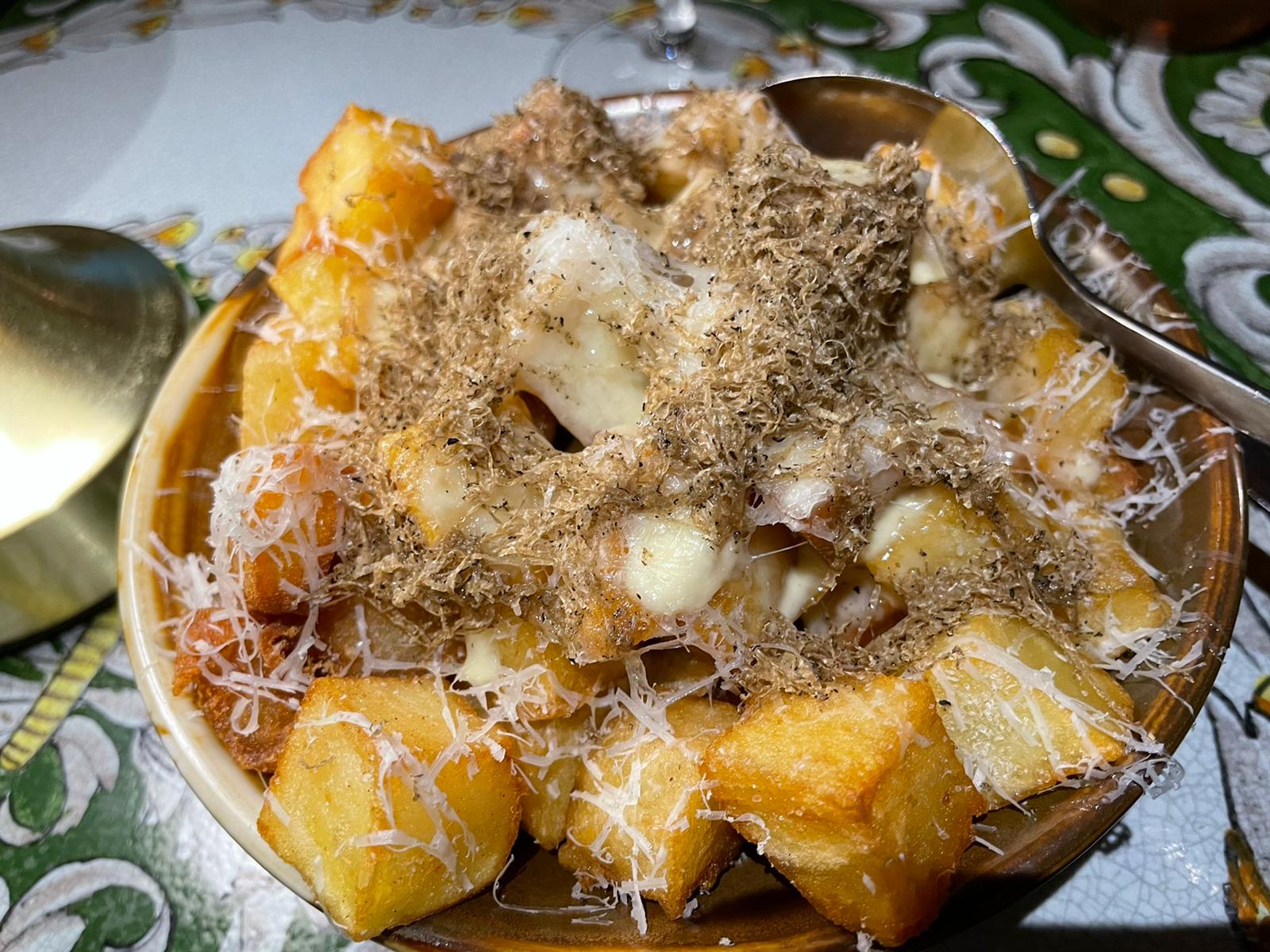 From the Dolci menu, there are many good choices with a new dish coming to the menu very soon. Interesting Seasonal Homemade Gelato choices include melon, sea salt caramel and classic pistachio. The Fragola Grape Granita caught my eye but for those who save themselves for dessert, the two dishes that stood out the most were the 'Norma' Pumpkin-Spiced Tiramisu with its pumpkin twist and the Homemade Cannoli with bitter chocolate ricotta, candied orange and pistachio.
Norma is a fabulous restaurant with an amazing Front-of-House team that clearly not only adore food but were included by the chef in the experience he was creating for his diners. Every member had tried the dishes, even the vegetarians had tried some of the fish/meat dishes although Norma's vegetarian dishes are definitely to be tried such as this Mushroom Arancini below.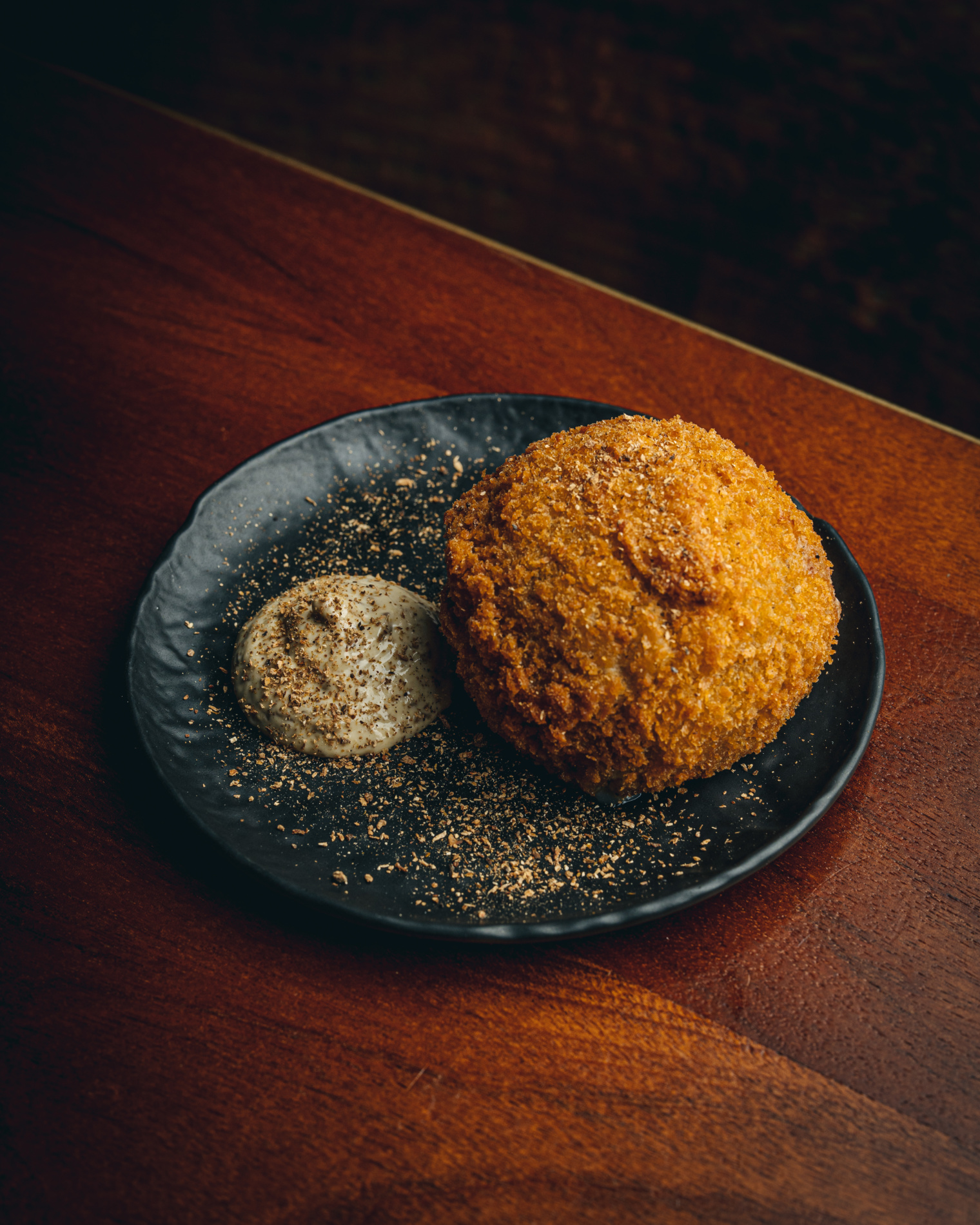 The whole venue was filled with the perfect hosts for the experience that the senses went through rather than spectators which sadly far too often is seen in restaurants where the team have not tried the food. The food is spectacular but the team make this an experience that would keep you coming back time and time again to join their raving fan base of regulars.
Celebrate the festive season at Norma with your friends, family and colleagues throughout December, and enjoy Sicilian-inspired feasting menus in the restaurant's intimate private dining room or simply feast from the a la carte menu in the main restaurant.
Norma is open Monday to Friday 12pm – 2:45pm (A La Carte), 3pm – 5pm (aperitivo) and 5pm – 10:30pm (A La Carte); Saturday 12pm – 10:30pm (A La Carte) and is closed on Sunday.
Norma
8 Charlotte Street, Fitzrovia, London W1T 2LS
0203 995 6224
normalondon.com