Beautifully designed and illustrated, DK's award-winning and best-selling children's books appeal to kids of all ages. DK's fun and factual kids books cover everything from a child's first words to the human body. Here are some of Minipreneur's favourite children's books from DK this summer. 
Playful Wonders: Easy, Fun-Filled Sensory Play Activities by Katie Still
Written by Katie Still, founder of Playful Wonders, this activity book is full of simple, easily accessible, sensory play ideas to feed your child's curiosity and inject more play into their day. It features more than 45 fun-filled, sensory play activities for young children, including creating boats out of corks, creating a stove out of a cardboard box, and making your own herby playdough.
With this book you'll see that there's playtime for any place or occasion, whether it's during bath time, in the kitchen, or on a walk through the park. Find out how kitchen rolls can be turned into a car garage or how forgotten toys can be repurposed for fun activities, whether that's rescuing them from jelly or searching for them in a torch-lit scavenger hunt. Using household items, with photographs of each activity and easy-to-follow instructions, it's never been easier for kids to interact imaginatively with their environment.
What's more, each activity has a teachable moment in store! While your kids are getting their hands dirty, they will learn all about different shapes, letters, colours, and so much more! Playful Wonders is a gift of endless hours of creative play that children and adults will love sharing together!
Sensory play encourages children to learn through exploration, curiosity, creativity, and problem solving. It also helps build nerve connections in the brain and encourages the development of language and motor skills
£8.99 published by DK
Goddesses and Heroines by Dr Jean Menzies
This is a brilliantly written collection of profiles and stories of women from religion and myth by award-winning author & Youtuber Dr Jean Menzies. It includes profiles of more than 80 goddesses, heroines and legendary women from around the world including famous figures such as the warrior Mulan and the first woman Pandora, as well as less well-known characters, such as the Finnish underworld ruler Tuonetar and the ancient Greek queen Alcestis.
Beautifully illustrated by award-winning artist Katie Ponder with original and stylized illustrations on every page, the book also contains over 30 stories retold for children and the reference section is packed with extra information, including a pronunciation guide.
Goddesses and Heroines is the ideal gift, with foil on the cover and stunning illustrations throughout. Children will love exploring the tales by themselves or enjoy them as bedtime stories like Minipreneur.
£16.99 published by DK (pre-order before 6 July 2023)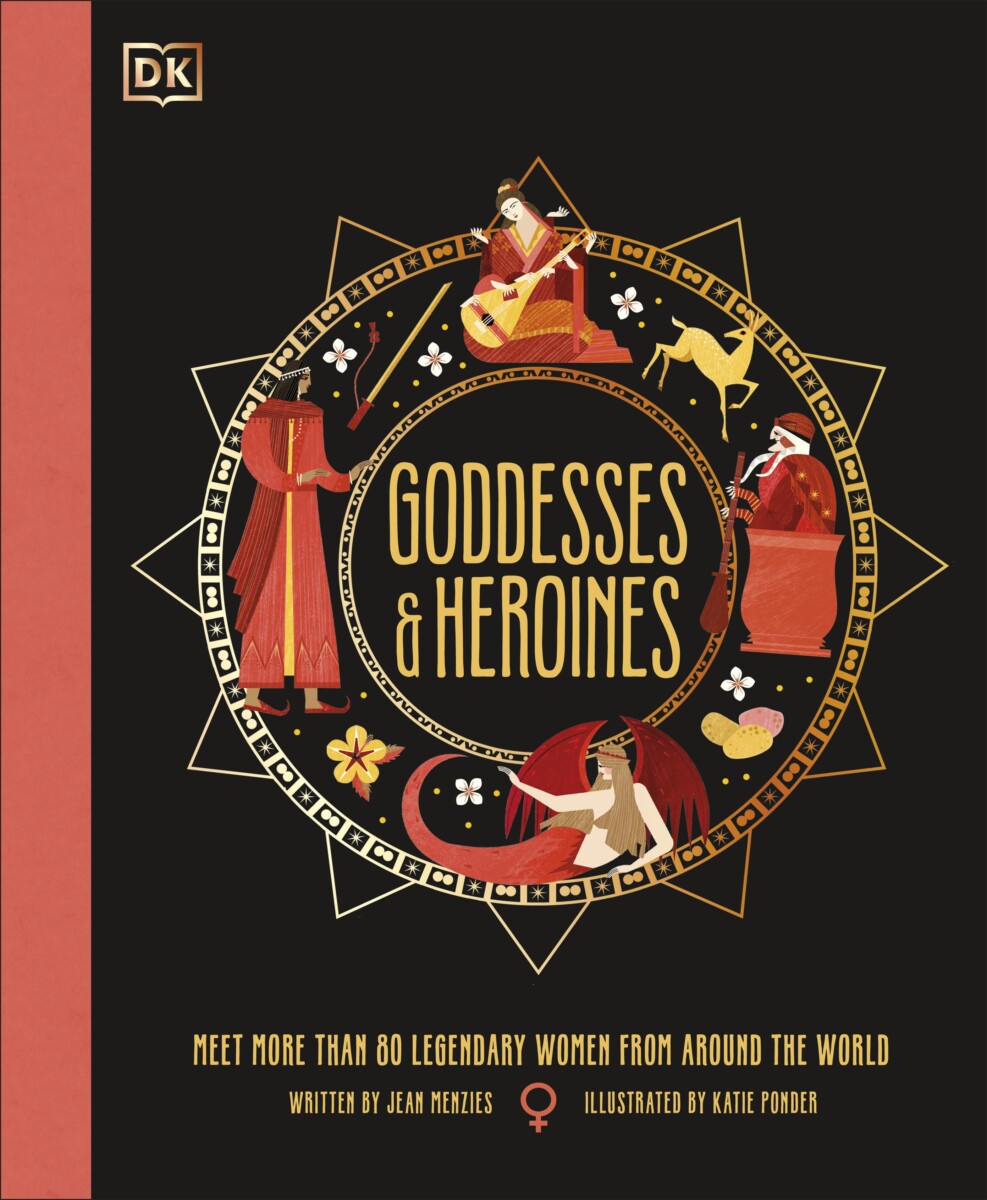 The Magic of Forests by Vicky Woodgate
Discover the magical world of forests – from the inner workings of trees to the legends of ancient woodlands – in this fascinating reference guide for kids ages 7 to 9 covering a range of topics to do with forests, from botany to activities and mindfulness.
Illustrations by Vicky Woodgate bring forests from all over the world to life and the book has cross-circular appeal as it covers history, geography, plants, animals, humans, mental and physical health, and social studies.
Readers will be led into the depths of forests thousands of years old, and learn about unbelievable natural phenomena, such as the forests that have wandered away from their original homes. As well as the scientific side of forests, this book will delve into the stories people tell about forests, from fairies and the tales of the Brothers Grimm, to fearsome beasts and the real-life historical figures who have explored the most dense and mysterious  woodlands.
This book is ideal for children like Minipreneur who have an interest in nature, geography, and legends, or indeed anyone who wants to learn all about the science and history behind forests.
£9.99 published by DK (pre-order before 3 August 2023)