By Liz Taylor – founder and CEO of leading event planners, the Taylor Lynn Corporation. She has been at the forefront of the UK event scene for over 35 years.
As someone who has planned celebrity weddings, award ceremonies, business events and spectacular parties for over 35 years, I'm often asked for my advice for those organising their own celebrations. So here are my five top tips on how to give your own events the X factor:
1. Spectacular or unusual venue
Choose a unique venue, something a little unusual like a 1920's jazz afternoon tea aboard a steam train, or a recreated New York night club in an urban warehouse. This will bring the immediate wow factor.
Start with the best raw materials in terms of a 'must see' venue, and you won't go far wrong.
2. Make a grand entrance
Or ensure your guests do. You could go traditional by adding a red carpet and arranging paparazzi photographers with flash lenses to snap guests as they arrive. Create a flower or twinkling archway for guests – to mark the entrance to a garden party. Have your guests walk through a giant wardrobe door into a wintry Narnia. Knock on a speakeasy door for access to a Roaring 20s party. Or try adding a backdrop at the entrance for photos – a living garden or flower wall, or a piece of artwork created to represent the event. Keep guests talking with a large-scale art piece or mural that's created on the night, and one that they can help to paint. We've used all manner of artists for this – from graffiti to mural painters.
3. Name in lights
Lighting is something most people forget to consider, and it can have a huge effect on the ambience of an event, creating atmosphere as soon as guests walk into the room. Consider bringing in uplighters to illuminate plants or signage. Perhaps LED strip lighting that can bend around the edge of the dance floor, fairy lights around a bar or giant lanterns to light a corner. If budget is an issue simple twinkling tea lights on tables can create a warm, intimate atmosphere.
4. The Personal Touch
Personalisation is something that can add a luxury feel to an event. Go to town with place settings by adding a personal touch with a thoughtful gift that means something to your guest or reflects their personality in some way. You could personalize a miniature bottle of fizz and use that as a marker for their place setting.
5. Put on a show
Nothing else brings the wow factor to an event more than choosing the right entertainment for the occasion whether you opt for live music, an amazing DJ or even an entertaining comedian. The right choice here can make all the difference between guests laughing and dancing until the early hours OR deciding to head home early. Perhaps have serving staff who burst into song part way through the main course. Or immersive entertainers, such as The Swan Band, who move through the audience to entertain – with a particular liking for launching themselves onto tables to perform! Yes, you need to reinforce the tables! This unexpected moment is always a stand-out element of the event.
Of course, occasionally things can go wrong at an event (never for very long if I'm organising it!) so here are five things to be mindful of when planning your next celebration.
1. Invitations are stylish but clear
Get your invitations right. Some people design their invitation and forget to give guests key details important for attendance which results in the host being inundated with questions in the lead up to the event and even on the big day itself (not what you need when you're busy enough co-ordinating caterers, decoration and entertainment). Invitations need to include date, time, venue (with full address details), explain what will be provided (sit down meal, canapés only, drinks etc) you don't want to pay for a buffet then no one be hungry because they ate prior to arrival. Also detailed dress code (without being too cryptic!). One of the most important things is to request RSVP by a certain date with any dietary requirements.
2. Cater for all food-wise
Make sure you cater for special dietary requirements in advance so be sure to ask guests for these details in advance. There's nothing worse than guests telling you they have an allergy or need a vegan meal on the night itself when you haven't catered for it.
3. Be sparkling and creative
Be sure to have teetotal options for the drink's reception and dinner. This goes without saying these days but move away from the usual orange juice or sparkling water with more creative no or low alcohol options.
Why not create a prosecco bar at a party so that guests can mix and match their favourite cocktails. Passion fruit, mango, raspberry, orange juice. Just label up your pitchers and let them create their own flavour combinations. This idea is perfect for any occasion – corporate or a private party. Create signs showing how to make different cocktails and decorate with fresh fruit, bunches of fresh herbs and flowers. We use small mirrors, slates or framed cocktail recipes in keeping with the event theme.
4. Little superstars
If the affair is to be family-friendly, ensure that little guests aren't just catered for in terms of food but also timing wise. Children will get hungry earlier than other guests so a welcome snack and/or activity bags are often a good idea.
If your event is a relaxed all-day affair, consider children's entertainers, face painters, bubble artists and a chill out space away from the main event so that children can move away from the hubbub if they need a nap.
5. Time keeping
Clearly defined running order for the event can also make or break a good one. You could display this on an easel at the entrance or within menu information on tables and at the bar. Ensure guests are aware about what to expect, a good compere can be priceless to remind them of entertainment that's about to start, to get outside in time for the fireworks, seated for dinner and keep the event moving on time.
Here's to your next event being fabulous and one your guests continue to talk about for a long time to come!
About the expert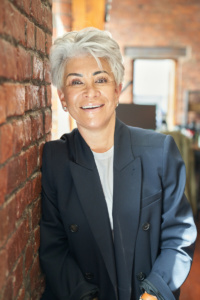 Liz Taylor is the CEO of leading event planners, the Taylor Lynn Corporation (www.tlc-ltd.co.uk), whose client list is a 'who's who' of the celebrity, sports, business, and entertainment world.
Liz specialises in unique, luxurious parties and has organised events right across the world, from palaces and stately homes, chateaux, boutique hotels, marquees, nightclubs, mountain top retreats, beaches, and the streets of Manchester to Marrakech or the Vatican City. She has organised events for Prince William at Kensington Palace and fundraising events for multiple charities. Her clients include the likes of Take That stars Gary Barlow and Howard Donald; Coronation Street cast members Simon Gregson, Jack P Shepherd, Alan Halsall, Antony Cotton, Jennie McAlpine, Shobna Gulati and Catherine Tyldesley; former Manchester United football player turned businessman Gary Neville; football stars James Vaughan and Yaya Touré; actress Sally Lindsay, actress and TV personalities Michelle Keegan and Mark Wright, 'I'm A Celebrity…' winner Jaqueline Jossa, and television presenters Eamonn Holmes and Ruth Langsford. Her experience also means that Liz understands not just the styles and trends for big days, but all the insider tricks on how to save money – without ever compromising on style!
Liz is also a successful hospitality and luxury brand consultant, podcaster and motivational speaker with her sister business, Liz Taylor Consultancy (www.liz-taylor-consulting.co.uk).