If you're looking for something special for lunch, look no further than Hankies Marble Arch which offers authentic Indian street food with a twist. The brilliant restaurant created by Chef Owner Anirudh Arora combines the fuss-free, fresh, light and aromatic small plates and incredible value for money that are synonymous with Indian street food in the stunning surroundings of the luxury Montcalm Hotel in Marble Arch.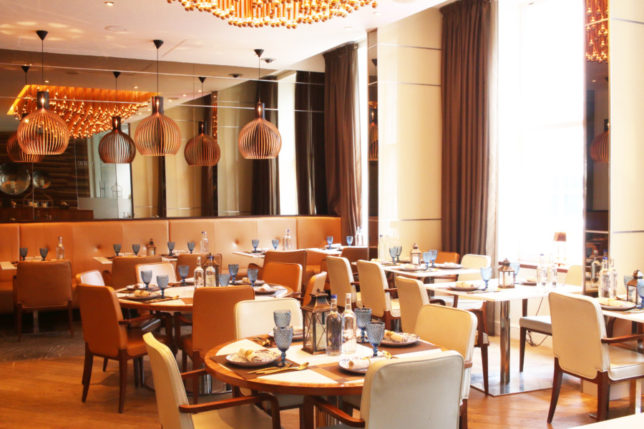 Hankies Marble Arch is decorated with beautiful artefacts, glassware and china sourced from Indian markets and antique stores by Anirudh himself – the chef and Hankies founder provides a feast for the  eyes as well as the stomach!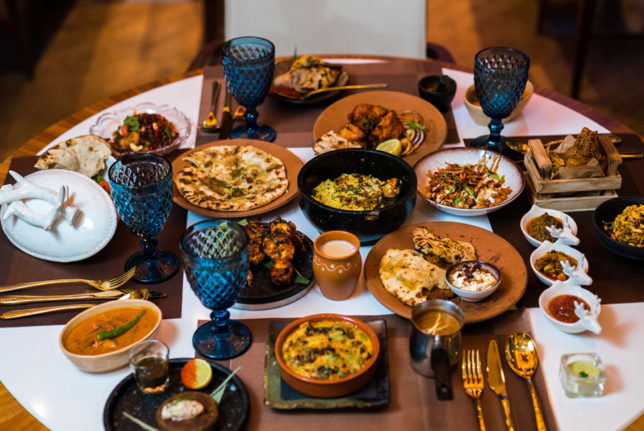 Having perfected his culinary skills in some of the best restaurants in India and London, Anirudh launched Hankies Marble Arch in January 2018 with a personal mission to make authentic and delicious Delhi street food accessible and enjoyable in a beautiful and curated London setting. With the most expensive dish on the menu just £9, and the majority around £4-6, the menu is very reasonably priced for this part of town and encourages diners to indulge in Anirudh's relaxed yet well-executed North Indian cooking.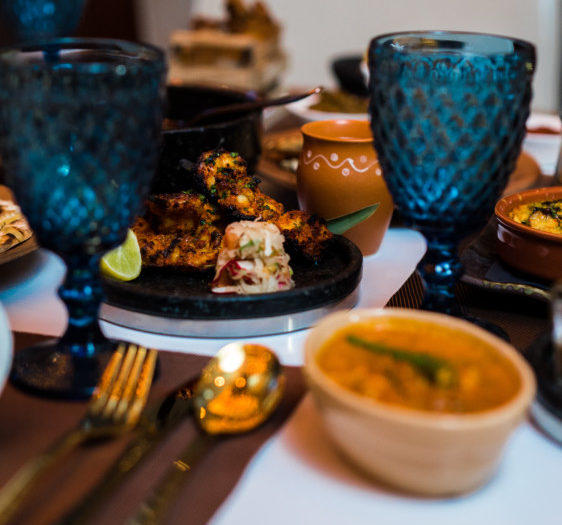 Hankies Marble Arch specialises in the roomali roti – a thin, wheat-based flatbread served folded into 'hankies'. The roti dough is hand spun until almost thin enough to see through and then cooked on a burning hot tawa which takes pride of place at the front of the restaurant presenting diners with the ultimate food theatre. These moreish roomali roti are perfect accompaniments to all the meats and vegetables dishes on the menu. Use them to scoop up or enclose the delicious starters and mains alike.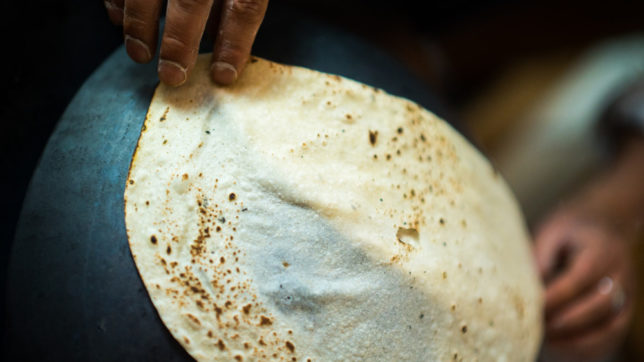 To start we ordered the Chilli Vanilla Caprioska a combination of vodka, chilli, vanilla syrup and crushed ice. A tantalising start to the tastebuds, enough heat to whet ones appetites but enough sweetness to balance the drink. We also choose the Peppery Strawberry which comprises of Havana club, strawberry ,basil and crushed pepper. The rum is definitely a centre piece of this drink with a sweet yet peppery kick.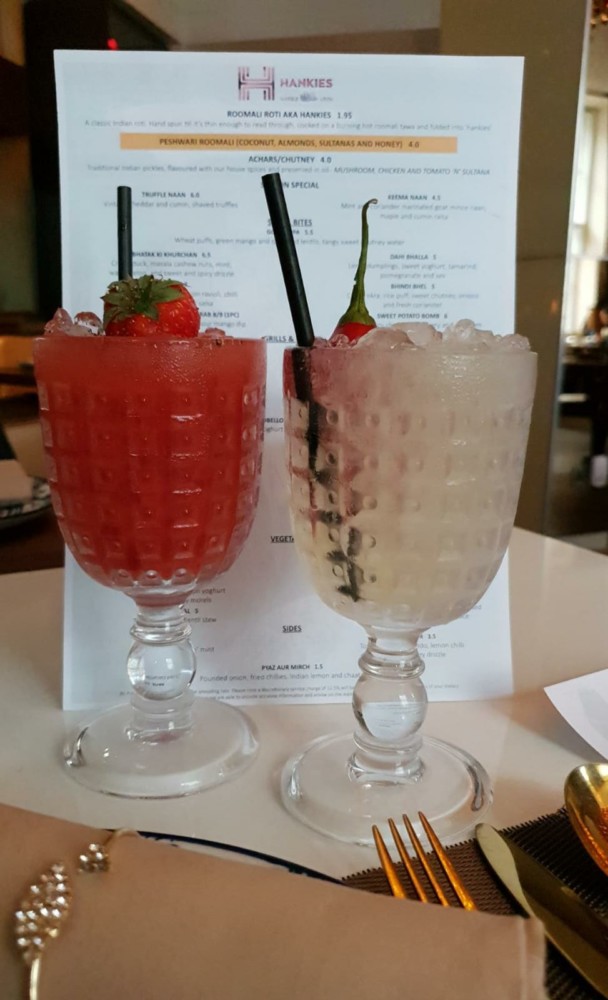 Peshwari Roomali is an experience not just a dish. A little sweet for some but for us we couldn't get enough of this comforting combo of coconut, almonds, sultanas and honey.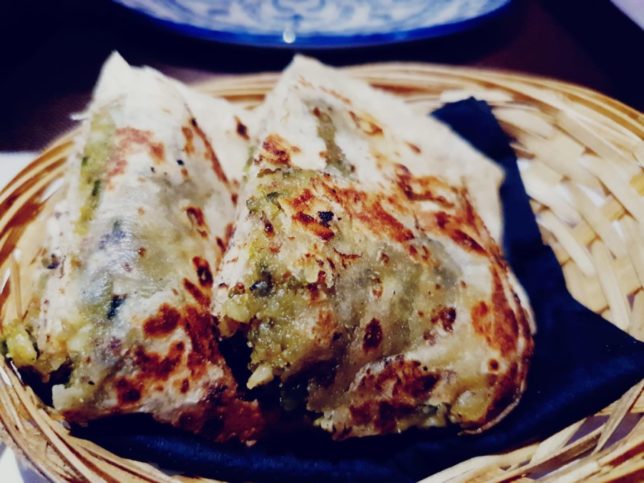 We were drawn to the Bhatak Ki Kurchan which is a crispy duck, masala cashew nuts, watermelon, mint and a sweet and spicy drizzle. My lunch companion was so mesmerised by this dish it was hard to get a bite. A complex dish showcasing the talent in the kitchen. The pomegranates added a pleasant surprise with an extra flavour explosion with each bite. A generous portion not small at all. Extremely reasonably priced.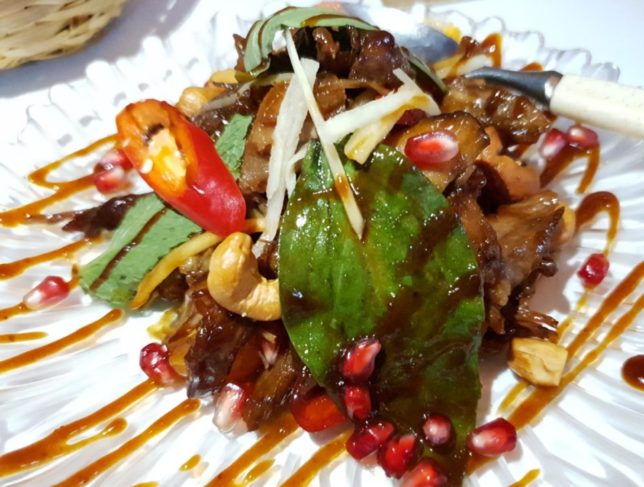 A new addition to the menu is the Crispy "Gold" Soft Shell Crab and we hope it stays. Many may know soft shell crab from a Chinese menu but Indian spices really open your eyes to what can be done with this dish. The turmeric, amritsari spices brought a new dimension to this sea creature. Paired with a spicy sour mango dip was a genius idea.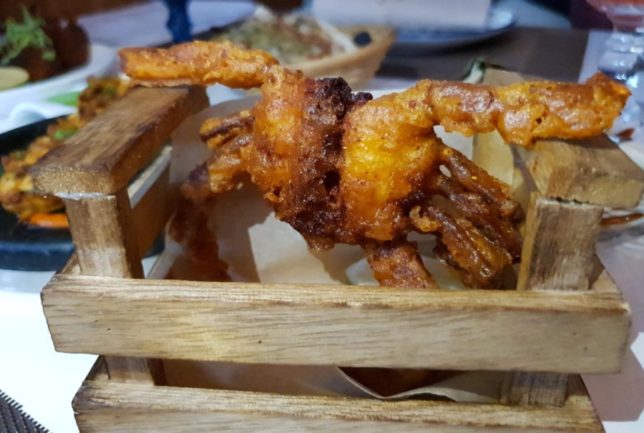 Yellow Chilli Garlic Prawn with chive, garlic, shiso 'n' cumin drizzle were my favourite item from the grill menu. These spices fill the palate with flavour that lasts. The perfect last bite.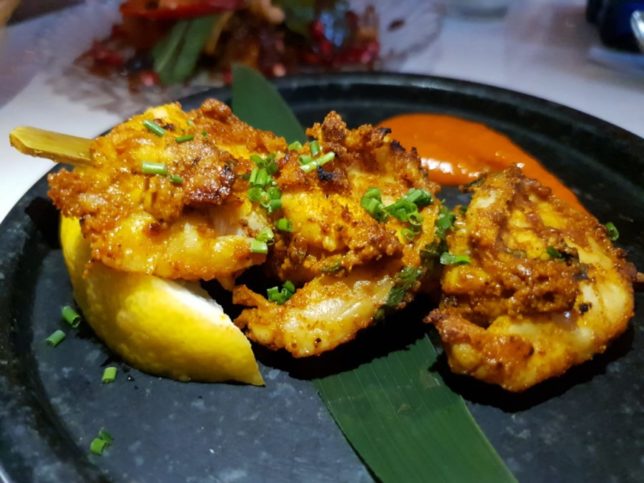 My dining partner chose the lamb chops from the grill menu. Again the flavours are well thought out but here they are balanced so expertly that the natural lamb flavours creep through without detracting from the creative combo of Kashmiri chillies, paprika and mustard oil.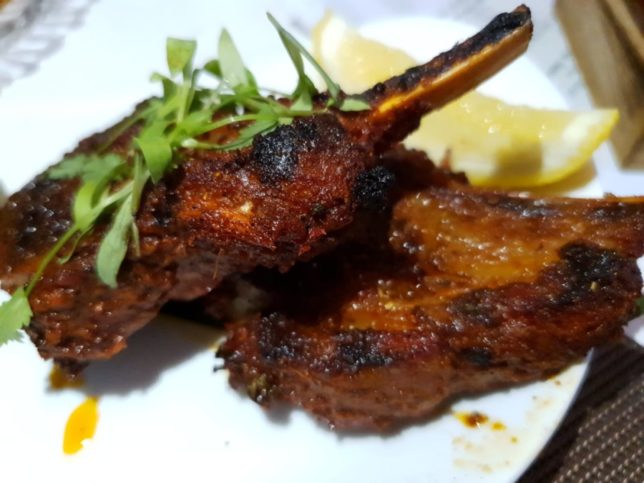 Truffle Naan is an exciting addition to any meal. Or those who like a keema naan here they serve it with goat not lamb.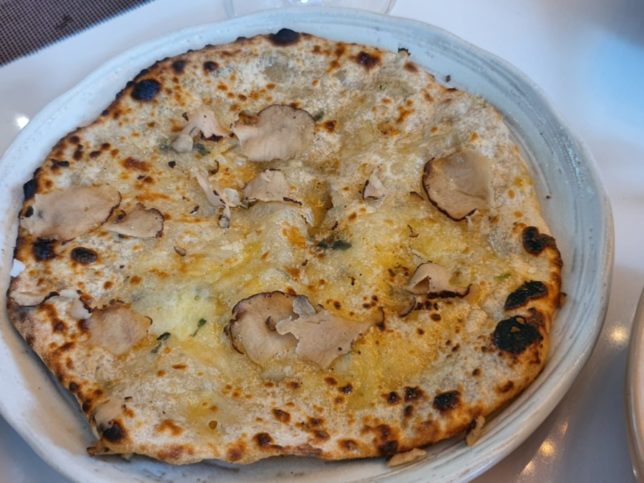 Butter chicken, a classic Delhi style pulled roast chicken, buttery tomato sauce, fenugreek and garam masala. Although no heat to this dish don't be fooled there is a wonderful amount of flavour to compliment the softness of the pulled chicken.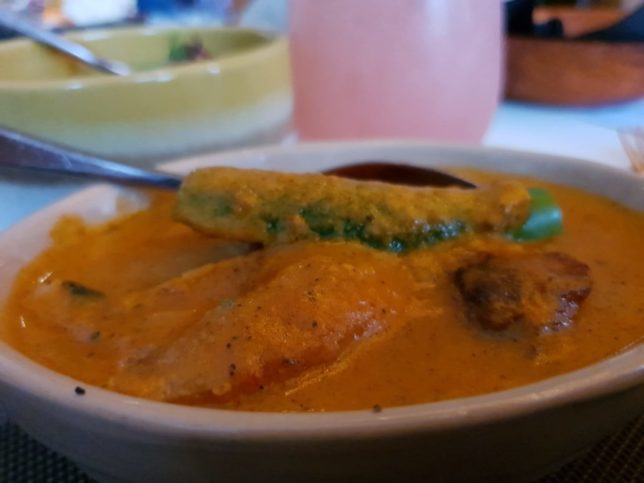 Crab Dumpling – a crab meat Kofta style dumpling curry. Made with the brown meat of the crab, this flavourful dish wow. Not for the fainthearted this dish awakens the tastebuds with a chilli heat. We loved it paired with a Lychee Rose Petal cocktail. A delicate blend of Tanqueray, Rose and Lychee this clever creation diffused the chilli heat without replacing any flavour. For vegetarians there is a vegetarian style option with a similar sauce made from fine beans, saffron yoghurt with baby morels.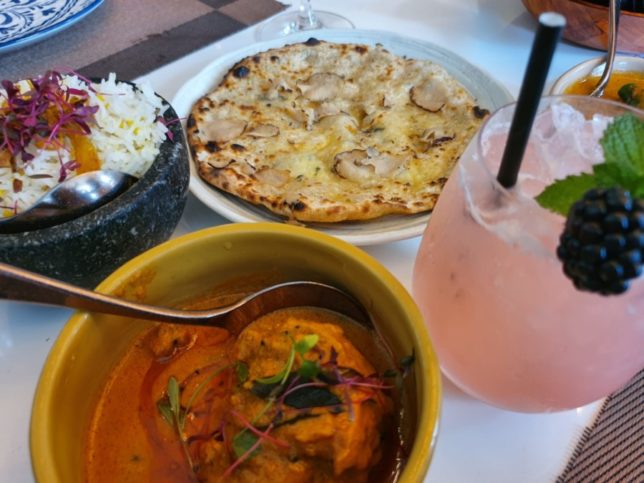 A staple dish to garnish any table is a Puloa rice, but Hankies takes it a step above available in prawn, chicken or seasonal vegetable on a bed of basmati rice and saffron. Delve beneath the rice surface to find 4 huge prawns and a delectable sauce.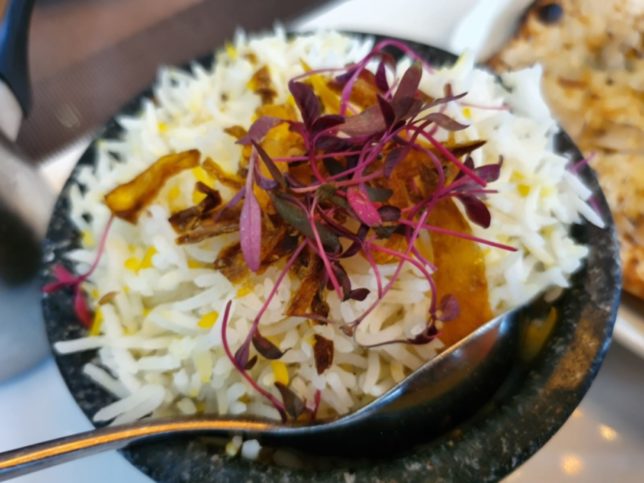 For vegetarians and carnivores alike the Hankies daal is a black lentil stew which must be tried. Other vegetarian options include Saag a roasted pumpkin and spinach subzero and the Dum Aloo Khumbi an interesting pairing of stuffed baby potatoes, button mushrooms, yoghurt and fennel sauce.
We chose the saffron jelabi (the cutest dessert to have graced my plate at an Indian restaurant) and homemade kulfi for dessert. The latter comes in three flavours Mango & Saffron, Fennel 'n' Paan and Pistachio & Coconut. Can you guess which flavour we chose?
On Sundays, Hankies Marble Arch offers Sunday Roast with an all-you-can-eat twist – an authentic Indian delicacy of Roasted Lamb Leg glazed in Honey and Mint has been slow braised overnight following the cooking methods from the royal kitchens of Lucknow. For those looking for Brunch with a difference, Hankies has its own version of a Delhi Egg Trolley – egg carts are one of the most popular of all street foods in India. At Hankies Marble Arch, Sunday diners can enjoy eggs cooked to their liking served street food style accompanied with bottomless drinks options of Prosecco, Cobra beer or guilt-free non-alcoholic juices & soft drinks.
Hankies Marble Arch
61 Upper Berkeley Street, London W1H 7PP
0208 958 3222
www.hankies.london
@hankies67