Nestled in the heart of the Cotswolds near Stroud, lies Burleigh Court, an intimate Grade II listed manor house hotel that effortlessly blends captivating country charm with a touch of contemporary luxury. Burleigh Court is a true hidden gem – a tranquil and idyllic escape for couples looking to get away from the bustle of everyday life.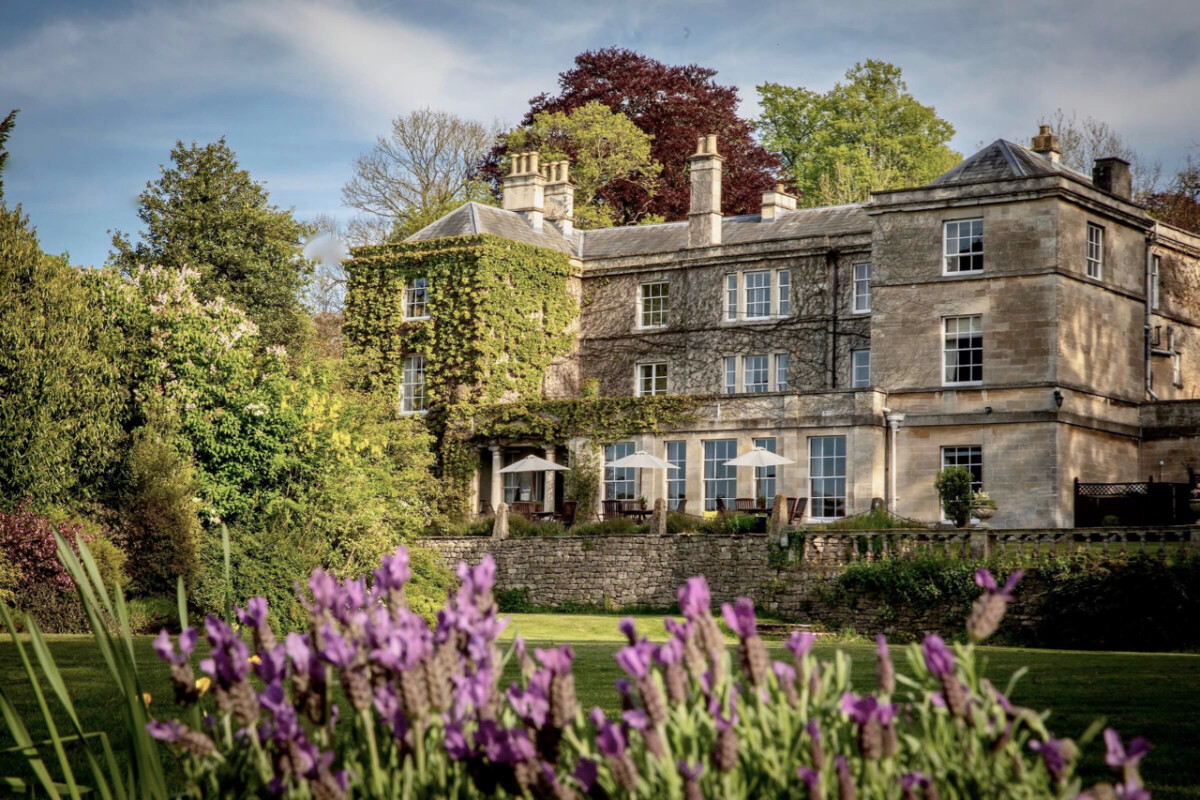 Burleigh Court is a charming 4-star boutique manor house hotel nestled amidst over 3 acres of pristine grounds. With breathtaking views over the golden Stroud Valley and a prestigious two-rosette restaurant, prepare for a truly captivating experience. From the moment guests step foot inside, they are enveloped in an atmosphere of warmth and welcome. The dedicated team at Burleigh Court ensures that every visitor experiences a home away from home, where they can truly relax, rejuvenate, and indulge in the finer things in life. With its emphasis on seriously good food and an array of luxurious amenities, this boutique country house hotel is perfect for couples seeking an unforgettable stay in the Cotswolds.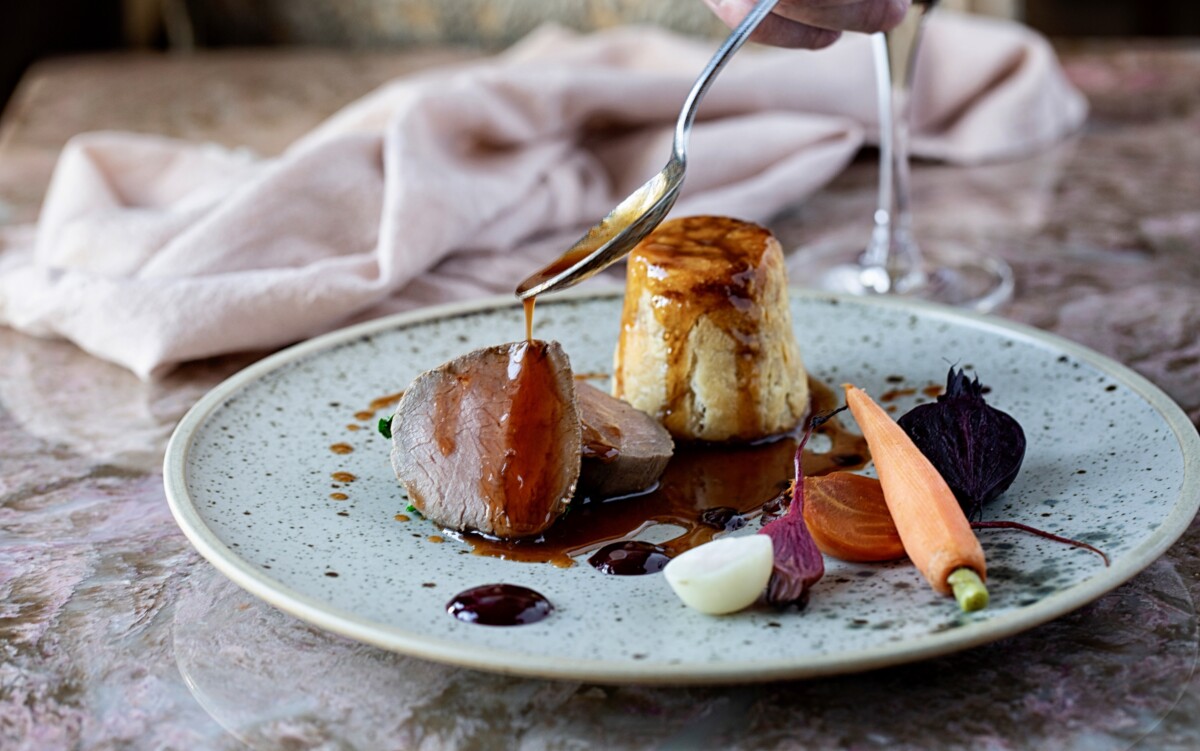 Tucked away in a picturesque setting, Burleigh Court offers a wide range of accommodation options, with 18 individually designed boutique bedrooms across various categories, including Cosy, Comfortable, Splendid, and Top Notch. Each one a haven of tranquility and comfort, every room at Burleigh Court is a testament to the surrounding countryside's beauty, blending traditional country house charm with modern and contemporary touches.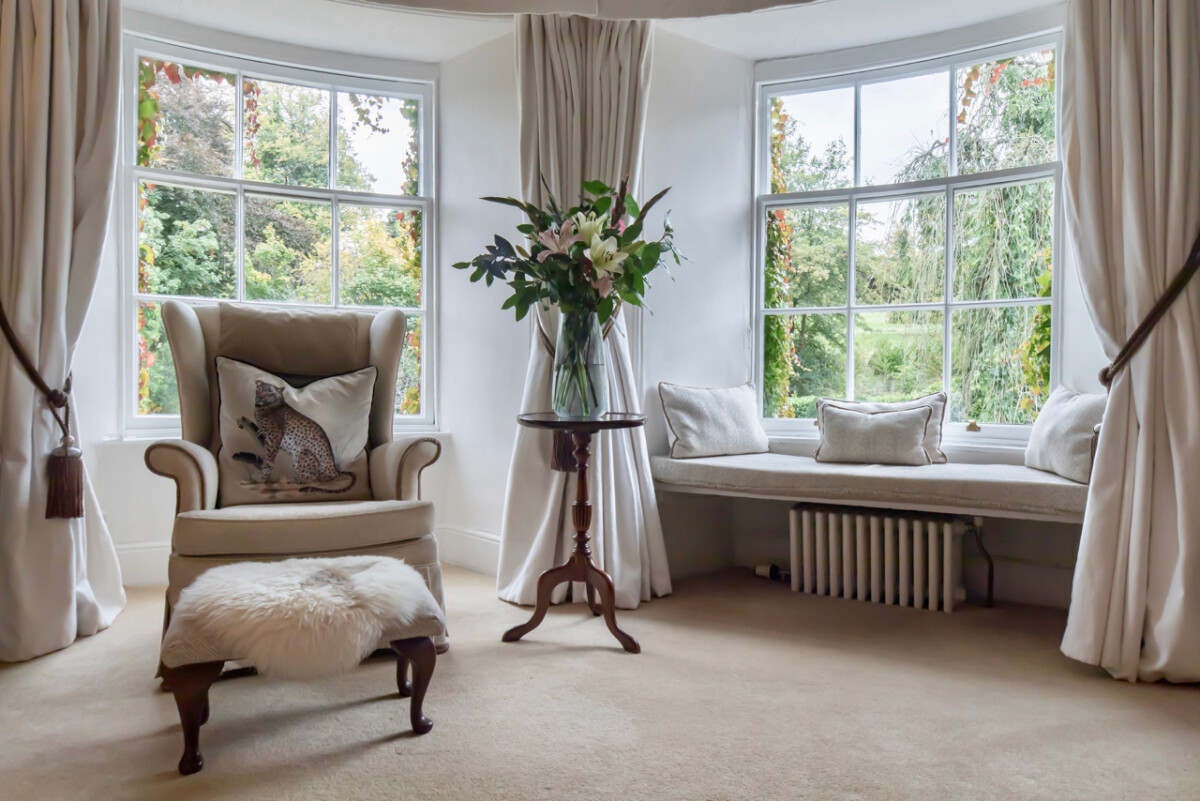 For those seeking a romantic getaway, Burleigh Court promises an idyllic countryside escape and is the perfect base for anyone seeking a slower pace of life and a chance to reconnect with your partner.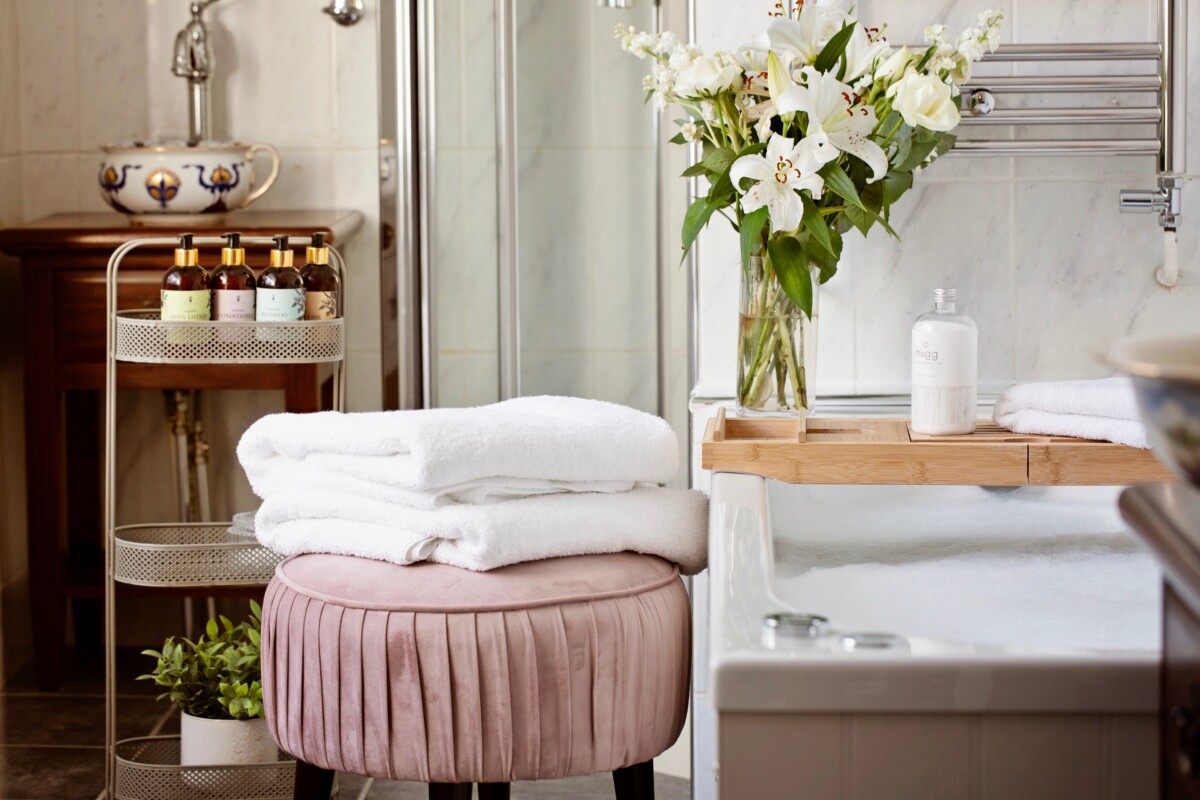 The hotel is also a pet-friendly establishment that understands the importance of including your four-legged friend in the holiday experience. For those traveling with their furry companion, Burleigh Court goes the extra mile by offering a selection of dog-friendly rooms in their historic coach house. These rooms boast direct access to the hotel's sprawling grounds, allowing your dog to roam freely amidst nature. The thoughtful inclusion of a dog bathing station ensures that your pets can enjoy a pampering experience just as much as you do.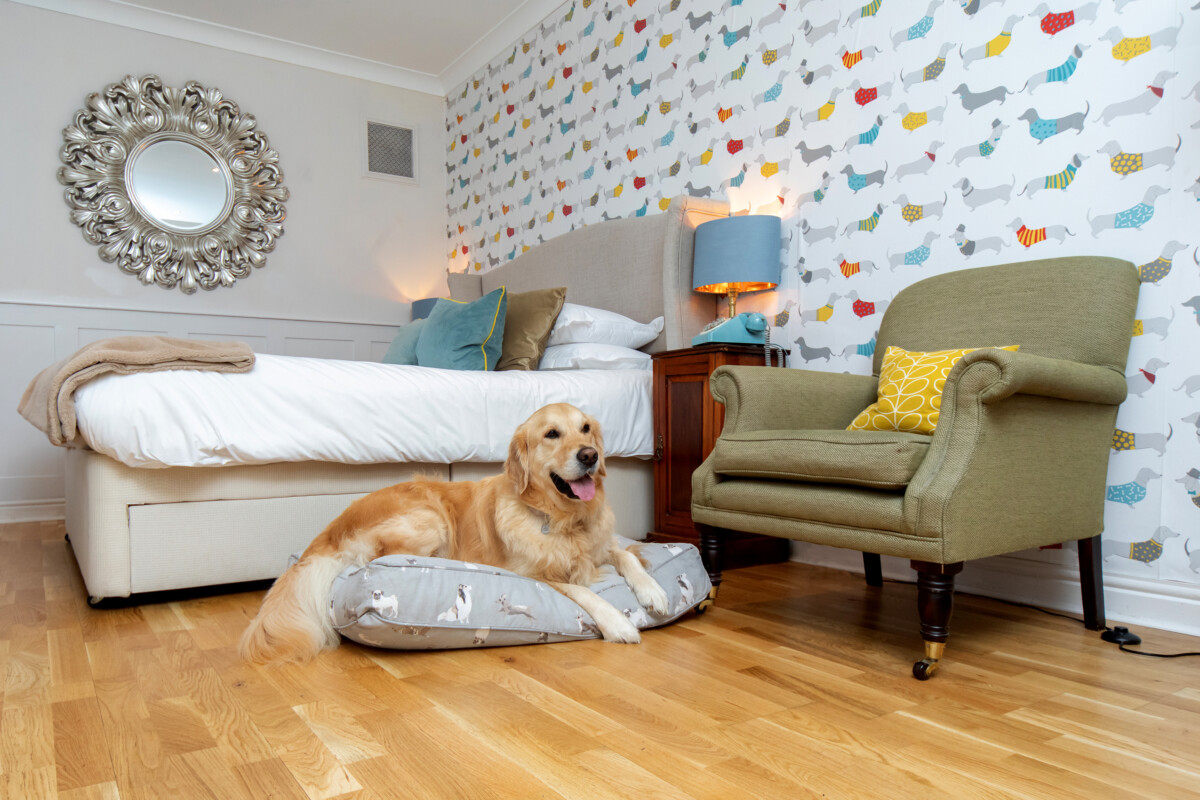 When it comes to culinary delights, Burleigh Court's award-winning two-rosette restaurant stands in a league of its own. Elevating Cotswolds cuisine to new heights, the restaurant's menu showcases the region's finest ingredients, sourced sustainably and locally through the innovative 'farm to fork' initiative. The relaxed and unpretentious setting allows guests to truly savour the culinary experience while revelling in the stunning panoramic views that surround them.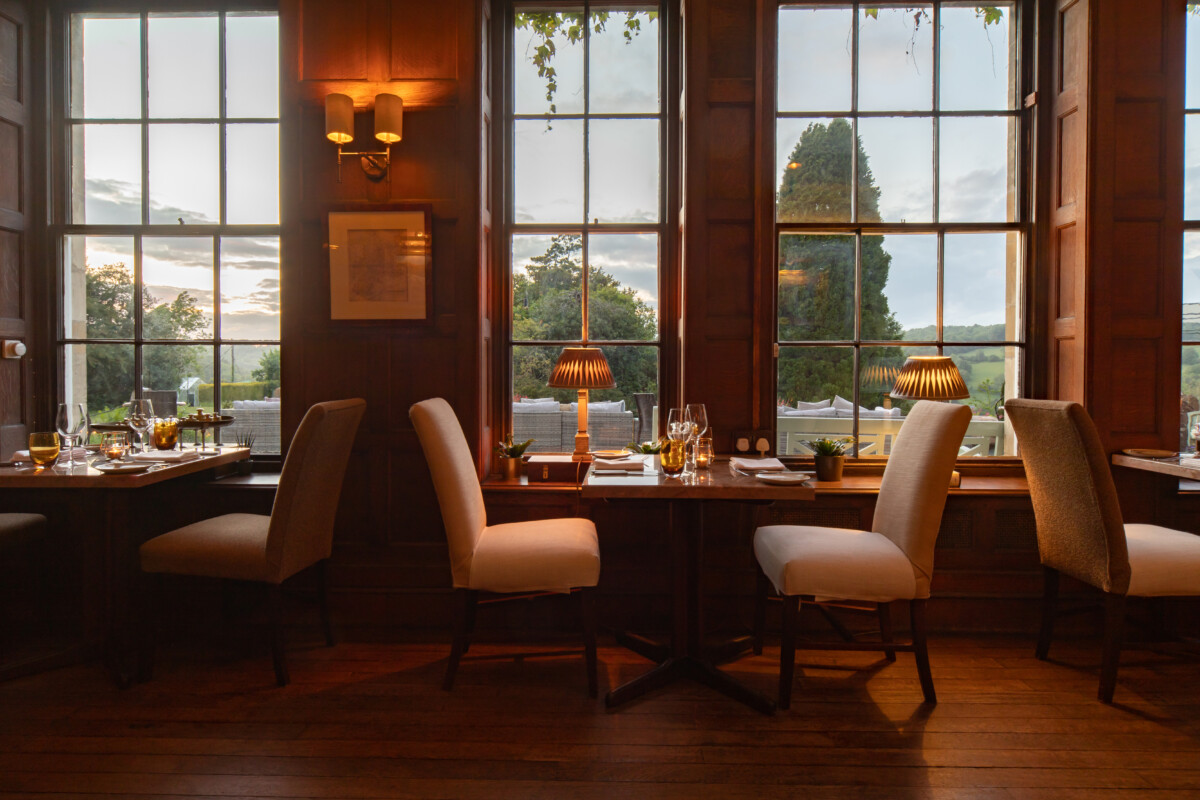 The kitchen team, led by head chef Shaun Jones, shares a passion for seasonal food and utilizes locally reared meats, game, vegetables from the hotel's kitchen garden, and foraged produce. Dining options at Burleigh Court cater to every occasion and the wine selection is equally impressive, with an exclusive focus on local old-world boutique vineyards.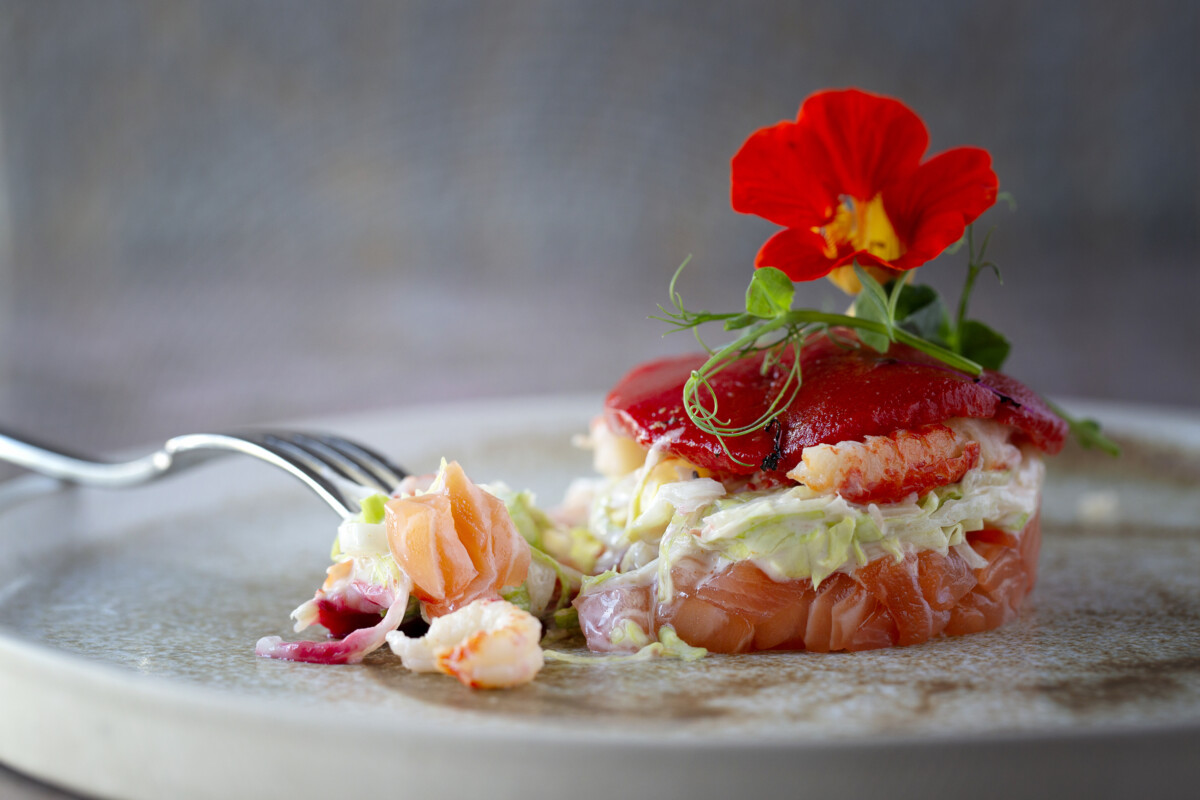 Embarking on a gastronomic journey that delights the senses and leaves a lasting impression, highlights on the menu during our stay included Stone Bass caught in British waters and served with seasonal garnish.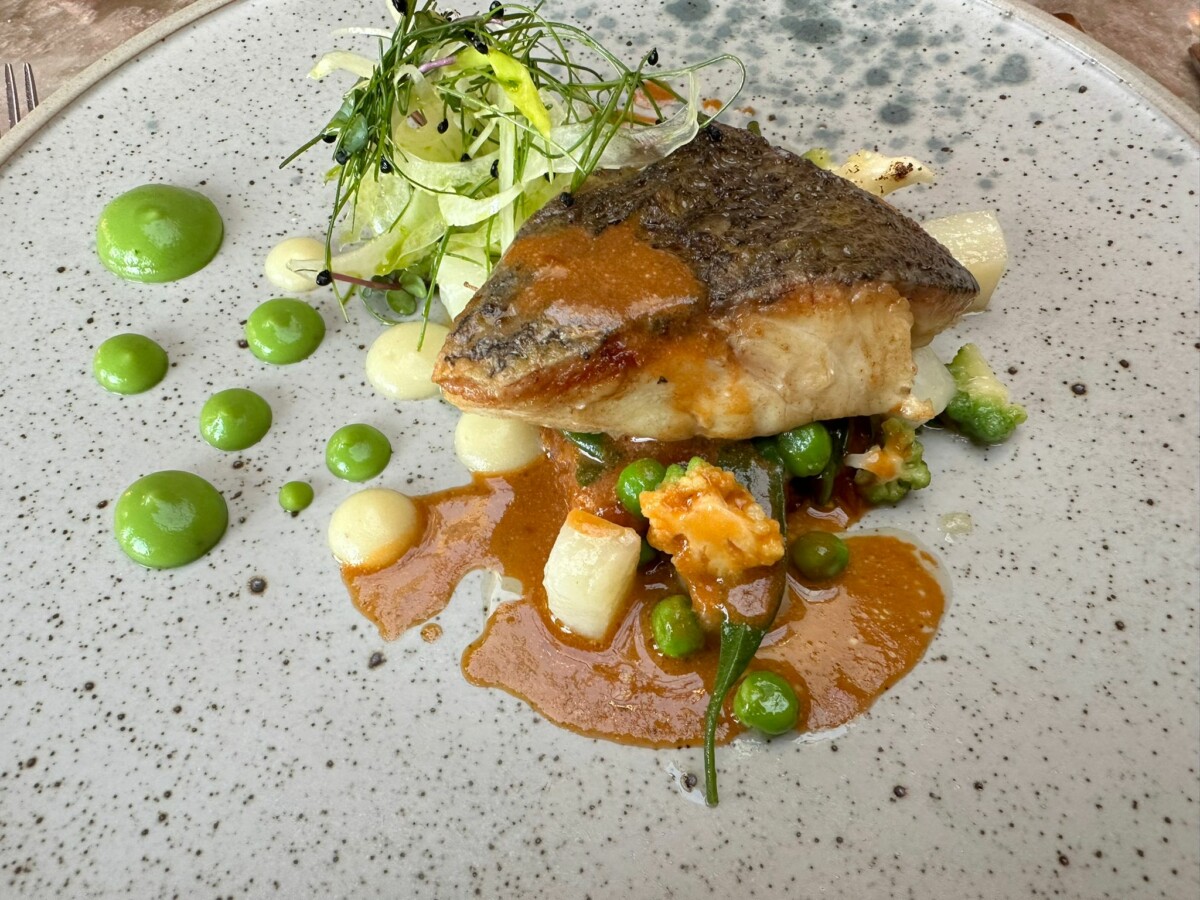 Another outstanding main course is the Gloucestershire Duck – succulent duck breast served with seasonal vegetables.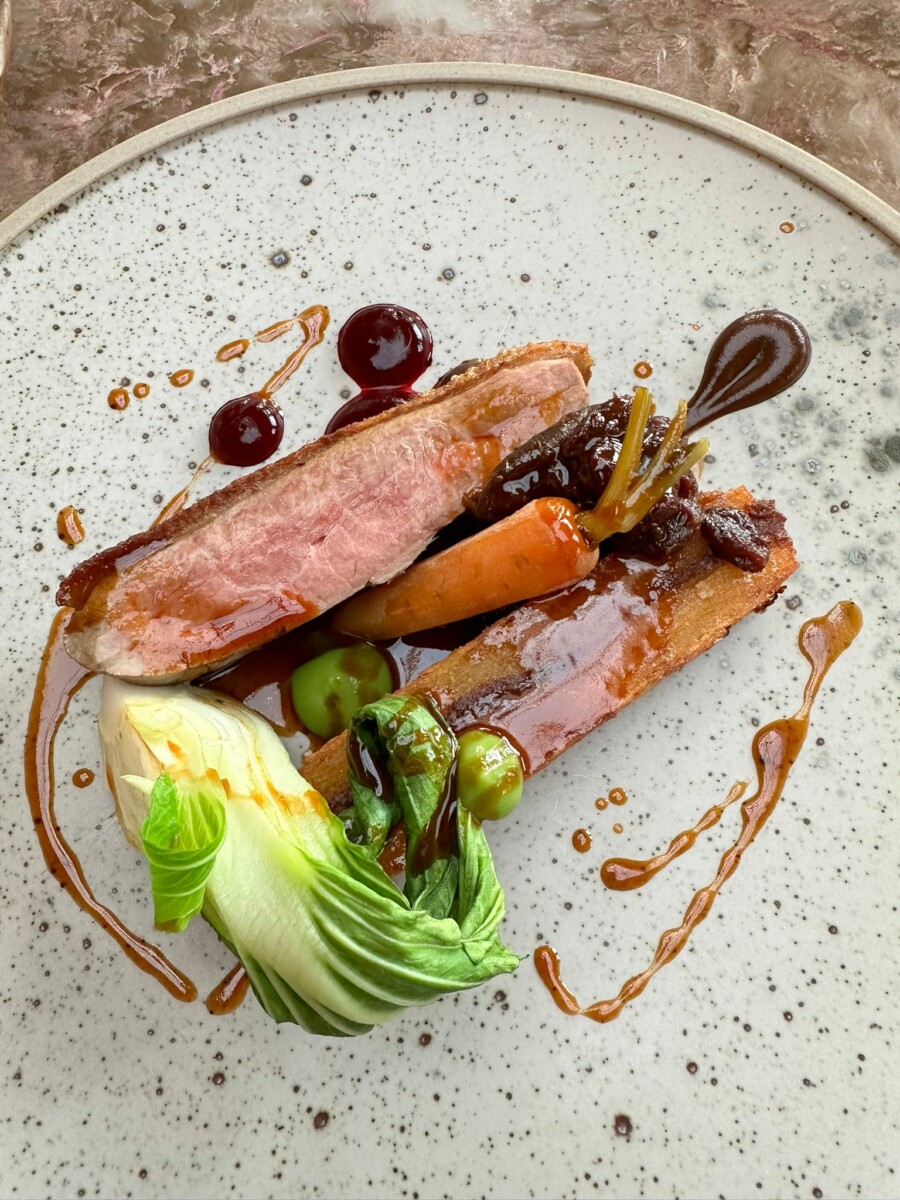 The Dessert Menu includes a selection of tasty treats for those with a sweet tooth such as the Iced Peanut Butter Parfait with peanut praline, raspberry sponge, white chocolate & tonka bean mousse.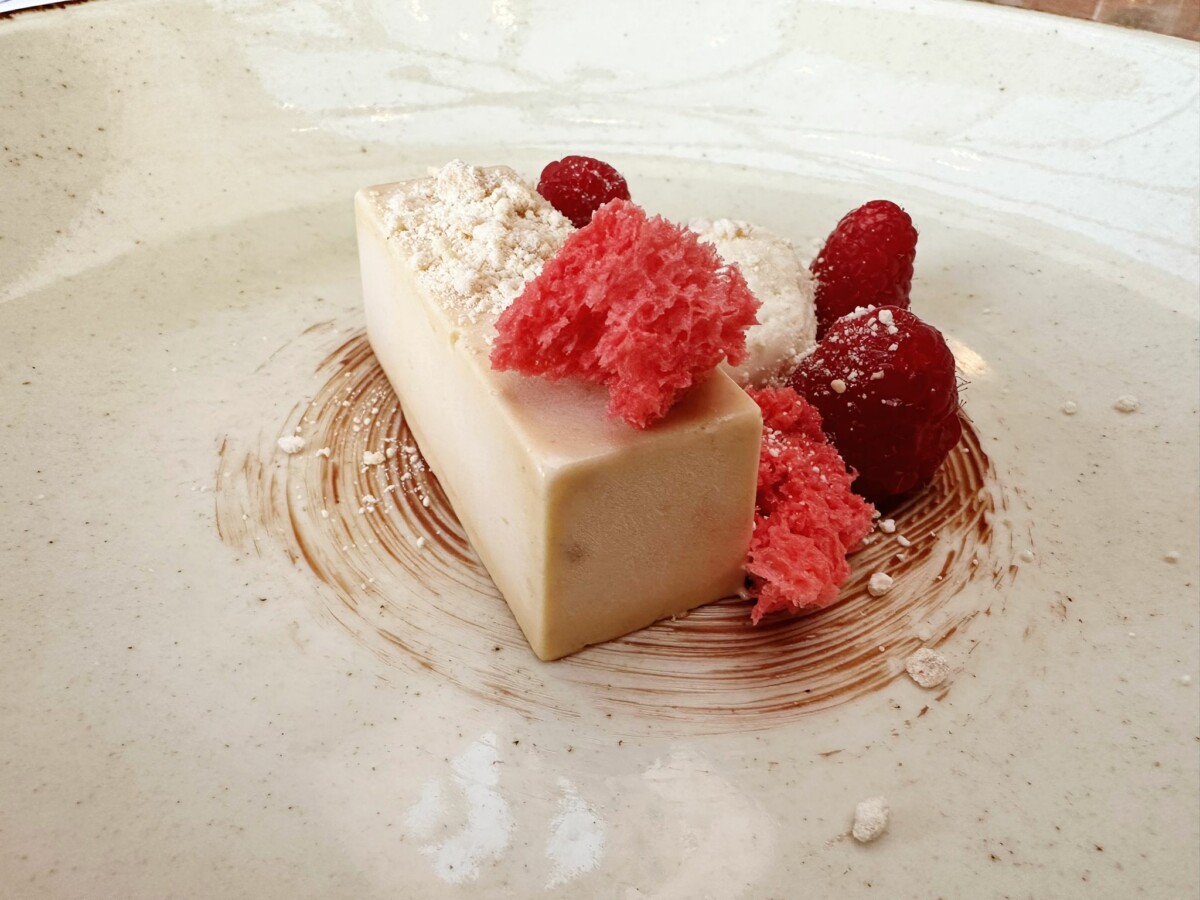 Another stand-out dessert is the 70% Dark Chocolate Brownie served with fresh raspberries and ice cream.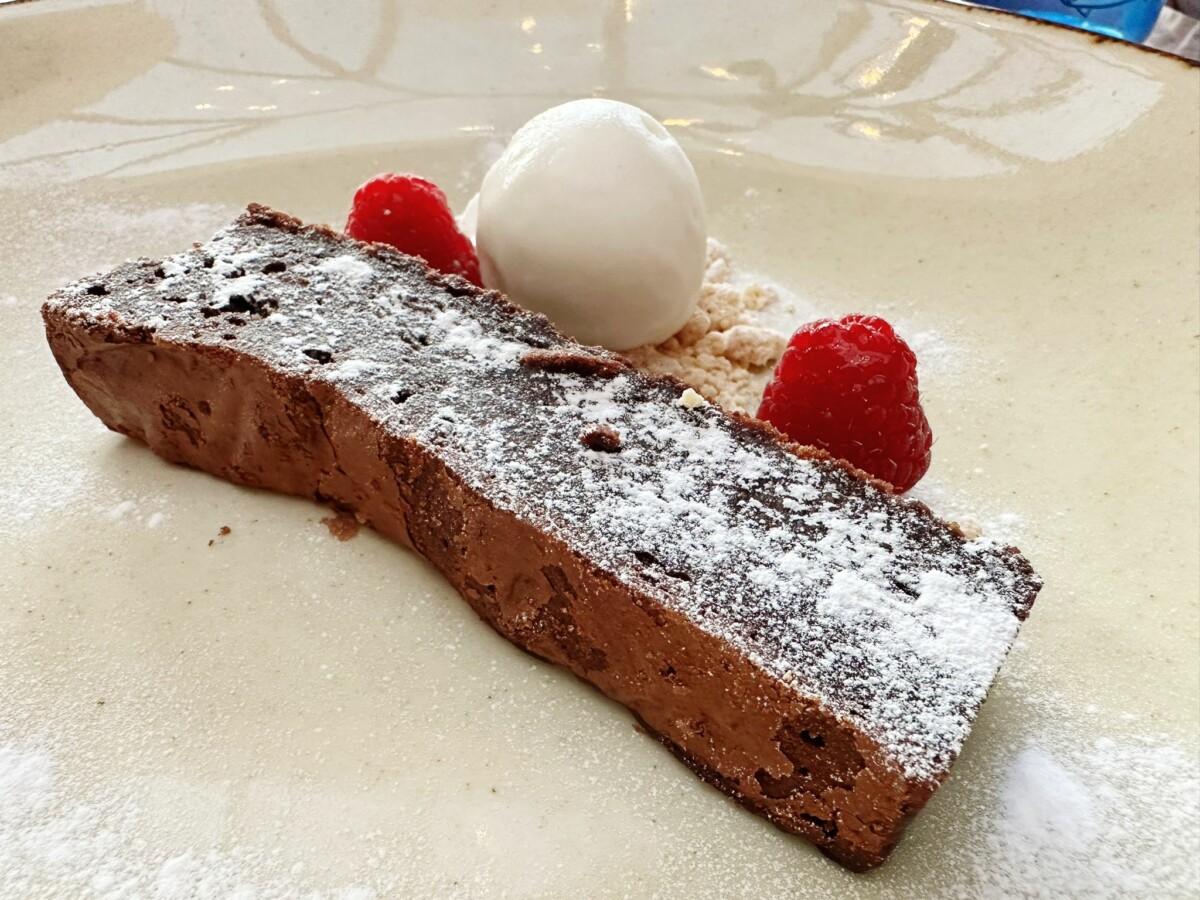 Indulging in a meal at Burleigh Court is a truly sensory experience, made even more magical by the panoramic views of the surrounding countryside. Whether you're enjoying an intimate dinner, treating yourself to a sumptuous Sunday lunch, or delighting in a divine afternoon tea, the enchanting vistas serve as the perfect backdrop to elevate your dining experience.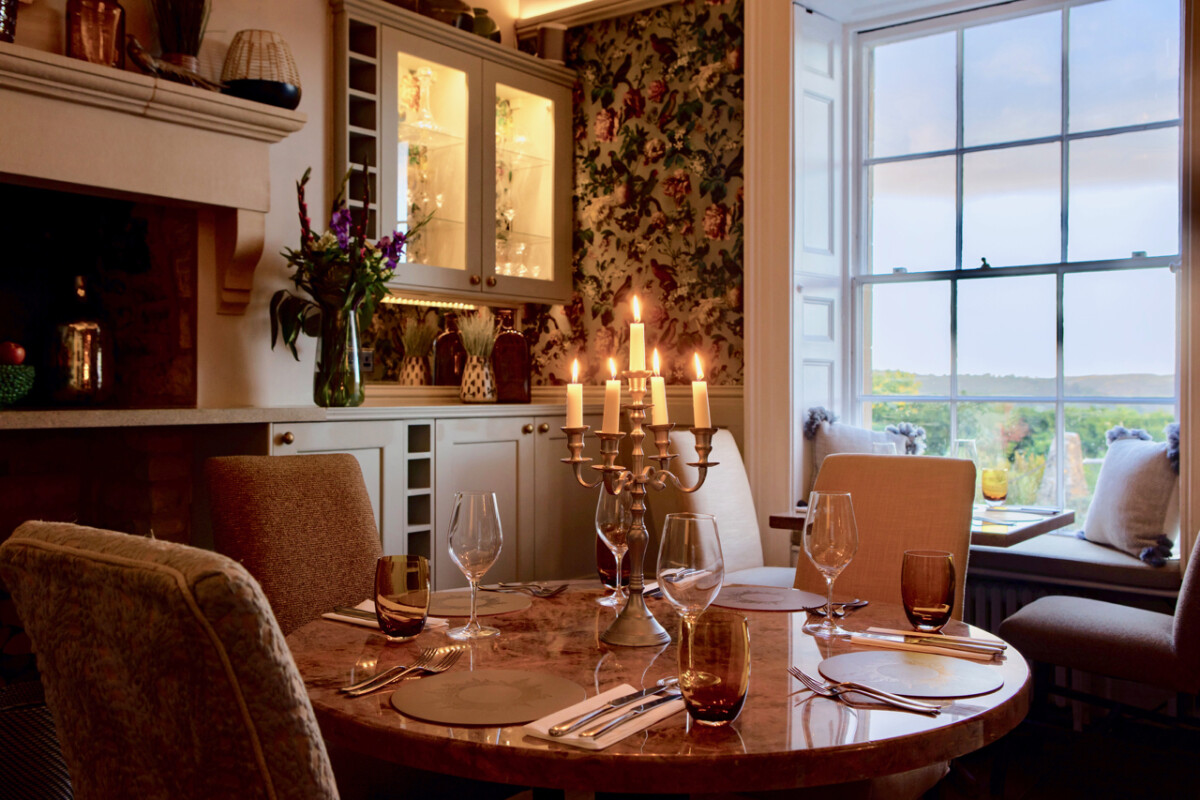 The splendour of Burleigh Court extends beyond its exquisite interiors to the 4-acre paradise that envelops the property. Stepping onto the front patio and into the gardens, guests are greeted with awe-inspiring vistas that stretch over the Golden Valley of Stroud. This idyllic haven invites exploration, with enchanting features such as the kitchen garden, walled garden, and the captivating Art Deco plunge pool. During the warmer , the outside terraces bask in glorious sunshine, inviting guests to bask in the warmth while taking in the beauty of the surroundings. The expansive lawns provide the perfect setting for summertime games, while the terraced gardens offer sun loungers and hammocks for those seeking the ultimate relaxation and tranquillity during the warmer months.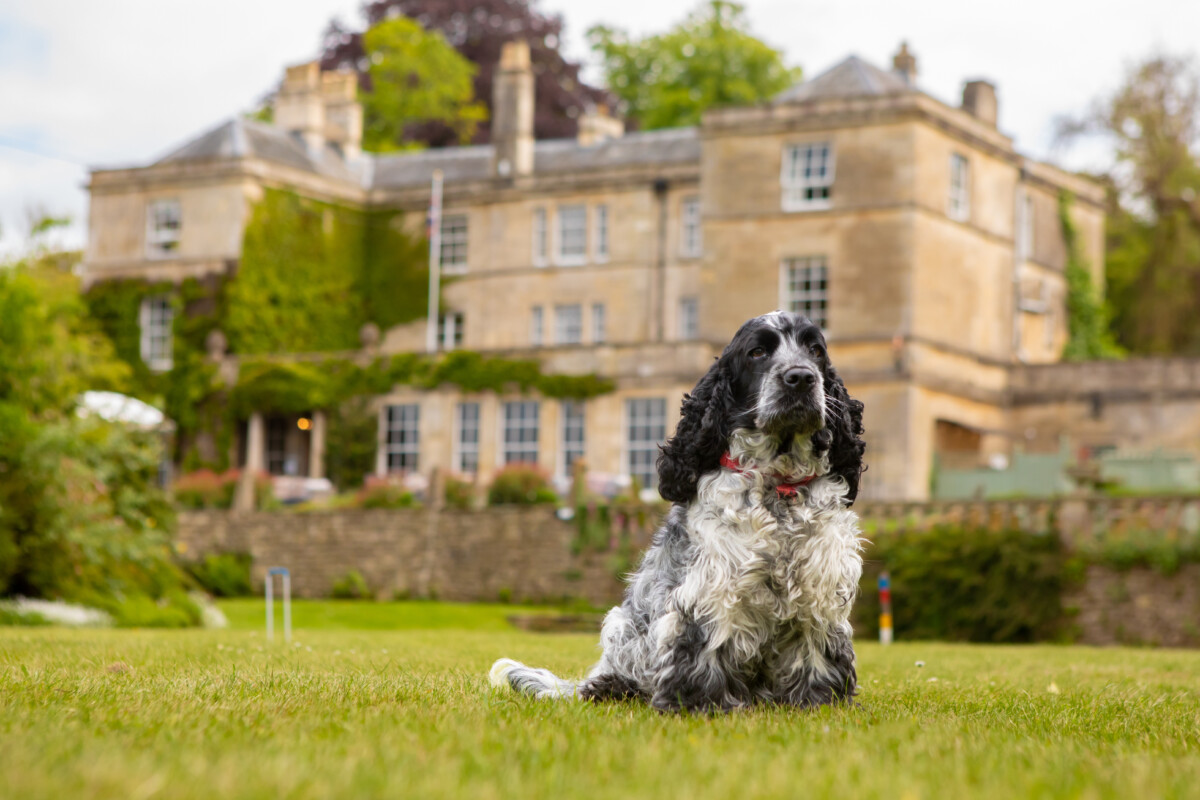 While the sun still graces the skies with its warmth, make sure to take advantage of Burleigh Court's historic outdoor plunge pool. Open from July to September, this refreshing oasis is the epitome of a summer staycation. This Art Deco pool, created in 1920 by the renowned Sir Clough Williams Ellis, offers a naturally unheated oasis amidst the hotel's enchanting coach house garden. As guests bask in the sun, they can appreciate the historical significance of the pool and its connection to Sir Clough Williams Ellis, who was duly recognized by the Queen for his contributions to environmental preservation and architecture. Immerse yourself in the invigorating waters of the outdoor plunge pool and let your cares drift away as you soak up the sun and revel in the natural beauty that surrounds you.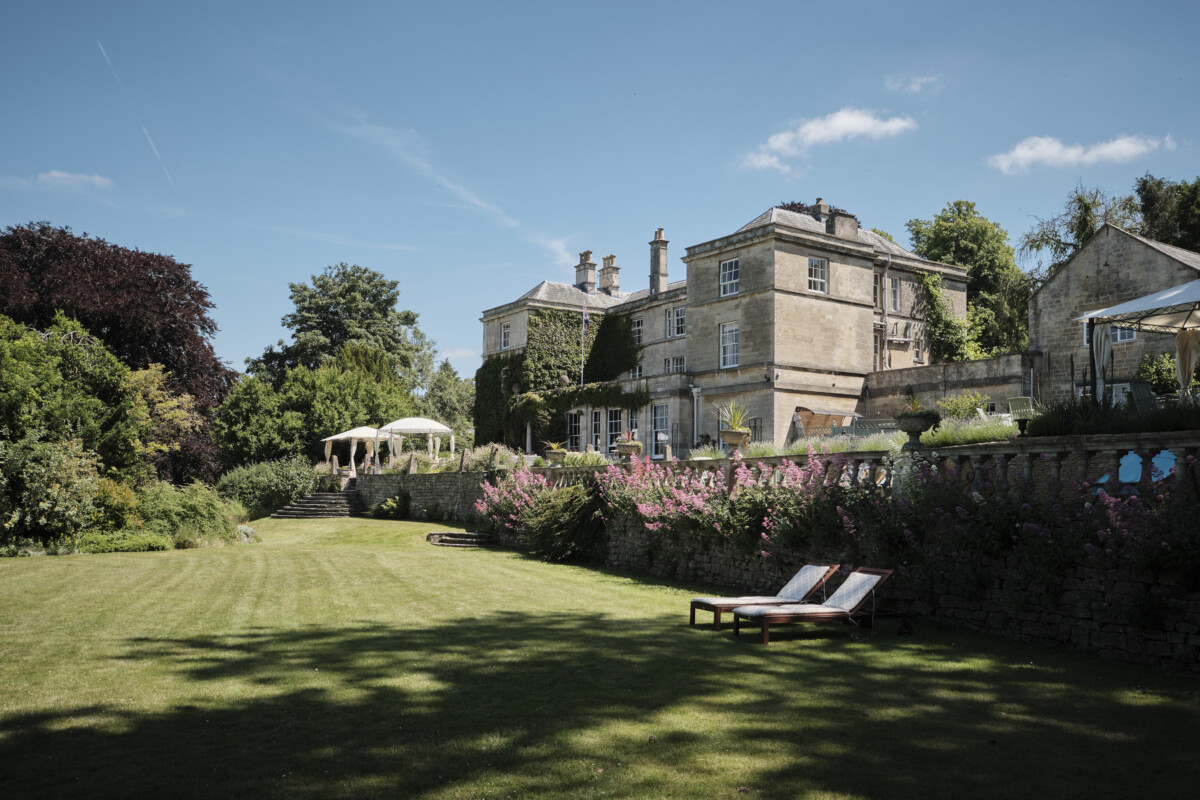 Beyond its luxurious amenities and delectable offerings, Burleigh Court strives to foster community and connection among its guests. While it provides an ideal setting for romantic getaways and a retreat from the demands of busy lifestyles, it also creates opportunities for people to relate, share experiences, and build lasting friendships. In a world increasingly characterized by disconnectedness and isolation, Burleigh Court stands as a haven where couples can come together, create cherished memories, and truly experience the joy of togetherness.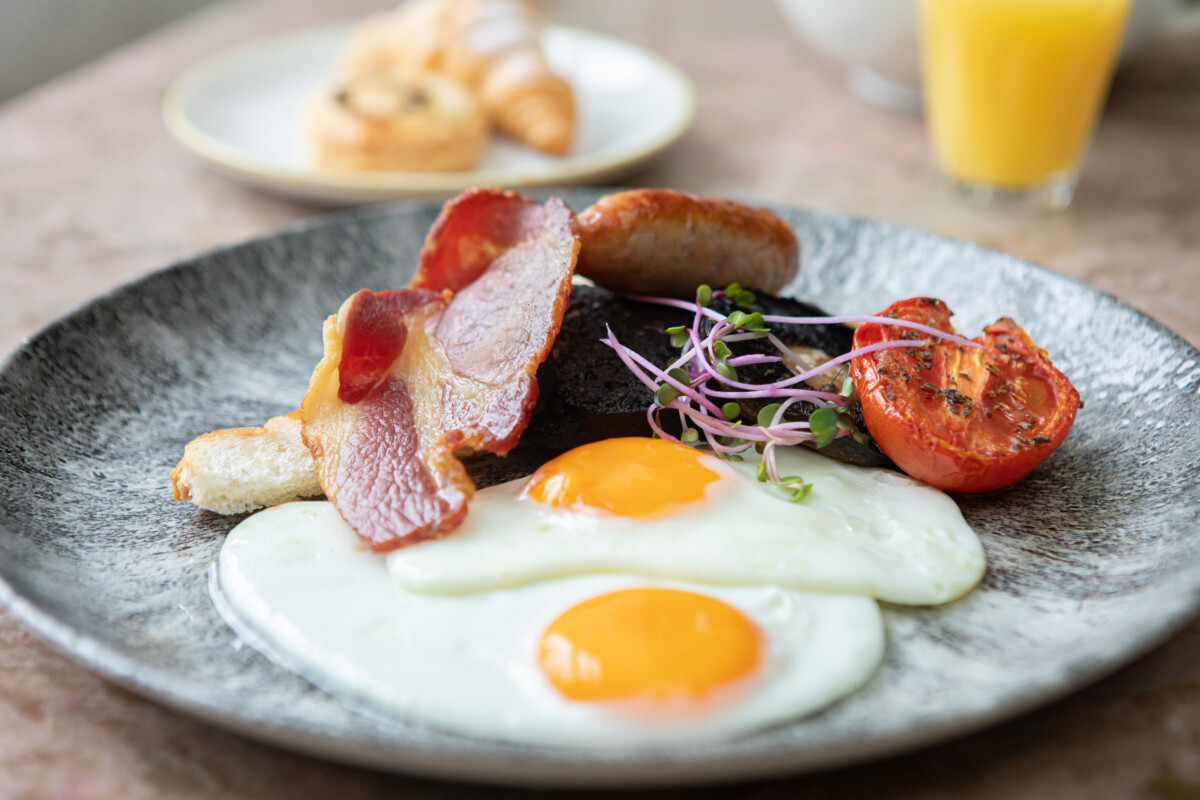 From the moment you step foot inside Burleigh Court until the minute you bid farewell, this luxurious hotel ensures that you eat well, sleep well, and feel well. Every aspect of your stay is carefully curated to create a home away from home, where comfort and indulgence seamlessly intertwine. For couples on a romantic weekend escape, Burleigh Court promises an experience that will leave you refreshed, rejuvenated, and longing to return.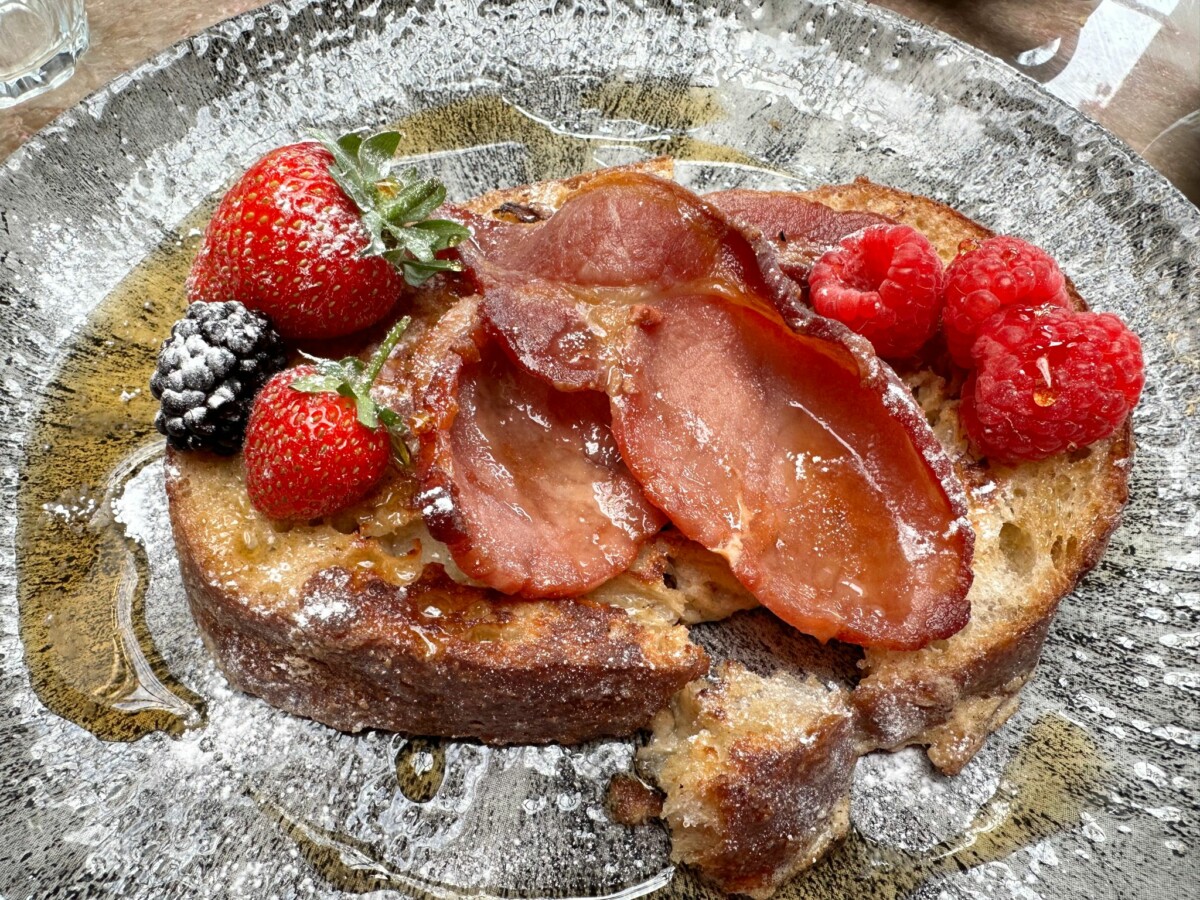 Whether your and your loved one are seeking quiet moments close to nature or a fun-filled country house adventure, Burleigh Court offers a sanctuary of serenity and beauty that is a true testament to the hotel's commitment to creating unforgettable experiences for their guests.
Burleigh Court Hotel
The Roundabouts, Brimscombe, Stroud, Gloucestershire GL5 2PF
01453 883 804
burleighcourtcotswolds.co.uk